I started using Sportsbet.io as a secondary option to Nitrogensports in order to be able to shop for the best odds while using some of my Bitcoin holdings to bet. Almost exactly 2 years after my initial and only deposit, I did withdraw the profit I managed to make which was the last step needed in order to make a Full Review of my experience with this cryptocurrency Bookie...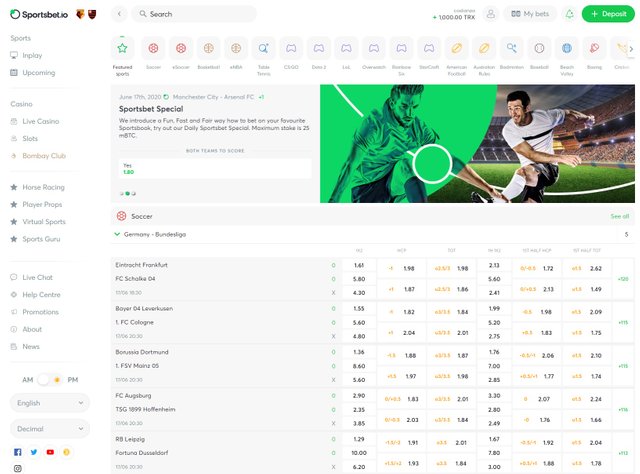 Sportsbet.io User Experience
Sportstbet.io is a centralized bookmaker that offers a wide variety of sports and bets allowing players to bet directly in different cryptocurrencies. They regularly offer great bonuses and odds boosts and I never had to do any KYC even when withdrawing profit which was processed quickly and correctly.
I honestly was rather skeptical about this bookie when I started using it since they offered a combination of good odds with plenty of promotions. If you go about it in a smart way with lots of discipline only betting the promotion or when they offer market-leading odds, bookies like this are extremely easy to beat. That was pretty much exactly what I did taking selective flat 10mBTC bets on the Belgian League nearly always taking advantage of the odds boosts or free spins in the casino. I totally expected them to start doing difficult putting me on tiny limits or coming with the small letters in the terms and conditions when trying to withdraw making it a long and difficult KYC procedure. To my surprise, the withdraw was done almost instantly with no questions asked whatsoever.

One of the reasons I started betting in BTC was to put it to work and get some returns on it as I'm quite confident that I'm betting with an edge and didn't mind the risk of getting in a bad run as I apply proper bankroll management. The fact that BlockFi gives 6.0% passive returns on BTC made me withdraw my fund there directly into my BlockFi account. I will continue betting with them but instead, use TRX which is way more convenient without transaction fees.
---
Available Cryptocurrencies
Sportsbet.io is offering a wide variety of Fiat and Cryptocurrencies that can be used to bet directly in that currency. Since they are a centralized bookie, it is required to send those to the wallets that are created for you on their website and there are no gas or transaction fees when actually taking bets. A total of 11 options are currently available going from Fiat currencies as the US Dollar |Euro | Brazillian Real | Indian Rupee to cryptocurrencies as Bitcoin, USD Tether, Ethereum, Litecoin, Tron, Ripple. One of them is a rather obscure altcoin called All Sports (SOC). Basically for all preferences, they have an option which is awesome.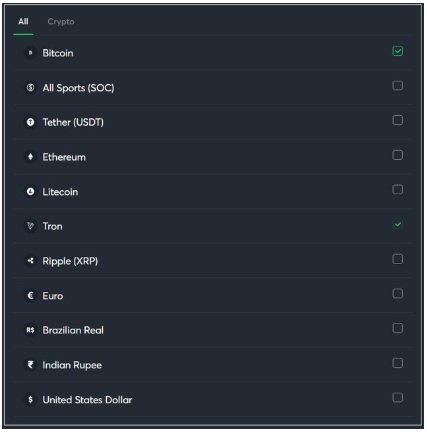 ---
Bookie Interface & Offered Markets
I am personally used to my betting broker Sportmarket Pro who show leagues on the left side making it easy to search the match you are looking for. Sportsbet.io is showing everything on 1 page which also works. They are very much in tune with the Asian betting markets and offer an Asian view that can be switched on in the preferences. This will also show all the Asian handicaps on the front page. They offer both a bright (Day) and Dark (night) version of their website and have plenty of betting options available including corners, goalscorers, ... They also offer extensive live betting.
Basically everything works and looks professional with plenty of options to adjust things to your personal preference.
During the 2 years that I have been on Sportsbet.io, I noticed the margins on the odds were changed at times. They started out great until a point where the average odds seemed to be lowered a lot. Right now they seem to be competitive again.
---
Casino Games & Poker
As most of these centralized bookmakers, they also provide casino games which are often used for promotion giving free spins to Sports Bettors. They also used to have Online Poker available but never really succeeded to get a player base. Right now it seems to have been removed from the site.
---
Conclusion
From my 2-year experience so far, Sportstbet.io has shown to be a reliable bookie that offers good odds and great promotions. I'm looking forward to continue betting with them mainly on the Belgian League once the new season starts.

---
Important: There are very few people that are equipped financially and psychologically to handle the ups and downs of gambling on a daily basis. If you are not professional, every instinct you have will attempt to sabotage your success. Human nature runs completely contrary to being successful at gambling. Always apply proper Bankroll management and don't bet what you can't afford to lose!
---
Hive: https://hive.blog/@costanza
Steemit: https://steemit.com/@costanza
Uptrennd: https://www.uptrennd.com/user/MTE0Mzc2
Twitter: https://twitter.com/costanzabets