I've been a bit sick the last couple of days and haven't made a post the last 3 days because of it. Things are getting better now but I'll keep this weekly report on the development in Dividends from Wink.org & Sportbet.one to the basics.
Wink.org Dividend Drop
I bought some extra WIN last week (See Post) as the price had not followed the moving average dividend payouts. The price on WIN increased with 5% (vs USD) during the week even though the daily dividends were underwhelming. The expected payout for the current price based on the 21-day moving average still is above 1% weekly. I'll keep close eye the next direction and act accordingly the coming days.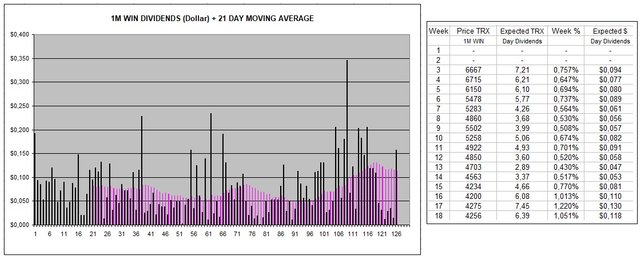 ---
Sportbet.one Dividends
So last week I ended up selling around 40% of my SBET holdings (See Post) as I saw the price as overextended with some warning signs as the key indicator of total number of accounts that took a bet went down. I sold at 0.00192 EOS for each SBET after an early indication that dividends would take something of a hit. The price did drop a bit during the week but near payout time things didn't look all too bad with an increase from 99 individual bettors to 113 (still too low overall) and the dividends from mBTC going x11 and those in SBET x2 compared to the week before despite the EOS dividends going -30%. So I bought around half of what I sold back at a 0.001827 EOS price still being able to catch the Dividends.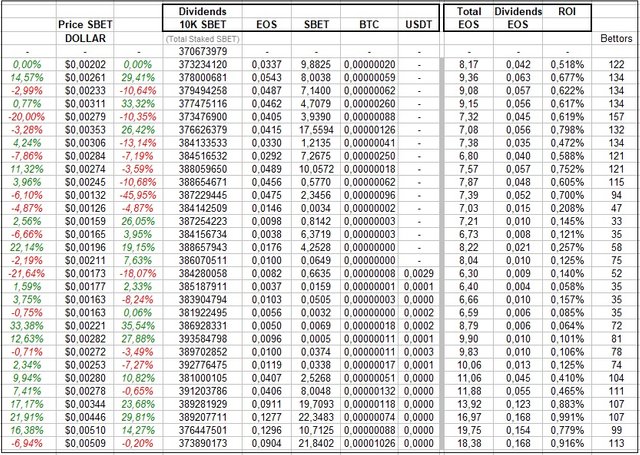 The same counts here, I will continue to monitor the situation and buy or sell based on how things are looking on the spot.
---
That's it for this week.
---
Hive: https://hive.blog/@costanza
Steemit: https://steemit.com/@costanza
Uptrennd: https://www.uptrennd.com/user/costanza
Twitter: https://twitter.com/costanzabets