I continue to make a weekly update on how dividends are doing for both Sportbet.one and Wink.org as they tend to be a great indication where the price of these tokens are going.
Wink.org High Dividend Payouts
You can say about Wink.org what you want and I agree on many of the rather scammy accusations, but they do have a large player base who seem to love to gamble their money either for fun or to mine the sub tokens. The fact that they have regular poker action going also remains quite an impressive achievement. The Dividends last week reached a new high (Since I started tracking everything), yet the price has not seen a move up yet which made me unable to resist buying some more WIN.

One of the key numbers I'm looking at is the 21-day moving average of the paid out dividends for freezing 1 Million WIN. This has somewhat skyrocketed the last 3 weeks now expecting to pay +1.22% weekly in returns based on the 74.56$ price for 1M Wink which pays out 0.130$ daily. This of course based on the idea that the dividends hold up.

Comparing the price of WIN to the dividend payouts, it can be seen that it always lags behind. Around day 49 (week 6), the price peaked just below 90$ for 1M WIN while the 21-day Dividend average was already in a downtrend. Around week 10 (day 70) the price hit a bottom around 74$ while Dividends hit a peak which was followed with a price increase to over 90$ during which the dividends started going down again. Now we are at the highest Dividend levels but the price clearly has not reacted yet.
It will be interesting to see if there will be a price reaction to the upside in the coming weeks, more WIN is starting to be taked again also which means that the Dividends will be split between more WIN holders.

---
Sportbet.one Dividends
I wrote about Reasons why I was buying more SBET about 1 month ago which turned out to be a good call as the weekly dividends went up considerably and the price as usual followed.

The dividends this week did hold up after there was a record high on the year last week and the current price of SBET gives an expected return of +0.78% on a weekly basis if they continue to hold up. Right now there is 1 metric I'm mostly looking is which is the number of actual users and this did not go up whatsoever and is still sitting around 100. On the one side, it shows the potential for growth, but on the other hand, it makes the dividends way too vulnerable relying on just a handful of bettors who will run out of money eventually. I still very much like the product that they have on offer as it's one of the best options for people who want to bet using crypto without the need for KYS, making an account or a deposit. I do see the price as overextended right now and will keep an eye out how things evolve the next couple of days maybe taking some profit which will go at the cost of the dividends I will be receiving.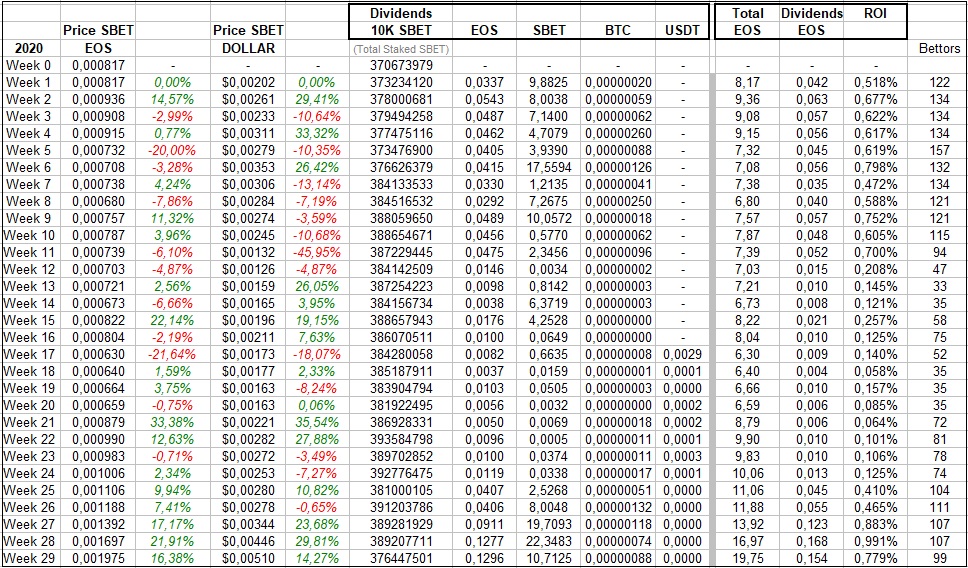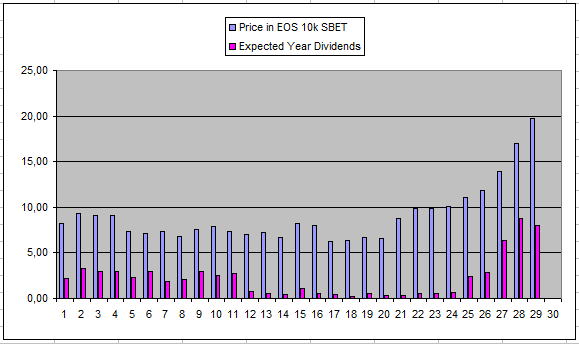 ---
Both SBET and WIN remain an extremely high-risk investment. I will continue to track both closely and bring regular reports on the news and the dividends
---
Hive: https://hive.blog/@costanza
Steemit: https://steemit.com/@costanza
Uptrennd: https://www.uptrennd.com/user/costanza
Twitter: https://twitter.com/costanzabets