I continue to learn Technical Analysis keeping a journal on everything that I learned in bite-sized pieces which might be of interest to others who are also learning currently. Today, I'm moving on to the MACD technical Indicator which is often used. It is best to be up to date with what I learned previously before getting to what is covered in this one. All can be found here.

#8 MACD
The MACD stands for Moving Average Convergence/Divergence. This is a popular and effective momentum technical indicator that builds upon the moving averages which were covered in my last post (#7 Moving Averages)

What the MACD Does.

It basically visualizes how momentum is progressing and if it's a steep up/downtrend or gradual up/downtrend using 3 different moving averages (12,26 and 9 EMA's). The way it is calculated is that it takes the difference between the 12 and 26 EMA and plots them over the 9-period EMA. The gap between these is put into bars which indicate momentum and strength of the momentum. (You don't have to understand these dynamics to use the MACD)
---
Adding MACD on Tradingview
Similar to the other Technical Indicators, just go to "Indicators & Strategies in Tradingview, search for MACD and add it to your chart.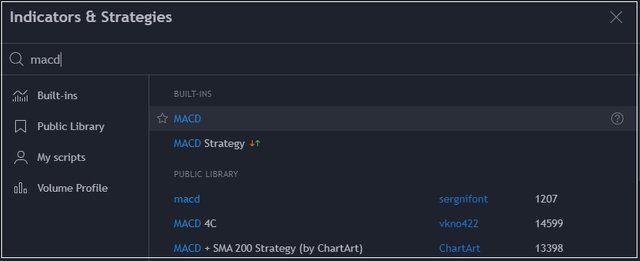 ---
Indicating Top & Bottoms
When looking at the MACD on longer-term timeframes it tends to indicate clear trend reversals. For example on the monthly chart for Bitcoin, whenever there was a smaller bar compared to the previous it indicated a top while a bigger bar compared to the previous it indicated a bottom.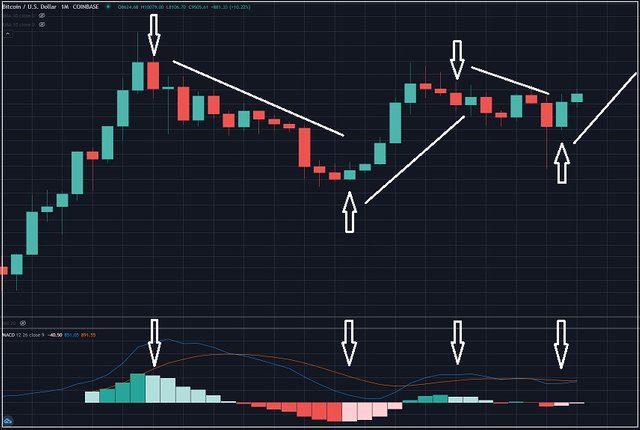 The more you zoom in on a smaller time-frame, the less accurate it gets though and in the end, it's just another indicator to possibly use on top of others signs. The way it is used in the short run also is different compared to the longer term.
---
Bullish Divergence
Something you often hear in Technical Analysis videos on youtube is the MACD bullish divergence. The steepness of the MACD bars becomes less sharp (higher low) while the price has set a lower low, this is called a bullish divergence as the momentum to the downside is starting to weaken signaling a momentum change.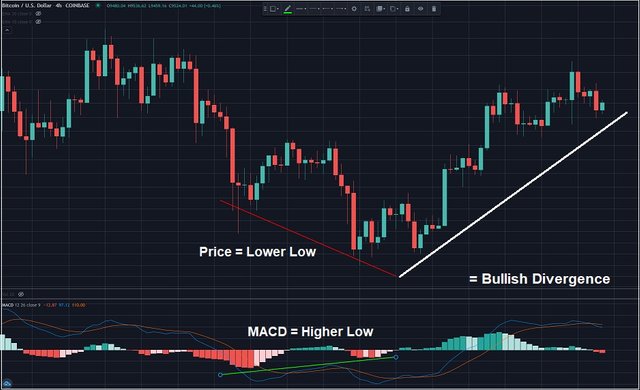 ---
Buying the Dip
When something is on the rise you always want to avoid buying the top. The MACD can be used to indicate the dips and when they are over at the moment when the MACD bar indicates a trend change. This is generally the time you want to get in. looking at the 10 & 30 EMA's on this chart it indicates that it is still in an uptrend which hasn't been broken yet. The MACD reversal indicator also makes it less likely for the moving averages to cross over making a further move up likely.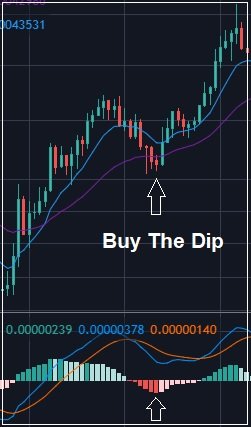 ---
Previous Technical Analysis Lessons
Technical Analysis #1 | Basics
Technical Analysis #2 | Trends
Technical Analysis #3 | Bearish Patterns
Technical Analysis #4 | Bullish Patterns
Technical Analysis #5 | Symmetrical triangles
Technical Analysis #6 | Volume Indicator
Technical Analysis #7 | Moving Averages
Future posts in this series can be found here
https://www.publish0x.com/costanza-technical-analysis

 
---
Free Software I use for Charts
Tradingview
Platform I use for Trading
Binance

---
Hive: https://hive.blog/@costanza
Steemit: https://steemit.com/@costanza
Scorum: https://scorum.com/en-us/profile/@costanza
Twitter: https://twitter.com/costanzabets