I just found out the real story about Vince Carter and Toronto Raptors when i watch "The Carter Effect" movie last night.. A story that i didn't know.. The story that everyone should know about it..
Do you know about the the first NBA game? Which teams has played the first game? Where did the game played? I tell you, that was in Toronto, Canada.. Toronto Huskies vs New York Knickerbockers.. That was in 1946..
After having the first game we haven't seen any Canada teams in NBA since 1995.. If you ask why i would say to you it was all about Hockey.. Yes the Hockey is the most dominant sports in Canada.. I mean that was.. Because after the Raptors' NBA championship i believe they love more about basketball for sure! Anyways, this is another story..
NBA management decided to have 2 NBA teams in Canada and they have created Vancouver Grizzlies and Toronto Raptors in 1995.. They wanted to create basketball community there.. And they achieved that but if there were no Vinsanity they wouldn't do that.. (In 2001 they have gave up with Vancouver and the team moved to Memphis and named Memphis Grizzlies)
In 1998 NBA draft he has selected from Golden State Warriors but they have selected him to trade with Antawn Jameson.. So he actully signed with the Raptors.. And i add in 1998 NBA players never wanted to play in Canada! That's why nearly all players performance were low..
But that changed with the Carter effect.. He started to play really great but he also didn't know that he will become a superstar in Toronto.. He played great basketball and carried his team to conferance semi's in 2001, that was very unexpected for Raptors.. If Carter hit the last shot in Game 7 his team Raptors was going to the Conference Finals..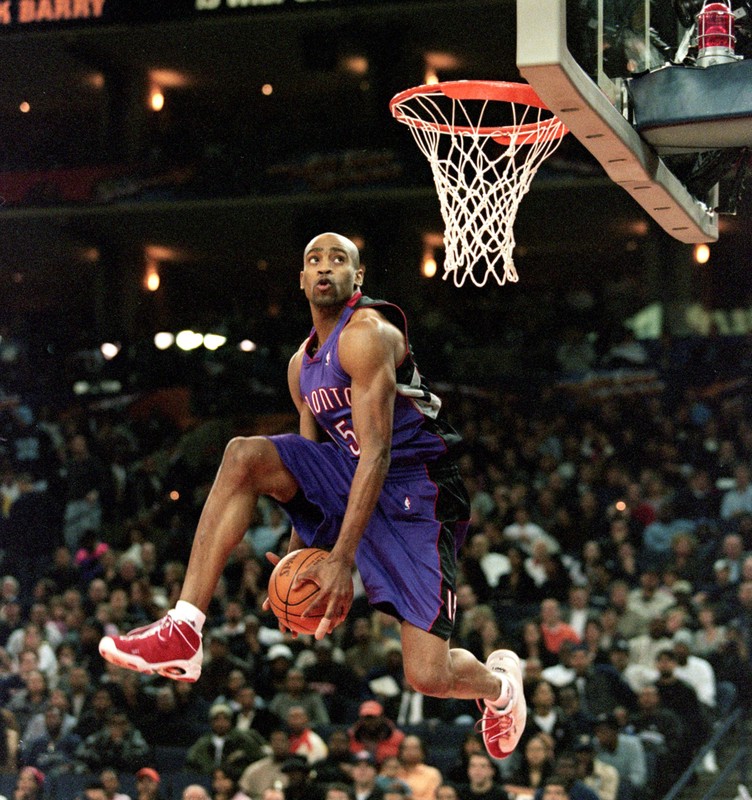 Specially after the 2000 NBA All-Star dunk contest he became an icon in whole Canada! Everyone has started to buy his sneakers or jerseys.. I mean everyone! He just started a basketball madness there..
He also owned a big night club in Toronto and started to host the NBA teams which they came to play in Canada.. Every new season the interest have raised to the NBA in Canada and we have arrived today.. Now Raptors fans can't fit in the arenas and 1000s of people is watching the games from the giant screens infront of the arena..
I believe every basketball fans need to thank to the Vinsanity to brought the basketball in Canada..
Thank you for reading..
Image Credits:
https://bit.ly/2LJsigq
https://bit.ly/3bNnjWA