The Past Week has been Bullish for Bitcoin as it has broke the long Descending Wedge which was acting as resistance. 
Everyone thought that the positive price action would continue allowing Bitcoin to reach higher price points.
But there was a sudden unexpected steep drop in bitcoin's price within a very short time frame.
It came back down very steeply from $9200 to $8450. Leaving a lot of traders shocked.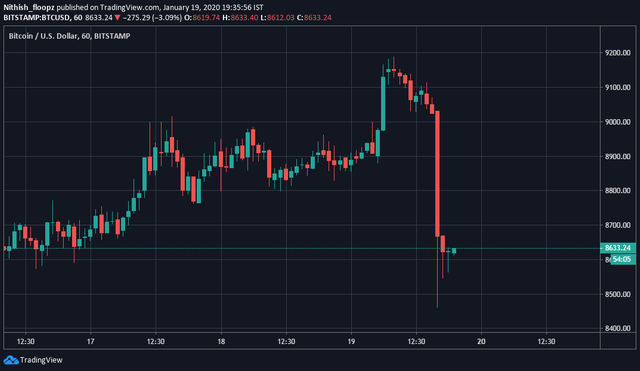 Even though this was completely unexpected we are all aware of the fact that Bitcoin cannot always go up it has to have a pullback.
Pullbacks are always healthy for upcoming positive price action.
But don't fall for the short time price action we are still very bullish in the long term.
Personally I don't see Bitcoin setting a new ATH before the Halving takes place.
As Always,
Let's See what happens.
If you have anything to say please leave it in the comments. 
 If you have found value in this content leave an Tip.
Thank you. 
Want to support me on my journey??Register at WazirX and get 200 WRX coins for free :https://bit.ly/2GYhyc8
Register at BitBns and get INR 100 for free :https://bit.ly/2KIoRFU
Register at LocalBitcoins :https://bit.ly/2KvvPPS
Register on the World's Leading Crypto Exchange BINANCE:https://www.binance.com/en/register?ref=21829990
 Donate Bitcoin:1L8dcMuoZHZMJsEZ8sWMJswsjV5nbEikGZ
Subscribe to my Youtube channel:https://youtube.com/channel/UCLb64DSrl_1-xOijZwYOivg
Connect with me onTwitter:https://twitter.com/nithishgirivel
LinkedIn:https://linkedin.com/in/nithish-kumar-2b348a142