How I Turned $1000 into $2400 in 37 Days Using the Coinseed Crypto Investing App
by 
W. Paul Alexander
for
Better Call Paul
---
---
Hello Everyone!  This is an update on the value of the investments I made with $1000 of the last stimulus check round (the $600 per person one).  I am leaving the original article below so you can see the history of my investments.  
UPDATE  02/07/2021:  Today, looking at Coinseed, the value of my holdings are now $2389.  I have made several tweaks to my portfolio since the last update.  One mistake I made was moving my entire ADA bag to Ethereum.  While I've made a decent profit from this, I would've made more if I had kept it in Cardano, because it is currently on a moon pump.  I also bought an extra $100 in DOGE at $0.035 cents, but I am not including that in here, as the Elon Musk/DogeStreetBets phenomenon is a VERY high-risk position, and I do NOT want anyone to misconstrue my words into a recommendation to bet on DOGE.  My personal opinion is -- you may get lucky, but you may lose your ass.  If you have it to lose and want to gamble, that's your prerogative. 
---
---
So, I am currently vested in the projects below.   Now, last night things were a little better, and my total portfolio value was sitting around $2550.  However, I didn't write this update last night, so I have to use the value of my portfolio during this little slump we are seeing this morning, leaving me at $2389.  
---
I am the most excited about Ethereum right now, as it is in all-time-high mode and has predictions of at least $2000 in many different analyses. 
That's about the end of this update!  You can choose to read the prior update and the original article below so you can see the history of this value tracking project.  Thanks for reading! 
END OF UPDATE 02/07/2021
---
---
UPDATE 01/09/2021:  This is my first update to the original article, published 01/07/2020. I have decided it will be easier -- both for posterity and for the sake of linear reading -- to just update and repost one article with the most recent update being what readers see first.  That way, if you're keeping track, you can do so much easier.  
So, I wasn't going to post another update here until I checked my balances at around 7:50 PM.  Now, in a total of 12 days, I have turned $1000 into $1847.00.   From where I was at 2 days ago, that's $99.50 per day.  Nice little income for literally doing nothing but investing $1000, making 2 tweaks, and letting it sit.  
So, I want my readers' opinion.  At what point, knowing the coins I am invested in, should I cash out to USDT?  Or should I hold the currencies that I have?  It's just -- it's not very often that you see a complete 100% profit, and at this point, I'm up to 85% (or a $847 return on my $1000 investment).  
END UPDATE
---
---
Original Article Below - Published 01/07/2021
Hello to my faithful audience!  After the crazy events of last night, I was unsure if I would write this article today, as attention seems to be focused on the attack on the US Capitol during the counting of the electoral votes yesterday.  Damage was done to some of the government property as leadership offices were taken over for a brief period before police in riot gear took it back and stood guard while representatives returned to finish the job of certifying Biden's win.  
Damage to some of the antique furniture in the Capitol Building can be seen here -- of course, this is just a small example, and you can see the window boarded up as well.
---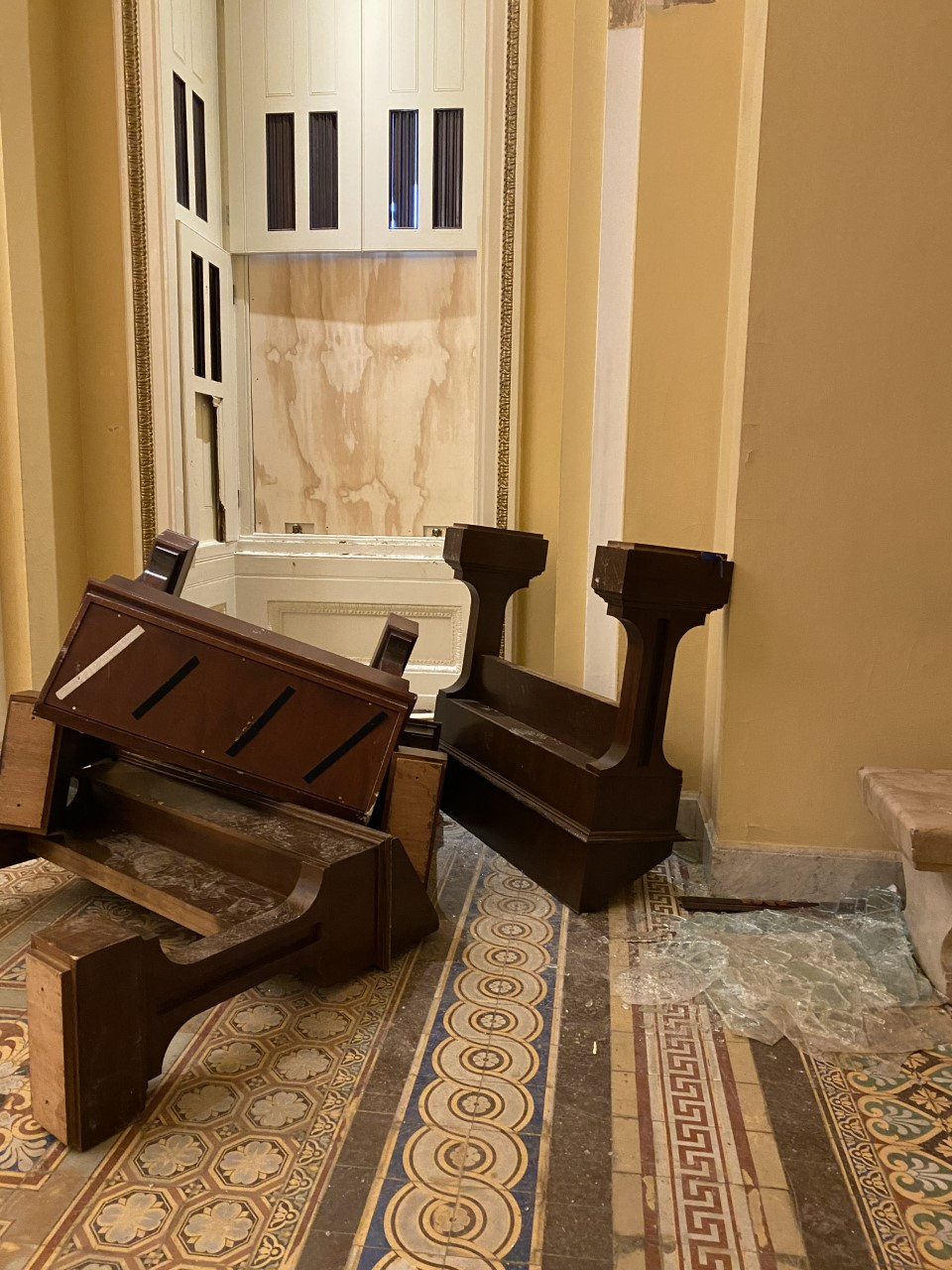 ---
So now that we're past January 6, there is a chance that the political rhetoric will begin to calm down.  This probably won't have too much of an effect on markets, though, as the markets seem to have collectively ignored the craziness of Washington, especially out of the executive branch.  
But that's not what I am writing this article for... I only mention the attack to give a bit of background as to where we are at this point in time as we see all out race for the moon in the crypto realm.  It's truly like looking directly into two different dimensions when you compare politics to finance.  
So, back around Christmas, I mentioned that I would be starting a project that would invest an amount into a basket of cryptocurrencies and would track said project, publishing updates along the way.  
Well, I settled on investing a little over $1000 -- $1057, to be exact -- into the DeFi Coinseed App.  If you are not sure what Coinseed is, you can learn more about it here (not a referral link, I promise!).  My plan was to invest on the first of the year, but I ended up getting it in around December 28, at which time I invested he $1057 into a basket of top currencies.  
Now, Coinseed has their own basket of cryptos pre-selected for you, but I didn't use this feature.  Instead, I invested in the following: 
---
---
Bitcoin
Litecoin
Ethereum
Cardano
Chainlink
Bitcoin Cash
---
---
I also had BAT and XRP in the baskets, but I ended up converting them to USDT and then redistributing it among the selections above.  Now, we are obviously in a bull market like the world has never seen before, but I never expected to be able to make this much, this quick, and with such a small investment.  
So, between December 28, 2020 and today, January 7, 2021, this is what my Coinseed balance looks like: 
So, as you can see, my balance is currently $1665.77.  This profit has been realized over the course of a week and a couple of days.  It's equivalent to having a part-time job without having to do any work except for research my investments and make adjustments accordingly. 
This means that I have made a profit of $608.00 in this very short amount of time, and it looks like the rise will continue.  To put it into an easy-to-understand explanation -- my rent is $595.  My profit this week pays for my rent and leaves $13 left over to stop and pick up (drive-thru or curbside, of course!) a nice, healthy vegan meal.  
As far as a percentage goes, this means that my Coinseed investments have grown by a rate of 36.51% in just over a week.  This is why I have been advocating people consider investing their stimulus, as this is an amazing return that many could definitely use as their financial situation becomes more dire.  
So, what do you all think?  How much should I let it rise before I sell for USDT and wait for the correction to scoop more up at a cheaper price?  Please leave your comments below, and I'll get back to each and every one of you, if I have the time! 
Have a wonderful day, everyone -- Deo Volente! 
-Paul
---
---
Image Credits: 
1.  CNN 
2.  Luke L. |The Crypto on Medium.com

Coin widgets supplied by Publish0x courtesy of CoinGecko.