CINE is the new Tribe emerging on Hive Engine. CINE is the token of the tribe. More details are available in this article. Many people might have an interest in watching movies and discussing movies and their favorite TV shows. I'm also a person who discusses movies and TV shows a lot. The last series that I watched and completed on Netflix was Cocaine coast. Before that DARK was the TV series I watched and it was recommended by @rehan12. I mostly watch TV series based on the recommendations I get. Even before that, I had a few recommendations from some more people.
For now, I have decided that I should be taking a break from watching any TV series for now because it is draining my time as usual. However, I have some control over myself and watch a few series without creating any addiction. I recently watched a few movies which are okay because it is not going to drink all my time anyways. There are a start time and end time for the movies but if it comes to web series, I have to allocate lots of time towards that.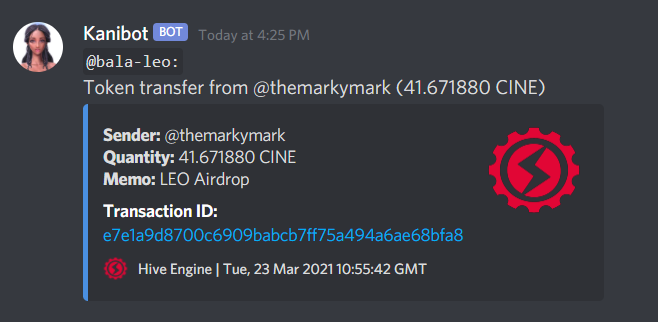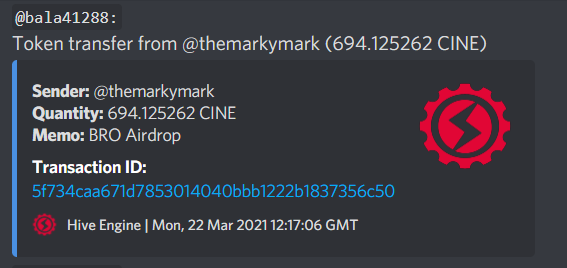 Yesterday I received the CINE airdrop from @themarkymark for the BRO tokens I was holding and today again I received an airdrop based on the LEO tokens I have been holding. I'm glad that there is a new tribe now called CINE where we can talk about movies and TV series or any CINE stuff. This is a great addition to the Hive Ecosystem where we can now talk about our own area of interest.
Good thing is that we will also be getting dividends every day from some of the passive income tokens. Already we have been receiving a small daily share of the tokens as passive income from Brofund and today I was happy to see CINE tokens being distributed as part of Index rewards as well.
Today the price of the CINE token also had a nice pump in Hive Engine. I guess many people have already started dumping their CINE token but the surprise is that there are people available to purchase those tokens which have increased the value of this token. Looks like the worth of the CINE token that I hold is almost 80$. I might create a new account for the cine tokens and hold them there and start curating from there.
---
Posted Using LeoFinance Beta