The Rising Star is one of my favorite games on Hive. I had been playing this game for more than a year and I find it very interesting. I have invested all my earnings back into this game. I can also say that I have already reached breakeven in the game and now all that I earn from the game is extra. I'm also amused by the fact that I can purchase cards from the market that desires my interest. Today I'm able to earn 3 dollars from this game and hopefully I keep growing and someday I can make close to 10 dollars per day from this game and that will be like 300$ per month which should be sufficient for many things.
One thing that I like about all these crypto games is the fact that we don't really have to bring money from our real-world to grow in the game. We can keep playing the game and upgrade our levels or invest a little into the game from the money we earn from other crypto projects and progress in our favorite game. I have to admit that in a way Hive has helped me grow my stake in the game and it already gives me a good profit.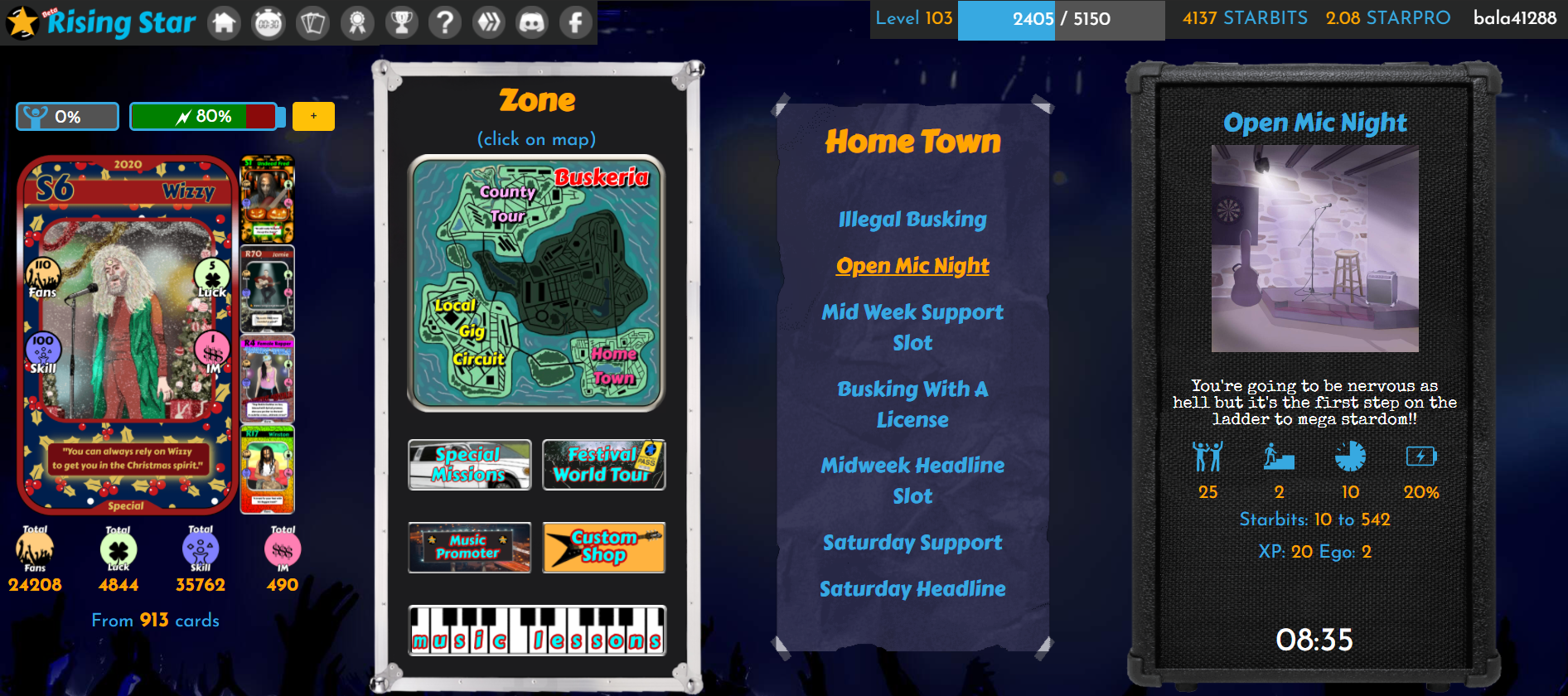 Starbits millionaire
This is the best thing that happened to me on the Rising Star game. I did not know about this fortune earlier. I was waiting to collect 1 million starbits from my earnings even though I already reached all the requirements to get that card. Later after reading the advantages from others' posts, I purchased starbits and became a starbits millionaire, and started to do the missions. Every day this gives me 10,000 Starbits which is close to 1.3 Hive at the current market price.
I would recommend this to everyone playing the game. If you have already reached all the eligibility criteria, it is best to invest and grab this card as soon as possible. When I was investing, the price of 1 million starbits was only around 100 $ and the earnings I was getting from the game were close to 2$ per day. So doing the math I was able to see that I could easily get my investment back in like 2 months and after that whatever comes my way is definitely a good profit to me. Today that is what is happening.
3 dollars per day
I'm earning close to 3 dollars per day from Rising Star. I purchase a lot of cards from the market and keep growing my Fans and skills. That's one of the reasons why my earning from the game also increases. I'm not very strict in playing the game though. I miss playing the game a lot but on average, I guess I play for about 3000 minutes per week. I don't know how people are able to play even 7000 minutes or more than that.
But with all these efforts I'm able to make close to 15000 Starbits from missions and if I'm lucky some days I even get over 20k starbits on a single day. The value on average comes close to 3 dollars. This is why we need more play to earn games. Here I'm just doing my investment and doing a small strategy and enjoy playing this game. In return, the game is not only giving me the fun that I want but it also gives me an earning opportunity.
If anyone would like to get started, feel free to use my referral link. You don't have to pay anything to get started. Initially, the progress can be a little slow for the new joiners but once you are persistent, you can grow bigger.
https://www.risingstargame.com?referrer=bala41288
---
Posted Using LeoFinance Beta