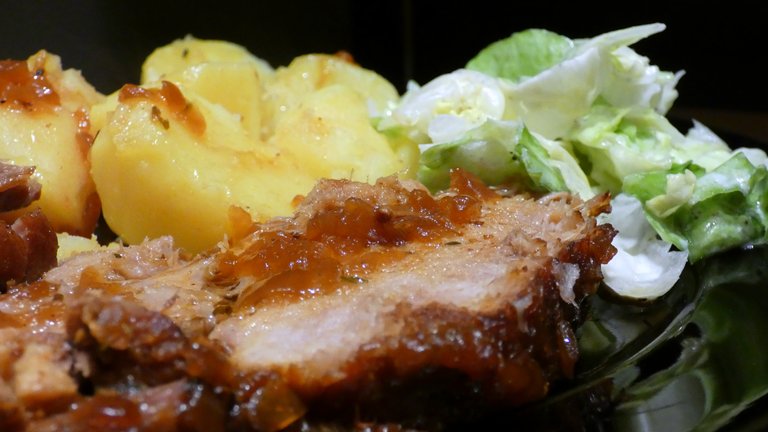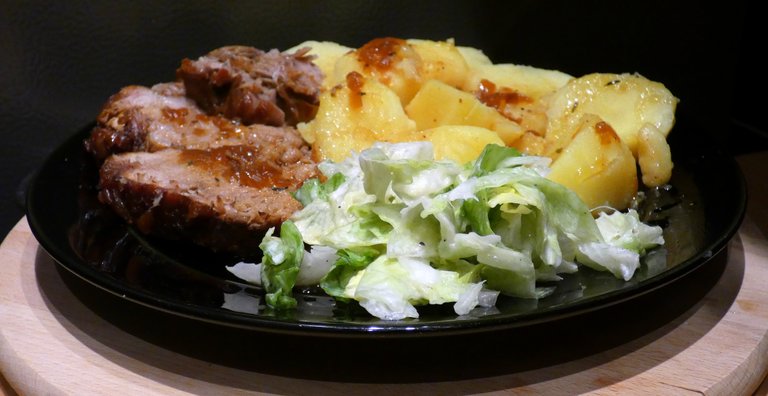 We are used to the fact that roast is pork slices stewed with onions or garlic. We cannot avoid these ingredients, but we can serve them differently in a roast. Today, pork roast is a bit unusual, namely stewed whole in a herb sauce and stuffed with garlic. It tastes brilliant.
Przyzwyczailiśmy się, że pieczeń, to plastry wieprzowiny duszone z cebulą ewentualnie czosnkiem. Tych składników nie unikniemy, ale możemy je podać w pieczeni inaczej. Dzisiaj pieczeń z wieprzowiny trochę nietypowa, a mianowicie duszona w całości w sosie ziołowym i nadziewana czosnkiem. Smakuje genialnie.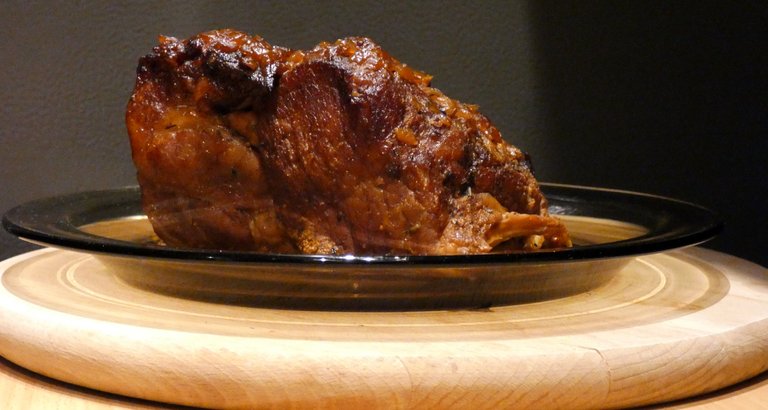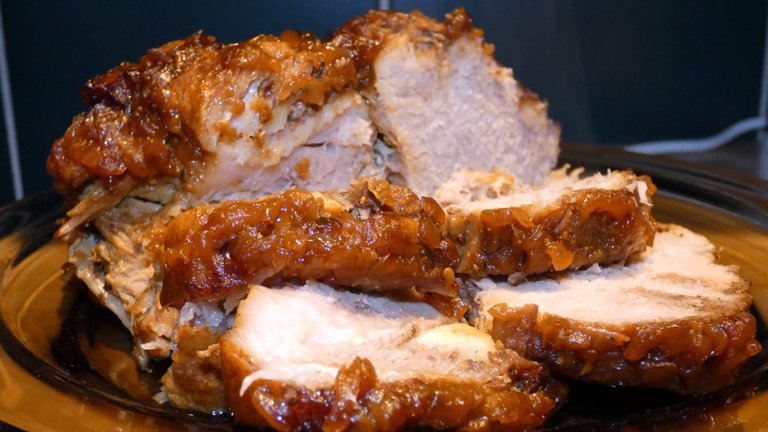 Ingredients
Składniki
A large piece of pork - preferably 1 kg neck, onion, garlic, herb pepper, thyme, rosemary, salt, pepper, soy sauce, vegetable oil, allspice, bay leaf, potatoes, iceberg lettuce, cream.
Duży kawałek wieprzowiny - najlepiej karczek 1 kg, cebula, czosnek, gorczyca, kolendra, kminek, papryka ostra, kozieradka, majeranek, tymianek, rozmaryn, sól, sos sojowy, olej roślinny, ziele angielskie, liść laurowy, ziemniaki, sałata lodowa, śmietana.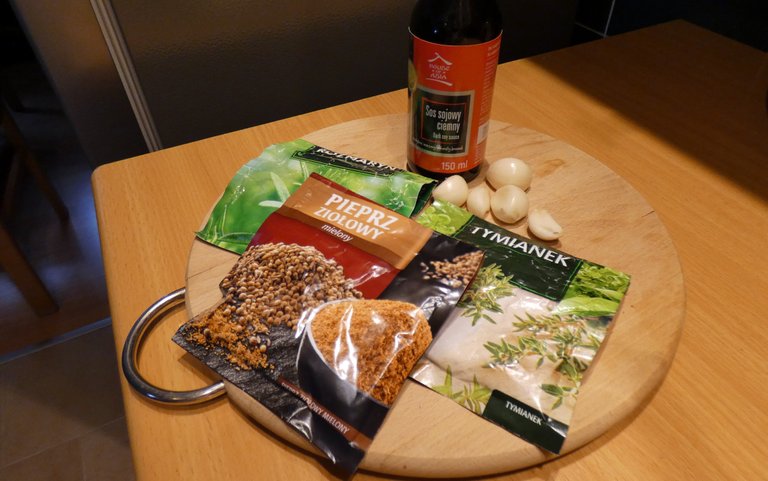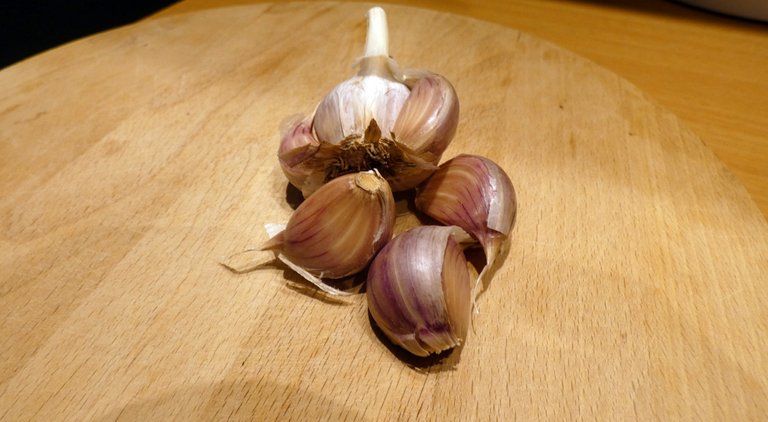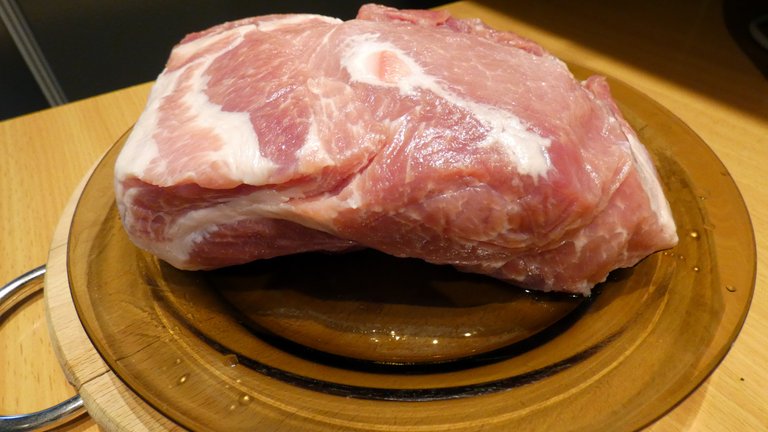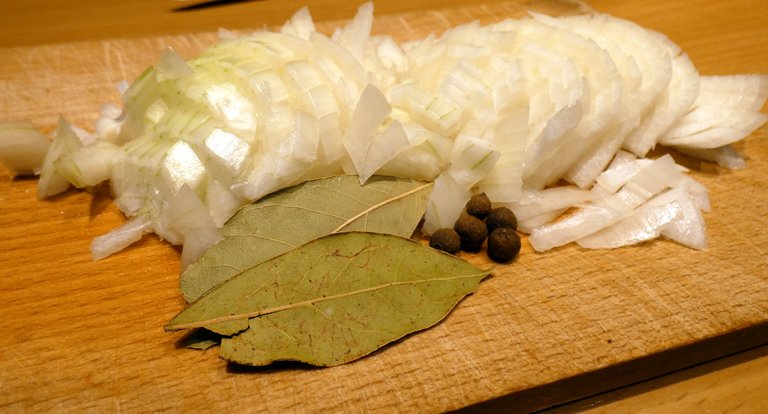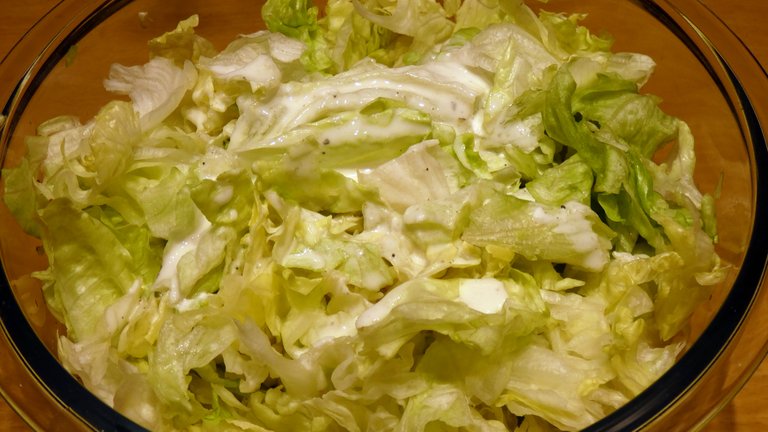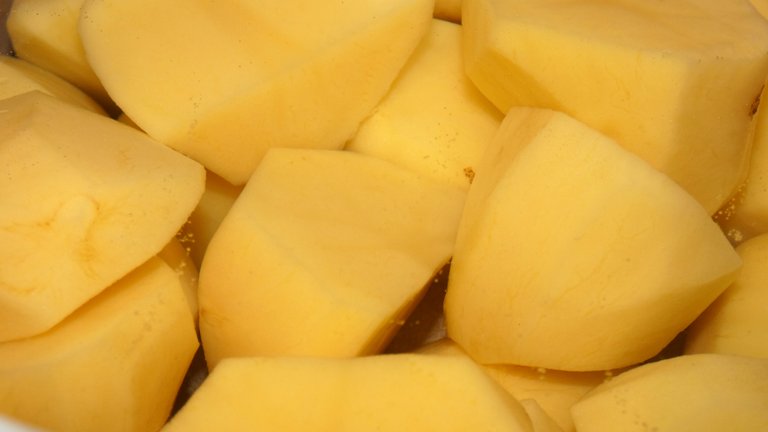 Preparation of the roast
Przygotowanie pieczeni
Wash the pork thoroughly. Make an incision and put whole cloves of garlic into the incisions. The amount of garlic to your liking.
Mięso wieprzowe dokładnie myjemy. Nacinamy i w nacięcia wkładamy całe ząbki czosnku. Ilość czosnku zgodna z upodobaniami.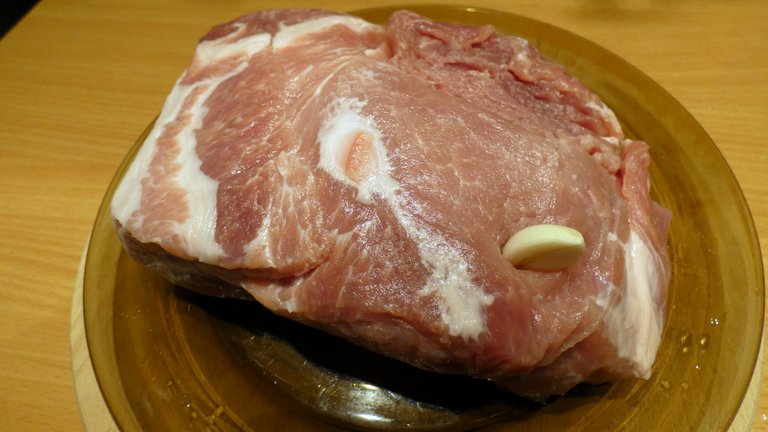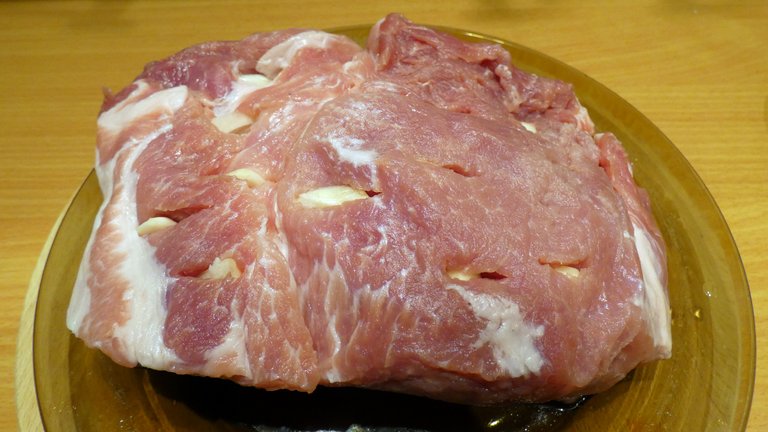 Brush the garlic-filled meat with the previously prepared herbal stain and leave it in the refrigerator overnight.
Naszpikowane czosnkiem mięso smarujemy przygotowaną wcześniej bejcą ziołową i odstawiamy do lodówki na całą noc.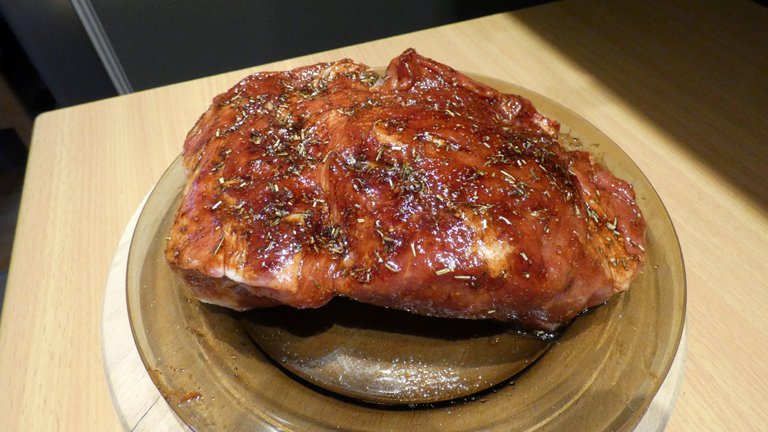 Roasting
Pieczenie mięsa
Put the roast on the hot vegetable fat and fry it thoroughly on both sides.
Na rozgrzany tłuszcz roślinny układamy pieczeń i podsmażamy dokładnie z obu stron.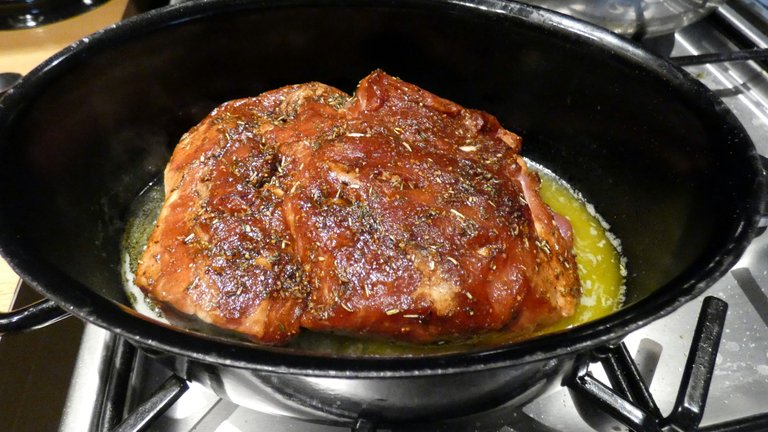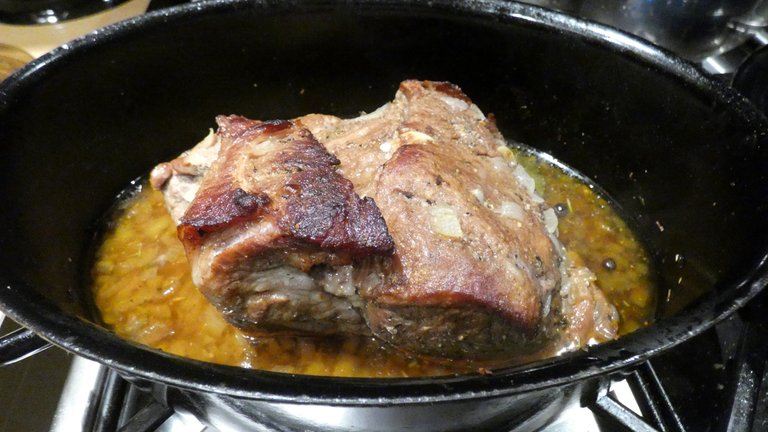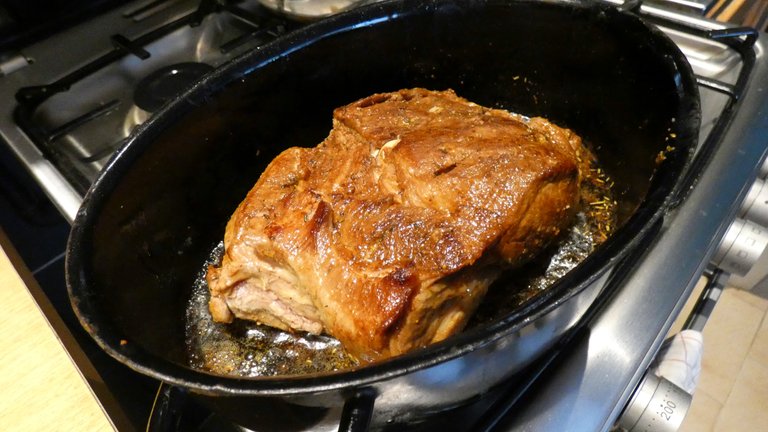 Add the diced onion, gently water it with cold water and put it in the oven, preheated to 180 degrees. Bake it for about 1.5 hours. The roast is ready.
Dodajemy pokrojoną w kostkę cebulę, delikatnie podlewamy zimną wodą i wkładamy do piekarnika rozgrzanego do 180 stopni. Całość pieczemy około 1,5 godziny. Pieczeń gotowa.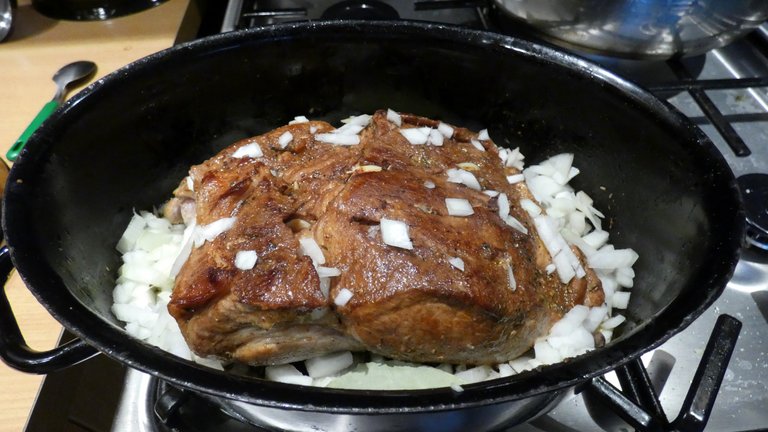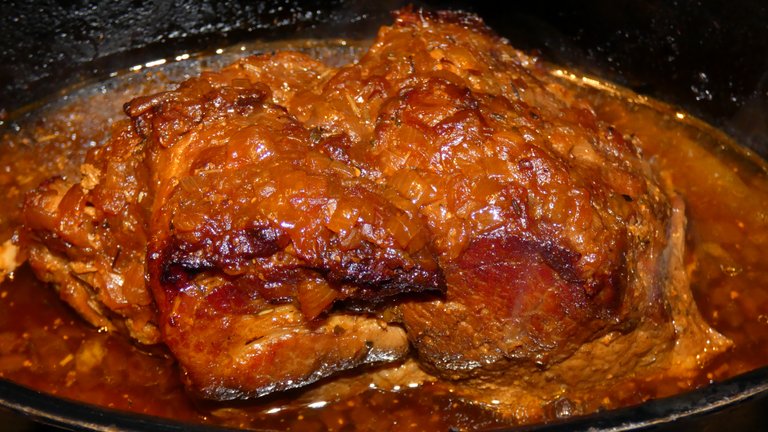 In the meantime, we prepare iceberg lettuce. Wash it, shred it into pieces, add salt, pepper and cream. We mix everything thoroughly
W międzyczasie przygotowujemy sałatę lodową. Myjemy ja, rozdrabniamy na kawałki, dodajemy sól pieprz oraz śmietanę. Całość dokładnie mieszamy.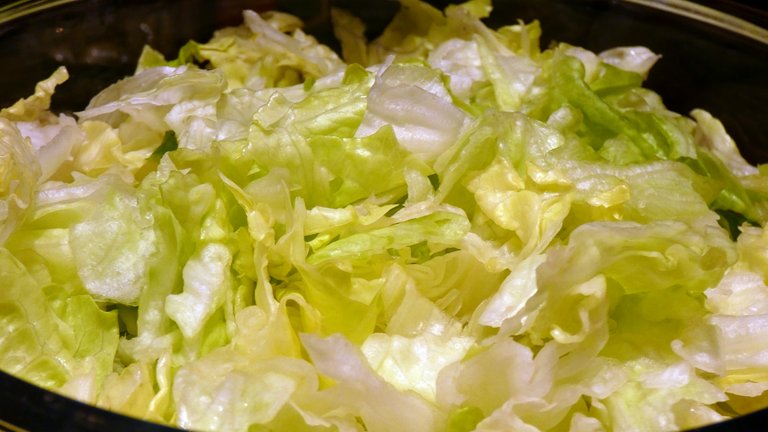 As it is a Sunday lunch, it is also served with previously cooked duck broth.
Jako że to obiad niedzielny, to podajemy również z ugotowanym wcześniej rosołem z kaczki.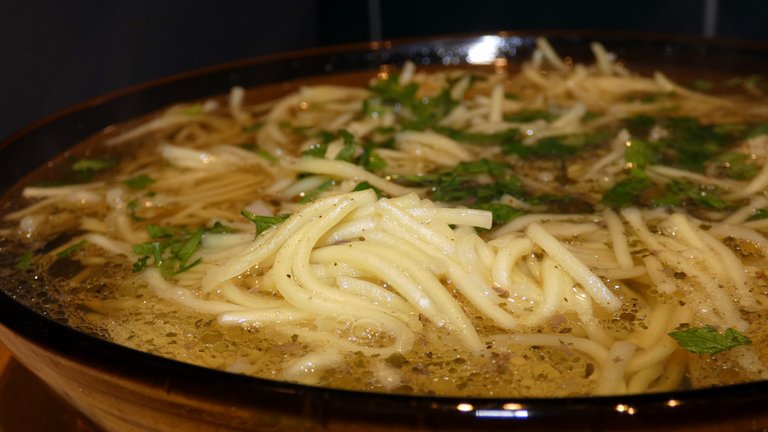 Way of giving
Sposób podania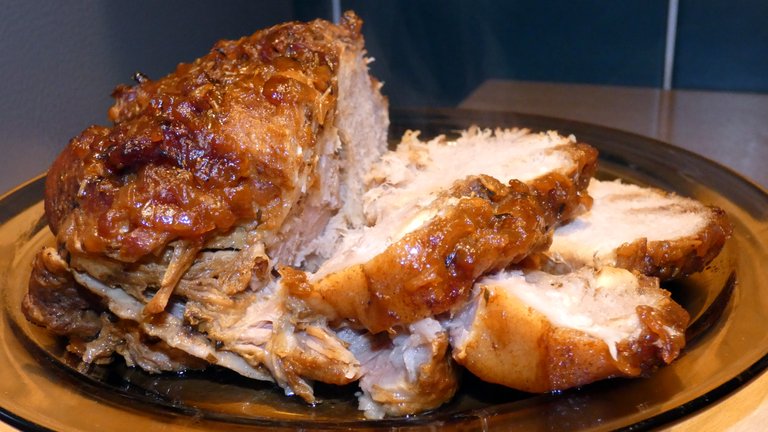 Cut the roast into thick slices, place it on a plate with potatoes and pour it generously with the herb sauce made during baking.
Pieczeń kroimy na grube plastry, wykładamy na talerzu z ziemniakami i obficie polewamy sosem ziołowym powstałym podczas pieczenia.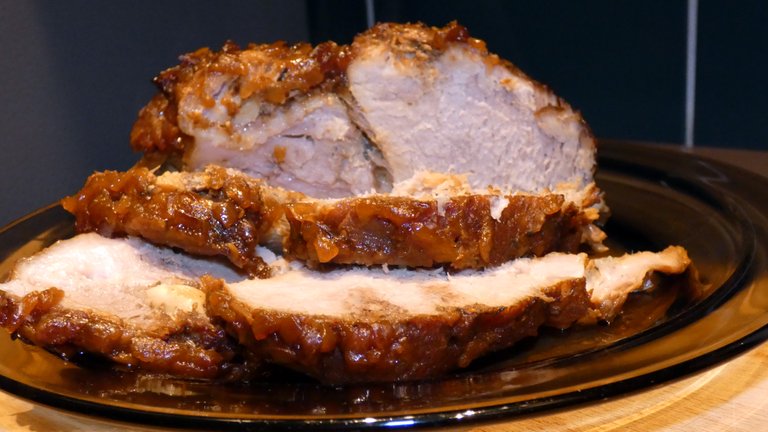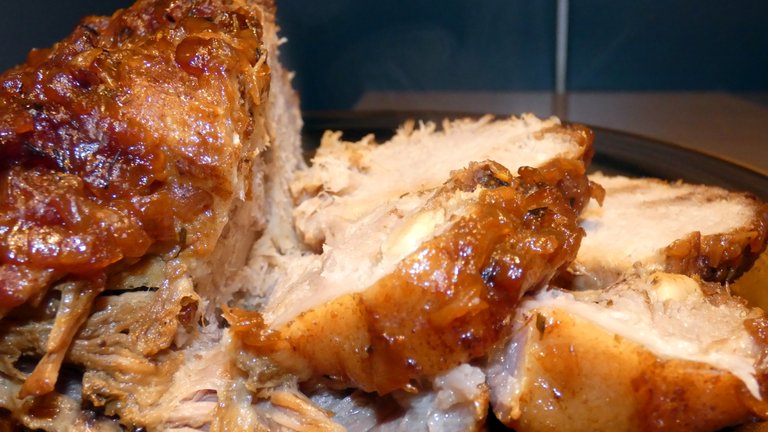 As a vegetable salad, for example, we serve iceberg lettuce, but you can also choose any other fresh vegetable salad.
Jako sałatkę warzywna podajemy na przykład z sałata lodową, ale można również z inną dowolną sałatką ze świeżych warzyw.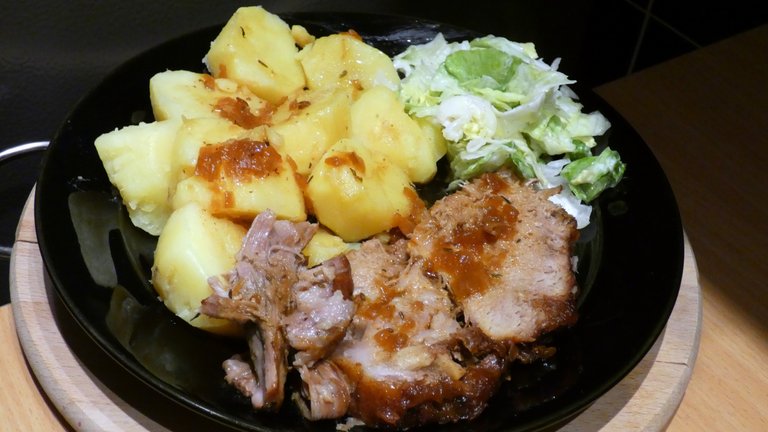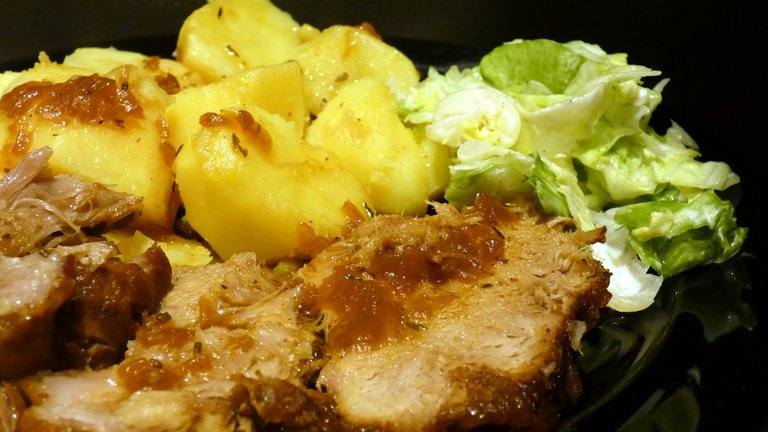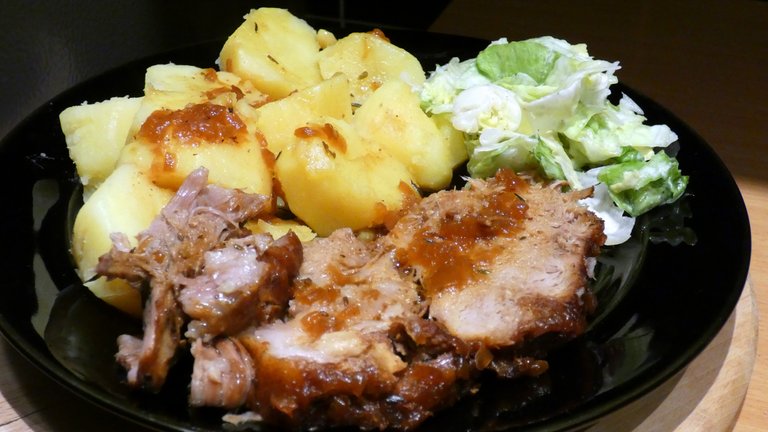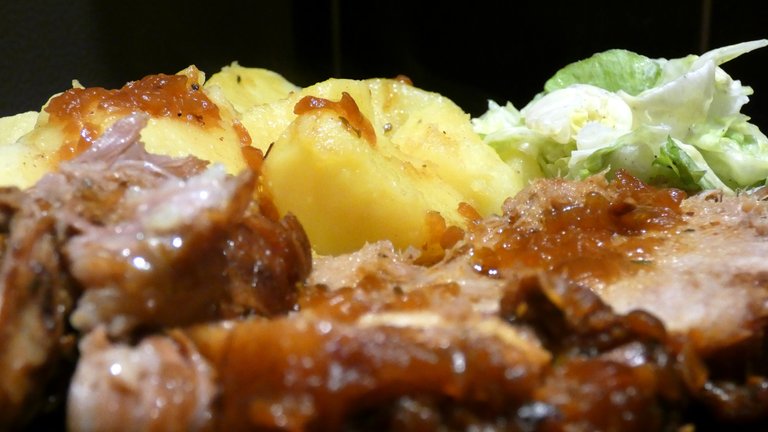 Smacznego
Enjoy 😋