Hi folks! I'm back, after missing last week challenge - my bad, too busy at work - ready to enjoy another season in Splinterlands.
After a few quite disappointing seasons in Silver league, always ending around 40th place and with junk seasons rewards (200 DEC and one common card out of 21 loots: Are you kidding me?), I decided to move back to Bronze league.
That's where I belong baby! The place I call home.
Hopefully I will be regularly back in the top ten milking some packs as a reward, and I'm quite happy with that: at the very end I was not ready for competing for a top spot in the Silver League.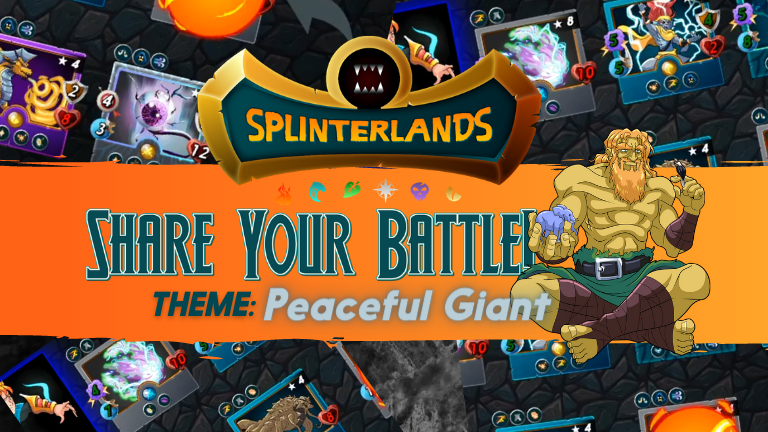 This week challenge has a card I personally never used in any battle: Peaceful Giant! The reason for that is that I started playing in the Untamed era, and honestly this way too peaceful giant is not the first card you want to buy. Since a couple of months Alpha and Beta decks were made available for everyone - free to play - but even with that I never saw anyone playing this guy: to be somehow useful a card with no attack should have at least one feature (Shield, Void or Magic Reflect) or at least be very cheap, perfect for low mana cap battles
If you want to go deep in understanding cards with no attack, please read this beautiful article by @mercurial9, it's really well written.
This Peaceful Giant has none of that: quite expensive in term of mana evoking, he does nothing. So that's the challenge: how can we use it?
PEACEFUL GIANT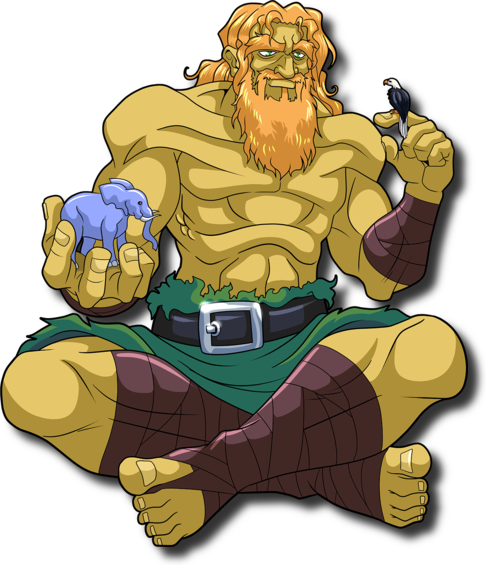 #Edition: BETA
#Rarity: COMMON
#Element: NEUTRAL
#ATTACK: NONE
#ABILITIES: NONE
There have always been stories of Giants in the Splinterlands, but recently they began to arrive. They bring tales of a home far across the water that they had to flee from a terrible threat. Luckily, these refugee Giants mean no harm to the Splinterlands. Most of them arrived by swimming across the entire Outer Ocean..
---
PEACEFUL GIANT AS AN INVESTMENT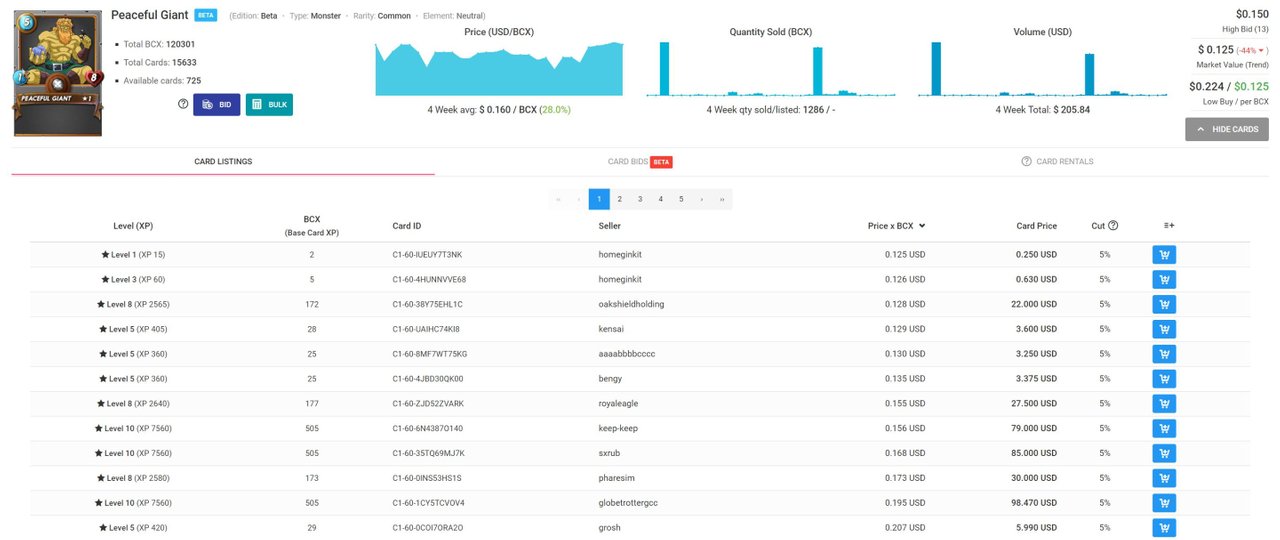 Please Giant, you're peaceful, don't take it personally... I not recommend buying you!
This card has a low market, like any other barely played card in the game: the price is quite stable, around 0.16/0.20 $ BCX, but if we don't consider 22th of April, when someone bought 500 Peaceful Giant in one day (hey buddy, everything ok?) this card is hard to sell.
At level on there's literally thousands of them on the market, so I strongly advise you to use your money for something more useful...
MY STRATEGY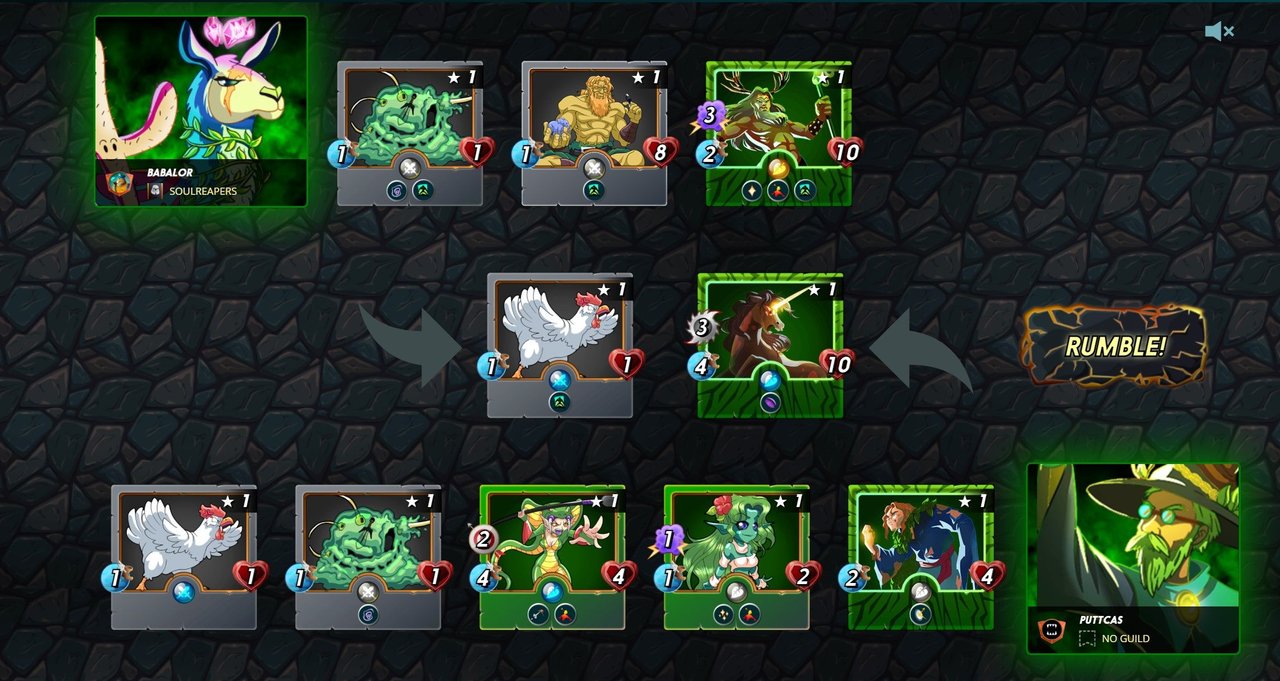 Find a solution to see this Peaceful Giant playing was no easy... At the beginning I was thinking of a battle with "No Abilities" ruleset, where he could be a tank, the other option was a battle with "Target Practice" to use it as a backup tank.
I went for this second option as soon as I had the occasion. I absolutely didn't wanted to lose because I want to reach a top ten spot in the season.
I found then this low mana cap battle with Target Practice, and I used the Peaceful Giant as a partner of the devastating duo Scarred Llama Mage + Kron the Undying. To complete my team, a always useful Furious Chicken and a Creeping Ooze. My idea was to slow down the battle and let my Kron slowly destroy enemy's second line, while healing himself. After that, he could easily kill enemy's tank due to Last Stand ability.
At the end I was surprised my tactics worked exactly as I planned against a good rival, so I was extremely satisfied!
See you soon folks, until next challenge!
Support my Journey to 1 bitcoin
Here's the super-trusted earners I support. Please consider using my referral if want to give them a try
BetFury - Best Earner - Crypto casino with Faucet: Top Earner!  Claim -> Play -> Stake -> Earn
Cointiply - Best Earner - Earn Bitcoins by doing offers, watching ads and PTC ads
HoneyGain - Earn for sharing your internet connection
Binance - Exchange with a lot of earning solutions
Morpher - Sign up and get your trading account funded with crypto for free
PipeFlare - Best Faucet.Pays immediately to your wallet
Global Hive- Alternative to PipeFlare
Coinbase Earn Program - XLM - COMPOUND - EOS - Earn for watching videos
Presearch Earn tokens for surfing the web
Splinterlands - The most fun-to-play Blockchain-Game
Cake DeFi -  Put your cryptocurrencies to work.
Womplay- Play mobile games and earn EOS