Since Web 3.0 started many developers has shifted their job from making apps, website, or working in companies in a centralized manner to start developing Decentralised apps or Decentralised platforms on a Blockchain network.
Seeing the potential of Blockchain in the future. Many want to build their own project on Blockchain networks. To support the upcoming talent the platform called "BCHPAD" will support their project.
What exactly is BCHPAD?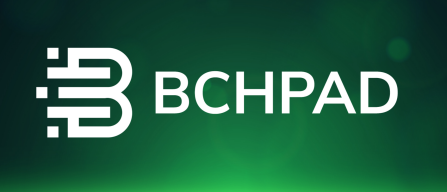 BCHPAD is a decentralized platform or a launchpad that is built on Smart BitcoinCash. The purpose of the platform is to support the new developers to launch their De-Fi upcoming projects by funding them and providing a platform to launch.
BCHPAD will launch good De-Fi projects which are verified or audited by 3rd party auditors and reduce the risk of scams.
Important features of BCHPAD.
Locked Liquidity - Anyone who wants to launch their projects on BCHPAD will be required to lock a large number of tokens in a locker.

The purpose of this is to protect the investors from getting rugg-pulled and losing all their money.

Transparency - It is a fully decentralized platform where all the processes are transparent on the blockchain through Dapp.

Auditing - Every project before the listing is gone through a 3rd party auditing for raising the funds for the project.
How to raise funds for your project?
The process is simple a within a few steps you can apply.
Visit this google form link https://forms.gle/818xYUehVxoexo1D7
and fillup the form and enter the required details.
Or you can visit Bchpad.cash website and click the option to apply for IDO.
After the submission of forms, BCHPAD devs will check the potential of projects and check whether it meets the required standards.
Voting is carried between the token holders
and then the project is sent to audit from 3rd party partner which audits the contract.
After auditing and if all things are good the approval is given to the project and after completing all the requirements of the BCHPAD team.
The project is set to launch on BCHPAD.
BCHPAD mainly focuses on the security of the investors' money and to avoid any loss of funds in investment.
We have seen recently many new projects are listed on daily basis and meant tokens are being created.
recently token created after hype in squid game called SQUID has rugg pulled it all investors making a huge scam in millions. And very much loss for its investors.
Considering all these types of actions in the market BCHPAD is trying to reduce all these risks.
RoadMap
2021 Q4
Launchpad Platform reveal

Lite paper

BCHPAD token launch and presale

Partner with Audit firm
Q1- Q2 2022
Include more features and contracts to the launchpad.
Audit of new features.
As new good projects gonna list on the platform, more the values of BPAD token gonna rise which will support the Platform for doing more innovation.

Conclusion :
BCHPAD is a platform for launching the new de-fi projects which will support developers raising the funds for the project also give a platform to launch its project.
The main focus is to keep secure the investor's money and help the developers to reach more audience.
My thoughts are that it has got so much potential and slowly it's gonna do very well in the future. Constant launching of good projects will surely help.
Smart BicoinCash has been helping many developers to build Dapps and DEX which is a good sign.
Disclaimer: This is not financial advice and the article is only for educational purposes. DYOR before investing in anything.