If you haven't already, start playing Splinterlands with my referral link.
With great power comes great responsibilities
Intro
Last week was the last one in the season. With that, I tried to make the most of my time and get the most ranking I could. I was playing 2 to 3 hours a day to push to 1000 rank. In the end, I couldn't quite reach this imaginary mark, but got pretty close: My peak ranking came to about 970. For me, considering I started playing a couple of weeks ago, that is pretty good.

After the season had ended, this was how my account looked. Nothing special here.
---
My push for power
I had achieved a rank that greatly outmatched the league I was in. The reason for this was that my power was really low. I basically had no cards apart from the ones I had earned for free. In hopes to pump up my power, I had to find a way to earn more power.
I was searching online for everyone and most people were vouching for me to buy gold foiled cards. Even though this is pretty good advice, I think I might have found a better way of getting power when you are just a beginner. It requires a little bit more time and effort, but I think it is really worth it in my opinion.
---
The least of the rares
The strategy is the following: Go to the rental market and filter it to look for the cheapest rare cards (normal foil). You'll see that the cheapest ones go for the minimum 0.10 DEC. For itself, they don't give much power. But the ratio of power for DEC is the highest I could find.
Considering this, my strategy is to rent as many of these cards as I can. You rent, at most, 45 cards at a time, coming to 4.5 DEC, which gives about 1000 power. Do this 5 times and that's 5000 power with just 22.25 DEC a day.
0.1 DEC rare cards give out the best power for your buck!

These are the filters I used to search for these cards: rares with prices going up - that's it!
For example, this is the first card that came up. There are a bunch of them going for 0.10 daily DEC for rental.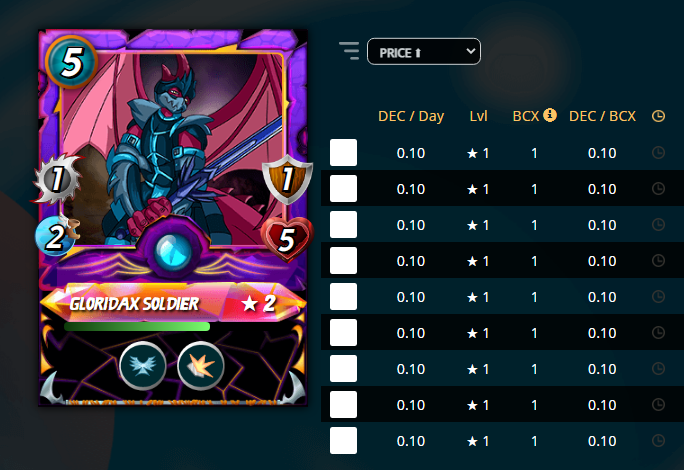 Just buy 45 copies of it at once and BOOM! 1000 power!
---
Results
I did this strategy a bunch of times until I got to 5000 power. With that, I got to match my ranking of 970 with the corresponding league: Bronze 1 - getting a boost on my season-end chest rewards.
Thankfully I was able to do it 2 or 3 days before the end of the season, getting the rewards I wanted. Another thing is that I rented all of these cards for 20 days. The initial investment is a bit pricier this way, but it is more efficient seeing that I will only have to do this again 3 weeks from now.
For my next season, I plan to break through to the Silver ranking, which requires 1000 ranking points and 15000 power. Getting the power for it will be easy if the market doesn't go crazy in the following weeks. However, if I ever plan to maintain myself in the Silver league. I really have to improve my card collection concerning card levels. Right now this is really hard because of the huge price increase on buying cards. However, we'll see what I can do. I at least wanted to dip my toes on that sweet silver water!!