Though skinny people are the envy of many, someone who is too lean may suffer from a variety of health conditions, including osteoporosis, fatigue and a weakened immune system. For some people, gaining weight may be as difficult as losing weight. According to Elena Blanco-Schumacher, RD, quoted in a January "Today's Dietitian" article, nearly 8 to 9 percent of the population is underweight. Consult with your doctor if you are attempting to add a few pounds to your frame. If you are suffering from unintentional weight loss, it is critical to seek medical attention.
DAIRY
Dairy products are full of protein and vitamins, and do not fill you up on empty calories. Not only is dairy great for your bones, but it also will add a few pounds to your frame. Add milk to your morning oatmeal or use it in stews for extra calories. Sprinkle extra cheese on eggs or add a few slices to your lunchtime sandwich. Snack on ice cream or frozen yogurt between meals. Add an extra dollop of sour cream to soups or salads. Attempt to include three servings of dairy in your diet each day.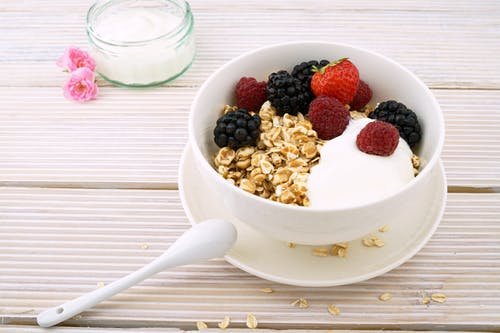 SNACKS
A variety of snacks give you a burst of energy midday, as well as a dose of extra calories. Choose a handful of nuts, such as almonds or walnuts, for a snack on the go. Granola mixed with yogurt and fruit is a healthy and sweet snack. Make a mini pizza as a quick snack. Use a bagel, muffin or toast and top it with tomato sauce. Sprinkle it with cheese and other toppings. Bake the pizza for five to 10 minutes for a warm and calorie-rich treat.
NUTRIENT-RICH FOODS
When planning meals, don't opt for fast food to gain calories. Your body doesn't only require calories, but also a variety of vitamins and minerals. MayoClinic.com suggests whole-wheat pastas, cereals and breads. Always add a variety of fruits and vegetables to your meals. Not all your meals need to focus on red meat. Additional food sources such as tofu, chicken and fish add protein and calories.
BEVERAGES
Avoid filling up on soda, sweet tea, coffee or other drinks with little nutritional value while you are eating. Drinking these types of beverages also fills your stomach fast, and you may no longer be in the mood to fill up on food. Instead, drink 30 minutes before or after eating, advises MayoClinic.com. Drink milk-based smoothies with added fruits and vegetables for extra nutrition. Add a splash of 100 percent real fruit juice for flavor. MayoClinic.com suggests adding ground flaxseed to your smoothie. Flaxseed is an optimal source of fiber and omega-3 fatty acids.