As I have said before, Account Progress post has been one of my favourite posts I like to share very much on HIVE. I said, in my previous Account Progress post, that I thought to share it once in every 14 days from now on. Thus, I don't need to wait for a month to share this kind of post I like.
HIVE has been an addiction for me. The more I have spare time the more I try to be online on HIVE by posting, upvoting and commeting on posts thanks to @ecency DApp.
If you also want to analyze your stats on HIVE Blockchain, just write your account name on https://hivestats.io/, all is collected in one page.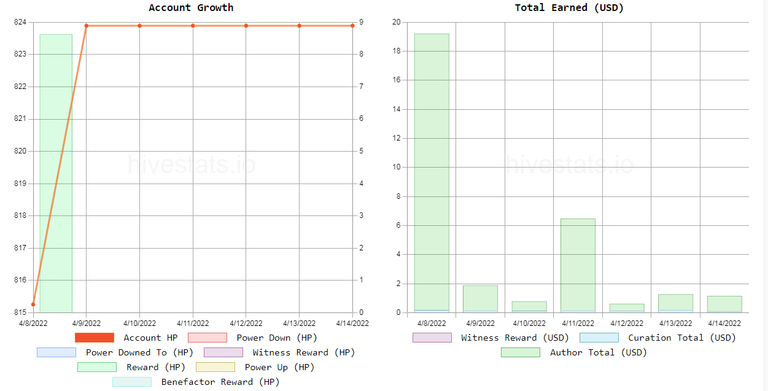 Taken from https://hivestats.io/
Here is the some data that was collected from HiveStats for the first 14 days of April:
I received 2.43 HIVE from Curation Rewards, 20.26 HIVE and 20.44 HBD from Author Rewards, also 1.31 HBD interest payout from Savings in the first 14 days of April. I received almost the same figures of March from author rewards in 14 days. APR rate declined to %7.97. Those who save HBD in savings, will get much more HBD interest payout in coming days thanks to the increased interest rate from %12 to %20. Thus, I will continue to save HBD for a while.
My first goal is to reach 1000 HP milestones on HIVE. I reached 62 reputation in March and the next phase is to reach 63 reputation. I have increased my HIVE Power to 824 HP and my reputation to 62.5 as of today.
I have been active almost everyday on HIVE since August 2021. 2021 was the year in which I shared the most posts, read the most posts, upvoted the most posts, received the most upvotes, commented on the most posts, and received the most comments on HIVE. I hope that I will realize much more and reach my goals in 2022.
I would like to thanks @LeoFinance team for the contributions to HiveStats. Hope to see you in the next monthly progress post.
Thanks for reading.