As you may know, I really enjoy exploring alternatives. Especially on the site AlternativeTo, if you do not know is worth checking out. AlternativeTo is a 2-man site in Switzerland, as well as having contributions from people from other countries, so you can find alternatives to the sites, products, and software you love or hate. Even Publish0x is already listed on the site!
It was in 2018 that I first met Brave Browser while surfing the virtual waves 🌊, looking for better alternatives to Google Chrome, which was a browser I really liked at the time, but was consuming a lot of RAM from my computer. Its configurations were 2Gb RAM, Intel core i3–3220 and it was running Windows 10. When I saw Lion Browser I fell in love completely!  ❤️🦁
Brave is developed by Brave Software, founded on May 28, 2015 by CEO Brendan Eich (creator of the JavaScript language and former Mozilla employee) and CTO Brian Bondy.
I've been testing many browsers like Firefox, Dissenter, Opera, Vivaldi, Internet Explorer, Edge, Chromium, Yandex, Safari, Falkon, Puffin and many others, but Brave caught my attention. Without further ado, let's go to my list of reasons that made me switch to brave.
My reasons for switching to Brave:
Open source and Free
I think because it is open source, it got some points with me, because open source software usually has some advantages. They give you more confidence because we know what's in your code and have nothing to hide. For example, many browsers may be selling the collected data while browsing.
It's free, I know most browsers already are. But, I've seen some paid browsers like Puffin Web Browser Pro, which particularly doesn't make sense, having to pay to browse the internet we already paid on bills? No thank you.
Fast
Brave browser is 8x faster than Chrome and Safari on mobile devices. And 2x faster than chrome on desktops, allowing you to load most news sites, for example, within seconds. Check out this link, a comparison test conducted by the Brave team.
Check out a video of the real-time speed comparison test.
Ad Blocking and Privacy
Brave Browser comes with ad blockers and trackers by default. This is already amazing, so you don't have to install third party extensions, respecting the user's privacy. One factor influencing page load is the amount of ads and trackers it has, there are usually over 70 trackers on popular pages. However, using Brave Browser saves you load time and it still counts for you. This is a picture of my count so far:
Brave Rewards
Brave Rewards System Explained
Here is a very interesting thing, you get rewarded for using Brave through the Brave Rewards program! To be more specific, you earn Basic Attention Token (BAT) tokens when browsing, allowing for "Brave team verified ads" and can contribute to your content creator by tipping. And I'm a brave verified content creator! Yes that's right! And here is proof of my last payment sent by Brave to my Uphold wallet!
You can now natively send tips from sites like Twitter, Vimeo and Reddit, simply by clicking the tip button of each post / video from the publishers you follow. This is really cool.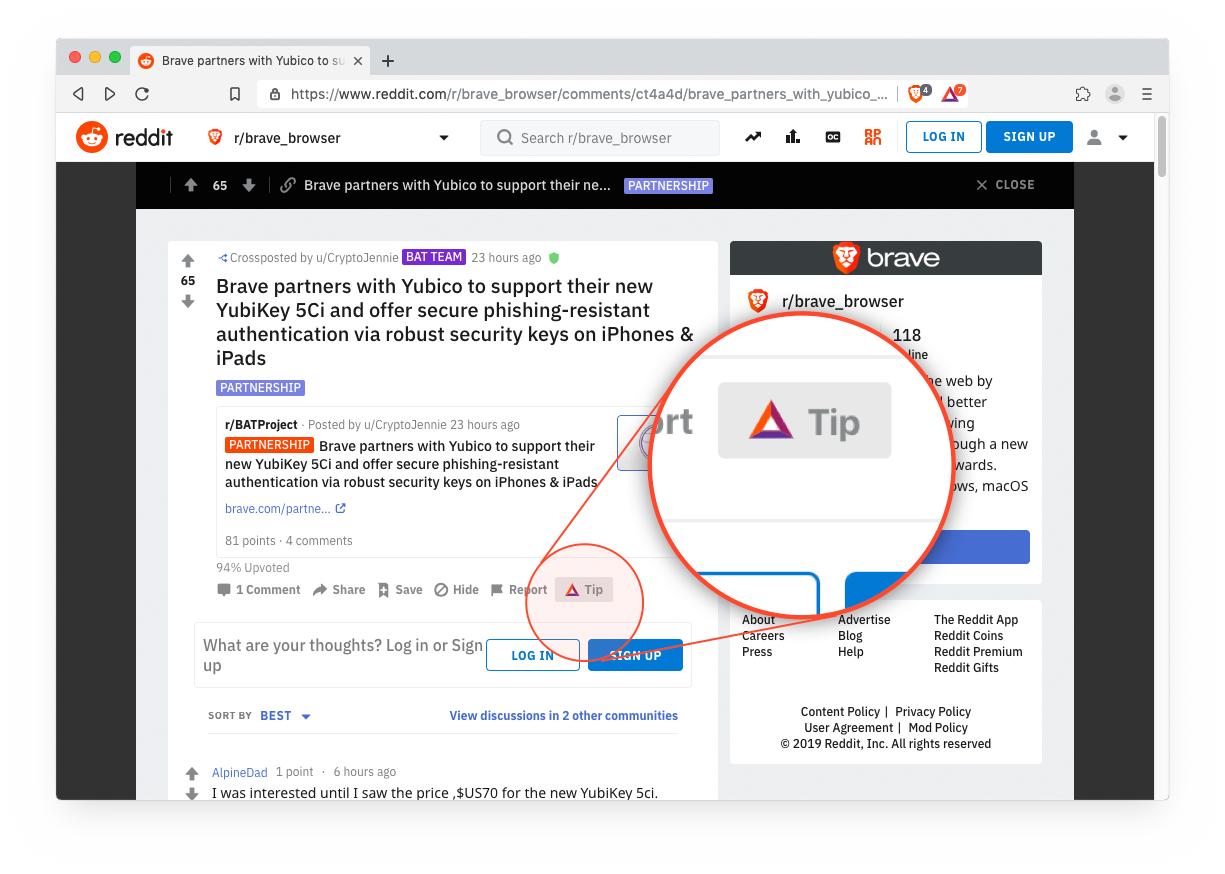 It's not too hard to become a verified content creator, just sign up for this link. And link your social networking accounts like Youtube, Reddit, Twitter, Twitch or your website. Remember that you need to have a verified Uphold account, which is a reliable Brave wallet / exchange partner. I've used their services to buy cryptocurrencies with credit card and I recommend it, it was very fast and effective. However, it is good to warn that you need KYC and there are high fees, this may be bad for some, especially for me that I move low amounts.
Note: Many people wonder and even get angry because tokens are not withdrawable yet. This question is already answered in the Brave Rewards FAQ. At the moment, Brave's BAT wallet is unidirectional, meaning you can only direct your tokens to publishers so far, but in the future you can have full control of your funds before going through a Know Your Costumer (KYC) process, being able to withdraw.
Design
Look at this setup session, the tabs, this beautiful orange and purple shade!
One of the things that attracts me about brave is its minimalist and intuitive design. As I was a former chrome user, I didn't feel much of a difference nor did I find the change to the new browser strange. His icon is also very beautiful, the figure of a lion. In symbology, a lion can express majesty, bravery, dominance, security, power and justice, among other things. This is really cool! My favorite theme is dark mode 😎 !
Favorite Site: CoinGecko
As a site that I would like to make a comparison, I highlight CoinGecko. It is a site you can use to track your favorite currencies from the cryptocurrency market. It provides a fundamental analysis of the cryptocurrency market, tracking price, volume and market capitalization. It also tracks community growth, open source code development, and major events and on-chain metrics. The site has been up and running since 2014, currently tracking over 5000 cryptocurrencies and 368 exchanges as of this writing.
In terms of advertisements, he doesn't have many. there is only one at the top of the site and one near the bottom of the page. Visibly we can notice that with Brave was blocked 2 ads from the top, one of which only appears when we scroll down the site and 1 ad from the bottom of the site. But in the shield manager it shows that we have 5 blocked items, probably trackers too.
Good is that! Thanks for reading this far! See you in the next article! If you enjoyed it and it's your first time getting to know brave, consider downloading the browser via my link!