Written for "Netflix Chat Community", Reviews and recommendations welcome. 👍
I am not usually a person to watch anything that has been dubbed form another language. It puts me off from the very start when I see their lips moving but their words don't match up with them. This movie however was the exception to that rule. I had never heard of it before until it kept appearing in front of me while logging into my Netflix.
Every time I saw the trailer for it, the movie grabbed my attention. I could see that it was dubbed but the concept looked so interesting that I gave it a try anyways.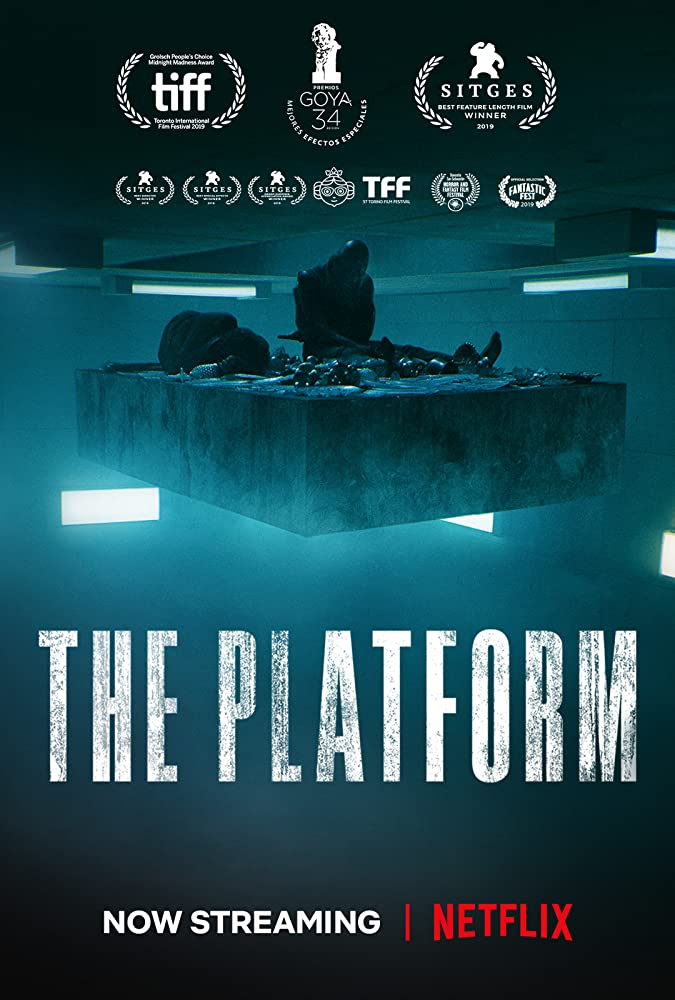 "The film is set in a large, tower-style "Vertical Self-Management Center" where the residents, who are periodically switched at random between its many floors, are fed by a platform, initially filled with food, that gradually descends through the levels. It is a system bound to cause conflict, as the residents at the top levels can eat as much as they can, leaving increasingly little for those below." Ref: Wikipedia

 

 
With a tiny cast and simple concept the movie is all about the people and the drama. Set entirely in one building it puts the prisoners in direct conflict with each other and shows how animalistic people will turn when they are on the very edge of humanity.
The simple message gained from watching it is that the ones at the top level have their choice of food and plenty of it. They take more than their fair share leaving nothing for those below who then turn violent as they fight for the scraps left by the time the platform get down to the lower levels.
It's a great analogy for current affairs as that is how life is structured right now with those at the top table taking as much and more than they need while throwing scraps to the ones below them while they fight for survival.
The film is very well put together and kept my attention easily for the 95 minute running time. The cast were very good and the concept perfect for the times we are in. It is slightly gruesome in places but that never bothered me.
The two down sides are the fact it is dubbed but to a high standard and the ending let me down a bit after such a good plot. I think they could have finished the movie better which would have gotten it almost top marks from me.
Overall it is definitely worth a watch but be ready for some blood along the way as it shows how desperate people will get when they have nothing left.
Enjoy.