Play Royal - A Token Based incentivized Gaming Platform & Exchange. 

Competition on PlayRoyal


Dice Valentine Special



Love is in the air at Play Royal until the 22nd of February as we celebrate Valentines day.
The team at Play Royal have spent months researching love, romance and all things in between. Our in-depth research was aimed at finding one conclusion; what is the most romantic gesture a person can do for Valentine's day? After much research and deliberation, we kept getting the same conclusion; rolling 00 on Play Royal Dice is by far the most romantic gesture.
Armed with this information we instantly got to work creating this event, and my god – it's beautiful. Simply play Dice with the correct minimum bet with PLAY, TRX, ETH, BTC, USDT and for the first time – RWD, roll a 00 and earn yourself a sweet little heart. The top 25 players with the most love at the end of the competition share in a tantalizing 50,000 TRX and 5 ETH.
Reward:





Update today:
Feel the Love in this Valentine Competition!
ENDS IN 5 DAYS STARTED ON Feb 12, 2020 12:00 PM ENDS Feb 22, 2020 12:00 PM


Updated scoreboards

Scoreboards Competition:
 
the bottom of the payroll structure
 RWD Party on PlayRoyal -
 Burn your RWD tokens to get your share of the pool. There is a 25% bonus for RWD burned for the first 12 hours and 10% bonus for the following 8 hours, with the final 4 hours burning at a flat rate in the daily Reward Parties.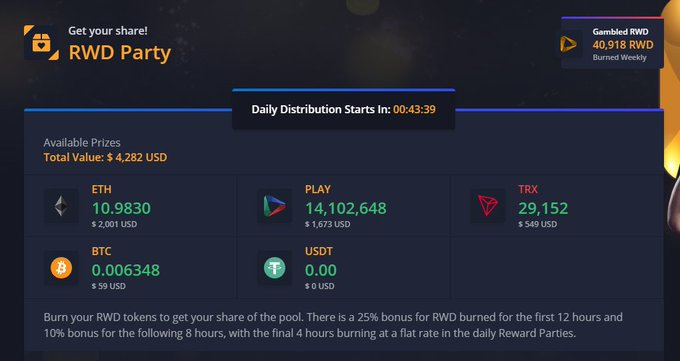 Now in a big competition, the reward for burning coins is really HIGH


I´m burning 20 - 50 RWD daily  - depending on how much is in the pot.
Return on average is 110 - 150%.
I try to buy with a bonus of 25% but I have already bought often even in the last few seconds with zero bonus and even so the burning RWD paid off  

PlayRoyal.com is currently the only crypto-currency site to combine both an exchange and gambling.




By holding over one million PLAY you will get a daily share of the profits in RWD
and by holding RWD you will get a weekly share of the profits of the exchange.

 

MY Previous Airdrops

I´m Hold 1 600 000PLAY and RWD only 2200 for now  
Daily Airdrop  Feb 17, 2020 8:00 AM 5,407 RWD Received 1.00   Daily Airdrop a day ago 5,744 RWD Received 1.07   Weekly Airdrop a day ago 0.00 BTC   Weekly Airdrop a day ago 0.003 ETH    Weekly Airdrop a day ago 16,648.48 PLAY    Weekly Airdrop a day ago 9.45 TRX   Weekly Airdrop a day ago 0.06 USDT Received 0.00   Daily Airdrop 2 days ago 3,795 RWD Received 0.71   Daily Airdrop 3 days ago 16,761 RWD Received 3.12   Daily Airdrop 4 days ago 13,940 RWD Received 2.59

Want to know more about why you MUST hold PLAY and RWD read here - https://www.publish0x.com/troncryptocoin/play-royal-why-you-need-dollar-play-and-dollar-rwd-xzdlyk?a=JAPdR3zeGy


Now is a good price to buy
Both PLAY and RWD are at an affordable price


Last week 0.98 RWD and 0.0068 PLAY 


You don't have to buy RWD, you can mining

Below you can see the current prices for mining one RWD


$IGN airdrop is now OPEN!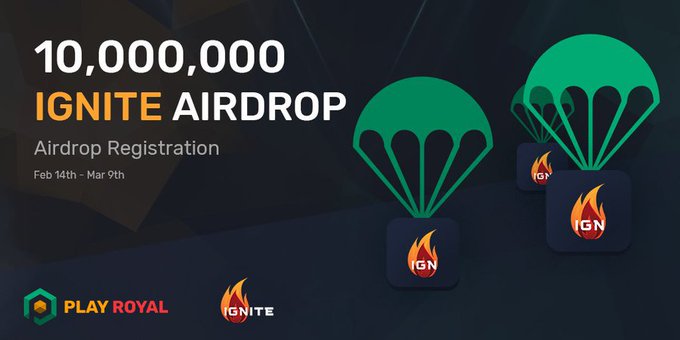 This is the first step to mass reward of the new exciting Ignite ERC20 token! Earn part of the 10 million $IGN until 9th March!
Simple tasks.  
Great rewards!  
For the first step in  mass reward of the new exciting Ignite ERC20 token!  
Register on https://playroyal.com

Second
Talk to @PlayRoyalDropsBot on Telegram

and W8


Ignite Cryptocurrency is a deflationary token on ethereum smart contract. IGN

Remember to complete all tasks including sign up!! No sign up! No airdrop!
 

The last few days, the performance of #TRON gambling dapp   was impressive!   From 12th of February to 13th of February, the increase of users was over 1,000.

Lots of reasons to try PlayRoyal
and I will add one more reason for newcomers.
Who registers now via my link
He will give me here and on twitter follow
And write your PlayRoyal name in the comments
The first 15 gain 20 TRX each
  Link to website - https://playroyal.com


With regards 
CEDCryptoCoin