There were times that I did write an Crypto Portfolio update each 2 weeks, but being distracted by other things than Crypto and Hive, I did stop with that. But the things that distracted me, are put on the side. So there is time available again to write that type of post and in general to increase my Hive time again!
FOMO
Well I did write in the title that there are 2 types of FOMO. We are all familiar with the one, where a coins if flying towards the moon and you do have fear of missing out some big gains. But this month I also did stumble on another type of FOMO, one which was unknown to me before this month!
I did step into the crypto world in the last month/weeks of the previous well know bull market. So a lot of coin were until last month overall in the red compared to the average purchase price.
So a few weeks ago, some coins had reached my targeted selling price. But then the question does pop up: I am going to sell and loose some more profit or I am going to wait for more profit! For me this question was much harder to answer than I did imagine.
For some coins like NEO and KCS I did sold some so that all the rest is free money! Before withdrawing to money to the real bank account I did wait some days to see if a sudden drop in value would occur so that I could buy some back with a profit but KCS was sold too soon, with NEO it was or more less spot on!
But I was also planning to sell some EOS for instance and I did wait to long. Yep story of my life I guess.
So yes, this for sure is also a type of FOMO!
The portfolio
Well in past weeks, the market was a little bit like a roller-coaster but if I did learn something in Crypto space than it is that you do need some bigger time frames.
My target for 2021 was to decrease my fiat investment without hurting my crypto portfolio too much. As for April, I can say that it was mission completed. My fiat investment into Crypto did decrease with a healthy 25%, while the overall value of the remaining part still did increase with 23%. Wished that all months would be like this. But I do doubt it.
Let's quickly run over the most important coins in my portfolio according to me.
BTC
Well this is one coin I am not planning to sell any time soon. Even better I did decrease my holding with 3%. The overall value of BTC in my portfolio did decrease a little bit compared to the start of the month.
ETH
To be honest I don't have anything with Ethereum, but still a very decent coin. In April the value did increase with more than 40%. Still it is only 6% of my portfolio.
KCS
Well I did sell a little more than 87 KCS to put my average purchase prize below 0. This was an opportunity I couldn't let pass by. And regardless of selling those, the value of my holdings did double up! It is now has a 18% share in my portfolio and the future does look bright!
NEO
NEO had an incredible ride this month. Sold half of my coins, but still the value remains the same. Back in the days when I did start investing into NEO it was the Chinese competitor of Ethereum. But since then the were going south fast! With the rebranding and new functionalities I am curious where it will end.
The selling didn't hurt the value, because it almost stayed the same compared with the beginning of the month!
Digibyte
I don't know if it was a smart decision or not, but I did say farewell to DGB. I did made a profit on it, but I have no idea which direction it will go. Besides decreasing my fiat investment I also want to decrease the total number of different coins in my portfolio. So overall it was a nice ride with DGB. Made a profit. Period. Now I do have to forget it and never look back at the current values or the good story could have been much better, aka turn into a nightmare!
Wink
One the of leader of the gambling scene in TRON land. Also here I did sell a major part of my holding, to leave only 0.5M Wink in my portfolio. But these remaining WIN are also free money. So we will see which harbors Win will visit in the future. They still do have a lot of plans.
Portfolio Pie!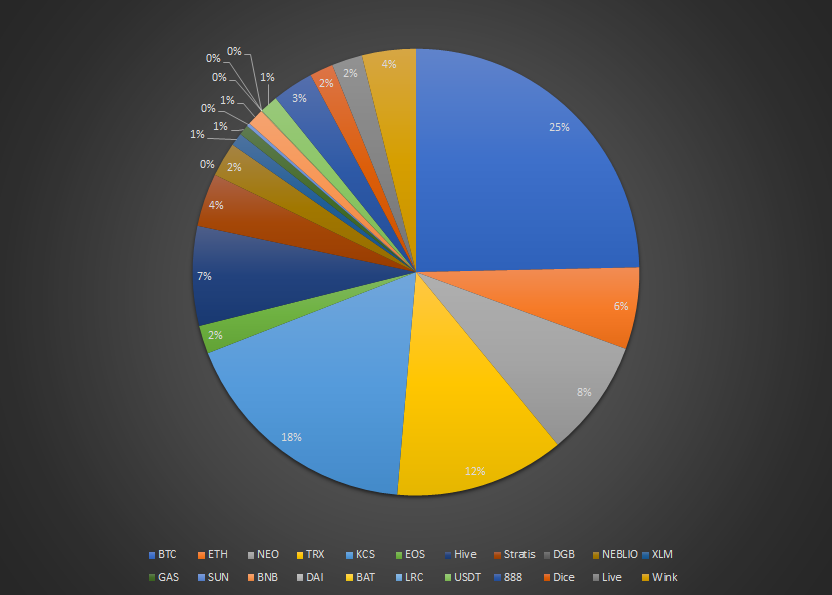 Well that is it for this month, see you back at the end of May with a new portfolio overview!
Stay safe,
Peter