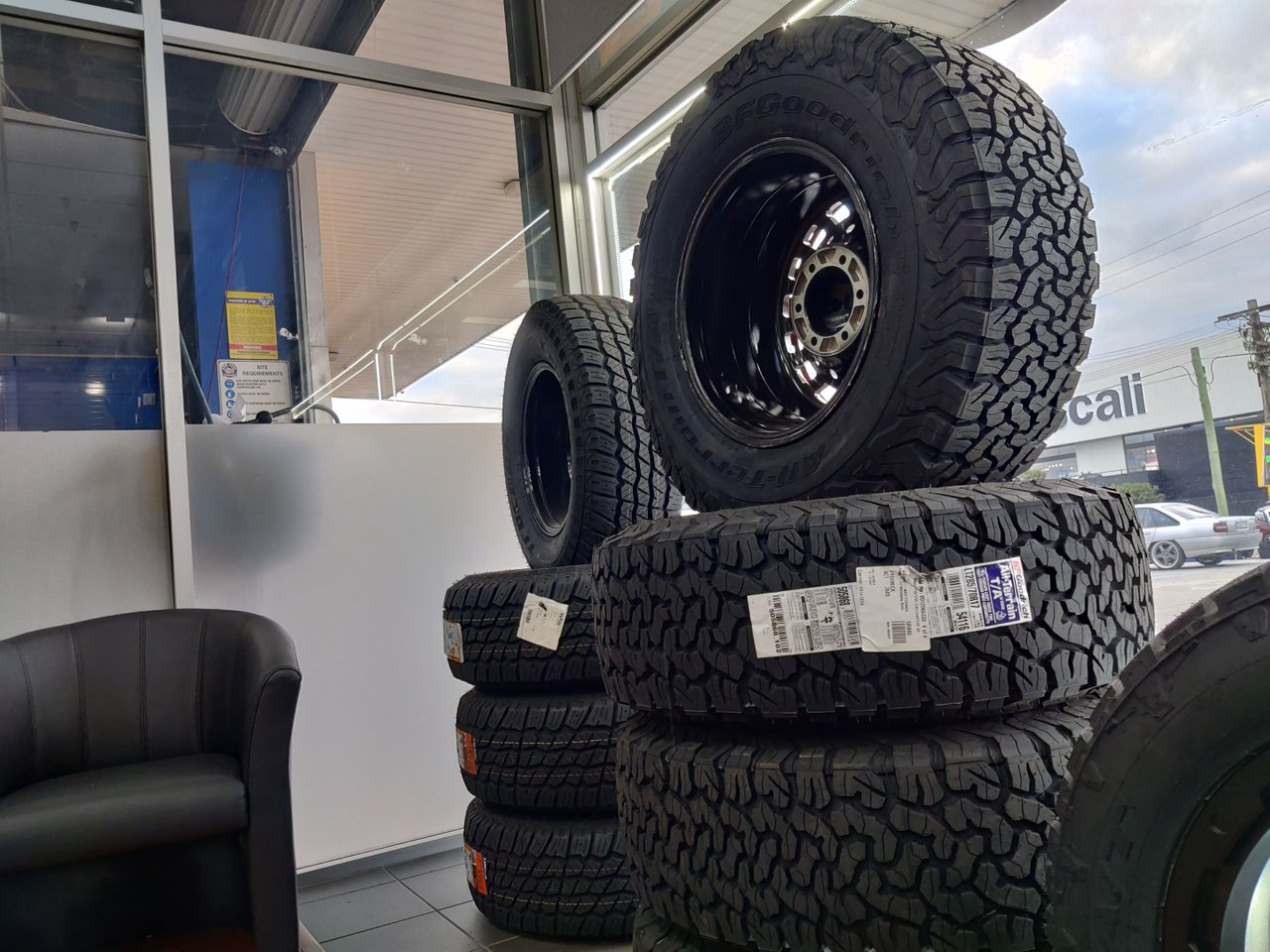 Phew... some days are just going to be one race after another. Now... I'm sitting in a tyre shop, waiting... a first chance to stop, a lull before the storm.
So... back up a few hours. I'm leaving to cram in some teaching after picking up my brother in law's car to get around. Normally, he has been good to us and let us borrow it at short notice (until we manage to find a second car)... he has a nice new (second hand) ute that he uses for work, so this little old run-around mostly just sits around. It is the old battle horse of the family... with nearly 300,000 kms coming up on the speedo.
Needless to say, it is pretty hairy to drive at times... and he is looking to sell it cheaply at some point to just get rid of it before it falls apart. And these days, cars of all types are pretty hard to find... so even clunkers like this are managing to find a market.
Anyway... as I was driving it in, it started wobbling like crazy. I thought it was weird... but the car is crazily temperamental to drive at the best of times anyway, so I didn't think too much more about it. But the thought did cross my mind that one of the tyres was out of action. Besides, I was running late for a student... so, that wasn't the thought that stuck in my mind.
However, when I arrived at the teaching studio... well, the tyre was completely kaput. I'm surprised I didn't cause more damage whilst driving on it. So, I cancelled a swathe of students as I had to get this fixed before I could get to a CONCERT tonight! Yes yes.. these things don't happen in isolation... it is either disaster and adrenaline or nothing! So, I had to teach my first two adult students... but I asked the last student if he would mind helping me and teach me how to change the tyre.
It was a hilarious reversal of roles... he kept telling me to slow down and just do things slowly as mistakes happen when you are going too fast! The exact things that I say to him when I'm teaching him violin!... ah... well, at least he was having fun and I was having a good laugh hearing all the lines come back to me! He was saying that changing a tyre was much easier than playing the violin... I beg to differ on that!
Anyway, we got the temporary tyre on... but he had a look at the other three tyres... and at least two of them were ready to die immediately. One had a beginning of a tear around the rim... and the other was prepared to lose a little huge patch of rubber.... and the last and best tyre had pretty much no tread left in it.
He recommended that I head round the corner (thankfully I was teaching in an industrial area...), and immediately get the tyres replaced before I killed myself. Well, I had a bit of time before the the concert... and this was serious anyway. I'm not particularly keen to die in an avoidable car crash due to loss of control because I couldn't be arse replacing the tyres.
Unfortunately, the first place was out of stock of the tyres that I needed... but the second place had stock... but only of Yokahama tyres. Well, apparently they are pretty decent ones... and so now, I am going to be returning a car with tyres that are actually worth more than the car!
Oh well.... it will be a little present for letting us borrow the car so often and at such short notice... plus, he helped us move quite a bit of furniture, so I still think that we owe him more than that!
Anyway... the pit team is clear and I'm ready to get moving again. Off to do a concert... I probably should wash my hands and get all this grease and dirt off before touching my violins though.
I'm still convinced that the idea of playing violin in front of an audience is a hell of a lot easier than changing a tyre on a car. But at least it wasn't raining and I had a patient teacher!
I can also be found cross-posting at:
Hive
Steem
Publish0x
Handy Crypto Tools
Ledger Nano S/X: Keep your crypto safe and offline with the leading hardware wallet provider. Not your keys, not your crypto!
Binance: My first choice of centralised exchange, featuring a wide variety of crypto and savings products.
Kucoin: My second choice in exchanges, many tokens listed here that you can't get on Binance!
FTX: Regulated US-based exchange with some pretty interesting and useful discounts on trading and withdrawal fees for FTT holders. Decent fiat on-ramp as well!
MXC: Listings of lots of interesting tokens that are usually only available on DEXs. Avoid high gas prices!
Huobi: One of the largest exchanges in the world, some very interesting listings and early access sales through Primelist.
Gate.io: If you are after some of the weirdest and strangest tokens, this is one of the easiest off-chain places to get them!
Coinbase: If you need a regulated and safe environment to trade, this is the first exchange for most newcomers!
Crypto.com: Mixed feelings, but they have the BEST looking VISA debit card in existence! Seriously, it is beautiful!
CoinList: Access to early investor and crowdsale of vetted and reserached projects.
Cointracking: Automated or manual tracking of crypto for accounting and taxation reports.
Stoic: A USD maximisation bot trading on Binance using long-term long strategies, powered by the AI/human system of Cindicator.
StakeDAO: Decentralised pooled staking of PoS assets.
Poloniex: One of the older regulated exchanges that has come into new ownership. I used to use it quite a lot, but have since stopped.
Bitfinex: Ahhh... another oldie, but a goodie exchange. Most noted for the close affiliation with USDT and the Basic "no-KYC" tier!