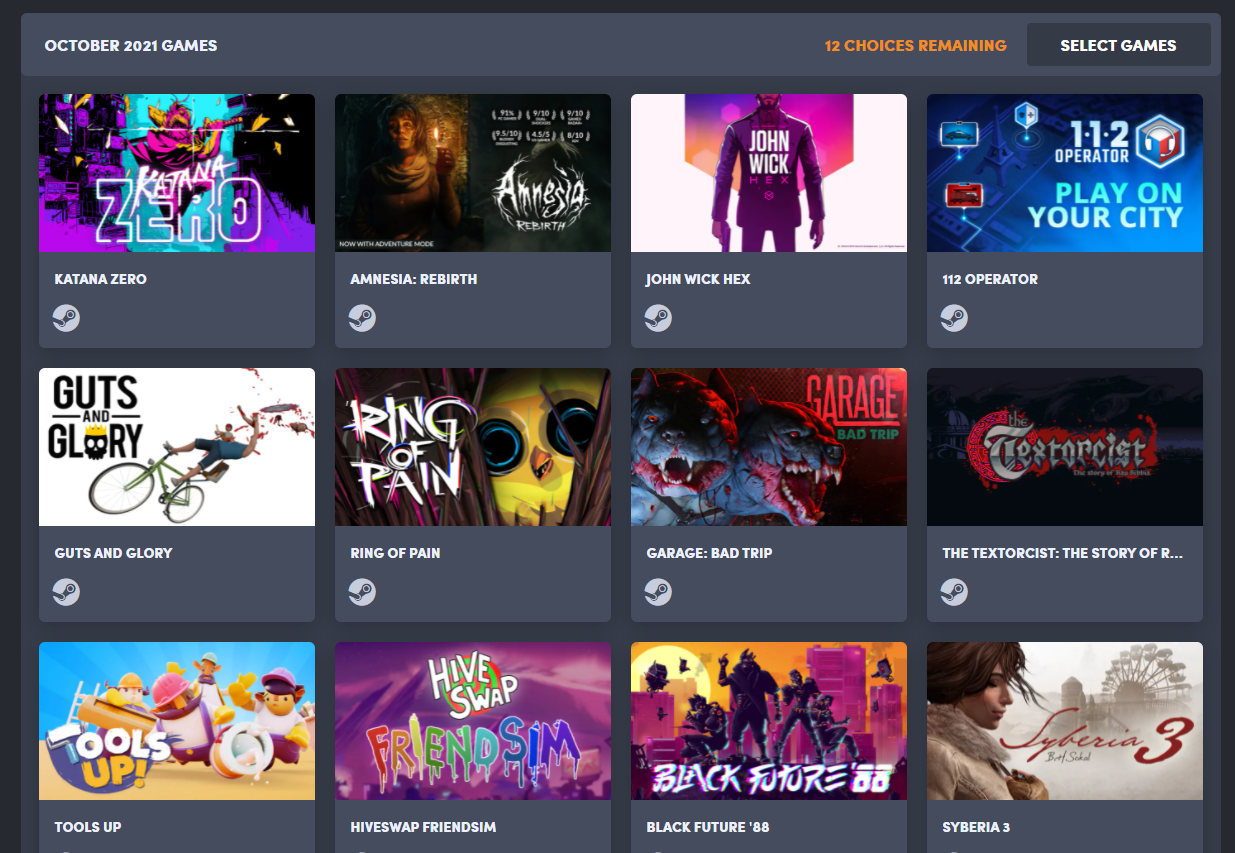 October 2021 Humble Choice
Hmmm... it has been quite a long time since I've been disappointed by a Humble Bundle Choice drop. At least on first inspection, there isn't a name or title in there that really grabs me as something that I'll enjoy... so, when I finally repost the Bengy Game store... well, I will have probably quite a few things more to add to the list!
However, given that the Humble Bundle choice subscription is so cheap... I'm more than happy to have an occasional uninspiring bundle. Plus, now that I'm going to have a deeper look at each title... perhaps I will be surprised! I know that I have been pleasantly surprised in the past, as it can be quite difficult to keep up with every single indie or low-budge launch. There are often little gems lurking in the bundles that I have never heard of and would never have gone out of my way to purchase!
So, here we go... exploring the October 2021 Humble Choice drop!... stupid me, I just realised that the drop appears to be Halloween themed! Slow of the mark...
Leading the drop this month is a retro-graphics game, Katana ZERO! It isn't a game that I've heard of before, but it does look pretty cool. However, as side scroller platformers really are not my sort of thing, I hesitate about keeping this one. However, the Steam reviews for the game are "Overwhelmingly Positive", so there is something to be said for that... not too many games manage to get that sort of accolade... just maybe, I will keep this game to see if it can be the one that gets rid of my side-scrolling platformer aversion!
Amnesia: Rebirth is the latest in the Amnesia horror adventure games... I wish I had a stronger constitution for horror games and movies, but I have to admit that I'm a complete wimp when it comes to these genres. If I watch or play one of these games, I guarantee that I will now sleep for the rest of the month.... So, despite it looking pretty cool, I'm afraid that I'm going to have to send this one to the game store!
John Wick Hex.. apparently a game that is a tie in to the a film franchise? Never heard of it... but on the other hand, I'm not really much of a film buff, so it wouldn't be surprising if I hadn't heard of a particular movie! It appears to be a tactical action game with a bit of a story backing it up. The trailer looks pretty cool, but for some reason it has had mixed reviews on the Steam store page. I do think that I will keep it though, the presentation looks pretty cool, and it would be a nice game to play whilst travelling!
112 Operator is actually a game that I've had on my wishlist for a while. It doesn't seem to be a particularly demanding game, it looks like the sort of game that I would expect on a mobile platform. However, the idea of playing as an emergency dispatcher is a cool mechanic that does appeal to me! So, I think I will be keeping this one for my own collection... it is the one game in the drop this month that I might have bought for myself... but I have long held out on buying it, backlog and the hope that it would drop in a Choice bundle. And now it has!
Guts and Glory... ummm... well, a physics based simulator about a father and their kid riding their bike through obstacle courses of death?!?!?!?.. I think I know that my little one will be definitely into this, although the gory bits might be a touch traumatic!
Ring of Pain is not a name that I would associate with a game. In fact, in university, it was the name that we gave to the morning after a particularly spicy curry dinner. Now that that is off my chest, Ring of Pain does look like an interesting roguelike card crawler. Instead of choosing a path through a dungeon like most others in the "Slay the Spire"-likes, the encounters come to you. Ok... I love these sorts of games, even if they only hold my attention for a short time. They are great for travelling... gentle on the battery of a gaming laptop, and I think that they will be a great fit for the Steam Deck. When it comes...
Garage Bad Trip... top down twin stick shooter.. with a horror setting. Nope, straight to the store!
Textorcist... a cross between a bullet hell and typing game? I'm intrigued, I'm not a fan of bullet hell games, I finished being interested in those around R-Type. However, I'm oddly attracted to typing games, and I've been keeping an eye out for typing games that my kids might like. I'll keep it around, but I'm not entirely sure that it will be a hit with either me or my kids.
Tools Up is one of the many Uncooked-likes that have been entering the market... possibly due to coronavirus demand for party and family games. Uncooked is one of our favourite family games, and we are always keen to try another one. Renovating a house sounds like it could be good fun... how badly could it go?
Hiveswap Friendsim... ummm, WTF? A visual novel that is based in existing IP (Hiveswap). I've never heard of this... so, it might be the sort of game that is interesting to an existing fan of the universe. However, it just looks quirky enough to grab my attention. I will likely keep this one... just out of curiosity!
Black Future '88 is another side scrolling shooter. The trailers look pretty damn cool, but the side scrolling action is just not my thing... straight to the game store!
Syberia 3 is the latest in a long running adventure game franchise. I already have the first two (I'm not sure, I might already have this one as well!), and I really should try it out! It looks like the sort of game that would be of interest to me... but, backlog and lack of gaming time due to being a parent! Sigh... I'm keeping it, if I don't have it already!
OCTOBER 2021
Katana ZERO
Amnesia: Rebirth
John Wick Hex
112 Operator
Guts and Glory
Ring of Pain
GARAGE: Bad Trip
The Textorcist: The Story of Ray Bibbia
Tools Up!
Hiveswap Friendsim
Black Future '88
Syberia 3
---
Humble Bundle is an awesome subscription service, dropping up to 10 games each month of around 300 euros in price for the low low price of 12 USD. In addition you get access to the Humble Trove of downloadable games that accessible as long as you have a subscription and up to 20% discounts on the games being sold on the main store (in addition to any other discounts).
So, a super great deal... however, I have found that it is incredibly annoying to not have a historical listing of ALL the past Monthly drops in a place that is easy to find and accessible. I have to trawl through my old monthly purchases to look individually to see what has already dropped! There doesn't even seem to be a compilation of this information anywhere on the internet (not that I could find at least...).... so, I'm going to be releasing an updated historical list of Monthly Bundles each month (surprise...) when the Choice bundle drops.
Mostly, this is more for my own sanity... and I really hope that it is of some use to other people as well. When a sale goes up, I always am wondering if I already own the game (I don't tend to claim the purchases and keys immediately...) and if I'm going to be double buying the Steam key... or if the game goes on sale on Switch or a different platform, I don't want to be buying a second copy again!... or maybe someone will see this and see what a great deal
Humble Bundle really is! Plus, if you like e-books (comics and books) or audiobooks, there are often Pay-What-You-Want deals going on all the time!
So, without further ADO!... the historical listings, in reverse chronological order (newest first..) of the Humble Choice games... from when I first joined! This is being done manually... it is a pain in the arse, but Humble doesn't make it easy! Still, when it is done, each new month will be easier to do! Just got to remember to make a template...
I can also be found cross-posting at:
Hive
Steem
Publish0x
---
Splinterlands (aka the best blockchain game out there!)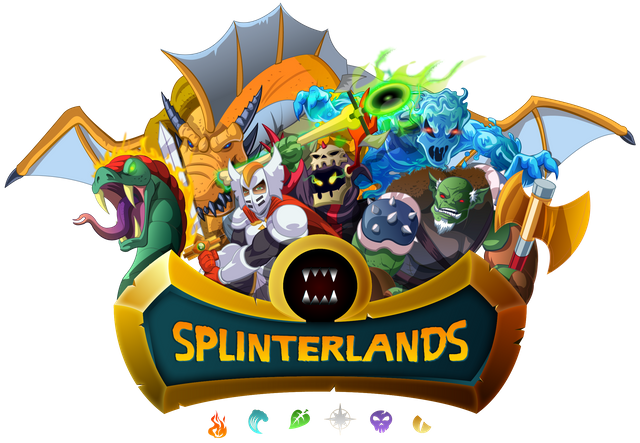 Have you heard of Humble Bundle? It's a place to get some really great deals on Games, e-books and comic bundles. However, if you sign up for a Humble Bundle Subscription (12 USD per month) you get some really nice bonuses!
A 100+ USD bundle of games delivered direct to you each month, redeemable on Steam, Uplay or direct download (depending on the game). This includes recent Triple A games!
Access to the Humble Bundle "Trove", a list of 60 games (and growing...) which are free to play as long as you remain a subscriber!
Additional Discounts on the Humble Bundle store, with the choice of supporting charities, Humble Bundle or developers in whatever percentage that you wish!
Humble Bundle Subscriptions, it's a no brainer for the dedicated gamer!