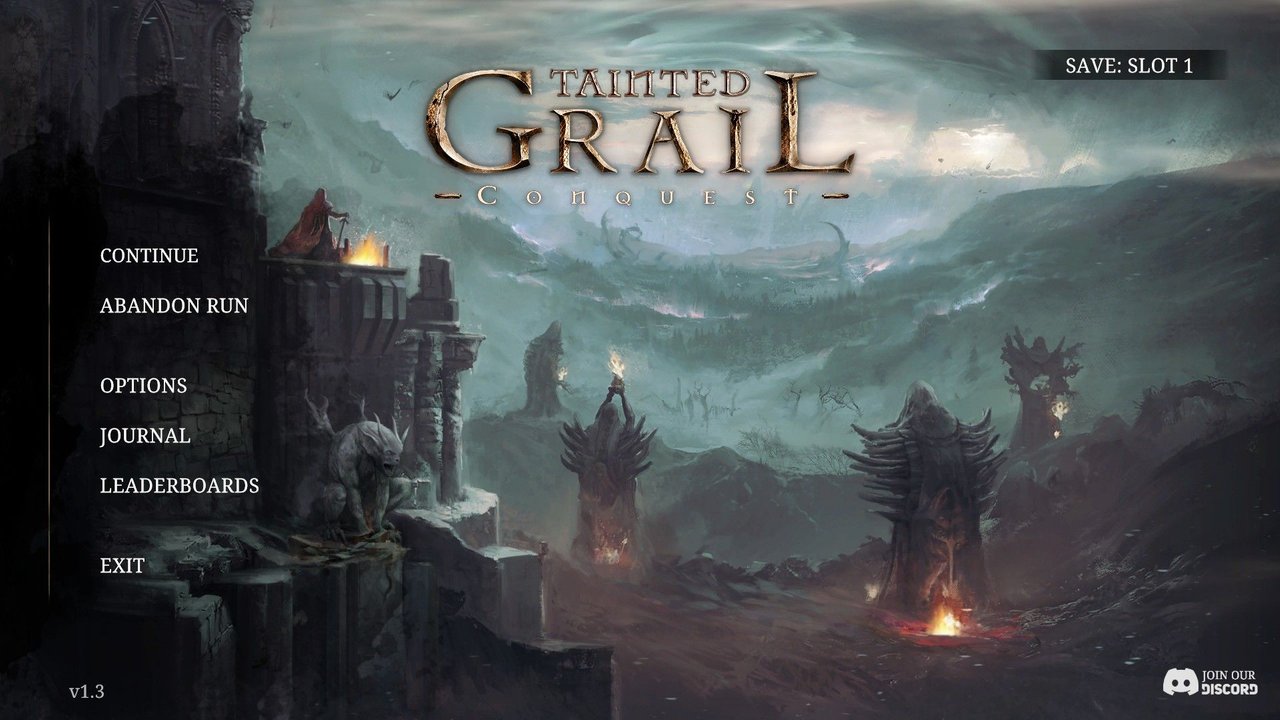 Tainted Grail is one of a plethora of Rogue-lite games that have come along since the roaring success of Slay the Spire. Like many of these games, Tainted Grail combines elements of deck-building and RPGs to mesh together with the multiple runs of the game to give a longer lasting gameplay loop that spans over many many replays.
Many of these games start to lose their interesting-ness after a few run throughs... there is nothing particularly exciting about incremental levelling up over each replay, so that particular gameplay loop isn't enough to keep a gamer hooked. However, those with a compelling story that gets woven and unearthed through multiple play throughs are the ones that are definitely going to get you hooked...
... is Tainted Grail, released by Awaken Realms in 2021 going to be one of these games? Or will it be an also ran, with pretty graphics but lacklustre engagement and stickiness?
The Setup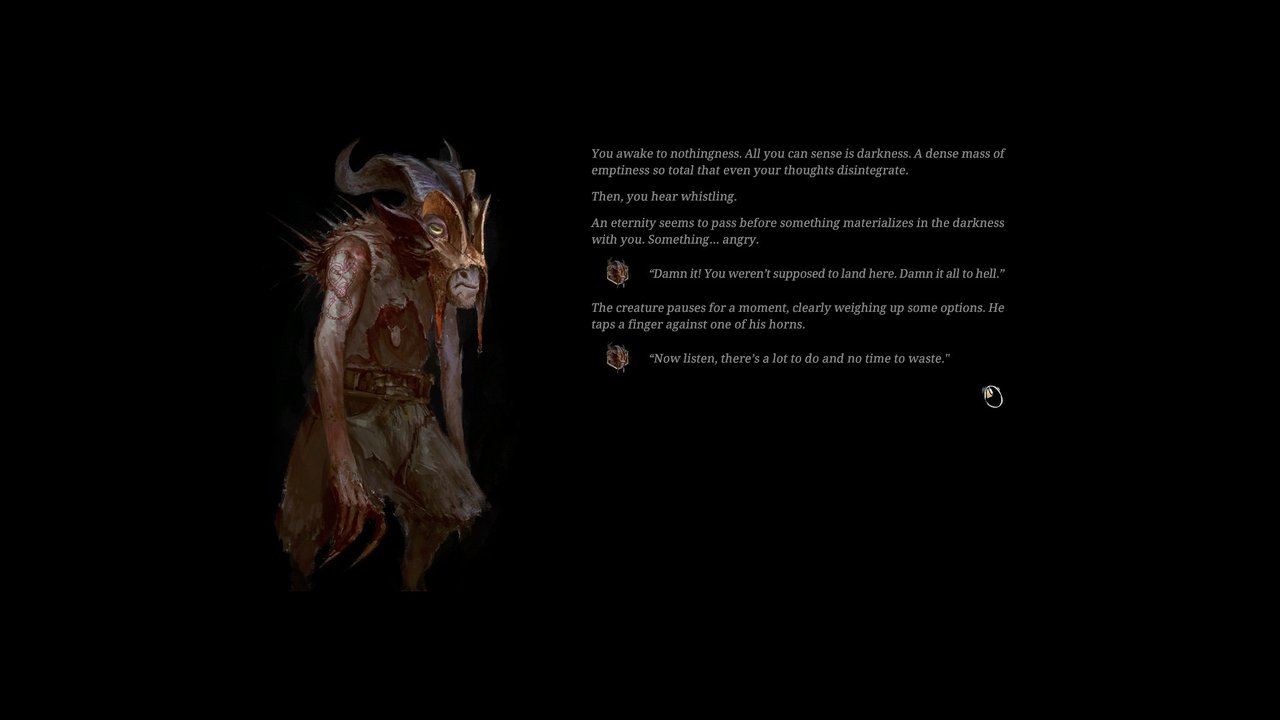 Okay... I'm going to say it straight off... Tainted Grail did grab me straight away with it's interesting NPC character design and tutorial. Fully voiced narrative also helps... and they are done surprisingly well. Plus, the sort of Arthurian legend links are also going to be quite compelling for many players... there is a bit of guff as to why you keep being reborn or at least as to why you are unable to die. The world is broken and shattered, and all of this ties into the storyline that will be gradually revealed as you progress...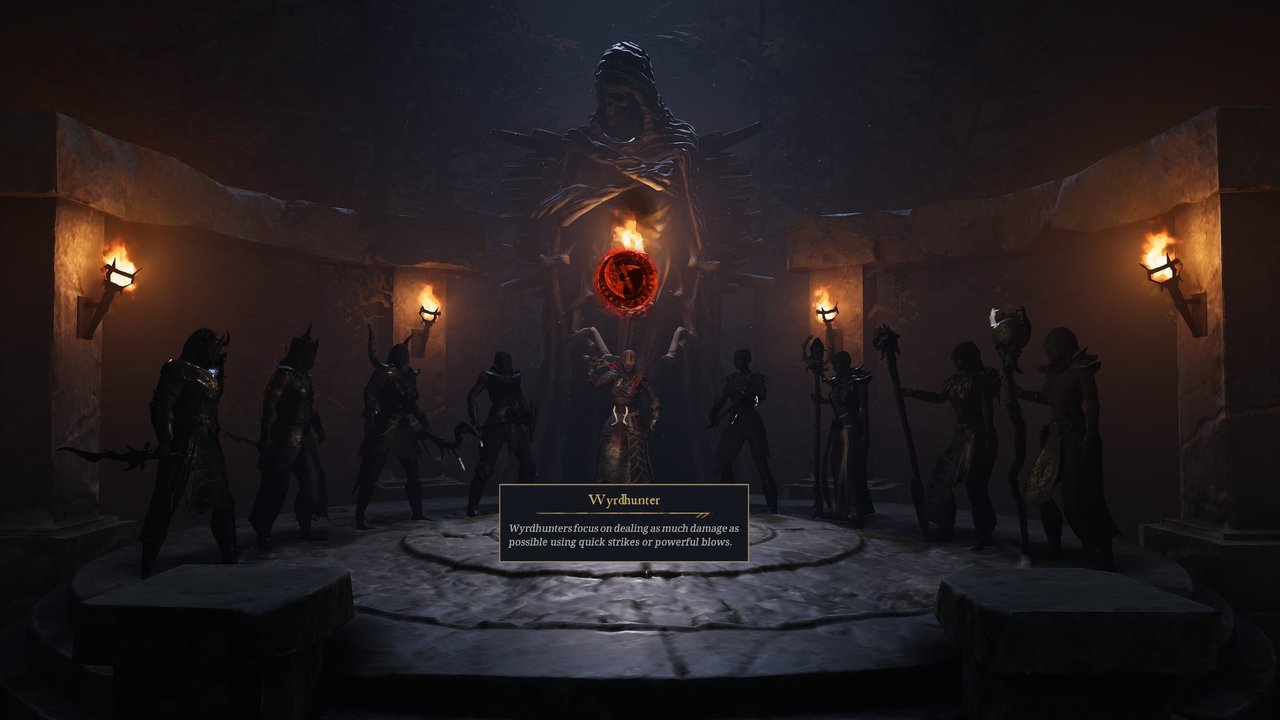 Like many rogue-like RPGs, you start each run with a choice from a number of unlocked heroes. In fact, you do end up being able to choose from about 9 classes... and I'm happy to report that all of them have played quite uniquely with interesting spins on the gameplay. I've definitely not been bored, and the large number is an added bonus.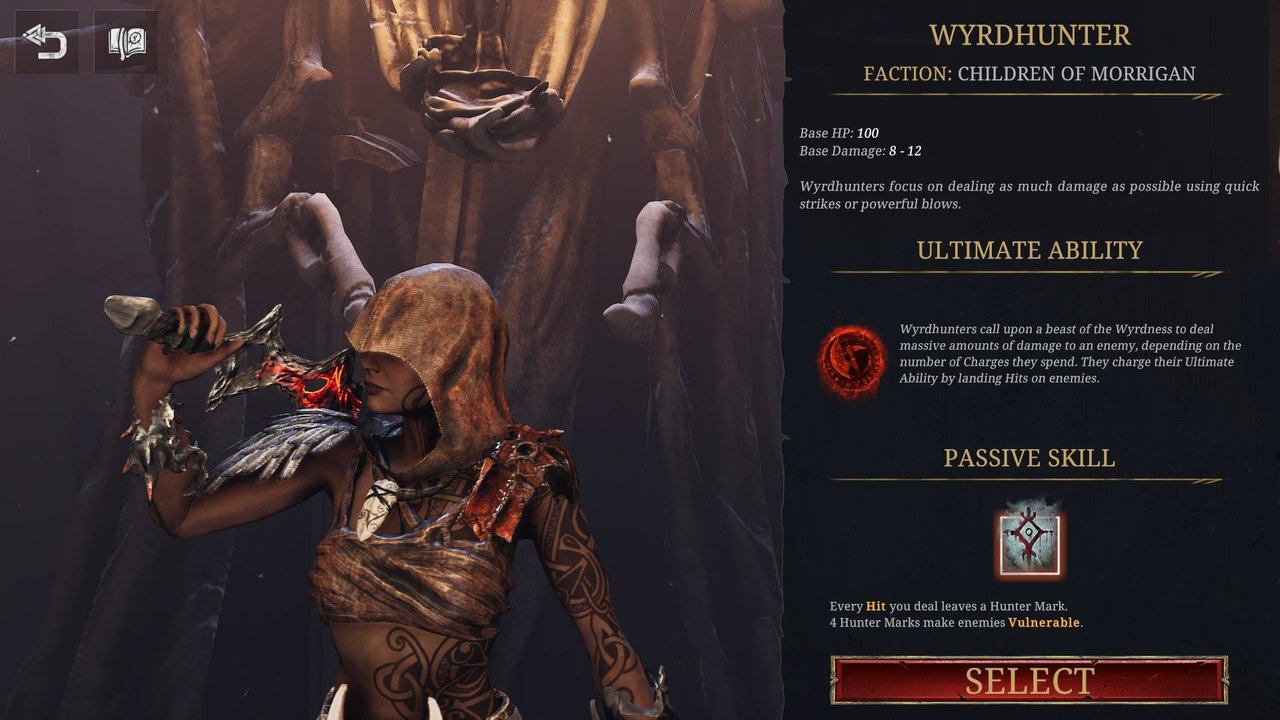 Each hero has a particular ultimate and a passive skill to start off with. As you level up, you pick up more passive skills... some are loners, whilst others field minions to do their dirty work. Pick one that complements your play style... or just experiment around. Even within a single class, you can guide their development down different paths of specialisation through card and passive choices.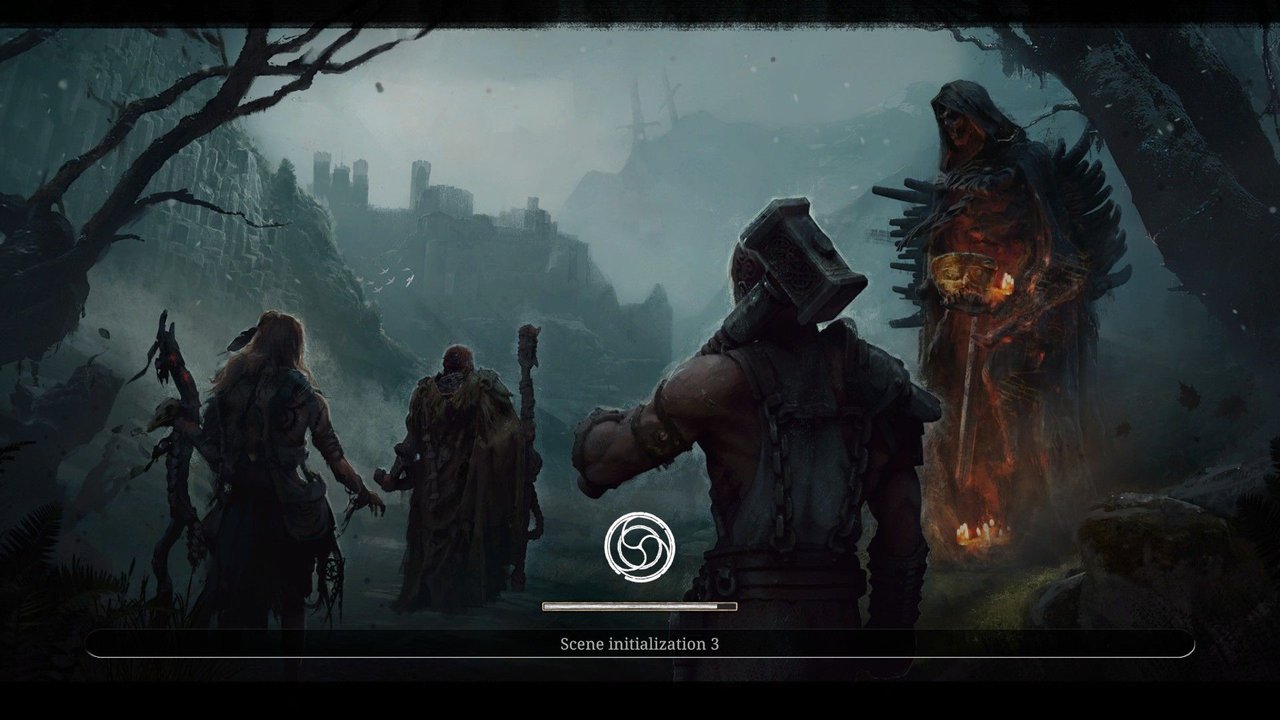 Wow... I can just stare and be completely blown away by the beautiful loading screens! Oddly enough, the game does take longer to load than I would have thought...
The Game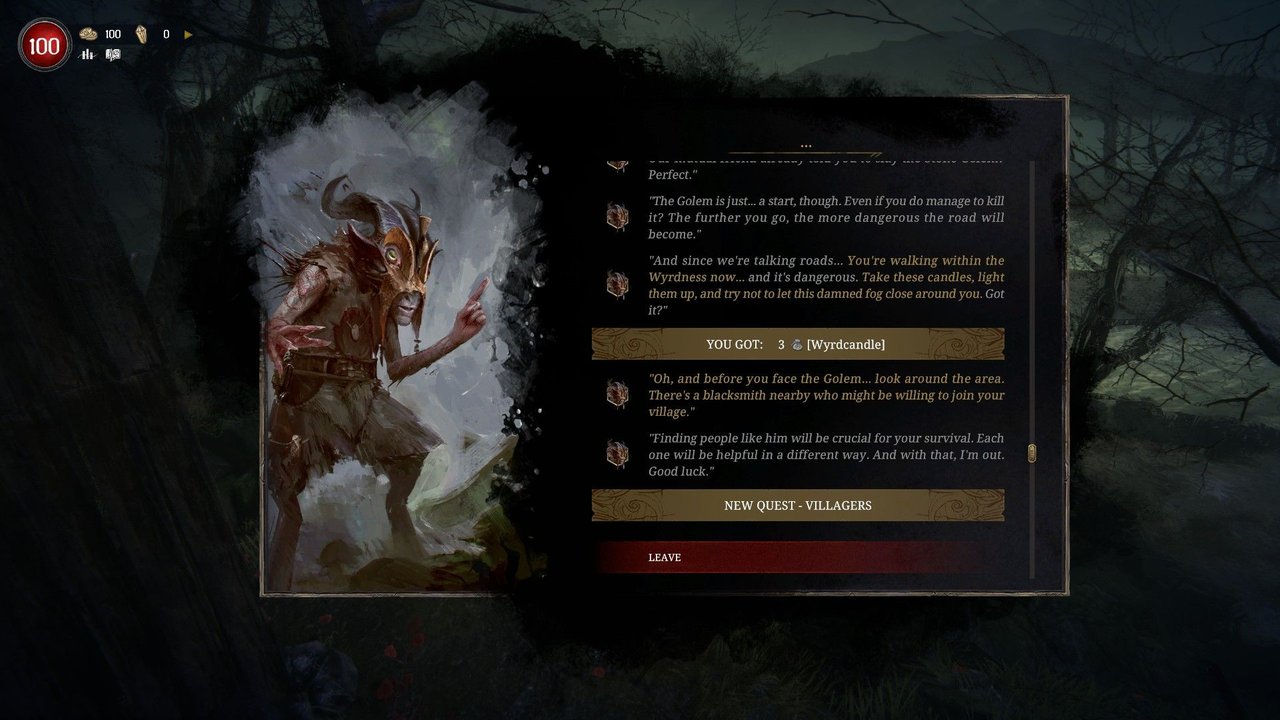 Our friend in the weird twisted world... the goat man, shows up at key points to further knowledge of the world and to provide background information. The individual stories of the NPCs are revealed as you interact with them, gain their trust, and complete quests for them. Their interactions with each other and the world are quirky, twisted and compelling... I love it!
There is a little bit of reading, but the text sections don't appear to have great amounts of impact in the story and game (I think...). There are a couple of possible branching moments, but they don't seem to happen too often.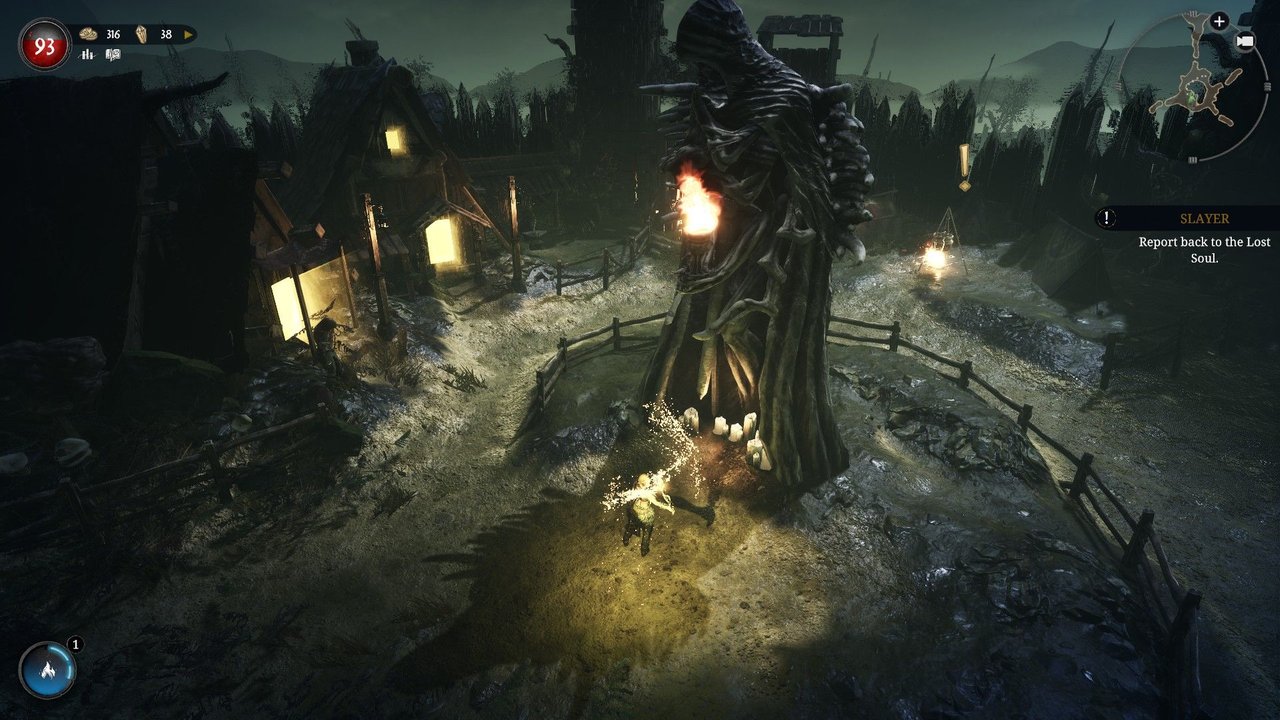 You start each life run in your broken village... with the statue holding the Wyrdness at bay... enough for the village to not descend into the chaos that lies outside the walls. As you find and rescue villagers, they will reoccupy their houses and shops, providing you with incremental power ups and levelling... if you can find their required resources!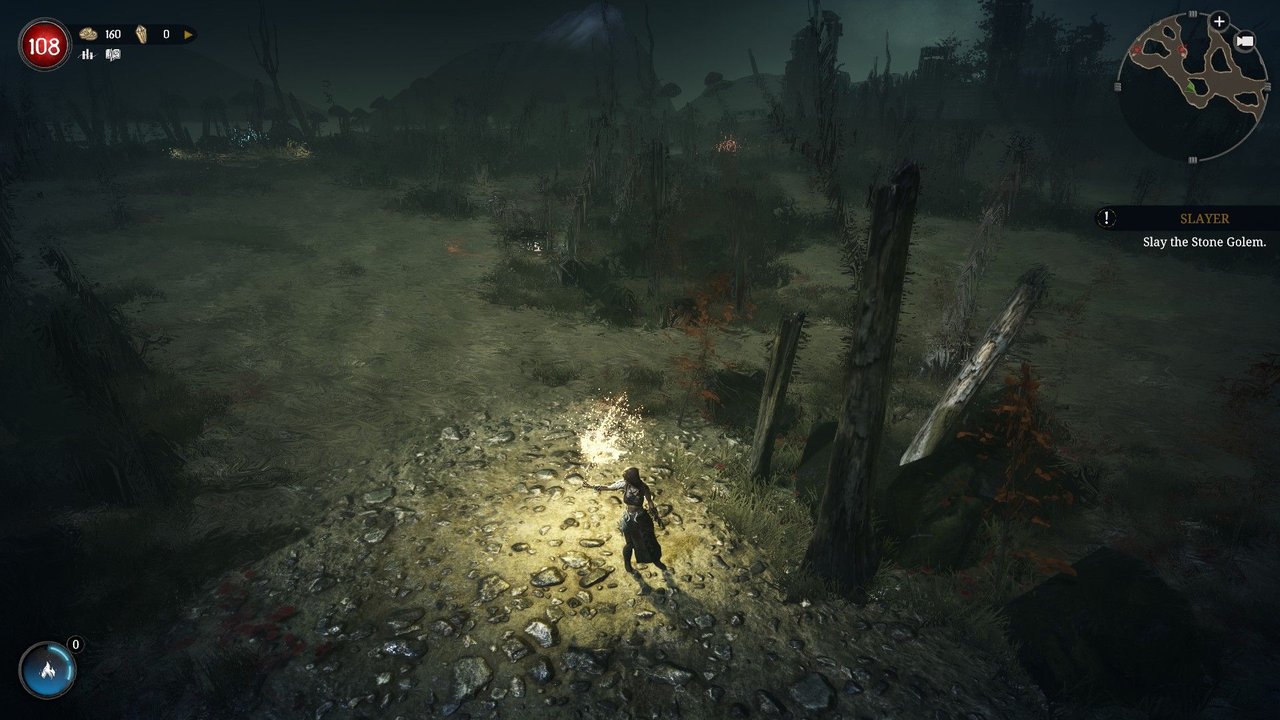 Venturing out into the Wyrdness, you are supposed to slay the four guardians that somehow are linked to the chaos that has infected the land. It is a glorified node map... but you are able to go around as you wish (backtracking if you want)... but be careful not to run out of candles or your battles will get quite difficult as the Wyrdness starts to grip the air around you!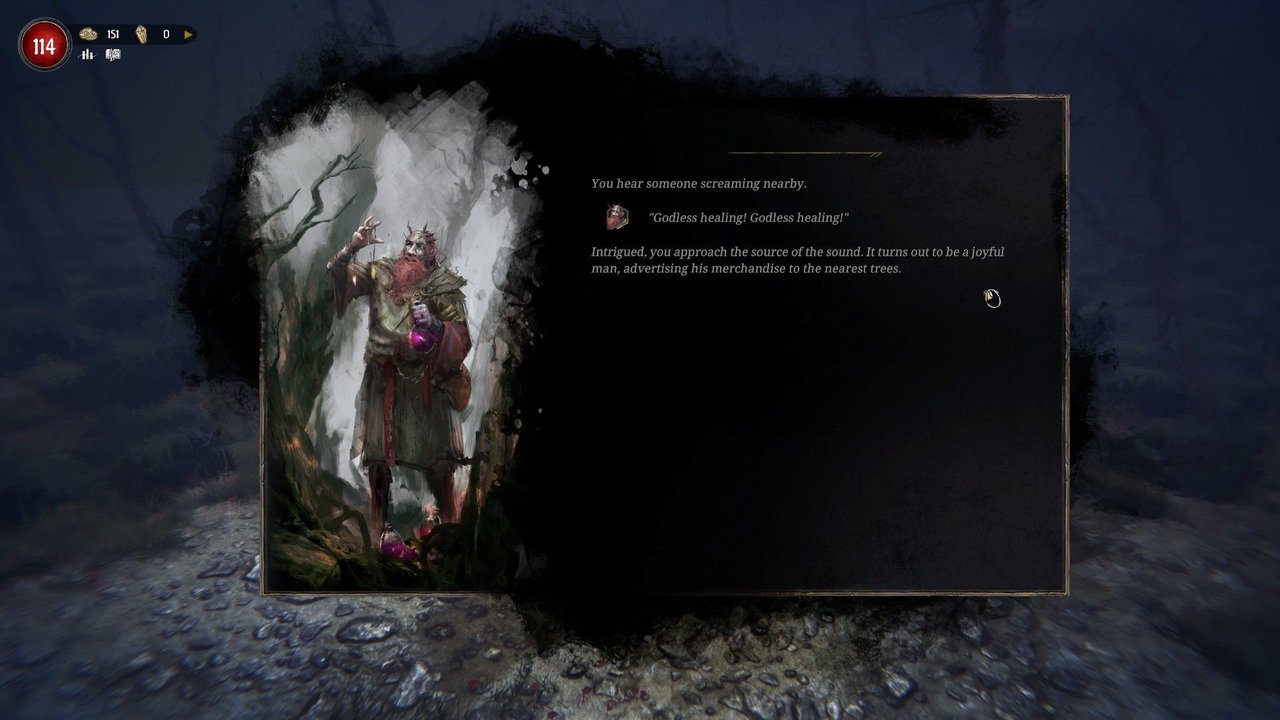 ... oh, the NPCs that you meet out there... it isn't often that you just sit and cherish the text and artwork. I'm not going to spoil it for anyone else... but wow, you have some really great depictions... voices, artwork... WOW!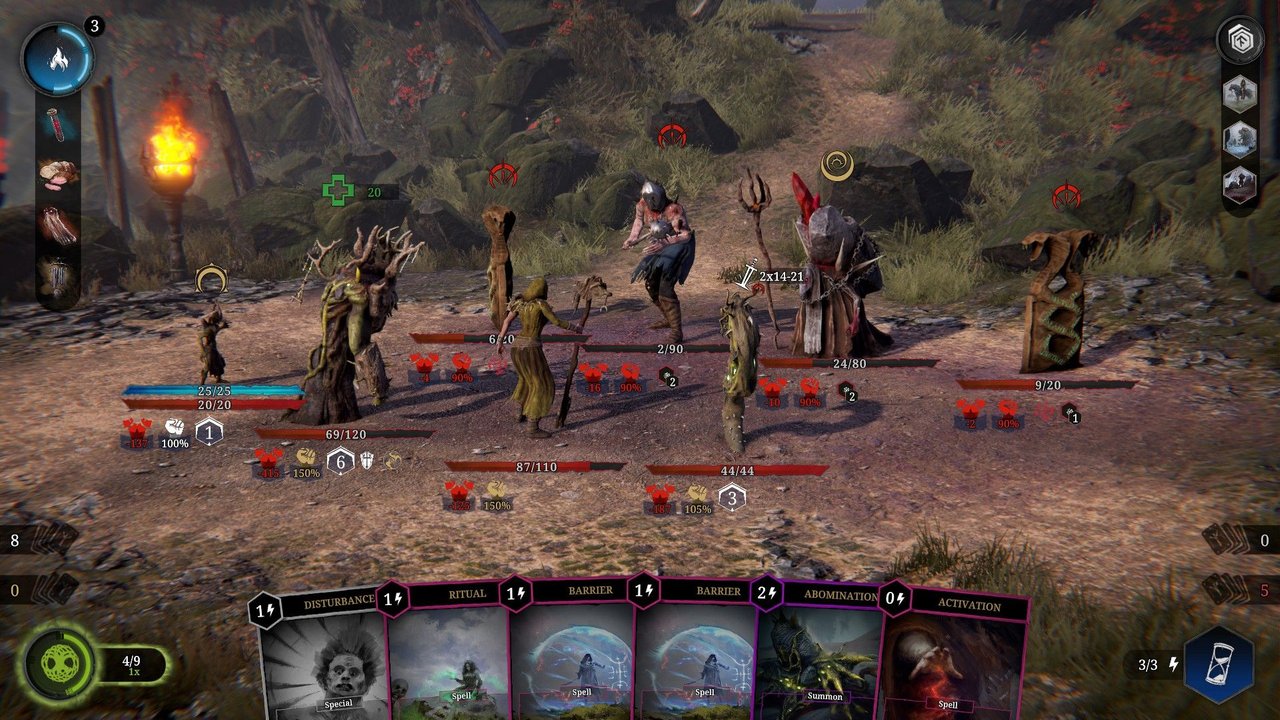 Battles are going to be quite straight-forward for anyone who has played these deck-building roguelikes. You play your cards, limited by energy, to defeat the node enemies to loot and progress. There isn't too much novel here... the real novelty is in the presentation of the world.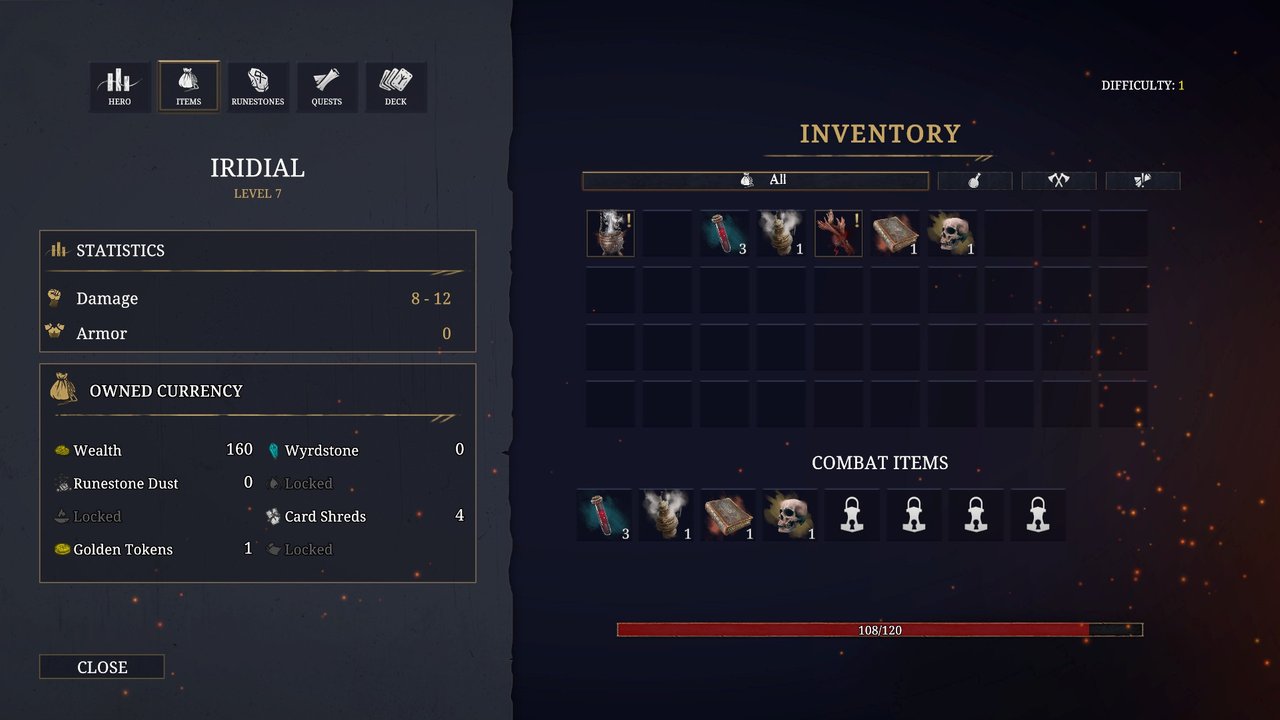 Items and inventory will always help with the survival... or at least get you a little bit further, remember that these games are incremental and the balance between risk and reward is always going to end up badly... just sooner or later?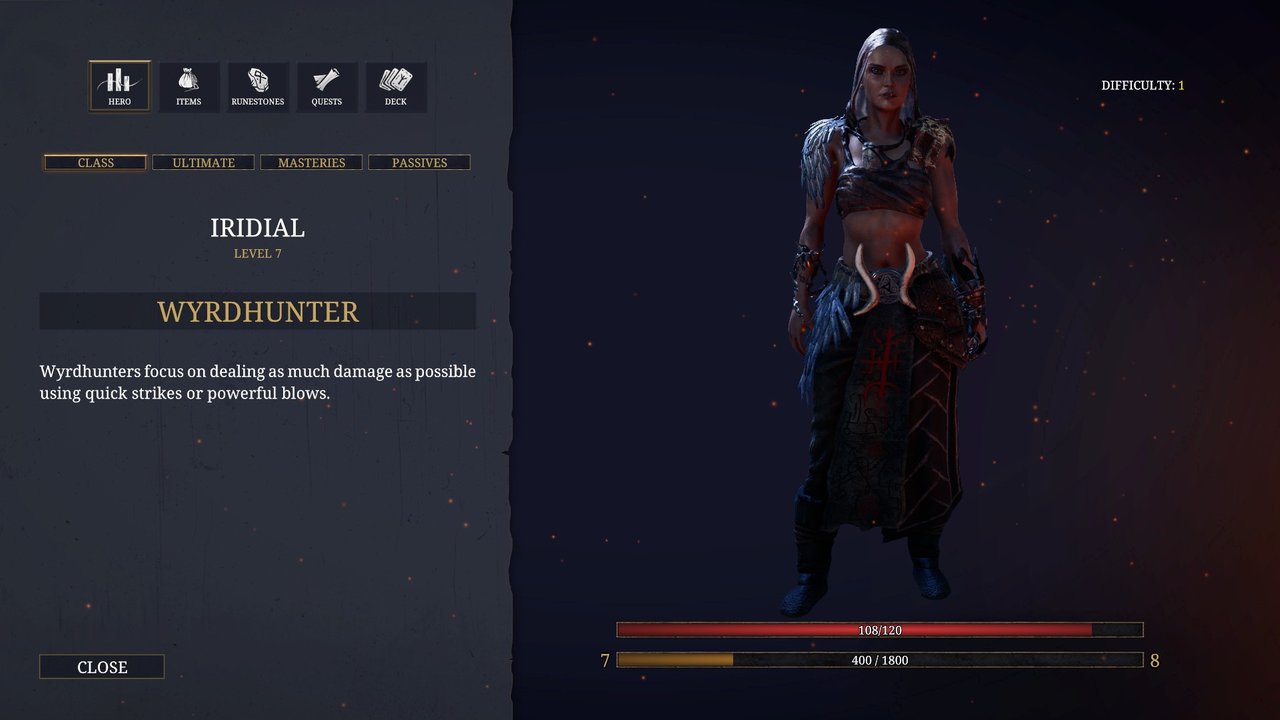 Ahhhh... beautiful artwork!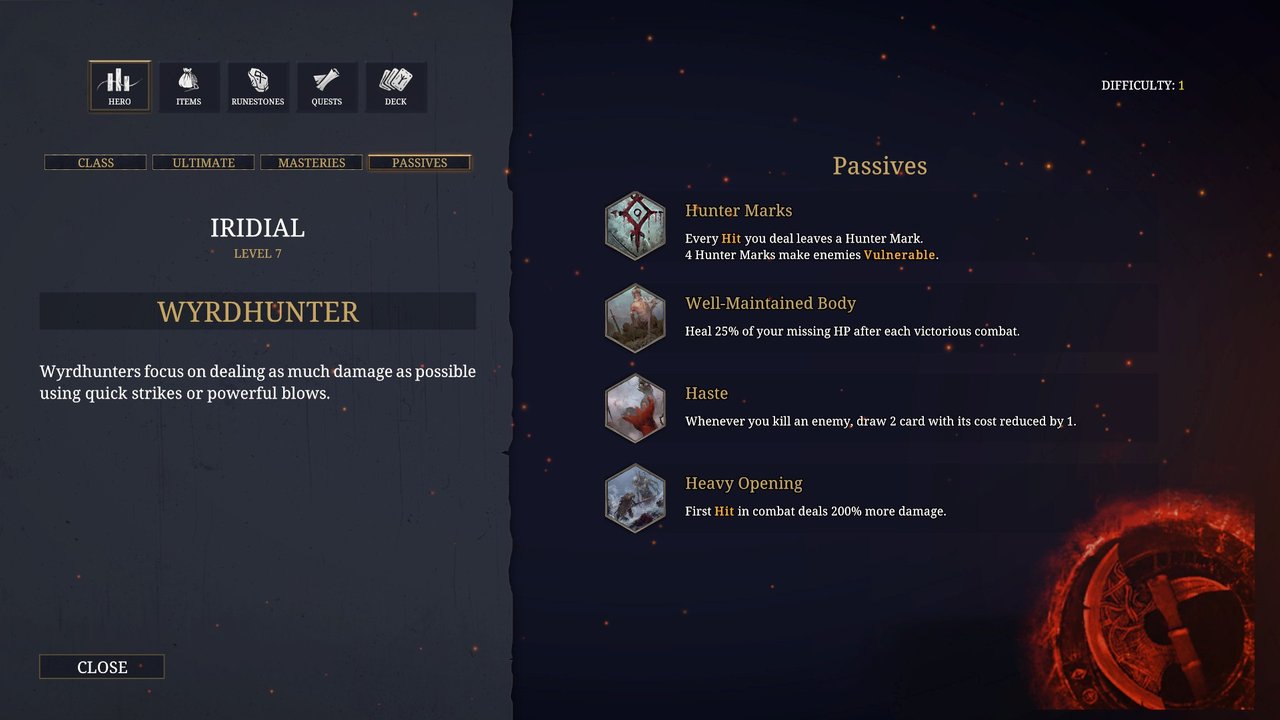 As you level up, you can choose a passive ability that will further specialise your character... hopefully allowing you to penetrate the Wyrdness a little bit more... or at least to survive one more encounter!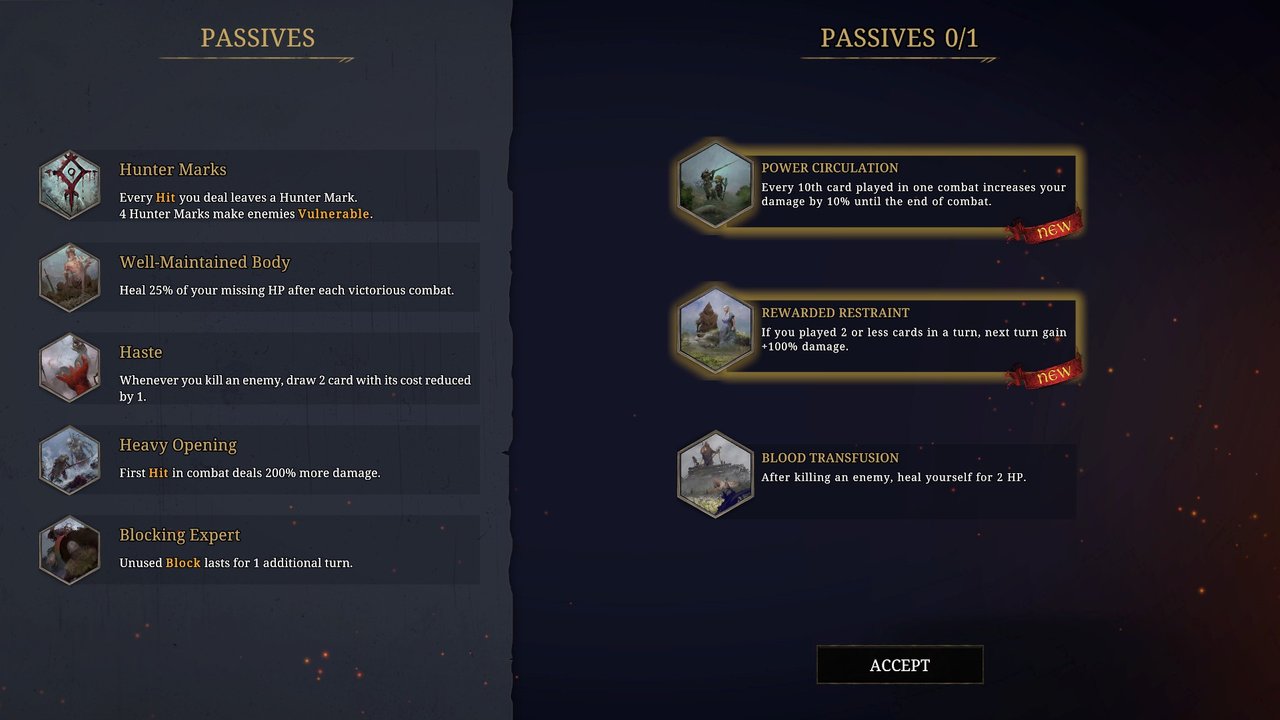 The choice is always from one of three (each class has a different set to choose from)... so choose wisely!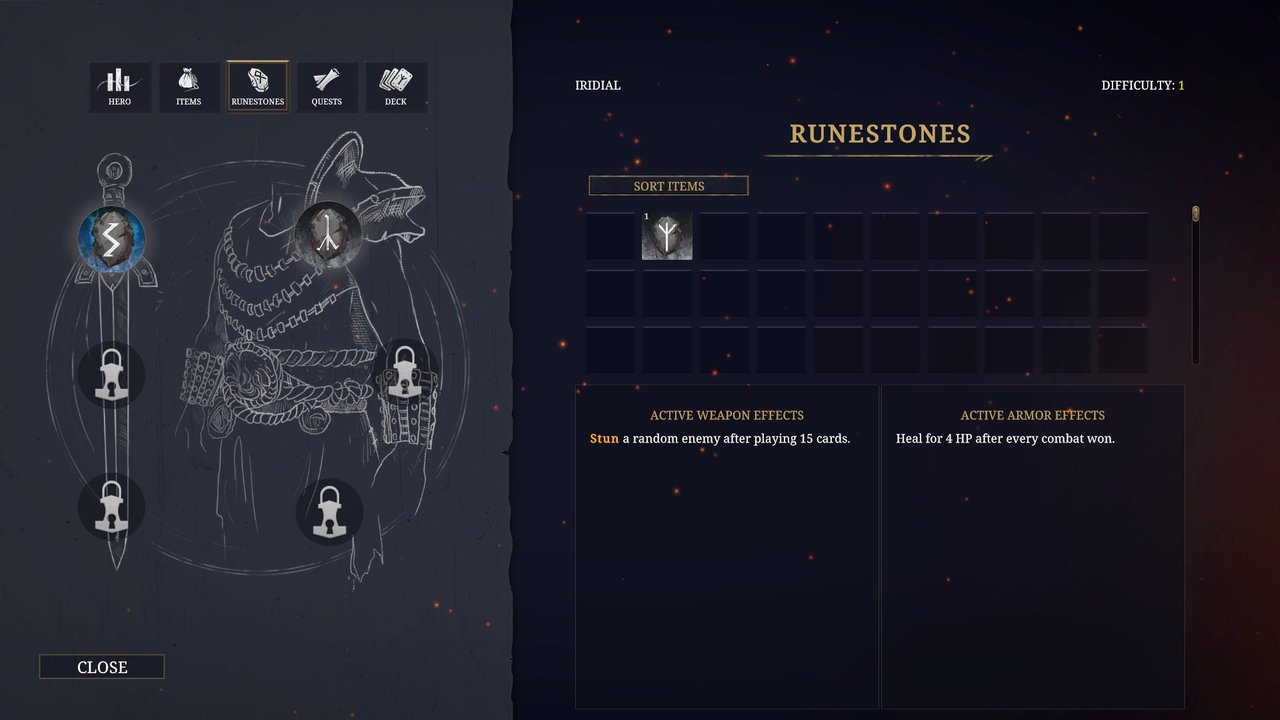 Runestones can be slotted into your armour or weapons... providing you with different incremental bonuses for this life. Rarity is also a thing, and melding makes its appearance as well.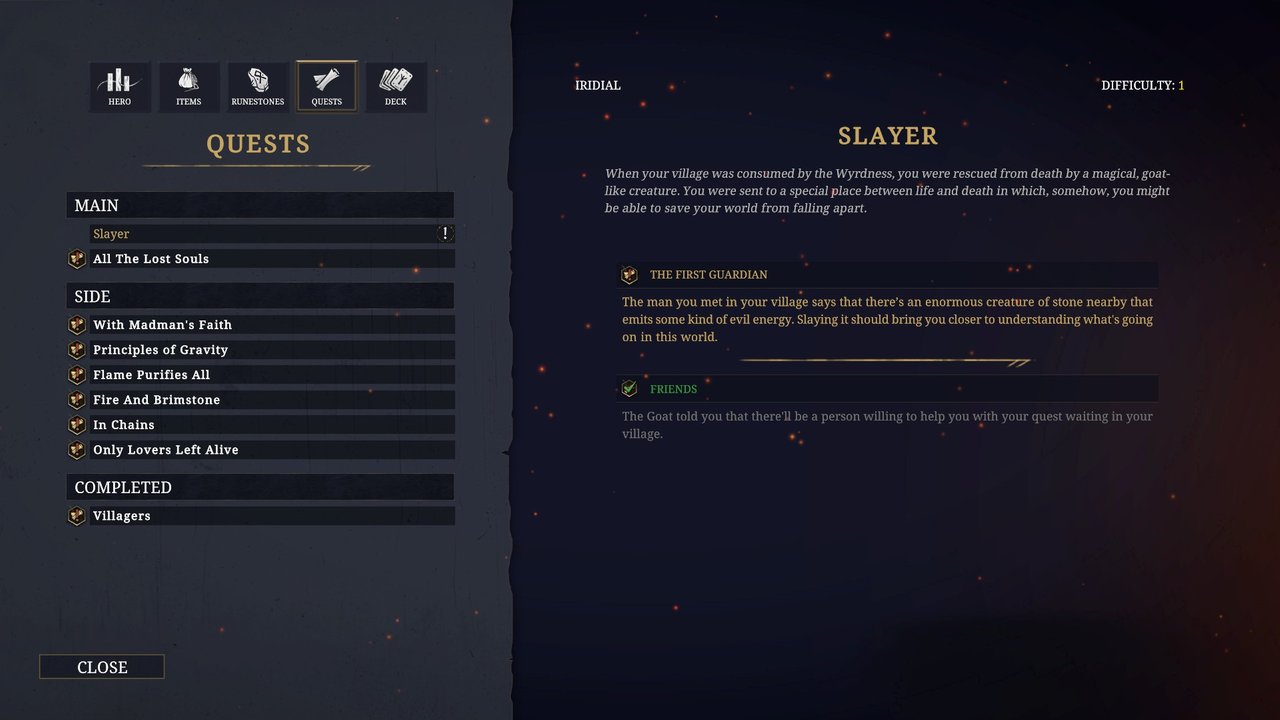 Quests... aplenty! Thankfully, you will just end up completing many of these by traversing and discovering them on the Wyrdness map. There is very little to do... and they will be often completed through the text sections without too much input from the player. But they do advance the stories and trust of the quest giver NPC... and I'm dying to find out their backstories!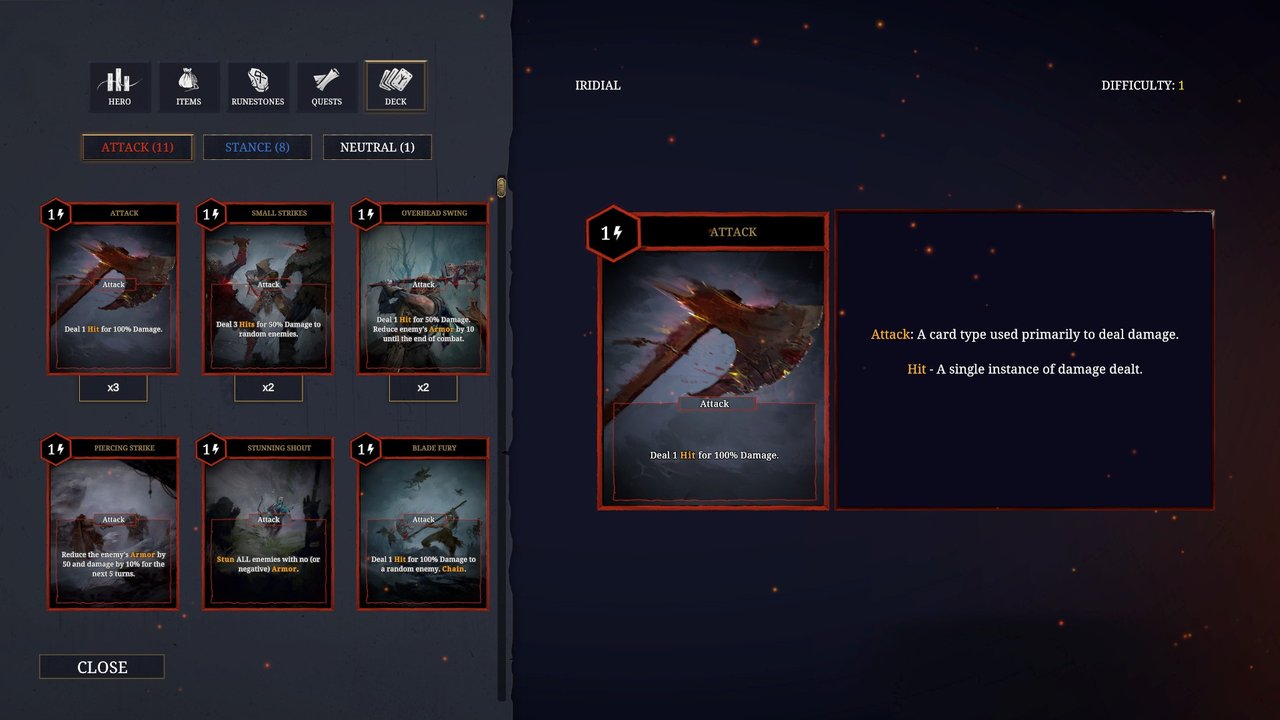 Cards cards cards... the basis of every deck-builder. Choose wisely when you are offered cards, you can quite easily gunk up your hand with lots of useless ones that mean that you don't end up drawing those killer ones!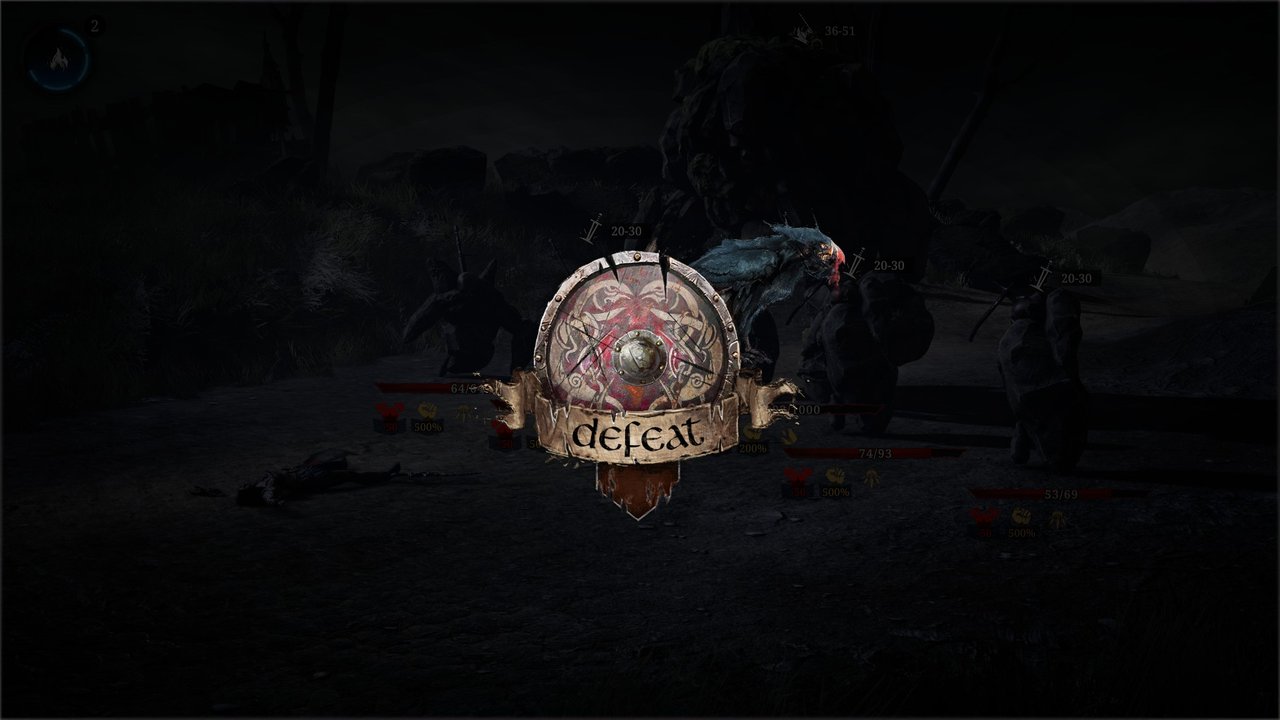 Yep... you will definitely see this quite often! But hopefully, with each run you go a little bit further unlocking more cards, items, stories, classes and power. It is really the stories that keep me going!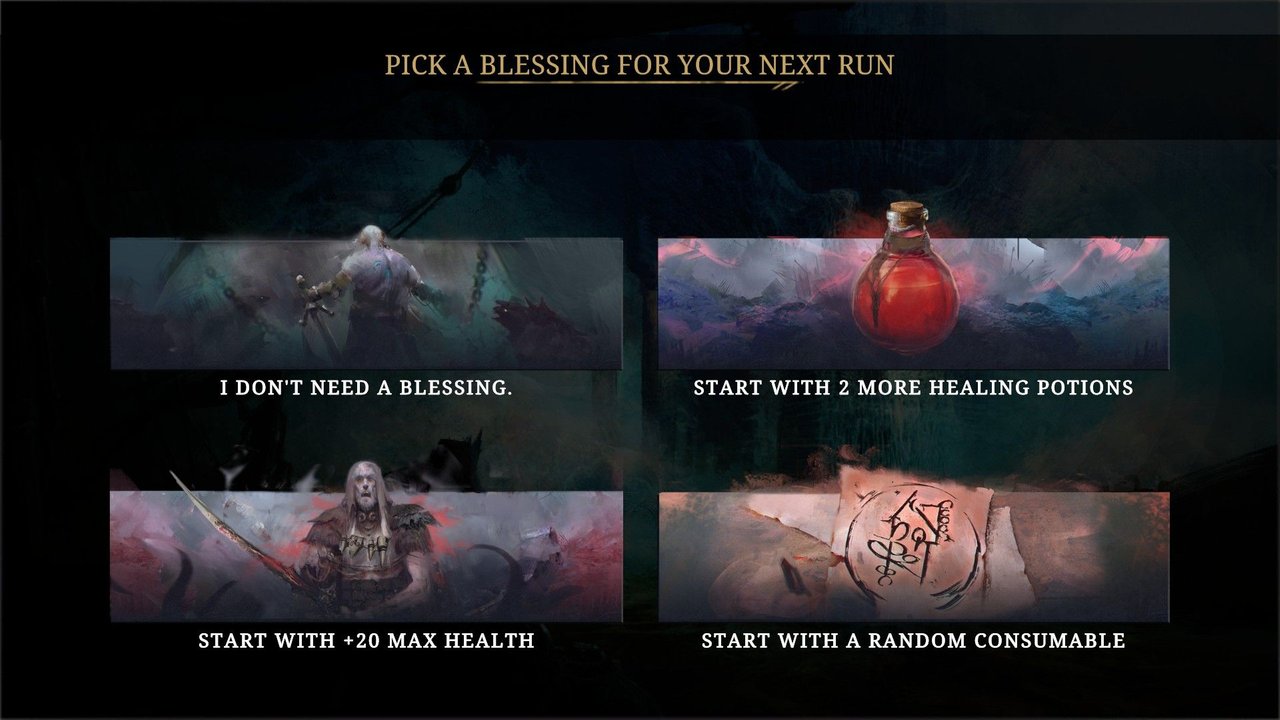 ... and every little boost counts!
Visuals, Sound and Performance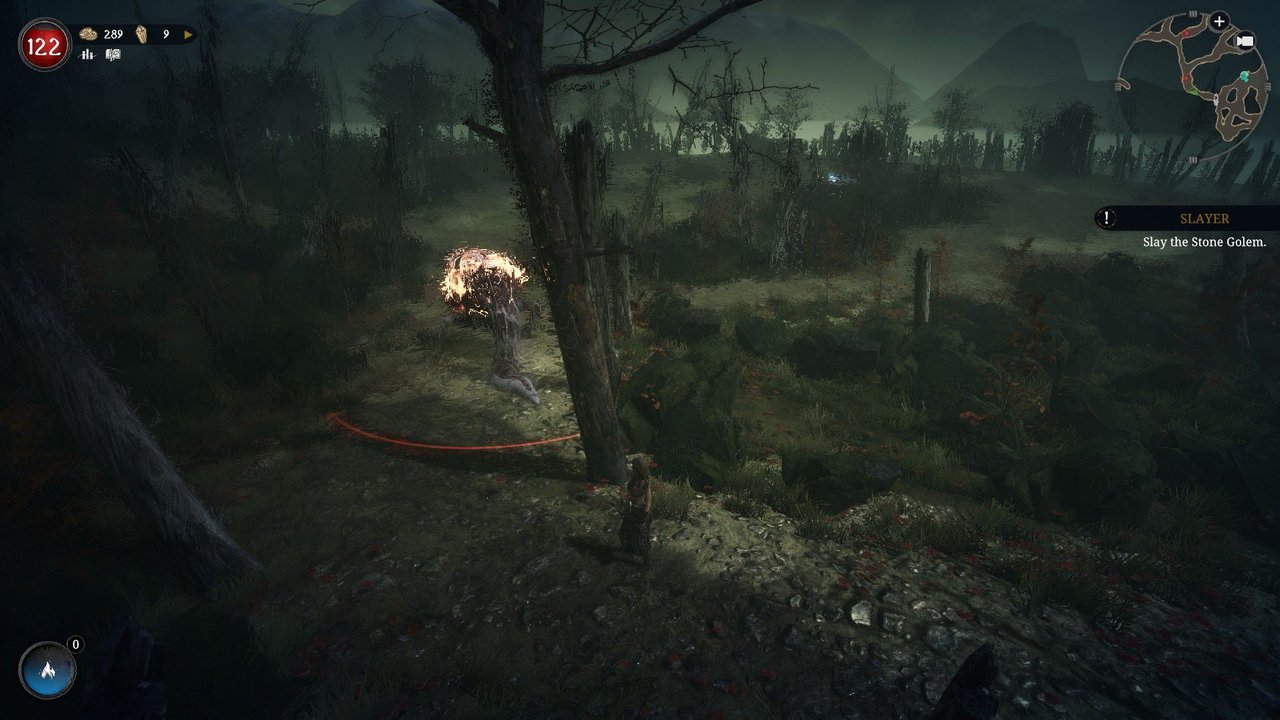 What can I say... the world is beautiful in the 3D world and also the artwork stills. Each NPC is fully voiced (reading the text) and they are done impeccably. There are no bored rote performances... or over the top ones either. These are great readings... something that is often overlooked in games.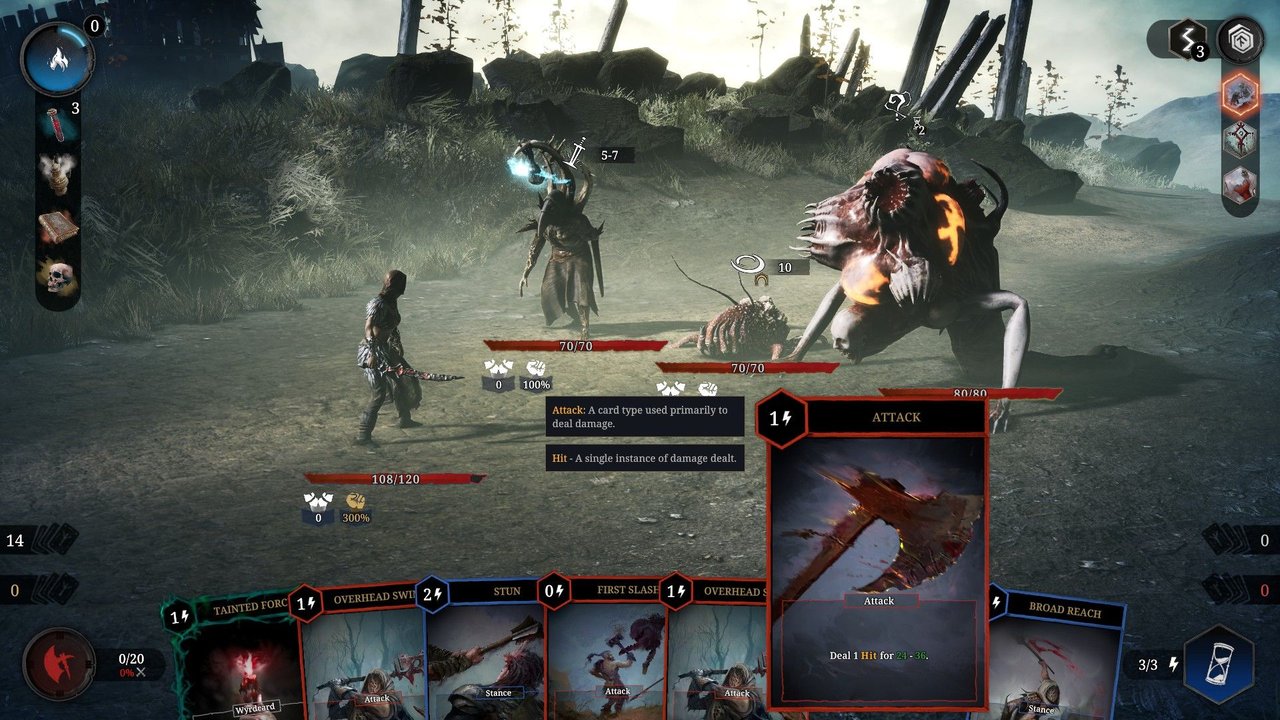 The atmosphere is brilliant... and the different monster designs are gruesome and dark! I love the visual style so much!
My Thoughts
I had picked up Tainted Grail on sale recently... it had been sitting on my wishlist for quite some time. I'm always a sucker for an Arthurian legend based game... but I've been bored out of my brain by rogue-like deck builders before. I like them for a few runs, and then there is nothing really compelling about incremental stat increases...
... however, I think that Tainted Grail has it right. Compelling story and world... one that really makes me want to play another run. Stunning visuals and voice acting is just the icing on the cake!
Review Specs
Played at 1080p (144Hz) on:
XMG Fusion 15
CPU: Intel Core i7-9750H
RAM: 16 GB
Storage: SSD (SATA/Nvme)
GPU: Nvidia GTX 2070 Max-Q
I can also be found cross-posting at:
Hive
Steem
Publish0x
Handy Crypto Tools
Ledger Nano S/X: Keep your crypto safe and offline with the leading hardware wallet provider. Not your keys, not your crypto!
Binance: My first choice of centralised exchange, featuring a wide variety of crypto and savings products.
Kucoin: My second choice in exchanges, many tokens listed here that you can't get on Binance!
FTX: Regulated US-based exchange with some pretty interesting and useful discounts on trading and withdrawal fees for FTT holders. Decent fiat on-ramp as well!
MXC: Listings of lots of interesting tokens that are usually only available on DEXs. Avoid high gas prices!
Huobi: One of the largest exchanges in the world, some very interesting listings and early access sales through Primelist.
Gate.io: If you are after some of the weirdest and strangest tokens, this is one of the easiest off-chain places to get them!
Coinbase: If you need a regulated and safe environment to trade, this is the first exchange for most newcomers!
Crypto.com: Mixed feelings, but they have the BEST looking VISA debit card in existence! Seriously, it is beautiful!
CoinList: Access to early investor and crowdsale of vetted and reserached projects.
Cointracking: Automated or manual tracking of crypto for accounting and taxation reports.
Stoic: A USD maximisation bot trading on Binance using long-term long strategies, powered by the AI/human system of Cindicator.
StakeDAO: Decentralised pooled staking of PoS assets.
Poloniex: One of the older regulated exchanges that has come into new ownership. I used to use it quite a lot, but have since stopped.
Bitfinex: Ahhh... another oldie, but a goodie exchange. Most noted for the close affiliation with USDT and the Basic "no-KYC" tier!

Splinterlands (aka the best blockchain game out there!)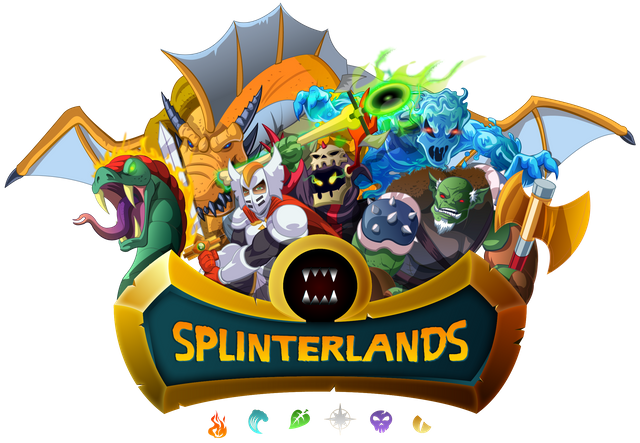 Have you heard of Humble Bundle? It's a place to get some really great deals on Games, e-books and comic bundles. However, if you sign up for a Humble Bundle Subscription (12 USD per month) you get some really nice bonuses!
A 100+ USD bundle of games delivered direct to you each month, redeemable on Steam, Uplay or direct download (depending on the game). This includes recent Triple A games!
Access to the Humble Bundle "Trove", a list of 60 games (and growing...) which are free to play as long as you remain a subscriber!
Additional Discounts on the Humble Bundle store, with the choice of supporting charities, Humble Bundle or developers in whatever percentage that you wish!
Humble Bundle Subscriptions, it's a no brainer for the dedicated gamer!