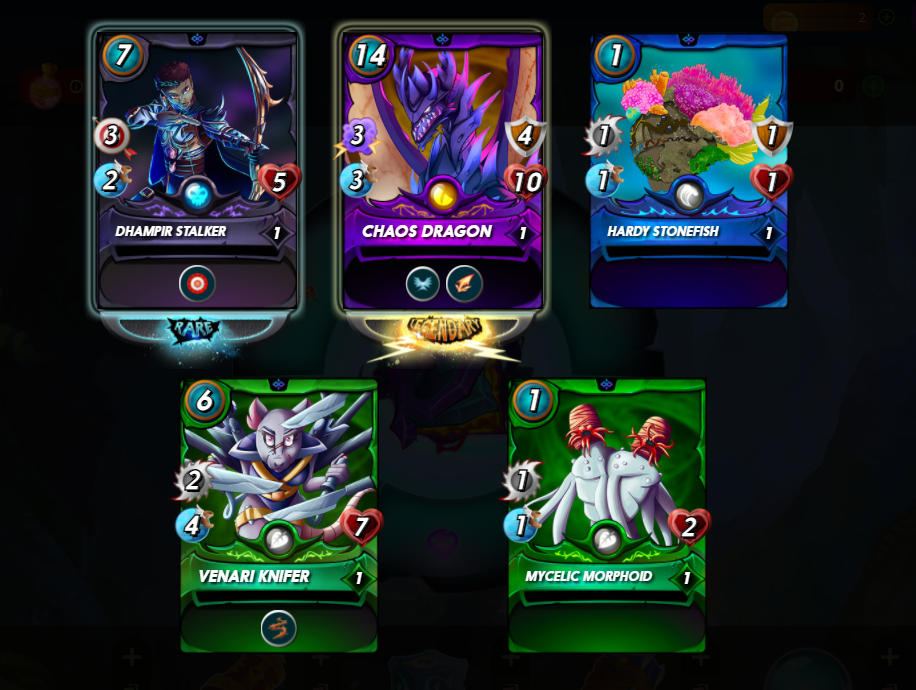 It has been quite a long time since I've played Splinterlands, and I sold off the bulk of my cards a long time ago to avoid having he temptation to log in and play again! I did love the game, but I wanted to spend more of my precious gaming time playing my games on my beloved PC platform instead! Definitely no slight on Splinterlands, but just a desire to return back to huge deep hardcore gaming.
Anyway, I still have SPS staked and being dropped from the time that I was playing and making it up the leagues on a daily basis. So, every now and then, I check in to harvest the SPS and use a bit of the staking rewards to purchase a pack or two in the hopes of striking it lucky! It is like the equivalent of purchasing a lucky lottery ticket for me... with nothing expected, but just the little endorphin rush of seeing the cards flip over to perhaps reveal something new and exciting.
So, the other day, I had enough SPS to purchase 4 packs.
... and the first pack that I had opened contained that very very cool surprise! It was like Splinterlands knew that I hadn't been around for a while and wanted to show me what I was missing out on.
That shaky shaky animation (my sound was turned off...) is always a welcome sight when you hover and click on a card. Every Splinterlands player knows that you are about to be dropped a really cool Legendary card! And there it was, a Chaos Dragon! Wow, it does look pretty damn impressive... but I also remember the days when the highest level mana card was something on the order of 8 mana! 14 mana seems pretty impressive.... I suspect that you could definitely win a game or two just using ONLY this card?
On the other hand, even that Dhampir Stalker looks pretty impressive... not a tank at all, but something that might definitely do a touch of ranged damage when it gets levelled. Sigh... maybe I will see what I can do with my very depleted deck! Oh wait... probably not, I think I have no summoners left. Maybe it will all go to lease.
Sadly, the second pack was less impressive. Somehow, looking at the artwork (which I still love), I'm getting a bit of a League of Legends vibe about it. Anyway, commons are still useful. I'm still levelling up cards to make them a touch more attractive on the hiring market.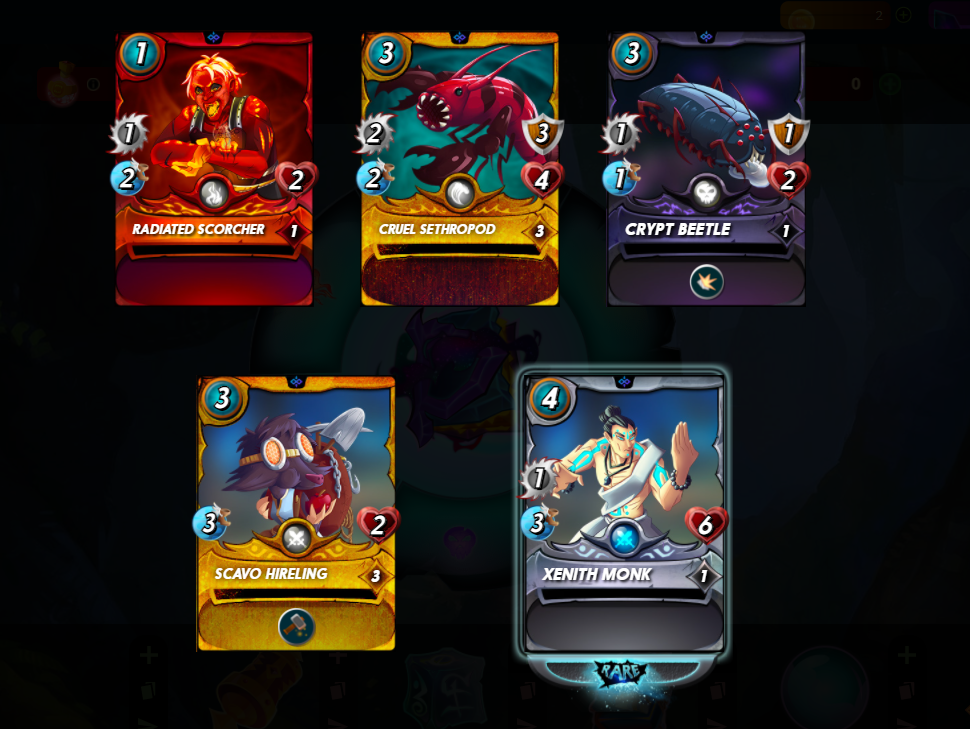 LOL... third pack. Splinterlands is REALLY REALLY trying hard to lure me back in. But again, sadly, I have no summoners... so, I'm afraid that my temptation is cut short by the sheer lack of ability to compete!
Anyway, in the past, I would have sold the gold cards immediately... I prefer to have utility over the rarity and cool factor. I don't know if things have changed since I stopped playing... but when I was playing, it was better to have a non-gold card that was levelled rather than the gold version that was comparatively weaker and more expensive to level up.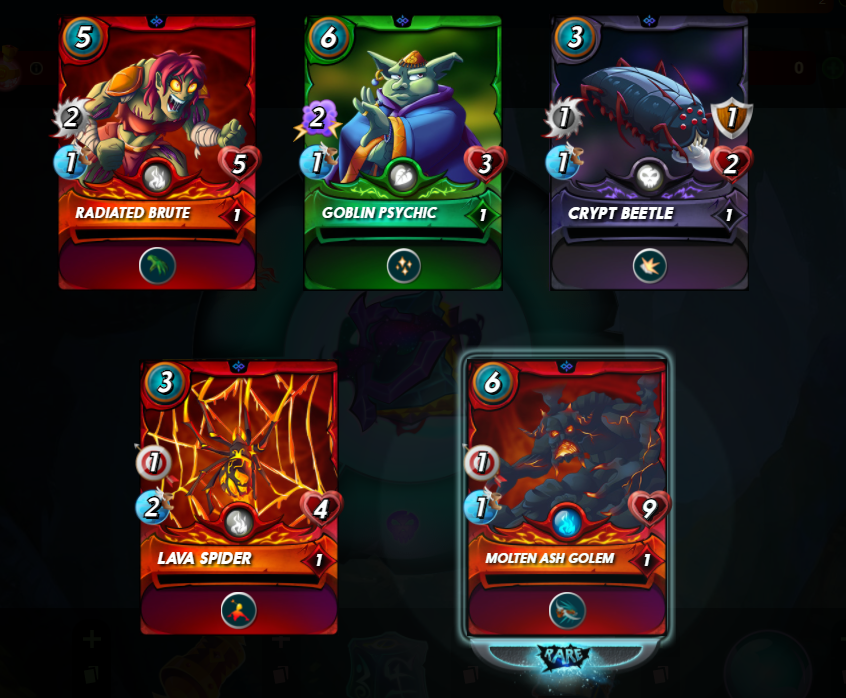 ... ahhhhh... poop, just commons. No matter, they will be combined to buff up those little low level common cards!
Oh Splinterlands, it has been such a long time since I've played... but you still are providing me with some little moments of goosebumps and fun! I still love opening packs! I don't think that that will EVER get old!
I can also be found cross-posting at:
Hive
Steem
Publish0x
Handy Crypto Tools
Ledger Nano S/X: Keep your crypto safe and offline with the leading hardware wallet provider. Not your keys, not your crypto!
Binance: My first choice of centralised exchange, featuring a wide variety of crypto and savings products.
Kucoin: My second choice in exchanges, many tokens listed here that you can't get on Binance!
FTX: Regulated US-based exchange with some pretty interesting and useful discounts on trading and withdrawal fees for FTT holders. Decent fiat on-ramp as well!
MXC: Listings of lots of interesting tokens that are usually only available on DEXs. Avoid high gas prices!
Huobi: One of the largest exchanges in the world, some very interesting listings and early access sales through Primelist.
Gate.io: If you are after some of the weirdest and strangest tokens, this is one of the easiest off-chain places to get them!
Coinbase: If you need a regulated and safe environment to trade, this is the first exchange for most newcomers!
Crypto.com: Mixed feelings, but they have the BEST looking VISA debit card in existence! Seriously, it is beautiful!
CoinList: Access to early investor and crowdsale of vetted and reserached projects.
Cointracking: Automated or manual tracking of crypto for accounting and taxation reports.
Stoic: A USD maximisation bot trading on Binance using long-term long strategies, powered by the AI/human system of Cindicator.
StakeDAO: Decentralised pooled staking of PoS assets.
Poloniex: One of the older regulated exchanges that has come into new ownership. I used to use it quite a lot, but have since stopped.
Bitfinex: Ahhh... another oldie, but a goodie exchange. Most noted for the close affiliation with USDT and the Basic "no-KYC" tier!

Splinterlands (aka the best blockchain game out there!)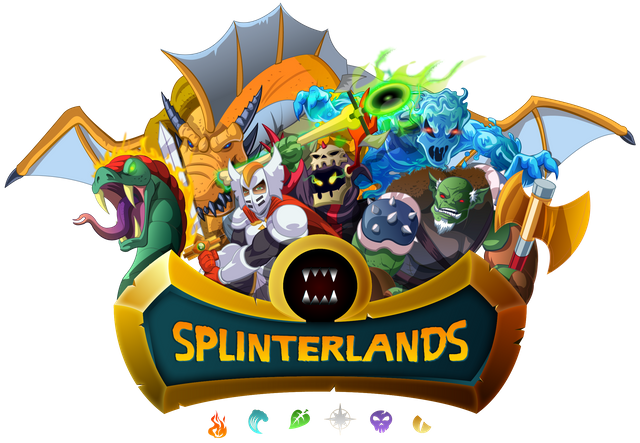 Have you heard of Humble Bundle? It's a place to get some really great deals on Games, e-books and comic bundles. However, if you sign up for a Humble Bundle Subscription (12 USD per month) you get some really nice bonuses!
A 100+ USD bundle of games delivered direct to you each month, redeemable on Steam, Uplay or direct download (depending on the game). This includes recent Triple A games!
Access to the Humble Bundle "Trove", a list of 60 games (and growing...) which are free to play as long as you remain a subscriber!
Additional Discounts on the Humble Bundle store, with the choice of supporting charities, Humble Bundle or developers in whatever percentage that you wish!
Humble Bundle Subscriptions, it's a no brainer for the dedicated gamer!