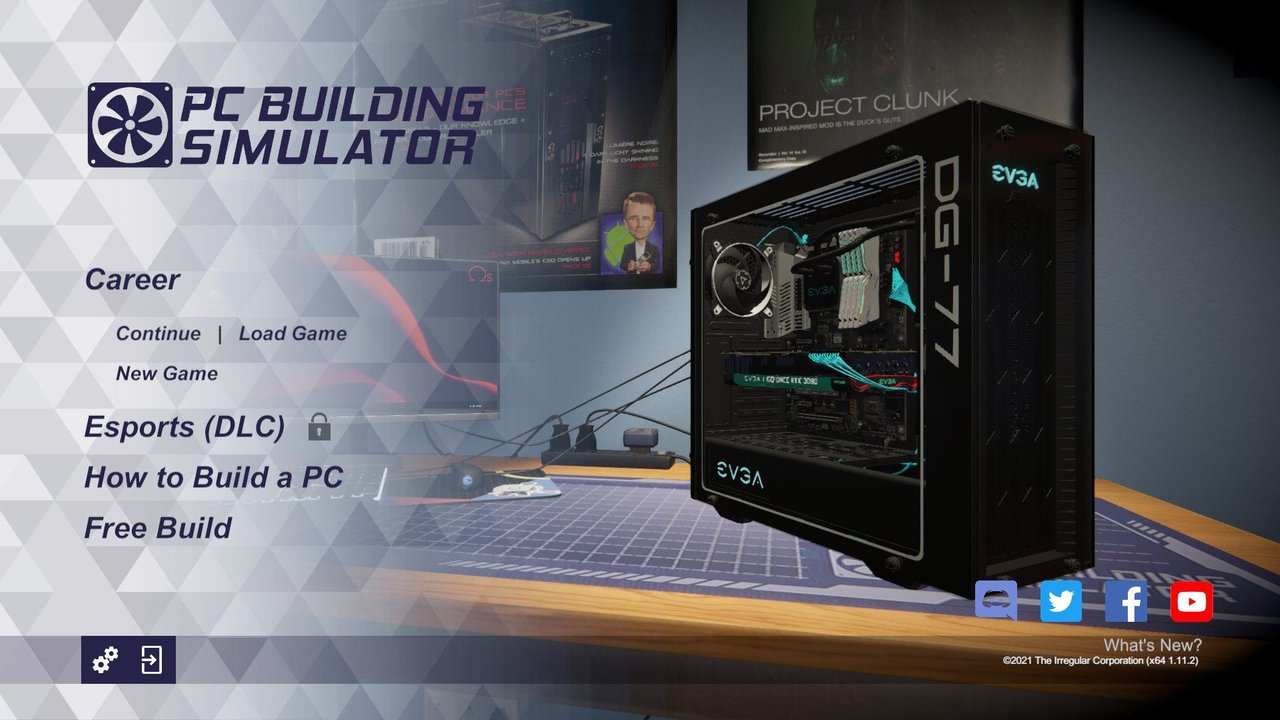 PC Building Simulator was one of these games that had caught my interest as an interesting concept, but not something that I would drop money on to try it out. Luckily, for me, it dropped in a recent Humble Bundle... and so, I would get to try out my slightly nerdy dream of running a home-based computer repair and upgrade shop!
PC Building Simulator is a 2018 release by The Irregular Corporation, which appears to be a one man indie development studio. It is really hard to pigeon hole this particular game. It is pretty much exactly what it says on the box... you build and repair PC's, with a light management layer sprinkled on top to provide some sort of direction to your tinkering.
The Setup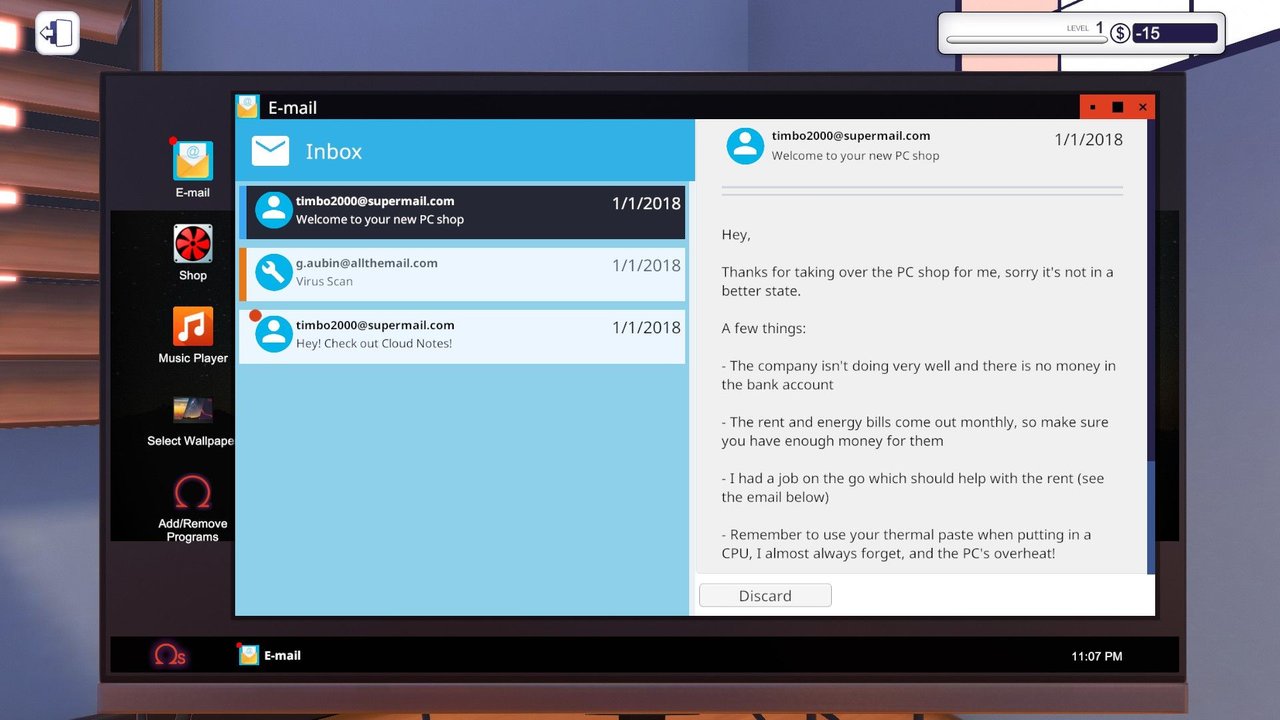 There isn't really much of a story to the vanilla game. You inherit a PC repair shop and you start Day 1 ordering and accepting repair and upgrade orders from customers. There is very little in the way of narrative set-up or story, no epic story of building a PC building empire to take down the evil Dele or APle empires... to get back at the time when Tim Cook negged you at a huge Nvidia launch event. Nope... you get orders, you complete the orders... and you keep moving on!
There are a couple of DLC expansions that attaches the vanilla game to an eSports league where you are the one responsible for keeping the player machines up to scratch and in frag-worthy condition... I might be tempted to pick that up to give a bit more of an overall direction to the game!
... and then there is a beta invite which I just accepted where you are the IT support for a company.
The Game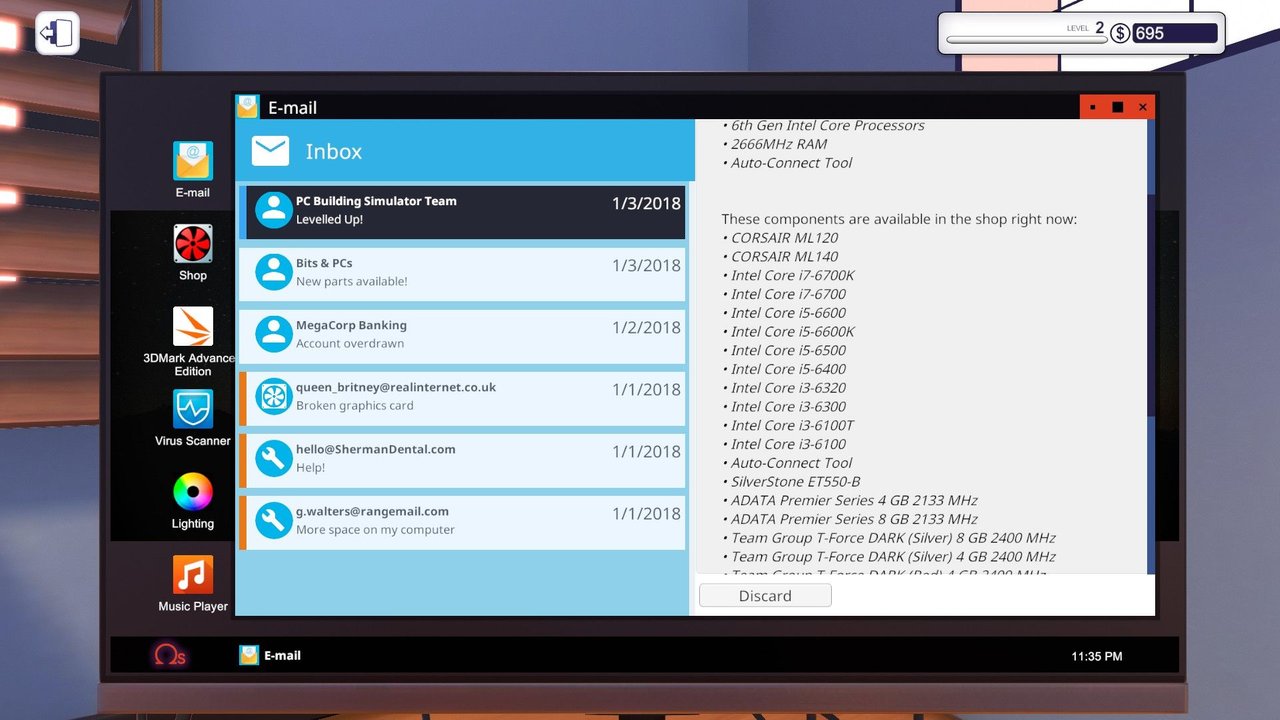 So, your days mostly start and end at your computer screen... completing the day's jobs and collecting the payment, and then accepting the new batch of customers and ordering the relevant parts from the store. It is really quite weird to be using an odd computer windows interface when playing on your own laptop... but it is also unfortunately, the worst part of the game.
The in game computer has the WORST brower and shopping experience that seems to hail from the early days of the internet... sigh! I would have to say that the MOST irritating part of the experience is not being able to easily switch between the customer computer configuration and the shopping screens quickly and easily... as you will need to be doing that quite a bit to make sure you are buying compatible components!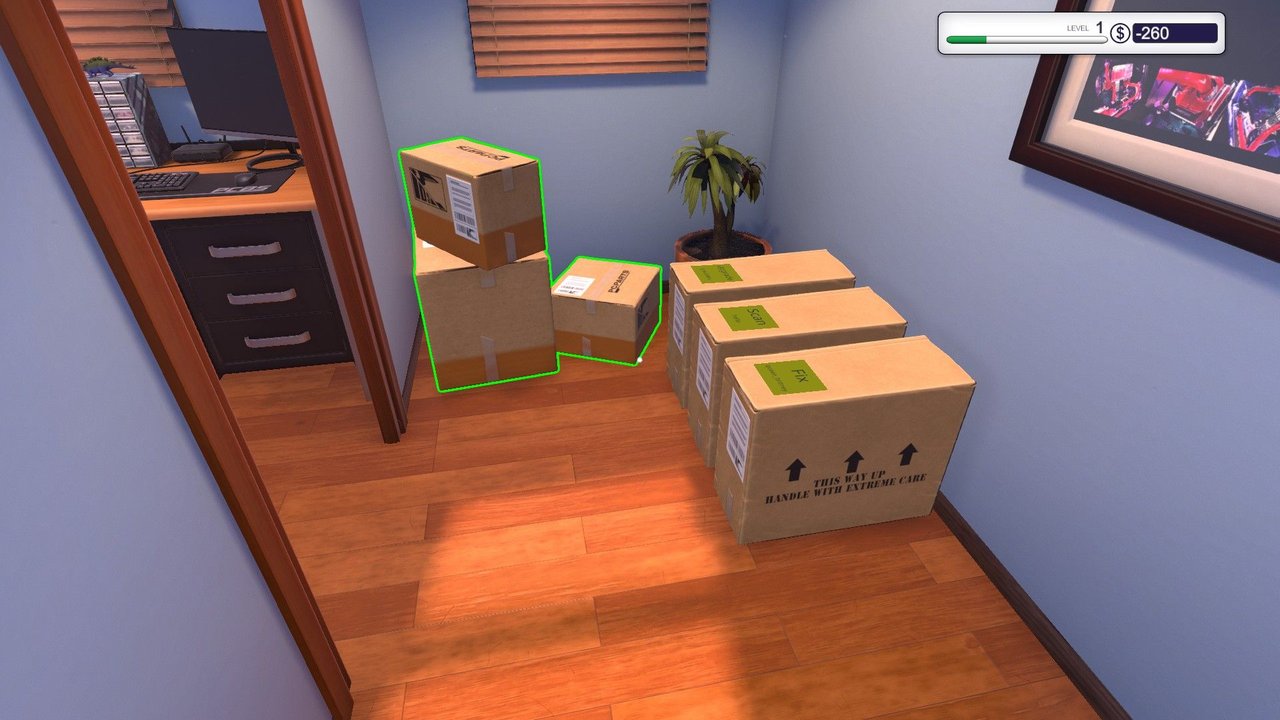 ...and so, the day starts with the delivery of orders and customer boxes. Not sure who let the delivery person into your workplace... but let's pretend it is an upgraded Amazon delivery service with a smart lock?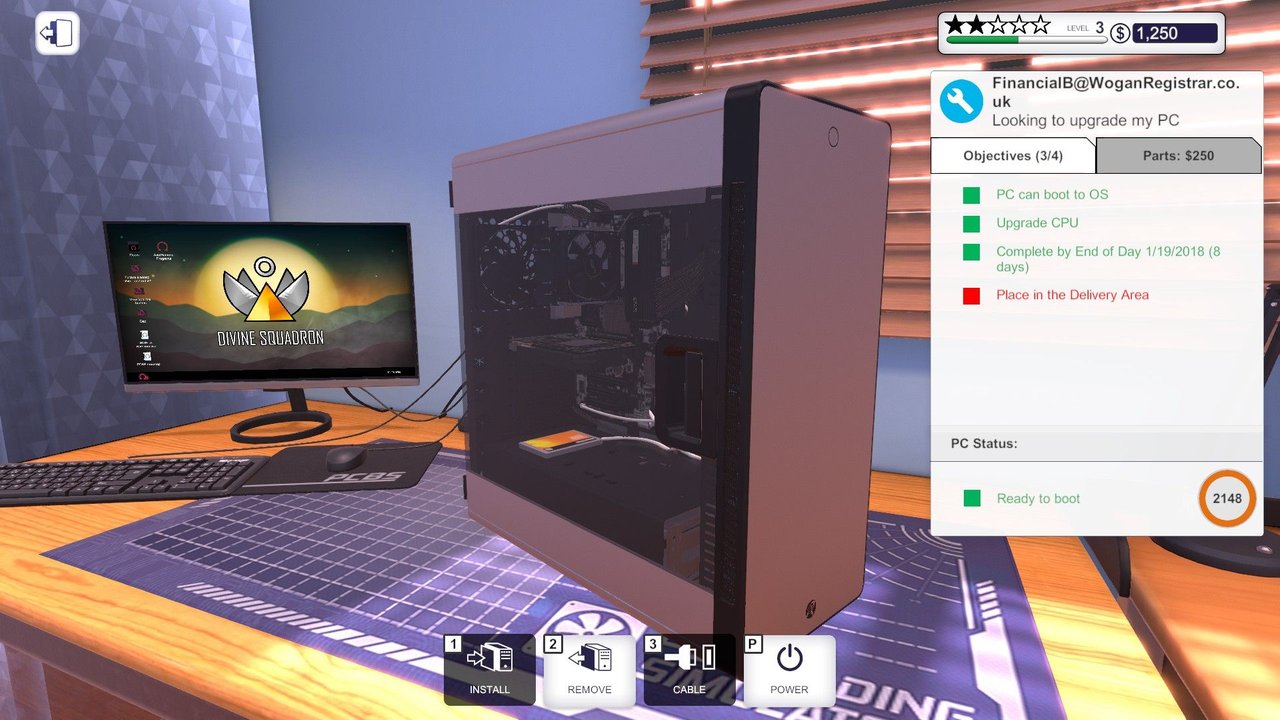 Unpacking each computer on your workbench lets you boot it up and start to diagnose any problems, and compare it against the wishlist of customer requests. As you get more money and level up your shop, you can unlock additional workbenches to unpack computers on. It's not really necessary as there is no time passing in the game, but all the computers have "real" boot times and benchmarking/program runtimes... so, it might just save you some sanity by being able to work on something else whilst a potato chugs through some benchmark program.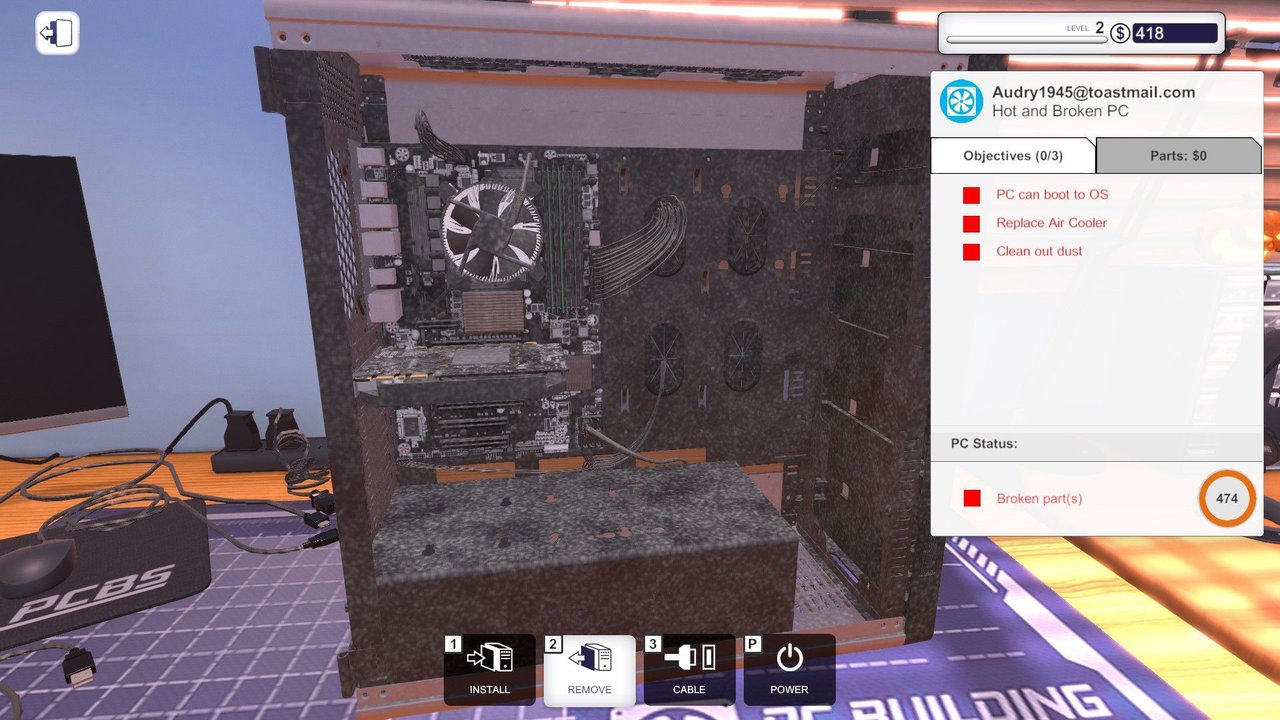 Manually plugging cables in and then extracting, replacing and upgrading components is actually more fun than you would think! Well, maybe fun isn't quite the right word for it... it is quite calming! It is really simplified quite a bit in comparison to doing it for real... but the basic ideas are there!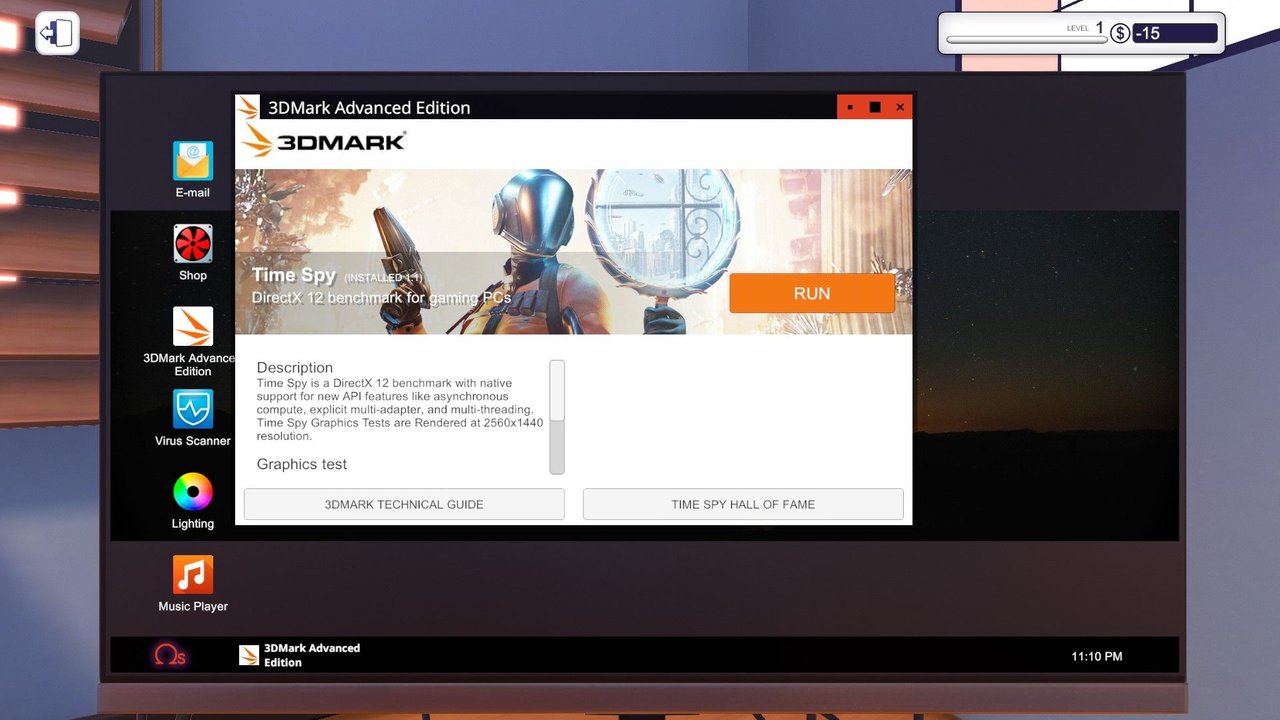 ... running 3DMark in a pretend computer on my laptop! Somehow, that doesn't ever stop getting funny!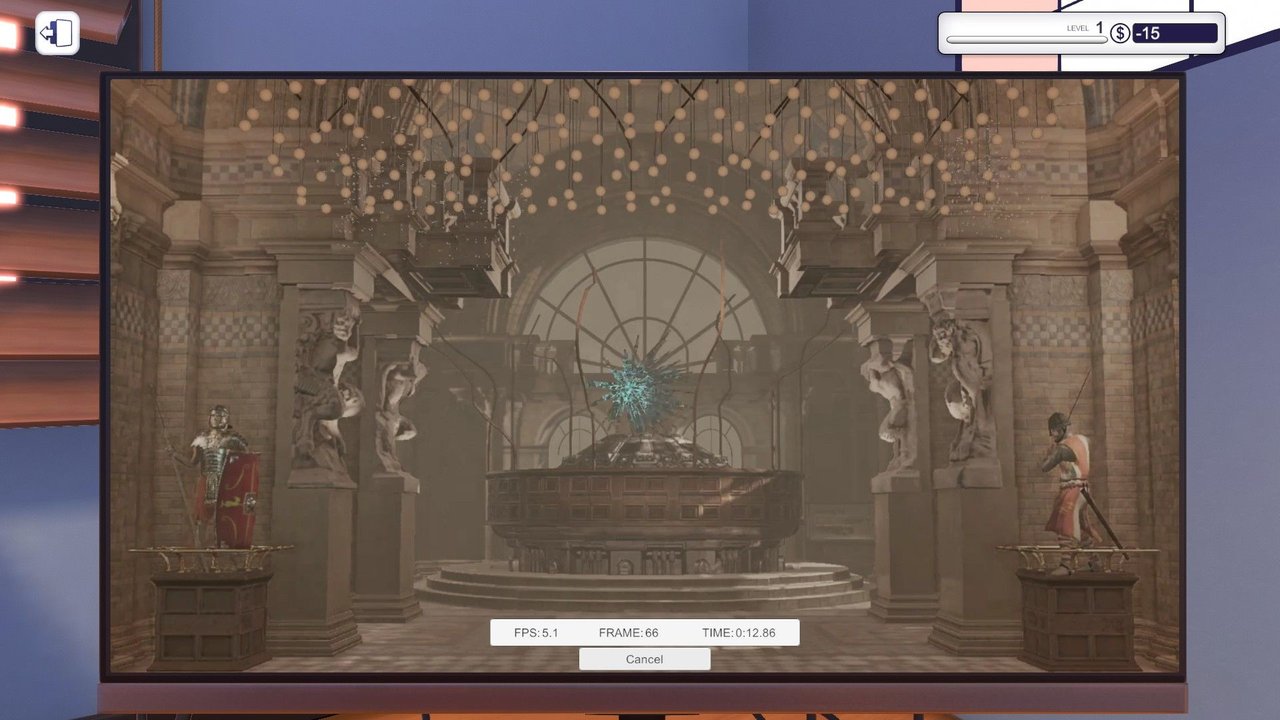 ... and some of these computers are real potatoes! I think my laptop would be able to rip through the same benchmarking at the same time as doing the emulation on the pretend game! But it is fun to see the familiar 3DMark scenes playing out on a screen within a screen!
Visuals, Sound and Performance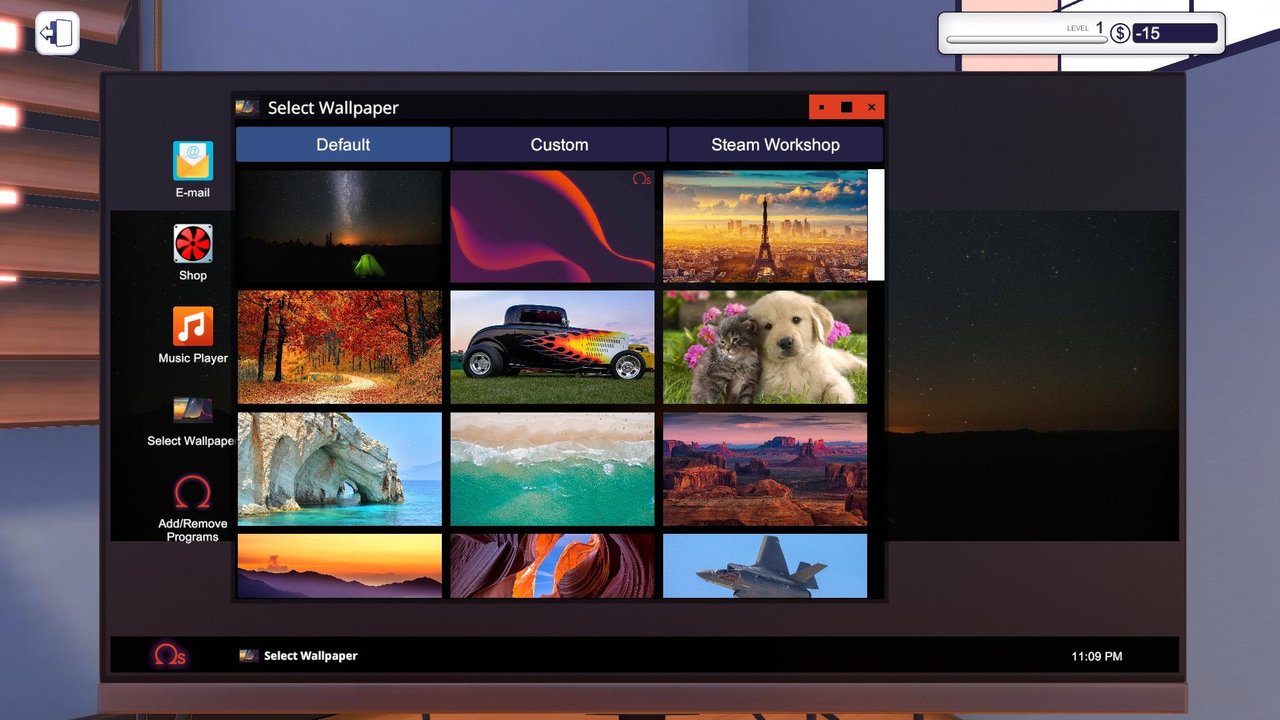 The visuals are pretty simple, and there is very little in the way of dynamic lighting or modelling to actually tax your gaming rig. This game will run pretty easily on most modern hardware I think... unless you want to run a parallel benchmarking program at the same time!
From the point of view of sound... there is nothing. However, there is a really cool 10-12 tracks of music that are included with the game! I love the tracks... something that really adds to the surreal atmosphere of playing this game! However, after a while... you can only listen to the same tracks on loop for so long before getting irritated by them.
My Thoughts
There is so much about the core concept of running a computer repair shop that is so promising. Fixing, upgrading and repairing hardware (and dealing with the occasional software issue) is really the nerd dream come true...
Sadly... this is the extent of the vanilla game. There is the requirement to meet the electricity and rent... but that is about it! So, more of a therapeutic experience than a real narrative!... or perhaps that is the point, life is not epic... it is just doing the same thing over and over?
... there could have been so much more in terms of a narrative... perhaps, secret documents hidden in the hard-drives? That would drag you into some sort of deep dark story... or just world domination from your basement?
So, that makes the vanilla game a little bit hard to recommend without either the eSports DLC or the upcoming IT support expansion. Sadly, that means coughing up quite a bit more money for things that should have already been included in the vanilla game... well, at least the eSports DLC should have been.
Review Specs
Played at 1080p (144Hz) on:
XMG Fusion 15
CPU: Intel Core i7-9750H
RAM: 16 GB
Storage: SSD (SATA/Nvme)
GPU: Nvidia GTX 2070 Max-Q
Splinterlands (aka the best blockchain game out there!)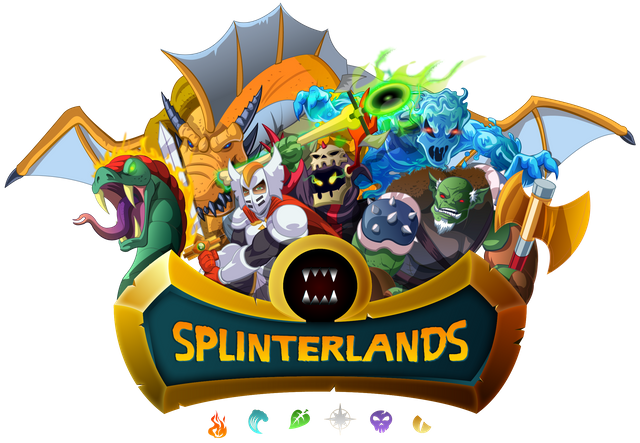 Have you heard of Humble Bundle? It's a place to get some really great deals on Games, e-books and comic bundles. However, if you sign up for a Humble Bundle Subscription (12 USD per month) you get some really nice bonuses!
A 100+ USD bundle of games delivered direct to you each month, redeemable on Steam, Uplay or direct download (depending on the game). This includes recent Triple A games!
Access to the Humble Bundle "Trove", a list of 60 games (and growing...) which are free to play as long as you remain a subscriber!
Additional Discounts on the Humble Bundle store, with the choice of supporting charities, Humble Bundle or developers in whatever percentage that you wish!
Humble Bundle Subscriptions, it's a no brainer for the dedicated gamer!