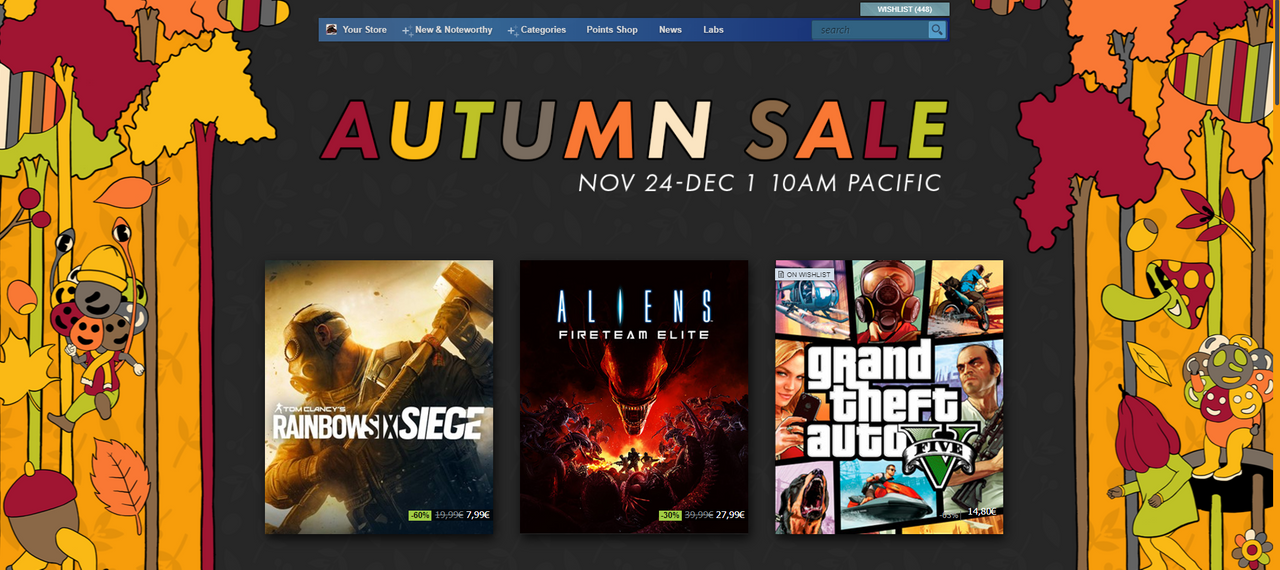 Ahhhhhh... the endless temptation of Steam Sales. I really try every time to avoid it like crazy... I've got way too large a backlog of games and I'm starting to run out of room to house games that I've downloaded and not started. Plus, there is also the monthly incoming games from Humble Bundle! So, the list doesn't need extra additions..
... but this time, there is a little bit of a confessional... I wasn't strong enough, and I picked up a few games that I've had my eye on for quite a long time. So, the prices of the games aren't always enough to beat my no-shopping discipline. This time, I justified it to myself with the fact that soon (hopefully... thanks Omicron...) I will be headed back to the land of slow slow slow internet and it will be a pain in the bum to download nice shiny new games, that are hundreds of GB in size. Of course, it may be that Australia has managed to upgrade to a decent internet speed... but from what I hear, I shouldn't count on it! Anyway... how is that for a justification for buying three games on the Autumn Sale? Pretty poor... but it gets rid of my dissonance, and it doesn't need to make sense to anyone else! Plus,the kids are going to get some nice new Switch games for Sinterklaas... and I don't want to miss out on the loot!
---
So... which three games tempted me enough to stump up some cash for a quick impulse purchase?
The first one was Red Dead Redemption 2... this was a game that I have long wanted to play. When original had released as a console exclusive, I was heartbroken... and likewise when the sequel (this one) had released on console, I had given up hope of ever playing this franchise and guessed that I would just have to live out the experience through reading reviews! However, the second was ported over to PC... and I've been eyeing it off ever since. Seeing as two of these "open world" type games were up for sale that I had been eyeing off for ages (the other one was Cyberpunk), I was faced with a difficult decision of only picking one of the two. After the disasterous launch of Cyberpunk, I was still hesitant to try that one out... and the reviews of Red Dead Redemption 2 seemed to allude to an amazing slow experience with a touching story to boot! Wow, this seemed like the one to go for... at over 100 GB download, well.. some games would need to be juggled to make space for it on my very very crowded SSD (and my gaming laptop has already two 1-TB SSDs.... ). So... no brained, despite the overcrowded SSD, I jumped at Red Dead Redemption 2 (and the download size fitted in nicely with my awfully contrived justification!).
So.... the next game was a little bit of a strange one... but it was going so cheaply, that I couldn't pass it up! Wasteland 3... I remember the original Wasteland, and I had started Wasteland 2 (still on my backlog...), and Wasteland 3 was supposed to be pretty damn decent. I have always loved the Fallout and Wasteland universes, and I just really want to get back into them... So, an impulse buy to pick up this CRPG and all the DLCs... that will also need to compete with all the other CRPGs in my collection that all need to be completed... sigh.
Finally, the last impulse buy?
.
.
.
.
.
.
.
Cyberpunk... Yes yes, I know that it might still be potentially buggy, glitchy or just plain disappointing. But the hype and hope for this game was real... and I was one of many many gamers who had their hearts broken by the terrible launch of the game from our beloved developer of Witcher 3. By all accounts, the game is fixed up and playable... and the biggest criticisms has been that it is a disappointment as it could have been so much more... so, if I put that expectation aside, it might still be a decent Cyberpunk game... and hopefully, a little part of me will still enjoy it!
I can also be found cross-posting at:
Hive
Steem
Publish0x
Handy Crypto Tools
Ledger Nano S/X: Keep your crypto safe and offline with the leading hardware wallet provider. Not your keys, not your crypto!
Binance: My first choice of centralised exchange, featuring a wide variety of crypto and savings products.
Kucoin: My second choice in exchanges, many tokens listed here that you can't get on Binance!
FTX: Regulated US-based exchange with some pretty interesting and useful discounts on trading and withdrawal fees for FTT holders. Decent fiat on-ramp as well!
MXC: Listings of lots of interesting tokens that are usually only available on DEXs. Avoid high gas prices!
Huobi: One of the largest exchanges in the world, some very interesting listings and early access sales through Primelist.
Gate.io: If you are after some of the weirdest and strangest tokens, this is one of the easiest off-chain places to get them!
Coinbase: If you need a regulated and safe environment to trade, this is the first exchange for most newcomers!
Crypto.com: Mixed feelings, but they have the BEST looking VISA debit card in existence! Seriously, it is beautiful!
CoinList: Access to early investor and crowdsale of vetted and reserached projects.
Cointracking: Automated or manual tracking of crypto for accounting and taxation reports.
Stoic: A USD maximisation bot trading on Binance using long-term long strategies, powered by the AI/human system of Cindicator.
StakeDAO: Decentralised pooled staking of PoS assets.
Poloniex: One of the older regulated exchanges that has come into new ownership. I used to use it quite a lot, but have since stopped.