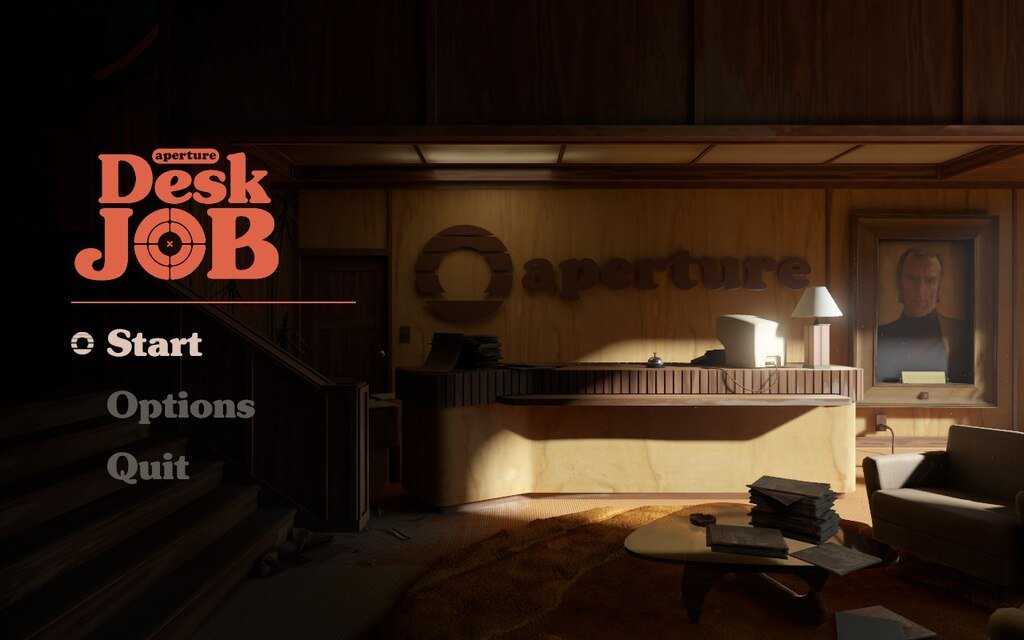 In my Steam Deck unboxing and powering-up, I mentioned how I was a bit disappointed that the Steam team had missed out an opportunity to build a tutorial/intro for the Steam Deck set in the beloved Portal Universe. After all, Cave Johnson and Aperture Science is one of the all time favourites from the Steam team... and everytime I see them pop up, along with those funny little robots... well, the writing and humour are just the right thing to bring a huge grin to my face!
Sadly, there wasn't anything there... and the powering up of the Steam Deck was a pretty functional sort of affair. Perhaps not everyone wants a touch of humour in their hardware set up...
... thankfully, in the week after I had the Deck set up, I noticed a game that I didn't think that I had purchased called "Desk Job". It was rated as being "Verified" for the Steam Deck, and so I didn't think much of it and installed it... right now, I'm installing games left, right, and centre to see what works nicely on the Deck and what doesn't really fit with me and my un-coordinated abilities with a controller.
I fired it up earlier this week, and to my great delight and surprise... it was a tutorial and intro to the Steam Deck! In the Portal Universe!!!!!!!! Giant Grin! Oh come on, just read the Steam Store description!
The Setup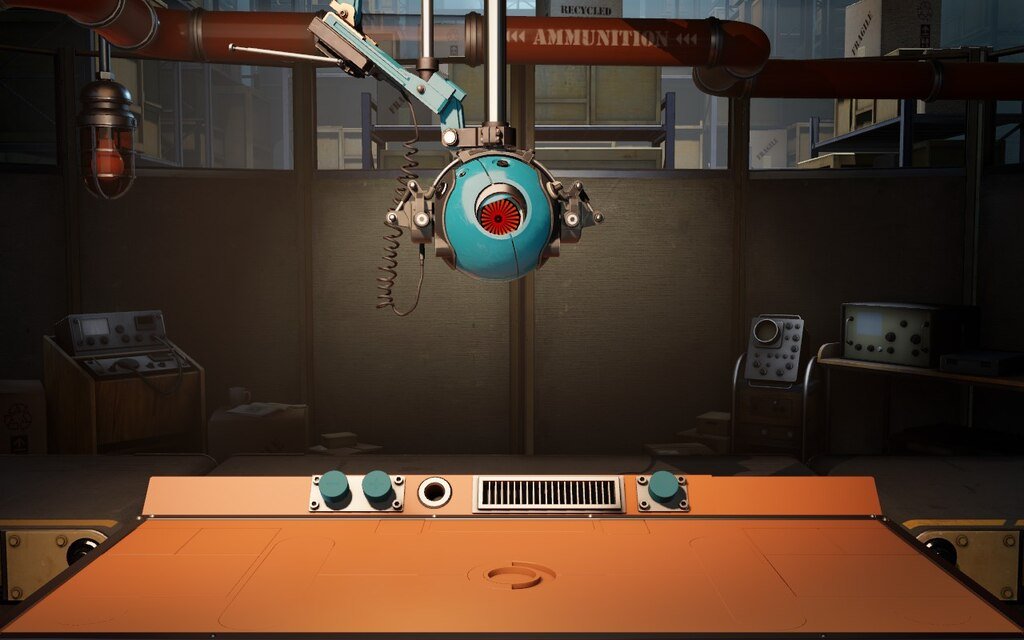 The game has you personally welcomed as a new recruit by Cave Johnson to the Aperture Science team as an outstanding hire... and you are immediately pressed into service behind a new "desk" as a product inspector. You have a chirpy robot assistant... or is that boss, in the form of Grady. And this marks the beginning of your journey from the pits of the Aperture Science building to the lofty heights of meeting Cave Johnson in person!
The Game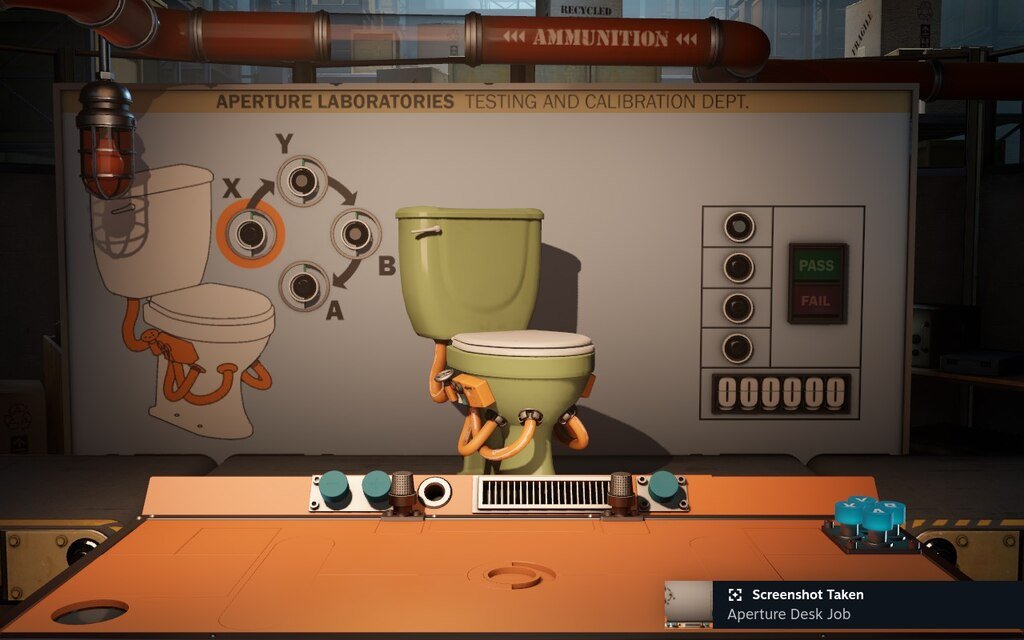 At its heart, Desk Job is an introduction to the buttons, mechanics, and abilities of the Steam Deck hardware. However, in true Steam style... it is told and conveyed through a game with a beautifully crafted story and character. Really, what other company on Earth would have the child-like heart to do this sort of thing?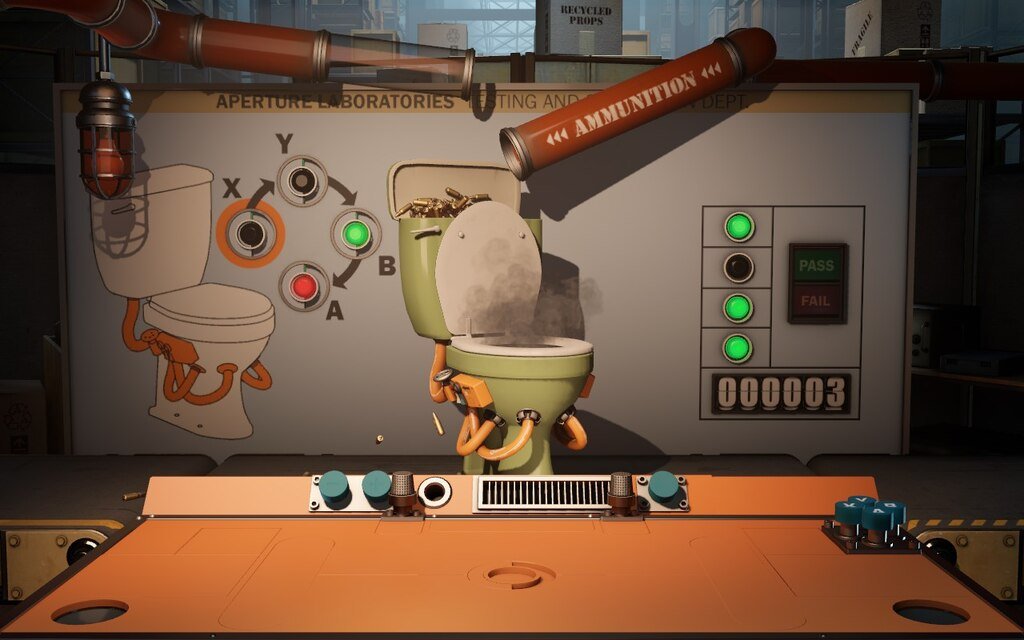 Of course, after a few cycles of tapping buttons to inspect toilets... well, things go a little wrong.... and our journey and story starts to get interesting!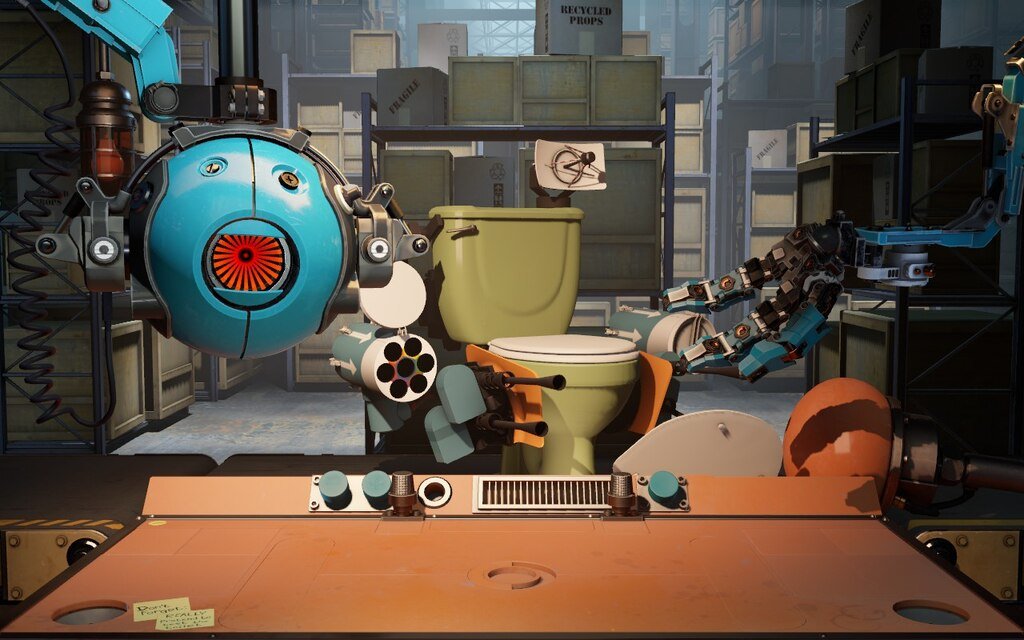 Grady is just such a beautifully curious and naive character... and he is inspired by your mishap to create, a TOILET TURRET! Complete with radar, machine guns, and rocket launchers! This is going to be your ticket to impress the head honcho!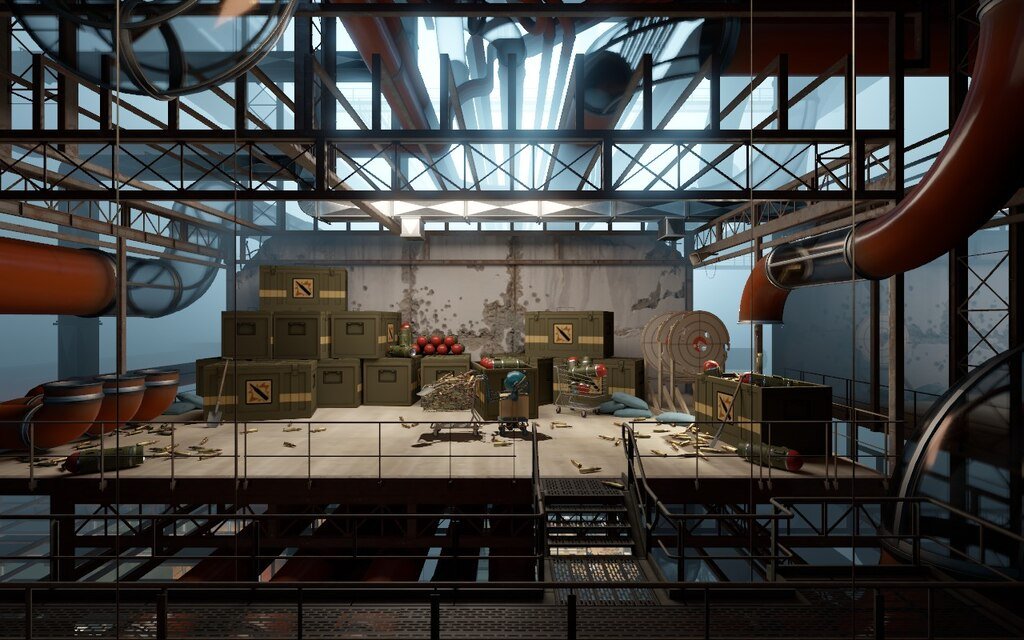 So, basically the entire thing is a wonderfully woven charade to introduce the various button layouts, the haptic touchpads (which are awesome!), the touchscreen (which is still poop), and the gyroscopic aiming (I'm in two minds about that...).
Everything is introduced slowly throughout the game, and the story that is woven throughout is engaging enough without being too long. You can play through this hardware tutorial in a simple half hour... and there are no fail states either, so you can really just slowly get used to everything without too much stress.
Visuals, Sound and Performance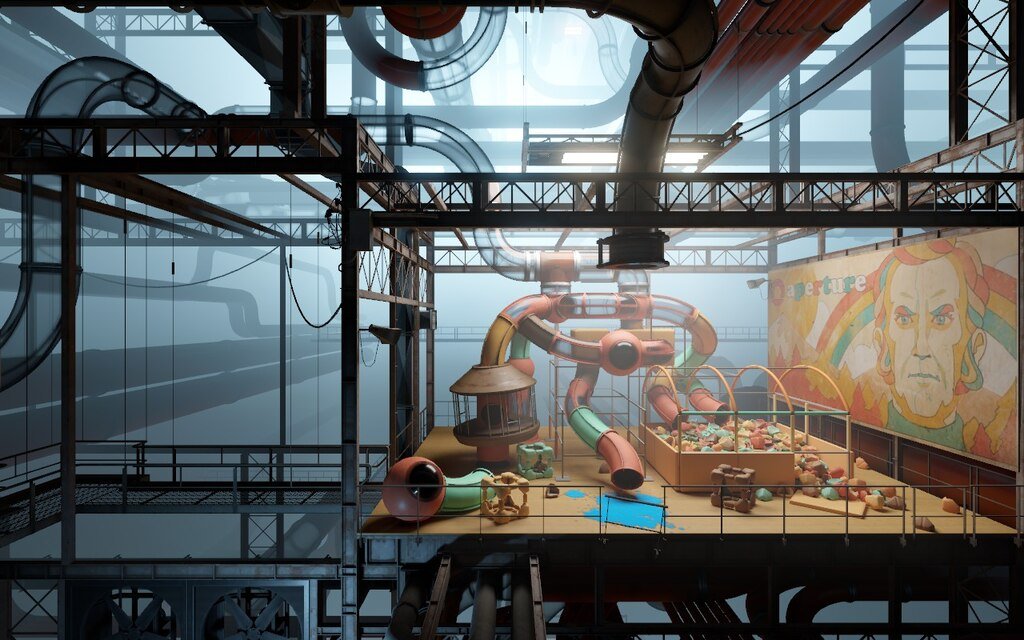 Honestly, the Steam Deck is really quite something when it comes to visuals and sound. And Desk Job really does a great job of showcasing the abilities of the Steam Deck when it comes to visual and audio. Of course, you are playing on a lower-resolution screen in comparison to a gaming desktop/laptop... but the screen is much smaller, and so you don't really notice. In fact, I have been quite immersed in the screen and I only notice the visual downgrades when I'm looking at screenshots later on.
However, I don't think that Desk Jon really presses the GPU that hard... and everything runs quite smoothly, in fact the screnshots don't look too bad either. So, performance-wise, this was a great fit for the AMD Zen2 internals.
I have to make a special mention of the voice acting... it is only essentially two voiced characters, Grady and Cave Johnson. Cave only has a small section of voiced interaction... and it is what you would expect from the legendary game character. However, Grady is the real star... constantly upbeat and naive to all hell... he is just the amazing sort of comic character that I've come to expect from these Portal universe games, and the voice acting is just SPOT ON!
My Thoughts
At this moment... I don't think I could be more in love with the Steam Deck team. The hardware is awesome, and the fact that they thought to put out a hardware tutorial in the Portal universe... well, I've just gone complete nerd-gasm at it all!
Desk Job really isn't a "real" game, but it is the perfect accompaniment to the Deck hardware. Not all games need to be about winning, or having fail/win states. These is just a beautifully rendered and narrated story about a robot and his hapless human deskie... just trying to climb up the corporate ladder. It is a beautiful story, and you would have to be completely hard-hearted not to at least crack a little grin... or if you are like me, just grinning crazily for a whole half hour whilst I just savoured every little line and interaction!
Review Specs
Steam Deck (1st Gen)
I can also be found cross-posting at:
Hive
Steem
Publish0x
Handy Crypto Tools
Ledger Nano S/X: Keep your crypto safe and offline with the leading hardware wallet provider. Not your keys, not your crypto!
Binance: My first choice of centralised exchange, featuring a wide variety of crypto and savings products.
Kucoin: My second choice in exchanges, many tokens listed here that you can't get on Binance!
FTX: Regulated US-based exchange with some pretty interesting and useful discounts on trading and withdrawal fees for FTT holders. Decent fiat on-ramp as well!
MXC: Listings of lots of interesting tokens that are usually only available on DEXs. Avoid high gas prices!
Huobi: One of the largest exchanges in the world, some very interesting listings and early access sales through Primelist.
Gate.io: If you are after some of the weirdest and strangest tokens, this is one of the easiest off-chain places to get them!
Coinbase: If you need a regulated and safe environment to trade, this is the first exchange for most newcomers!
Crypto.com: Mixed feelings, but they have the BEST looking VISA debit card in existence! Seriously, it is beautiful!
CoinList: Access to early investor and crowdsale of vetted and reserached projects.
Cointracking: Automated or manual tracking of crypto for accounting and taxation reports.
Poloniex: One of the older regulated exchanges that has come into new ownership. I used to use it quite a lot, but have since stopped.
Bitfinex: Ahhh... another oldie, but a goodie exchange. Most noted for the close affiliation with USDT and the Basic "no-KYC" tier!

Splinterlands (aka the best blockchain game out there!)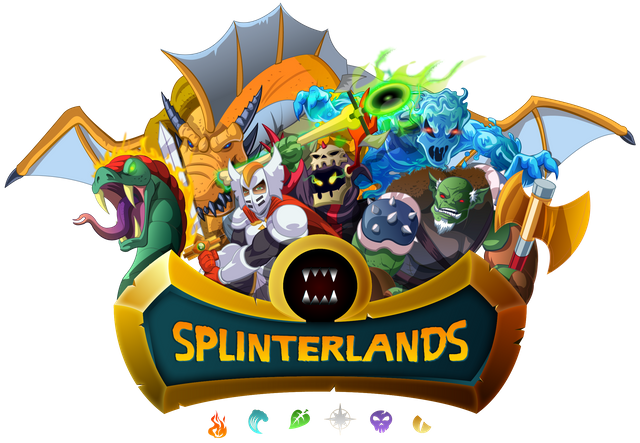 Have you heard of Humble Bundle? It's a place to get some really great deals on Games, e-books and comic bundles. However, if you sign up for a Humble Bundle Subscription (12 USD per month) you get some really nice bonuses!
A 100+ USD bundle of games delivered direct to you each month, redeemable on Steam, Uplay or direct download (depending on the game). This includes recent Triple A games!
Access to the Humble Bundle "Trove", a list of 60 games (and growing...) which are free to play as long as you remain a subscriber!
Additional Discounts on the Humble Bundle store, with the choice of supporting charities, Humble Bundle or developers in whatever percentage that you wish!
Humble Bundle Subscriptions, it's a no brainer for the dedicated gamer!