I don't know about you, but for those of us who have been in the crypto sphere for a while, the current market situation is incredible.
This week the 2 trillion dollars have been exceeded in Total Market Capitalization and it does not seem to have reached its maximum yet.
FIAT money continues to enter the market without major setbacks and, although not all of the money goes to BITCOIN, it is the altcoins that are experiencing the largest increases.
And no, no gentlemen, I do not think that we are yet in the long awaited ALTCOIN season, this time has not yet arrived although BITCOIN is timidly lowering its dominance.
There is something that stuck with me during the previous bull market in late 2017 and early 2018 and it is the memory of the euphoric atmosphere that we lived at the top.
Absolutely everyone was talking about cryptocurrencies, for better or for the worse, in fact, the main argument of discussion was whether or not we were in a market bubble, ready to burst.
The current, bullish market situation does not differ much from that observed during 2017 although the feeling of euphoria has not yet reached its maximum.
That feeling of euphoria that suggested that we were very close to the end of the rally.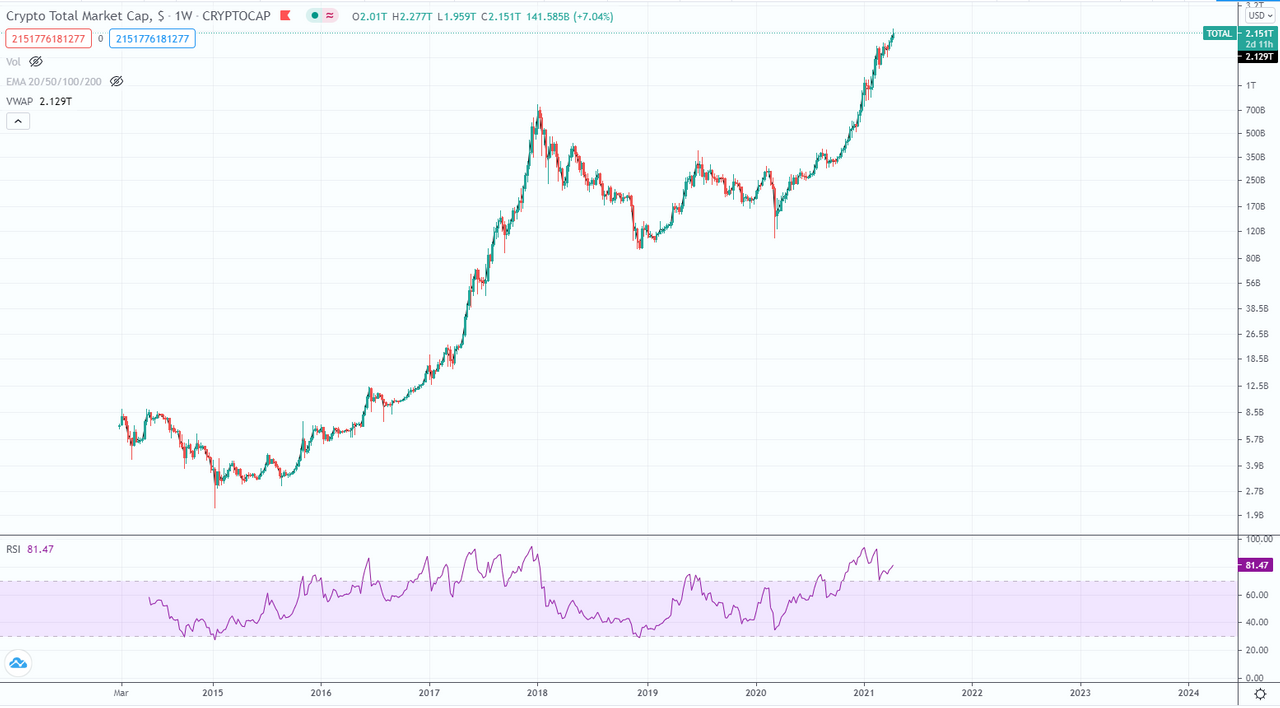 BITCOIN today has a price above 60,000 USD, that is more than 3 times the maximum reached in the previous cycle, which was almost 20,000.
At that time NOBODY except the horny Mcafee expected that BITCOIN would reach that top, with which, in a way, when it happened people including myself felt as kind of orgasmic event.
I say again, we are at 60,000 and it doesn't seem like we're celebrating, does it?
Our expectation is probably much higher, probably we are not going to sell a single satoshi unless we get to...
how much? 100,000? 150000? 400000?
Surely many of us will not get to sell our BITCOIN at the maximum...
Most of us will make good profits by selling part of their stake but I am sure that very few are going to get rid of their total portfolio.
What is clear is that apart from becoming insensitive HOLDERS, we have managed to normalize what was abnormal and, dear friend, let's not forget that this level of profits is an authentic madness that we have assumed and considered easy to achieve.
Congratulations to all the previous bearish cycle survivors, we made it despite the lack of euphoria ;-)
---
*Disclaimer: This is just my personal point of view, please, do your own assessment and act consequently. Neither this post nor myself is responsible of any of your profit/losses obtained as a result of this information.