What a terrific hell are the MEMECOINS hodlers that were fashionable last year going through, right?
While BTC, ETH and other large Blockchains are debating whether to resume their uptrend or continue to drop a little more to seek a more resistant floor, DOGECOIN continues to be submerged in a sustained fall, already exceeding -83% from its ATH and other MEMECOINS as #SHIBA they are still behind, also losing -73% and that is, dear friends, when it comes to investing in any long-term project, the fundamentals are the ones that count most.
It is true that marketing is "leitmotif" and the first precursor of price action in crypto, being able to be at the right time to detect a spectacular rise or even embark when the rise is already effective to join the party is a phenomenon that moves to the majority of small investor-insects... but only a few will realize in time that the rationale behind depending on which project is zero or almost zero...
With that I do not mean that DOGECOIN has zero fundamentals, I think that, in short, it is a blockchain very similar in origin to BITCOIN and very focused on the idea that it serves as tip money with laughing fees. Actually, yes, I see a future for DOGECOIN, but not more or better than the future of LITECOIN, for example, where there is much more development and protocols being launched.
If I had to choose between DOGE or LTC, this second would be without a doubt my choice.
The most extreme case of zero fundamentals in my opinion is SHIBA INU and all its copycats, ie BitShiba, Shiba Fantom, Shibalana, King Shiba, SHIBAVAX, Captain Shibarrow, SHIBA2K22, SpookyShiba etc..., despite its spontaneous appearance as the DOGE KILLER and its decentralization acclaimed by all its holders, there is no possible development to do in this ETH token other than to follow what the marketing god dictates.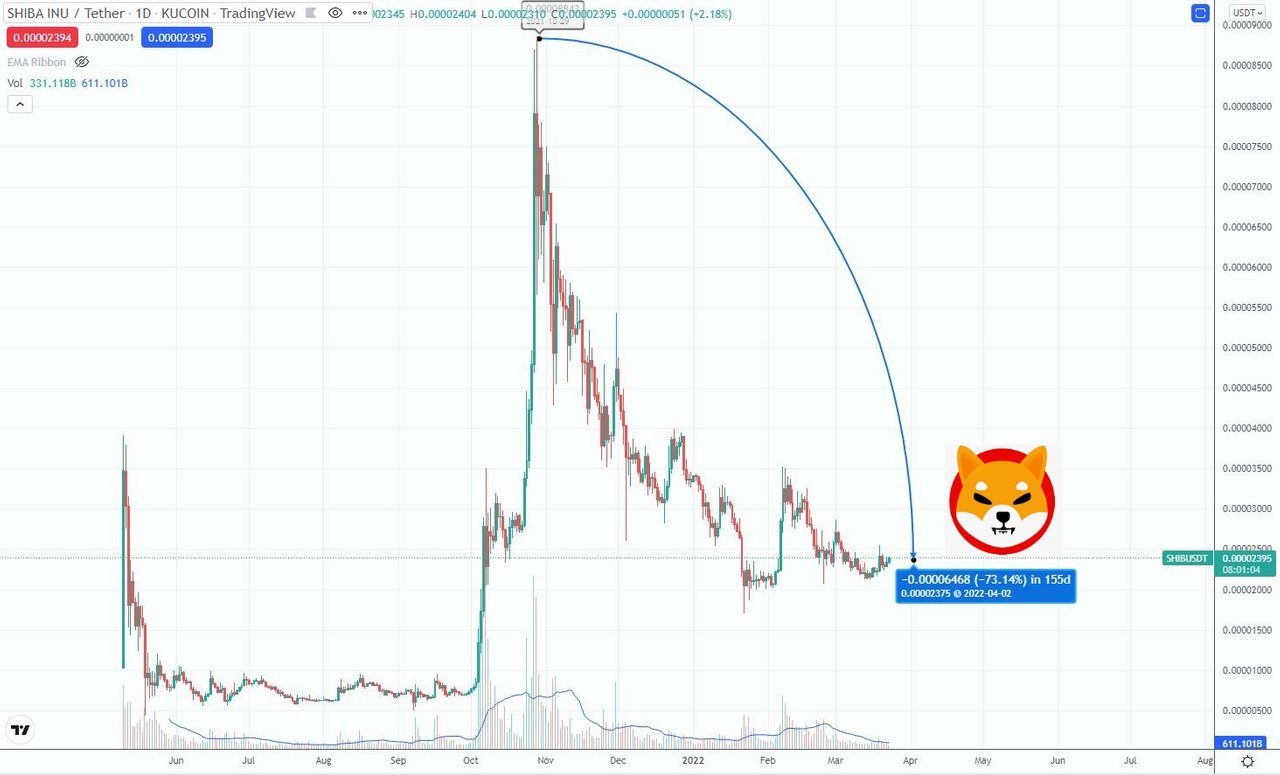 As a result, everything that goes up also goes down, and if it goes up explosively as a result of "just marketing", the fall can be so deep that it may not even be able to get up again...
If 2021 was the #MEMETOKENS boom, 2022 is going to be their funeral...
Anyway, "marketing" will soon find another shit to focus on and create FOMO on those who don't make the slightest effort to understand technology and its long-term importance.
Regarding the latter, I believe that the SHIBA developers are working on Shibarium which...
"...is a blockchain/layer-2 solution first proposed by Ryoshi, the creator of Shiba Inu Coin. Once it launches, SHIB tokens will be migrated to Shibarium. Ryoshi initially used the phrase blockchain, Shibarium is more likely to be an L2 that sits on top of an already existing (Ethereum) blockchain in order to lower transaction fees for those in the Shiba ecosystem."...
which, can also be useless IMO if ETH finally deploys as a proof-of-stake blockchain.
Time to time...
Posted Using LeoFinance Beta