For once in this cryptosphere I can say that what seemed clear as water has ended up happening as so and, although the famous group destined to pump the price of XRP was already making it quite clear in the name of its group on Telegram, ie "BUY & HOLD XRP FEB 1st, 2021 @ 8:30 AM EST", it seems that there are still people whose FOMO is stronger than their own reasoning.
Two days ago, in full effervescence of the revolution that has brought about the refloat of the Gamestop Stocks and later the consecutive pumps of DOGE first and, later more timidly, of BITCOIN itself, the good Samaritans of RIPPLE launched a Group on Telegram to replicate the same history with their beloved token.
The thing started well, and in a few hours the telegram group was already saturated reaching the limit allowed by the application, 200,000 users, while the price rose like a rocket with a verticality almost similar to that of the DOGE pump.
The price continued to rise strongly reaching 165% of its initial value... until today at 9 in the morning where it began to make strange movements and the beautiful house of cards collapsed... as expected and almost, at the indicated time, I would say.
At this time, the telegram group begins to unravel and they have even changed its name, avoiding any reference to the date that was alerted in the original name, FEB 1st, 2021 @ 8:30 AM EST.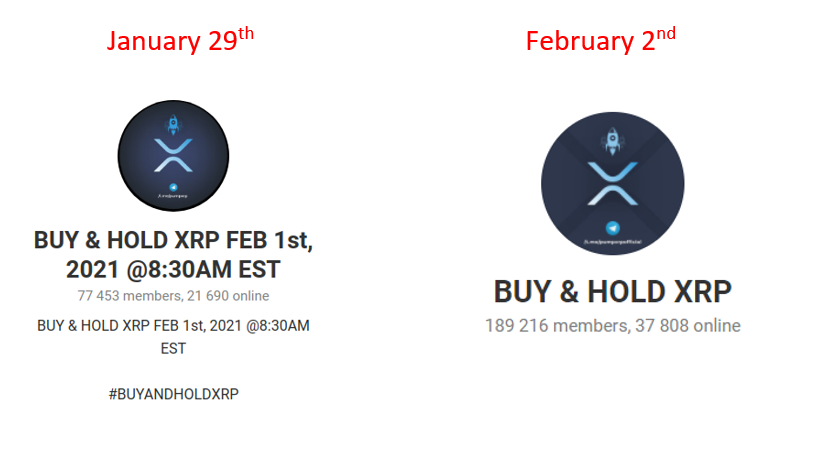 These pumps and dumps are not new, in fact they were super frequent before 2018 and any shit got stratospheric prices profiting from the FOMO of many who unfortunately lost everything invested without the ability to react in time.
Engrave this story in your head because although it may be that the price of XRP can hold for some time or even recover a bit from such a wild strategy, next time think about it three times before entering or leaving a high speed train on going.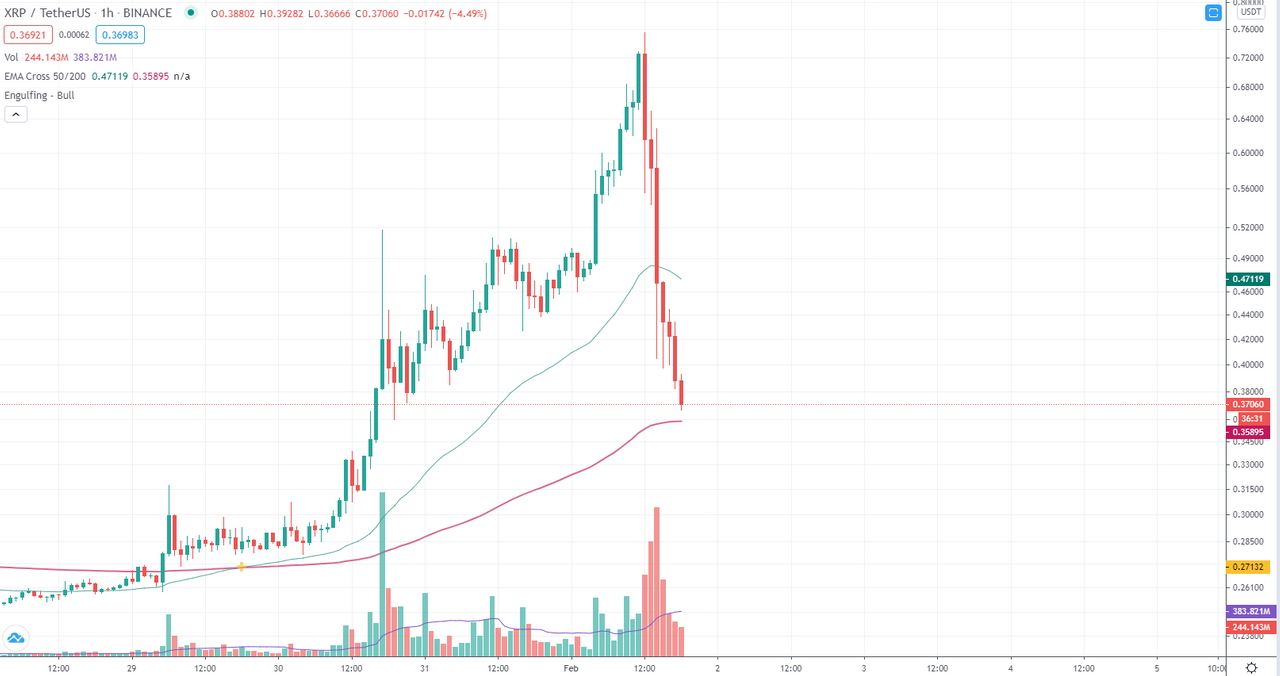 ---
*Disclaimer: This is just my personal point of view, please, do your own assessment and act consequently. Neither this post nor myself is responsible of any of your profit/losses obtained as a result of this information.