It could seem the opposite given the small rebound that we experienced yesterday where BITCOIN returned to "dance" above $20,000...although today we have already lost everything we gained.
The truth is that taking a look at what our favorite whales do, aka "The Top100 BITCOIN Addresses", the picture could not be more discouraging.
Since I observe and follow their movements, you know that I started doing it in September of last year, I have not seen a worse week than the current one in terms of what these entities buy and/or sell BITCOIN.
During the last days, these whales have bought the sad number of 9334 BTC in total and have sold 19251 BTC... that is, either they sold twice what they bought or, to be consistent with my data, the ratio of BTC-Bought versus BTC-Sold is 0.48... which, as I said, is disappointing.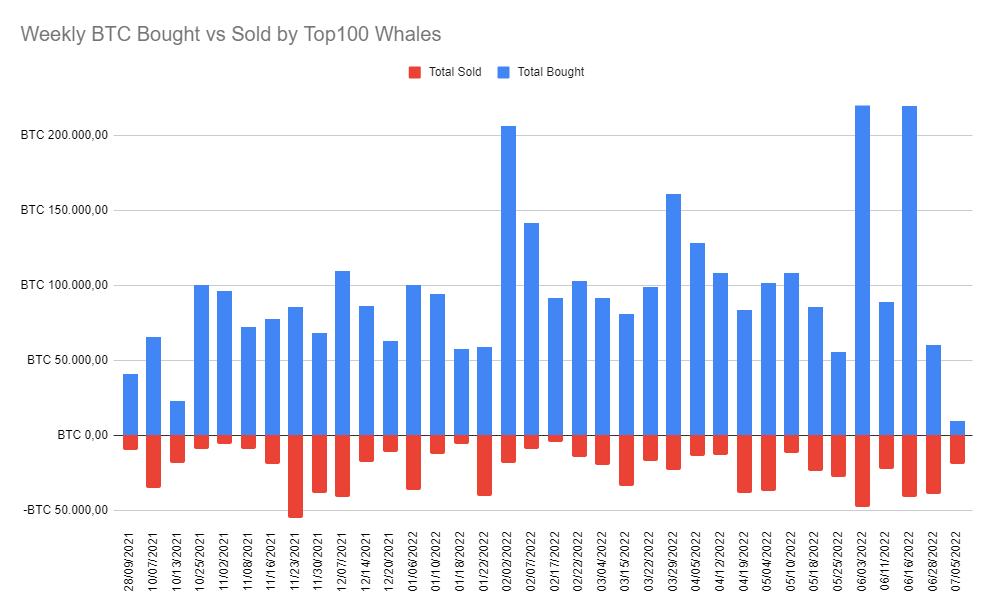 Some might think that we have hit bottom in terms of price, but in my opinion, if these "big mammals" do not start buying soon, it is simply that we have not.
We are talking about really rich people, people who have all the means at their disposal to assess the situation and make decisions and, simply this week, they have decided that it was not the time to buy...yet...
Or maybe I'm dramatizing a bit?
Is it possible that these whales act like any of us poor retailers insects?
Personally, I doubt it...
The price is not attractive enough for these whales to keep amassing it and there must be some reason behind it.
Let's give time to time, what has to come will come, in the meantime, DCAing is the wiser we can do.
---
*Disclaimer: This is just my personal point of view, please, do your own assessment and act consequently. Neither this post nor myself is responsible for any of your profit/losses obtained as a result of this information.