Visit the app in this link:
https://splinterlands-meta-snapshot.herokuapp.com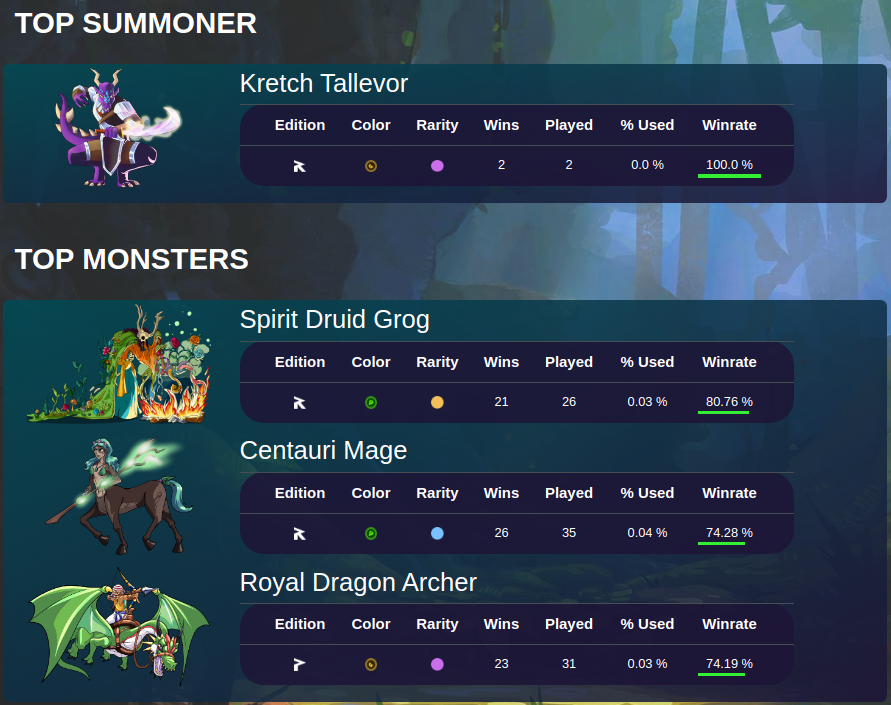 Supports the evolution of the Splinterlands Meta Snapshot
I started making this tool just for fun, while I was learning on my own how to integrate several of the knowledge I was acquiring into a functional application, the result was this page that has been available for a couple of months totally free so that any splinterlands player can have a look to see which cards have a better performance on the battlefield.
At first only a few people knew about my work and things worked fine, but in the last few days this tool is receiving more visits than it can handle. I'm using free server and database services in the cloud and these don't support much traffic, so in order to keep the site available in a more efficient way it's necessary to move all this work to a private server or at least a vps.
Having a private server or a vps would not only provide more stability for this tool, it would also allow me to take the functionality of the site to a new level, more customized queries could be made, such as filtering the battles in a certain time interval or just filtering the battles of a specific player, among other things.
The truth is that I don't feel comfortable asking for donations, but it's not within my reach to pay for the services of a vps to deploy this site and I think this is a tool that many enjoy (which fills me with joy) and that for sure many will be willing to support.
if you want to contribute with the evolution of the site, in the following link you will find several means by which you can do it.
https://splinterlands-meta-snapshot.herokuapp.com/support

Thank you very much for reading this post and don't hesitate to leave your comment. See you in the game.


Check the Splinterlands battle stats of all the monsters & summoners.






The images used in this post belong to or are inspired by Splinterlands. a TCG game integrated to the HIVE Blockchain.