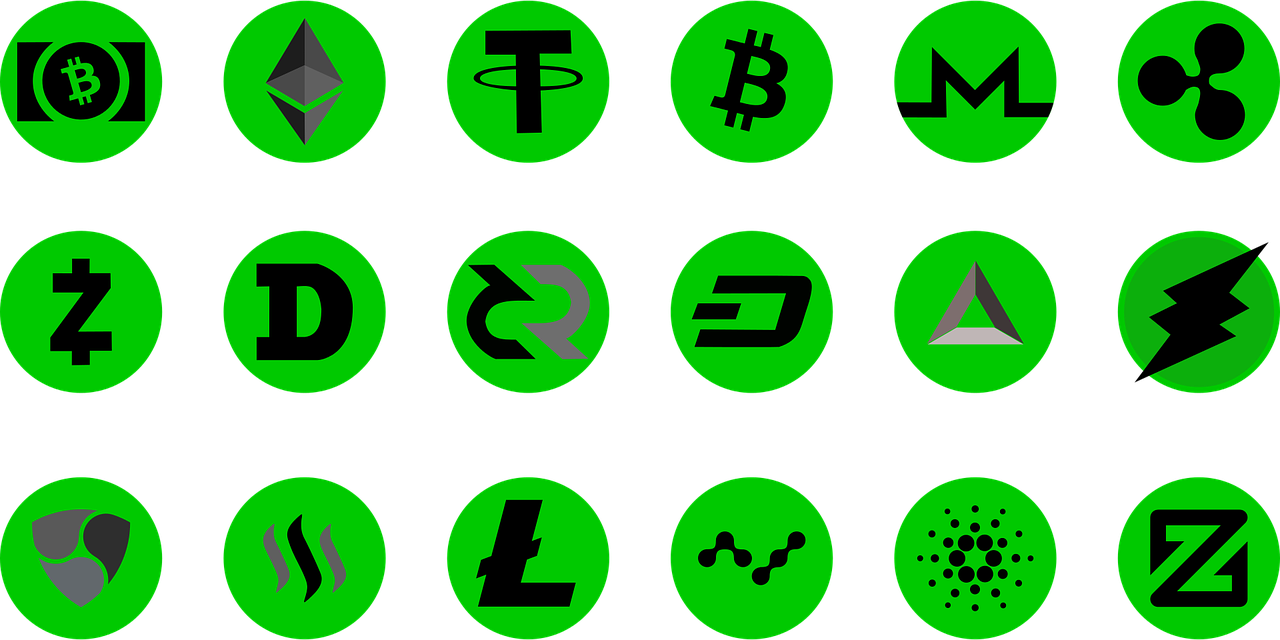 Hey! I'm not about to send shivers down your nerves. Bitcoin's reign in the crypto space is deemed to last for even longer, ethereum will also remain an elite cryptocurrency; at least until its numerous issues overpowers it. It is very uncertain what the future holds for ripple (XRP); whether it wins the SEC law suit or not, it remains one of the most controversial elite cryptocurrencies despite the XRP army doing all they can to keep it shinny.
Roger Ver and the Bitcoin cash community are doing a whole lot of decent works trying to keep bitcoin cash (ABC) in the elite league and they look likely to succeed. Bitcoin cash has evolved notably since the fork and has progressed well. Thanks to a hardworking community it has survived the controversies to cling on to a place in the top ten ranks. Well deserved? Well, Roger Ver has something to say: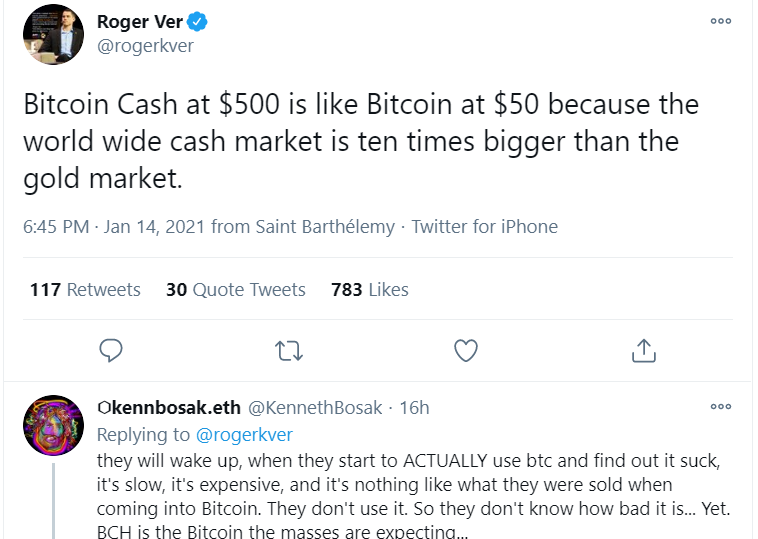 Roger that?
Charlie Lee's Litecoin enjoys a similar privilege as Bitcoin and has remained in the very elite league for some reasons I'm yet to fully grasp. Just like bitcoin, the archaic blockchain still occupies some good position in the top 10. Craig Wright has caused some stir in the crypto space with the Bitcoin cash (SV) project and also claiming the rights to bitcoin and its creation. To be frank, I don't know which one made him more relevant, but he will be even more relevant if he finally proves he is Satoshi, till then…
The years 2019 and 2020 have seen new projects challenge for a place in top 20, projects like Binance coin (BNB), EOS, and Tezos have challenged for a place in the very elite league. Justin Sun's fee-less and faster version of ethereum blockchain – Tron, veteran privacy coin – Monero, and ambitious smart contract blockchain – NEO have all accommodated these younger projects in the top 20.
Sergey Nazarov and the LINK marine pulled off a historic one when ChainLink steered its way to the top ten, breathtaking, I must say. Crypto.com's coin CRO have also debuted in the top 20. Couple of other exciting altcoin projects have rocked the elite ranks. But they won't be the last to do so.
We are still in the first quarter and for the first time in history, the elite ranks are looking very open. Charles Hoskinson's Cardano is challenging for the very top position, Gavin Wood and the Polkadot looks set to rock the elite league very much, Stellar Lumens' run of gains has seen it jump into the top 20 position. Many projects sitting in lower positions looks set to challenge for their place in the very top position.
Taking a look at the developments around the crypto space, these projects are likely to swim against the tides to the top 20 position.
Energy web token (EWT)
Current price: $7.74
Current rank: 92
Current Market capitalization: ~ $234 million
Energy web token was launched in 2019 and run by the Energy web foundation. Energy web project is an ambitious move to connect blockchain technology and the energy sector. It is accelerating low carbon and customer-eccentric electricity system. Its technologies include the Energy Web Decentralized Operating System (EW-DOS). This includes client-side applications and Software Development Kits (SDK) focused on decentralized renewable energy markets decentralized identities and grid integration of distributed energy resources. Energy web token project is partnered with Vodafone, Chubu, Innogy and a host of other firms related to the energy sector.
Syntropy (NOIA)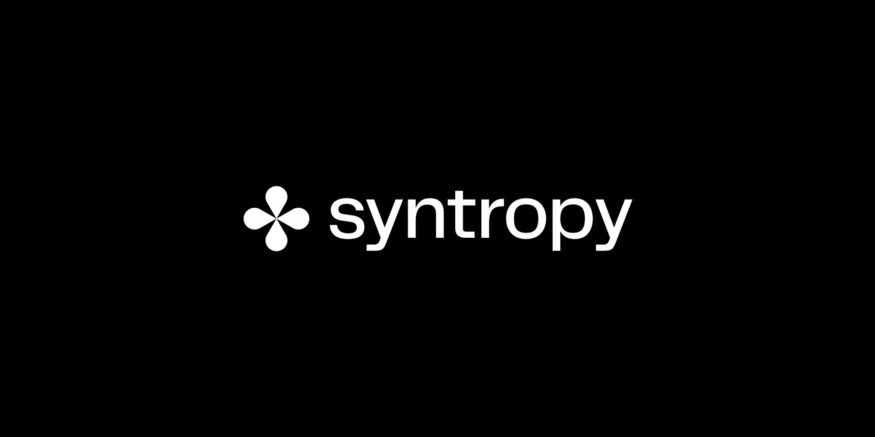 Current price: $0.25
Current rank: 150
Current Market capitalization: ~ $78 million
Syntropy (formerly NOIA) network is leveraging enhanced data packet routing technologies to enhance the efficiency of the internet. It employs the Segment Routing (SR) and Distributed Autonomous Routing (DARP) technologies to enable an internet user send data packets through the most efficient data transfer route. NOIA uses the blockchain in a very strategic way to ensure a decentralized and efficient internet devoid of data packet transfer lags. It uses an advanced end to end encryption technology to ensure protection of personal information as they travel between end users. The recently released syntropy stack features tools which allows developers build incredible applications on the internet using syntropy's technology. Syntropy is partnered with Oracle, MicroSoft, RampRate, CherryServers and other reputable internet service providing firms.
Ocean protocol (OCEAN)
Current price: $0.57
Current rank: 91
Current Market capitalization: ~ $238 million
Ocean protocol is building a tokenized service layer that exposes data, storage, compute and algorithms for consumption with a set of deterministic proofs on availability and integrity that serve as verifiable service agreements. This protocol unlocks data for AI, Ocean is building a market place for AI infrastructures on the blockchain. By this, it presents a decentralized and scalable option.
SingularityNet (AGI)
Current price: $0.072
Current position: 170
Current Market capitalization: ~ $62 million
Led by popular Artificial Intelligence scholar, Ben Goertzel, SingularityNet hopes to develop Artificial intelligence solutions on decentralized networks. It hopes to build an ecosystem of Artificial Intelligence agents that would interact with one another using resources from the OpenCog foundation and enable people create, share and monetize Artificial Intelligence at a large scale over a decentralized network. Ben Goertzel is a reputable name in AI sector and is a principal brain behind the development of the very popular Sophia robot. Having held top positions at huge Artificial Intelligence firms, he is the most suitable personality to lead such ambitious project.
Reserve Rights (RSR)
Current price: $0.035
Current rank: 81
Current Market capitalization: ~ $327 million
RSR is one of the two tokens run by reserve rights. Reserve rights (RSR) is the governance token of the reserve right project, its main purpose is to help stabilize the value of the project's stablecoin – Reserve Stablecoin (RSV). RSV is a stablecoin backed by smart contract managed assets. RSV is pegged at $1.0 while the value of RSR fluctuates according to the dynamics. Reserve rights project is run by former Google and Quixey employees.
Elrond network (EGLD)
Current price: $48
Current rank: 48
Current Market capitalization: ~ $805 million
Considered the 'Ethereum killer'. Elrond employs the sharding technology to develop an extremely fast blockchain. It features a smart contract platform which presents a new ecosystem for projects such as decentralized finance and internet of things. In contrast to ethereum network, Elrond network is capable of about 15,000 transactions per second and features a Proof of stake algorithm with an incredibly low transaction fee ($0.001)
Voyager Token (VGX)
Current price: $0.97
Current rank: 95
Current Market capitalization: ~ $215 million
Voyager token is a utility token for the voyager ecosystem. It rewards users within the voyager ecosystem. Voyager is a platform that allows customers trade over 30 (thirty) cryptocurrency assets using fiat USD without commissions. Users can lock up the Voyager token on the voyager app and earn interest on their tokens.
Despite these projects showing some very good momentum and signs of better things to come, the crypto space is a very tricky one and the market dynamics might get unfair. However, all things being equal, these projects are bound to challenge for a very top position as adoption and awareness continue.
Over to you, which project do you think will rise to the top in the near future?