You can check the customized payout report of a Steem user for any period that you specify. Just use this tool, enter the Steem username, enter the period for which you want to check the earning of a Steem user. You can customize this earning report for any period you want such as entire earning to date or monthly earning or yearly earning or15 days earning or two months earning, etc or for whatever period you want. You just need to specify the period (from the date and to date), and it will query the report for you.
Go to: https://steemyy.com/payout/
Enter Steem ID without @. For example in my case, it is "milaan".
Specify the dates: "From Date" & "To Date".
Then click on "Get Payout Report".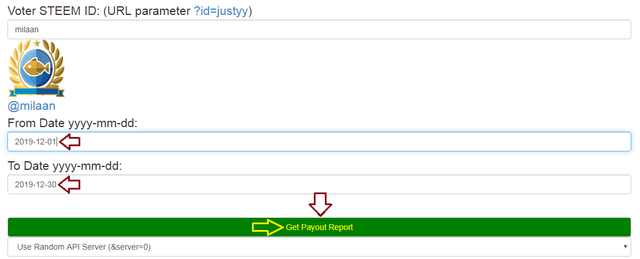 Now it will query the report for you for the period that you have specified. It gives a detailed report with the earning of each post for this period. This report gives the report of your total earning in USD for this period, the curator earning in USD, total net upvotes you receive during the period, etc.

For example, I wanted to know my earning this month(December 2019). So I put 01/12/2019 to 30/12/2019.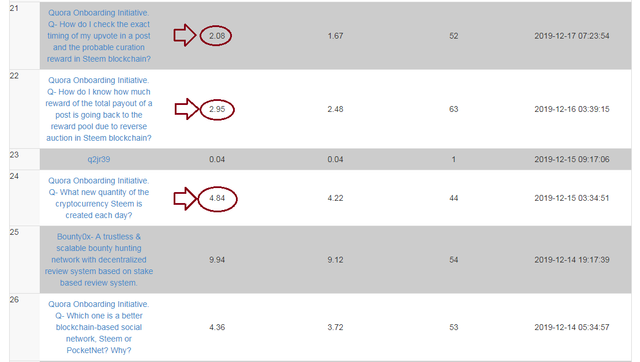 Now as you can see in this report, my total earning this month is 203.04 USD so far. I have a total of 54 posts/comments during this period. The curators have earned 123.13 USD from my posts by curating. The net votes I have received for this period are 1976 votes.
The earning which is being shown as 203.04 USD-- that is the author earning and that includes both liquid reward and SP(STEEM Power) reward. In Steem, the post payout matures at 7 days. The authors and curator reward split is 50/50 of the post payout.
---
The tool https://steemyy.com is developed by @justyy(a developer) who is a witness in Steem Blockchain.