img source
As much as I do get tempted by the enormous movements of Doge and the tweets from Elon Musk...those are not enough to make me invest in DOGE. To me DOGE is just a shitocin being pumped by a famous rich guy that likes memes.
P.s I do love memes as well.
Back to the point!
I don't really care if you take this article as a finance advising or whatever. I don't even care if you lose money and come back to my articles and curse me. Nevertheless, I certainly don't care if you make money from my analysis and come back to thank me. So, don't bother.
Technical Analysis
My beloved readers who do actually read my articles, know how much I love technical analysis. And the reason why...? Because I do think that simplicity is what makes things great. Nope, great things aren't complicated. It's just that you don't understand them yet.
Technical analysis guide you into making better decisions on when to buy or sell a certain pair. It's pretty much like learning how to swim...no matter when you need it, and no matter if it is just relaxing and surfing the clean calm waters or surviving the angry waters...you'll always be afloat. So think of it as a surviving skill on the needy days and a fun tool on the happy days.
Which Cryptos?
I do mention and share my technical analysis quite often on 3 coins. Stellar, Zilliqa and Tron. I've added 3 more coins to these Musketeers.
1. Nexo Token
Nexo's Token price went crazy bullish the last few days, and it's not stopping after they launched their own exchange. To get their Token in the past, you had to go through a lot of swapping platforms, pay a lot of fees and then pay some more to transfer them to your wallet in Nexo.
Why Nexo Token?
One word! Potential.
It has potential and many platforms have their own token which is doing quite well (think of Binance). To me Nexo Token is a great long term investment...while also getting some more % of it by just saving my coins into their wallet and doing some exchanges every now and then.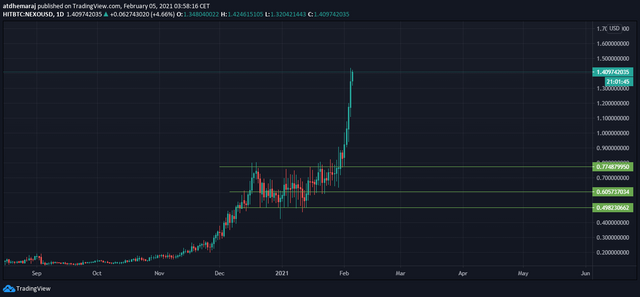 I was expecting to break out of this range for quite some time now, and the waiting was worth it.
Where do I see Nexo Token in 2 years?
I see Nexo reaching 3$ by the end of this year. In two years I'd like to see it around 10$. Is it possible? Hell yeah, they can always burn some of their coins and the price just rockets.
Kucoin Token
Kucoin experienced a big hack back in September 2020. But that doesn't mean Kucoin is a bad exchange, many of the big exchanges had experienced similar losses in the past.
Anyways, Kucoin Token has a future, bright one. Kucoin is a pretty big exchange with a $990,932,906 Capital and supports over 400 coins. In my opinion I think Kucoin is doing really well...but I'll talk about them a little bit more in dedicated article.
Let's see the charts.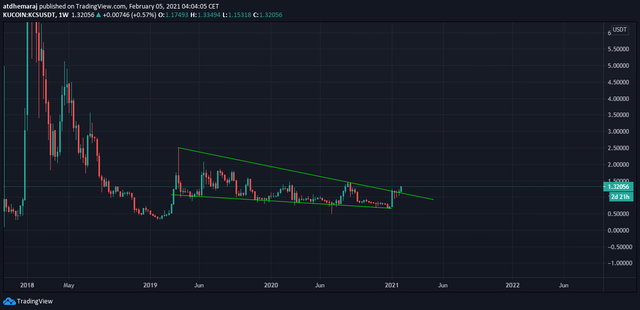 This chart is on WEEKLY Timeframe. If you are a trader and you watch the charts on Weekly, you know what I just mean with this.
We broke above the big, gigantic flag pattern. This means that soon we will see 2.5$ for a token. In two to three years I expect Kucoin to reach 20$ for a token.
Waves
I've talked about Waves exchange in a previous article. Won't tag it. If you'd like to read it...go find it.
Waves exchange it's decentralized and as such it really has a good future. Many of us, crypto lovers that also love the anonymity of their portfolio will move all of their assets into a decentralized exchange, but there are some flaws at the moment which I expect to get over very soon. (liquidity is the main fault)
Anyways, I do have some Waves, laying around, but I hate to just leave things around. I want them to be useful, if I can't use them then I'll give them to someone who can use them.
I staked my Waves to Waves Assist and they reward me with 4% everyday.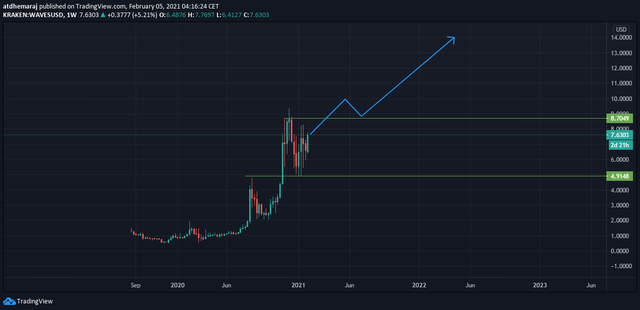 What does the chart tell!
It found support at 4.91$ and I see it breaking the resistance on 8.7$ which will lead us to 14$.
That's all folks.
What do you think about them?
theatdhe!