There was a trade I opened about a week ago! Got to thank @crystalhuman for introducing me to MATIC-Polygon.
I'm not going to go into details about what is Polygon, since this article is focused in technical analysis and I'm willing to keep this article short but informative.
Let's see what I saw before I entered.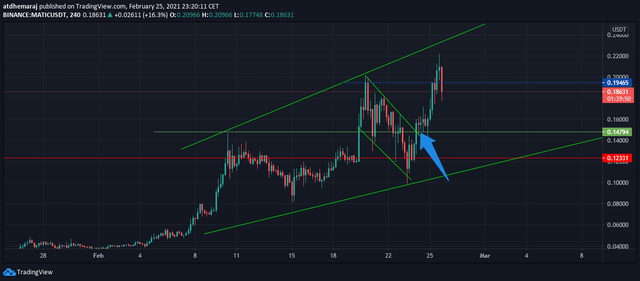 As many alts are trending on bullish movements I'm NOT gonna ever look to sell a pair...That's because I'm a swing trader when it comes to cryptos.
Before I entered on buys in this pair, I tried to make the best entry I could...though I didn't fail miserably but I got to admit that this wasn't my perfect entry.
If you read my articles, you would understand that I have some patterns that I do follow and my favorite one is Bullish Flag Pattern. We did have a strong bullish move from 0.12011 and went up to 0.19998 with a strong impulsive move.
Every traders moto is Buy low, sell High. But sometimes you can miss that and I did. I bought at 0.159 where the blue arrow is.
Now you might say, why I'm crying over it, seems a legit entry.
Well let me explain this to you I entered at 0.159 because I expected that that was the support...but price kept dropping as low as 0.100 before it went higher. Now, I didn't lose anything, in contrary I made good profits because I HODLED.
I closed my trade around 0.2100 today, which is a around 40% profit.
I closed it because I'm very sure that it will dip to make another lower high, I'm gonna possibly buy it again, but this time I'll be way much careful when I enter.
Last words
Now, you can see that I still managed to make some money, I got saved by the trend! When trading or doing any other thing we do make mistakes.
If I waited to enter a bit later...just to see how the price is behaving I could make a lot more from this trade. Nope, I'm not being greedy, I'm just spitting some facts.
In order to know when to enter e trade, never do it immediately when the markets open (crypto markets never close, but what I mean is when a new weekly or daily candle opens), let price do it's thing.
MARK YOUR ZONES and trade accordingly.
FOCUS ON MAX 3 PAIRS and last but not least
HODL.
Would you like to join in our ''only trading discord group'' if yes let me know and I'll provide the link!
theatdhe!