Don't you even dare to judge the cover image I chose! Let's just start there.
I had to make something different because I'm really tired adding sources for the images.
Check out my last post! Waves and KCS did pretty well :)
Also no need to thank me!
Theta
Theta's purpose is to bring a video decentralized video network. Pretty nice...and it's doing quite good with it's price! Even though something similar is done by Tron as well. But Tron's reputation got damaged pretty good, I've talked about Tron countless times and I have my expectations for it!
Theta token is a governance tokens (if you are into cryptos, you'll know what governance tokens are, so I'm not gonna explain that here) and there are 1 Billion tokens into circulation at the time.
We all know that Samsung sells a lot of different products. While Apple is worth a Trillion, Samsung still sells more units than Apple.
Why am I telling you this?
Theta Tv is going to be be included into Samsung Phones!
Well that's good news for Theta and a pain in the b*tt for most of Samsung users because if it is a shit app then it'll just consume my storage and battery and I wont be able to delete it. In the other hand, that will bring a lot of profit for the Theta platform in general when considering the units that Samsung sells.
Long story short! Let's see the charts and I'll talk about my expectations.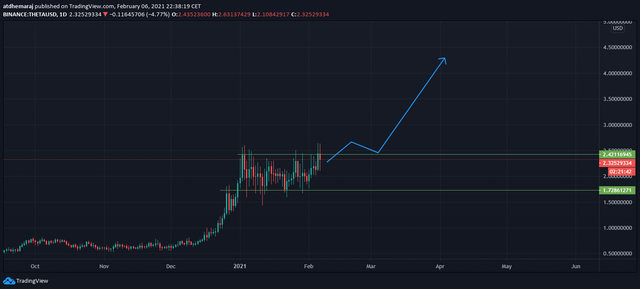 Talking all time highs this year became a normal thing!
We can see that Theta was ranging for quite sometime, 2.42 showed it's strong almost unbreakable resistance in the other hand 1.728 it's proving it's support.
What I expect!
If you drop at 4hr TF you'll see that Theta found support at 2.22 area from there I expect a push with a strong bullish candle and a retest above 2.42.
I expect an impulsive move to 4.28 which means around 76% profit.
THORCHAIN
THORCHain is a decentralized liquidity protocol that allows users to easily exchange cryptocurrency assets across a range of networks without losing full custody of their assets in the process. You can find this explanation anywhere on internet, nothing fancy being said here. They have their own coins (Rune) that had a tremendously good increase in value in the last couple of weeks. In just 4 weeks it went from 1.1$ to 4.4$ which means 310% in just 4 weeks. I do like implusive movements but everything that moves that fast makes people afraid to jump in!
Reason?
Because it shows that it is pretty unstable.
Anyways let's see the charts.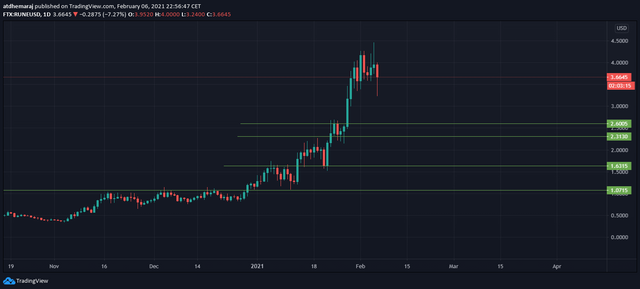 1.07 zone showed a Great strong support for RUNE, in Daily we do see that Rune made it's way in good steps by retesting every zone after it broke them quite strongly. Finding resistance around 4.1 area and it made it's price to stop there for a bit.
What do I expect!
If you drop to 4h TF you'll see that price found support on a minor zone at 3.40$. I don't think that this zone will hold up, though I'd expect a further bearish movement to the 2.60 area which is a stronger support.
This would give a better and more reasonable opportunity to invest in this asset.
Final Word!
Do your research before you invest this way you'd be more comfortable if you see any red balances and the most significant thing is to never invest money you don't have.
Theta and Thor are doing good but still didn't get my sympathy! I'll keep an eye on them but for now I'll just keep monitoring.
theatdhe!