This week's Splinterlands Challenge of the Week was to showcase the Crystal Jaguar from the Life Splinter.
NB I'm writing this on the new 1UP front end, an interesting new project from @flauwy, just testing out how it works! You can read the introductory post to the project here.
Challenge of the Week....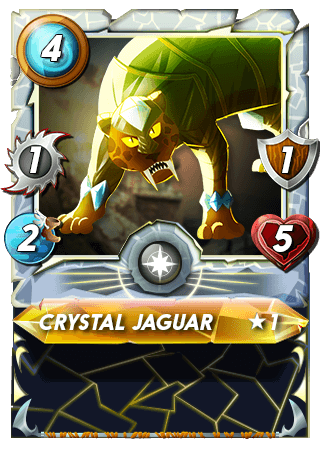 At Level one the Jaguar has 1 damage, 2 speed, 1 armour and 5 health, and it's the later two attributes that make him worth considering as a tank, especially if you can pair him up with the Armoursmith to repair and the Healer (somewhat obviously) to heal.
At level one, for 4 mana, this is a perfectly reasonable choice of card for a tank given that most decent tank options start at 5 mana, it's nice to have a slightly less costly option.
The battle below features The Jaguar in a solid Victory line up against the Water Splinter.
The Rule Set and Line Up
Mana cap 25
Standard Rules (Bronze League!)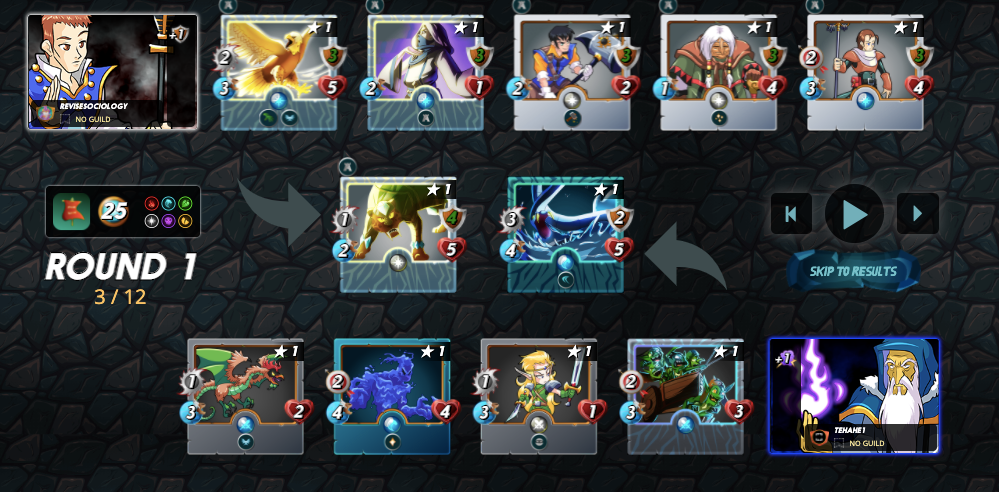 Summoner - Tirius
Crystal Jaguar - I wouldn't normally play him, but he slotted in quite nicely!
Luminous Eagle - for 6 mana, what an awesome second tank with reach, and flying.
Truthspeaker - for protect, combined with....
Armorsmith - to repair - primarily for the tank! But lots of sneak and snipe played in Bronze, so handy for that too!
The Healer... nice with a 5 health tank!
PeaceBringer - 4 mana, 2 damage, reasonable speed, a nice addition to my attack weight....
Did my strategy work?
Beautifully, to see it in action click here!
Round 1 - We trade blows, no losses, my opponent has put together a team with some fairly weighty damage capacity!
Round 2 - The Jaguar dies but he's soaked up some damage!
Round 3 - I take out his Squid thing or whatever it is, now he's got a ranged attack in front so significantly reduced damage.
Round 4 - I take out his Goblin Chariot, note that my Eagle is being healed and repaired back up to full by this point!
Round 5 - His Elven Cutthroat dies.
By round 6 it's all over - he now has no active damage and it's just a matter of slicing through the remainder!
How important was The Jaguar?
He didn't perform too badly! With the protect buff he managed to soak up one round's worth of attack which was sufficient along with the Eagle for me to claim victory!
All in all I think the relatively low 4 mana allowed me to put together a decent supporting team in terms of protect, repair, heal and decent damage too, so I am happy enough with his team performance.
My opponent helped me by playing a ranged in second with low health, that was a mistake, that meant his damage went down to 2 per round from that point, which was always going to be countered by either heal or repair.
So happy days!
Final Thoughts: Crystal Jaguar - Worth Levelling Up?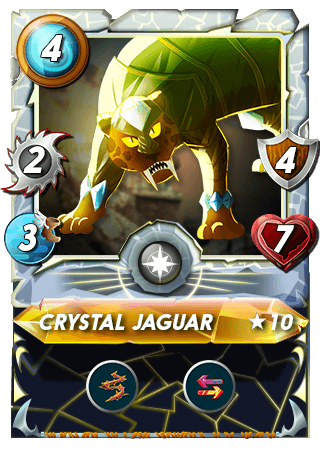 The Jaguar picks up thorns at L4 and retaliate at L9 and by the time he's at L10 he's looking pretty beefy for a common card.
Add in the usual extra shields you tend to get with Life and he's looking good.
By level 9 this would be a great card for a sneak ruleset, as with thorns and retaliate you could treble the damage his does from one sneak attack if you stuck him at the back.
However besides that I don't think it's worth having him as a tank, you'd be better off with The Werewolf at 3 mana and there are a range of other better tanks available for 5 mana.
If you don't yet play Splinterlands, why not give it a go?
Anyone using my referral link will receive a free rare card!