The Sé do Porto Cathedral, one of the oldest monuments in the city, dates back to the 12th century, when Porto was one of the main bulwarks of the reconquest and the reorganization of Portuguese territory. It features characteristics of Romanesque Art of French influence and was built by masters of the region of Coimbra.
The façade has a central body framed by two towers, with external access to the portal by a symmetrical stairway whose ramp spans are filled with decorative elements; The shapes of these Romanesque sculptures seem to be inspired by the Celtic imagery of Europe.
The Gothic rosette was opened in the 14th century and the primitive portal, as well as the towers' finials were refurbished in 1722 and decorated with the baroque compositions they present today. On the northern isle opens a monumental baroque galilee, built in 1776 based on the plans of architect Nasoni.
Inside the three nave with broken cradle vault, the high choir opens. The chancel was renovated in the 17th century at the initiative of Bishop D. Frei Gonçalo de Morais and today has a Baroque ambience marked by the carved altarpiece and the effects of painting . Here are the relics of S. Pantaleão, the city patron saint. Throughout this interior space, medieval building forms coexist with Baroque decorations and scenography.


Sé do Porto Cathedral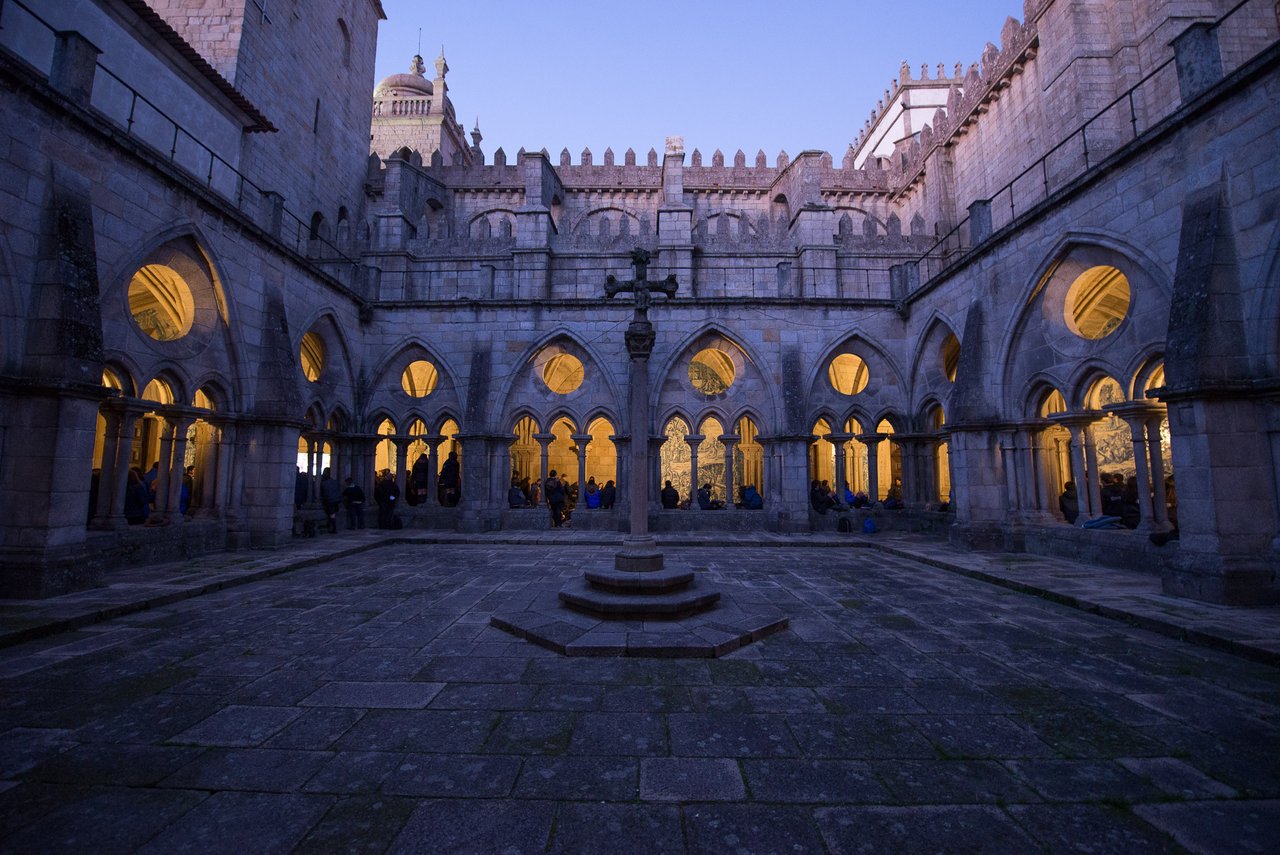 Sé do Porto Cathedral
From the medieval nucleus is still preserved the old cloister dating from the primitive foundation and the gothic cloister built in the XIV and XV centuries but covered with baroque tile during the XVIII century. The artery of the single-story gallery was mutilated and later restored.
The walls of this quadruple gallery are covered with admirable tile panels by Antonio Vital Rijarto, dating from 1727-1733. In the XVIII century, the monumental staircase leading to the Chapter Room was also built, where the 18th century Baroque paintings by the Italian painter João Baptista Pachini are kept.
The sacristy is a remarkable example of the Baroque period with marks of intervention by Nicolau Nasoni in the mural and vault paintings.