I just did my daily 1-2 matches of Gods Unchained after I had completed my other Play2Earn tasks, when I noticed this tile in the dashboard of my Immutable client.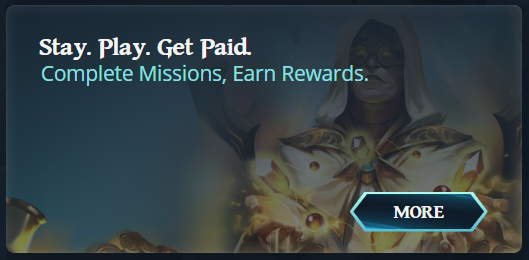 Profit whore as I am, I click on everything that seems trustworthy and promises rewards. Of course, having learnt my lessons I was not expecting much.
All the more surprised was I to find out that I had already completed all of the tasks by simply playing the game for a couple of days. The only tasks missing on the list were "Subscribe to the newsletter" and "Link your Coinbase account". I have a mail address and I have a Coinbase account, so this was a matter of seconds.
But certainly the rewards are not worth it, right?
Every great adventure begins with a quest and ends with treasure. 
Stay. Play. Get Paid. does just that: rewarding you with $20 USD in ETH for completing a few simple missions. 
Wut? 20 USD? Seriously, if this wasn't renowned names like Gods Unchained and Coinbase, I'd be all in red flag mode.
As matters stand now, I am looking forward to having 20$ worth of ETH dropped into my Coinbase account.
The tasks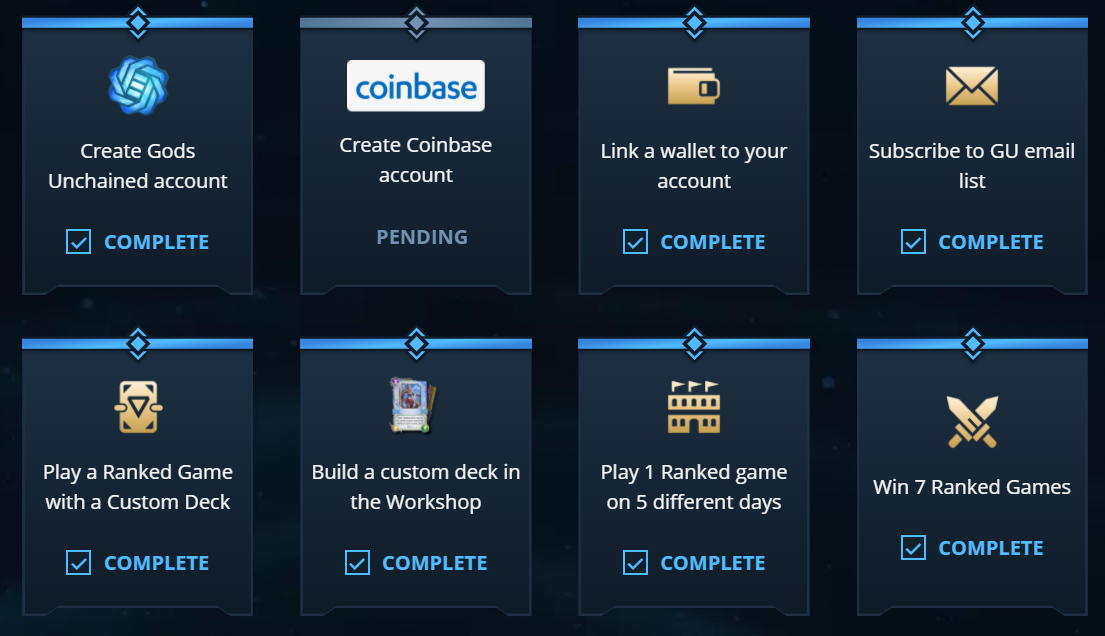 The tasks you need to complete basically come down to:
Create a Gods Unchained Account. While setting up the account, you can also link your own ETH wallet (Don't use the Coinbase wallet! Your cards will be stored here, so it needs to be a wallet you control the keys of!
Link your Coinbase account on this campaign page. As you can see, my verification is still pending, so I recommend doing this before completing the other tasks.
Subscribe to the newsletter
Download their gaming client and build a custom deck. Just click on the deck image in this section to get to the deck selection/building menu:

If you are just starting and have no experience with MGT, SkyWeaver of games of this sort: Pick a god, and build a deck of 30 cards from the cards you got in the starter pack. Choose 12 cards with 1-3 mana, 12 cards with 4-5 mana and 6 cards with 6 or more mana. This is not the ideal combination but it is a safe and playable start that you can balance later.
Play a ranked match -> Click on Play and wait for the game to start. Repeat for 5 days until you have won at least one ranked game on each of these days with a total of 7 wins. This will also earn you Stars and Flux which you can use to earn NFT tradeable cards for free (or soon-to-be tradeable as they halted it temporarily due to the high ETH network fees).
That's it! 20 bucks for 5 days of playing a trading card game. This is what Play2Earn should look like, right? Start here!
If you need advice to get started, drop a comment below. I'm a newbie to the game myself but I can help with the initial confusion of a first-timer.
******************************************************************************************************************************************************************
Disclaimer: No financial advice included in this article. Just my personal experience. Do your own research!
Some links in the article are referral links, feel free to use other sign-up methods.
Images courtesy of unsplash.com, taken from the official website or in-game.
This is a re-published post from my account on the HIVE blockchain.