Brave is a browser that launched in 2016 by Brandon Eich (creator of JavaScript and former CEO of Mozilla Corporation) as an alternative to Chrome, Firefox, and Safari. Brave offers two key distinctions from other browsers: the automatic inclusion of ad and tracker blocking, and Brave Rewards, which rewards you with Basic Attention Token (BAT) for using the browser. The $BAT is paid out from viewing advertisements, all of which are low-key and don't harm the browsing experience.
The methodology behind $BAT makes sense: advertisers advertise on the platform with non-obtrusive ads. The user views the ad and receives $BAT for doing so. The user can then contribute $BAT to a content creator of the user's choice. A content creator can even be someone on Reddit, as long as they've linked their account to Brave Rewards. This allows you to support the content creators that you'd like to support without having to pay out any of your own money. If none of that interests you, then you can exchange your BAT on an exchange like Binance, Binance.US, Coinbase Pro, or Kraken.
Below is an example of a Brave advertisement, which is in the background when I decide to open a new tab. You can also see the how many trackers/ads have been blocked, the bandwidth saved from not having to view them, and the time saved from having faster loading pages.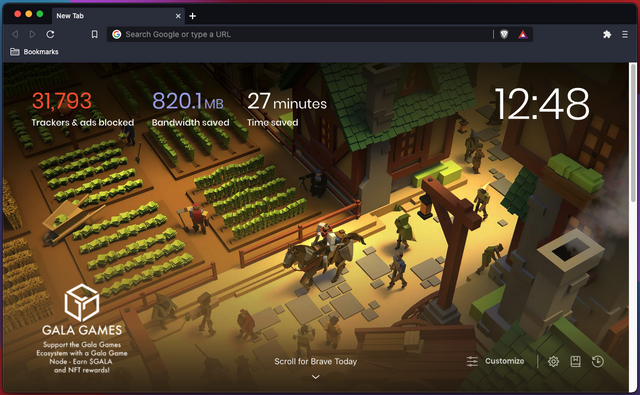 Brave Rewards accumulate at a fairly decent pace, I would say that I accumulate around one-fourth to half of a $BAT every day that I browse. The price of $BAT has also been rising for reasons beyond the current bull run:
Brave is built on Chromium, which means that all of your Chrome extensions work on Brave. This was the only thing that kept me utilizing Firefox or Safari over Chrome, as the number of extensions available can't be beat.
Brave is also usable on all mobile devices, and the built-in ad and tracker blocking still functions. This is great for iOS users, as finding a solid ad-block for Safari can be rather difficult. Unfortunately, it is not possible to earn $BAT on iOS devices. The browser still functions far better than the mobile versions of Chrome, Firefox, or Safari. You can even load up YouTube on the Brave app and watch it completely ad-free.
On an unrelated note, I first discovered Brave around two or three years ago as a means to have an ad-free browser experience on my iPad. I would have accumulated a large amount of $BAT if I began using it on my desktop all the way back in 2018. Still, I think there's plenty of upside to $BAT with how committed they are to continue developing a great browser, and implement more use cases for their token.
Finally: the most important part about the Brave Browser: the speed. This browser is incredibly snappy, and feels like what Chrome felt like when that was first released. I have never experienced any memory leaking, tabs crashing, or long load times which felt commonplace with Chrome. An example? I had Brave open with 15 tabs on various websites, and Firefox open with no websites open. Brave used up 600MB of memory, and Firefox took up 450MB.
Anyway, if you're not on Brave, you should go and give it a shot. You'll instantly realize just how much better browsing the web can feel (and getting paid some $BAT for it is pretty cool).