Well, that was quick, wasn't it? It was just over a week ago that I said my favourite colour for cars is yellow, one that always caught a glint in my eye, but never long enough to justify my interest. It's a colour that brightens up a sea of cars that are otherwise monochromatic, and I made that entire post after seeing a wrath of banana-coloured cars appear on my Twitter timeline, seemingly by fate.
What caught my attention the most was a historic colour called Bahama Yellow, itself a concoction by Aston Martin, glistening in the sun with its rich yellow-y paintwork, and a slight hint of orange. It quickly gave me 'the fizz', but now I've seen another Aston to convince me otherwise. Suddenly, I'm rethinking my strategy of painting everything in yellow. As a wise pirate once said, if you love two people at once, choose the second one, as it wouldn't have happened had you truly loved the first. I thought I loved yellow, until I saw Almond Green.
---
---
A Page Out Of History.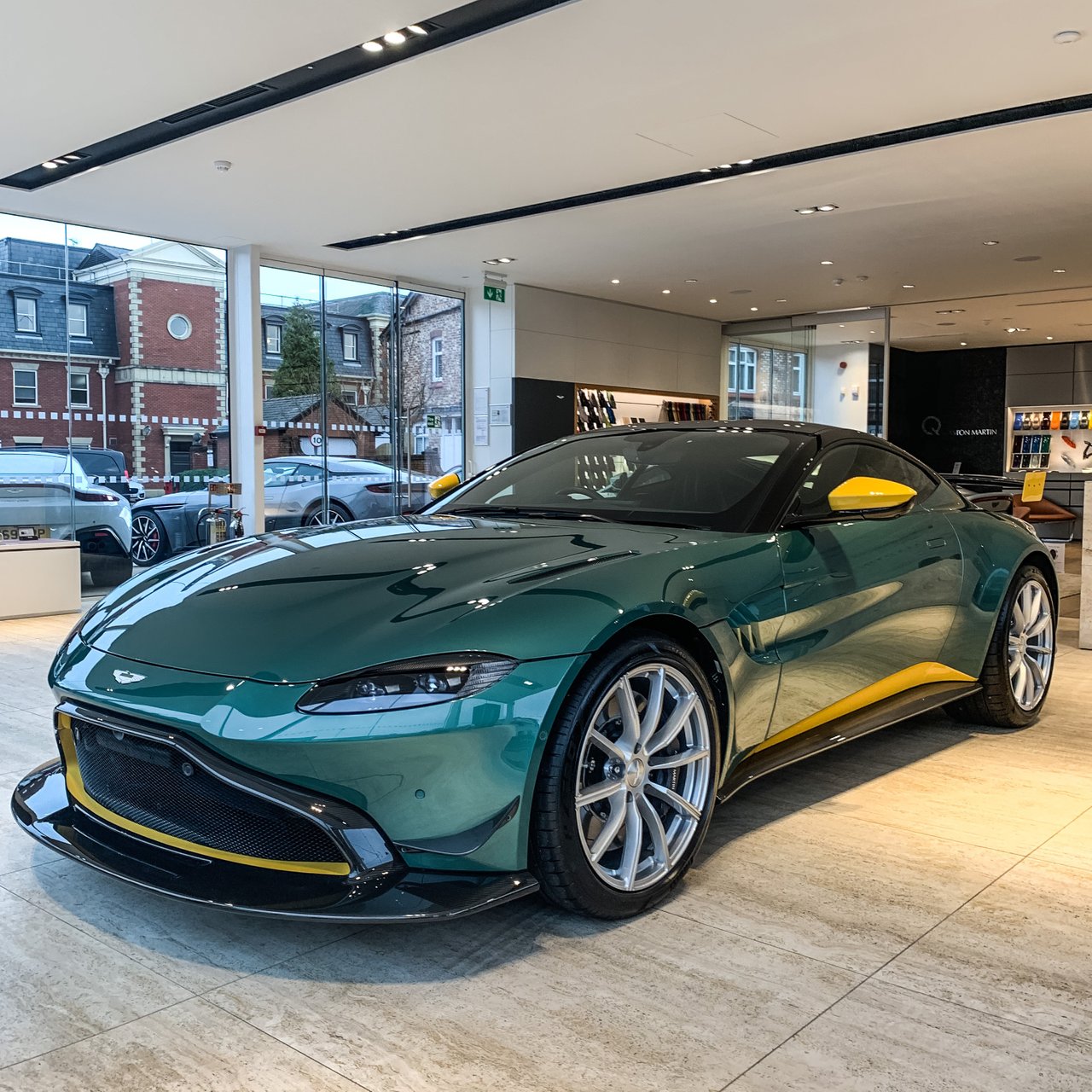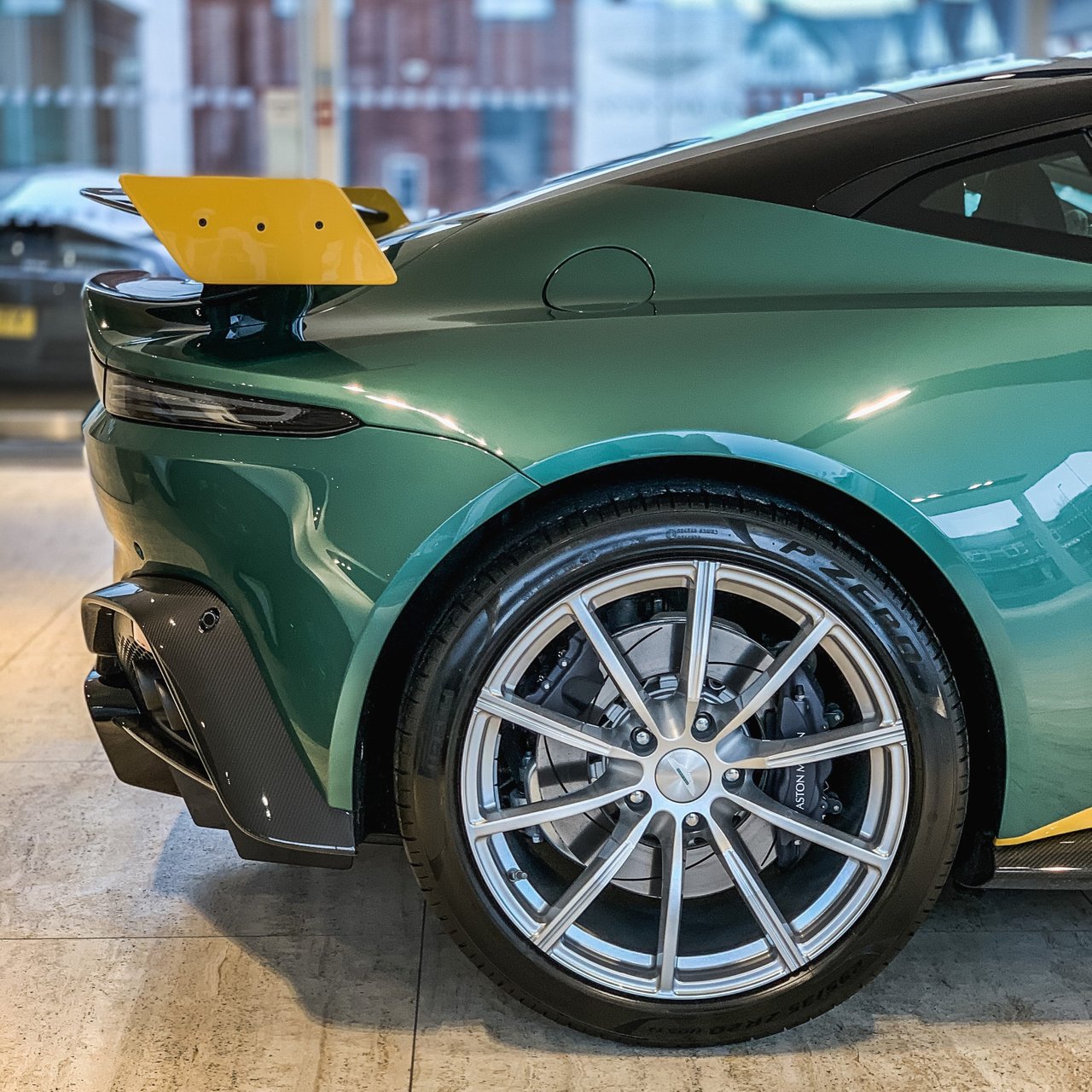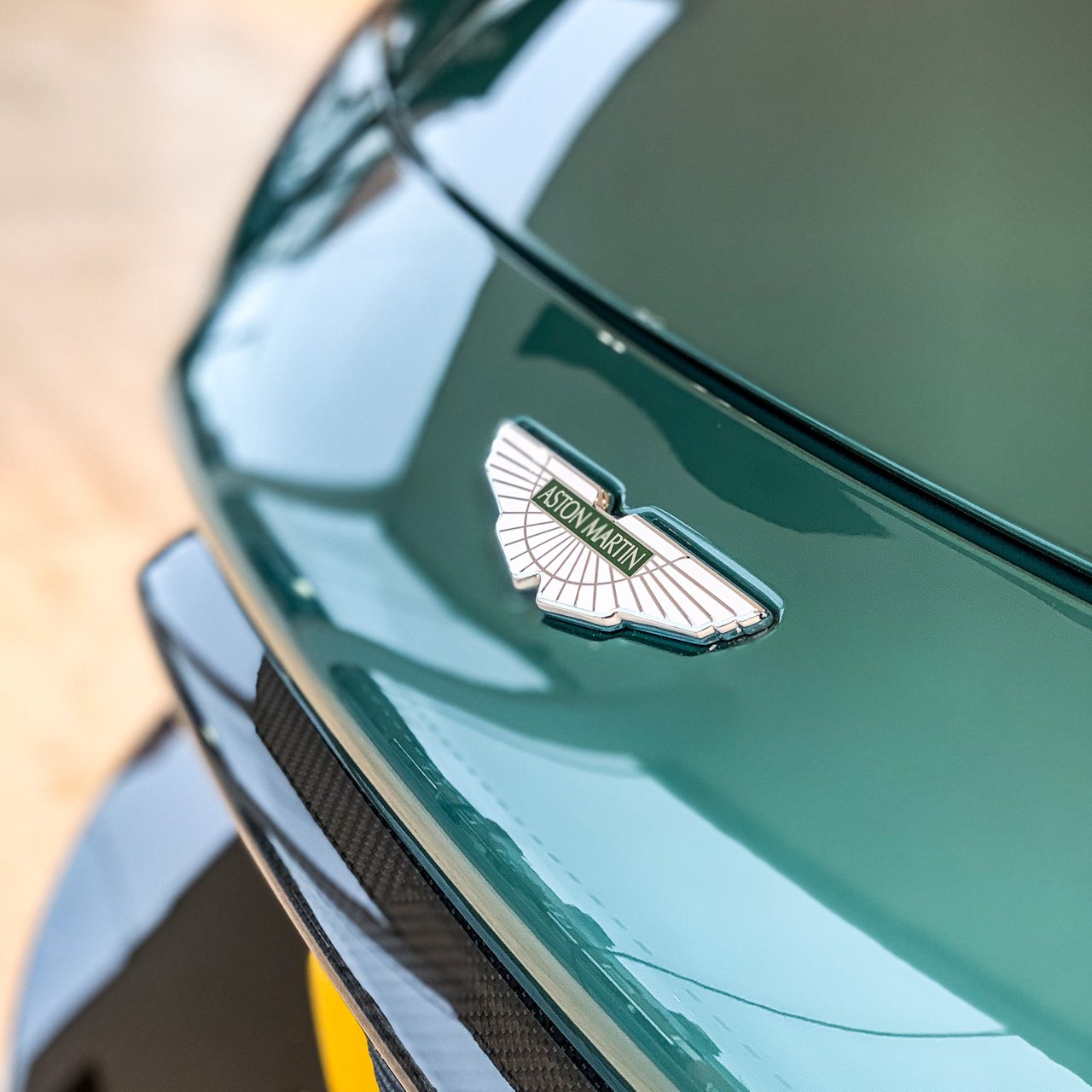 Credits to: Aston Martin Wilmslow - Twitter
This particular example here is a part of Aston Martin's limited-edition run of 60, Vantage sports-cars, each painted in a livery inspired by a century of motorsports. Their lengthy and varied heritage is more well-known for creating elegant grand-tourers to help the privileged cruise in style, and to aide with movie stardom. Yet, all of that wouldn't have happened if they hadn't dabbled in racing, if founder, Lionel Martin hadn't raced his way up Aston Hill.
The Vantage is another child to carry the bloodline, rooted in power, beauty, and soul. Unlike the benchmark of the sports-car class - the Porsche 911- I find the Vantage to be more charming, with an old-school charm that remains contemporary, and very hard to find these days. It's also jaw-droppingly gorgeous, and more so once you pair it with the right colours. The Heritage Racing Edition is more than just a fresh coat of paint - with aerodynamic tweaks, a new body-kit, and a lighter diet to make it just that bit sharper.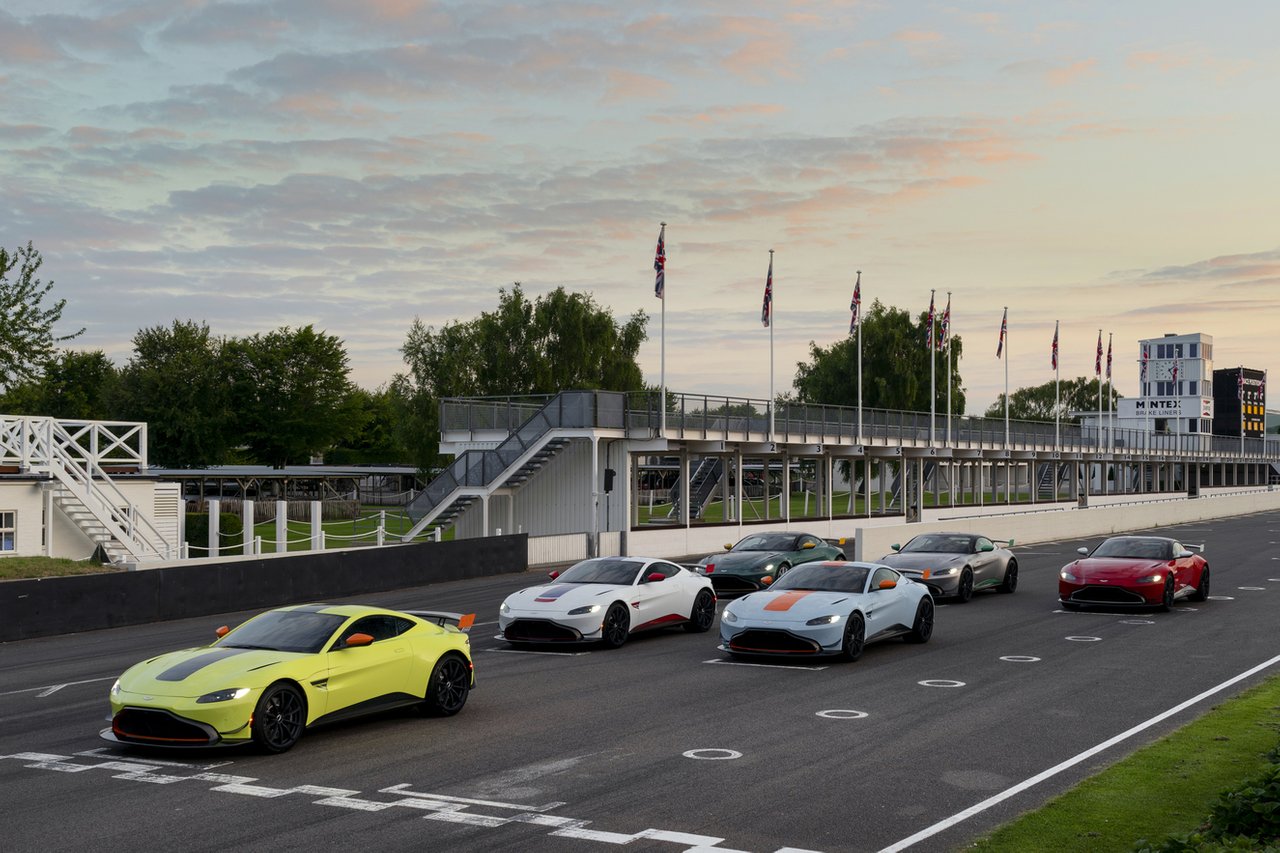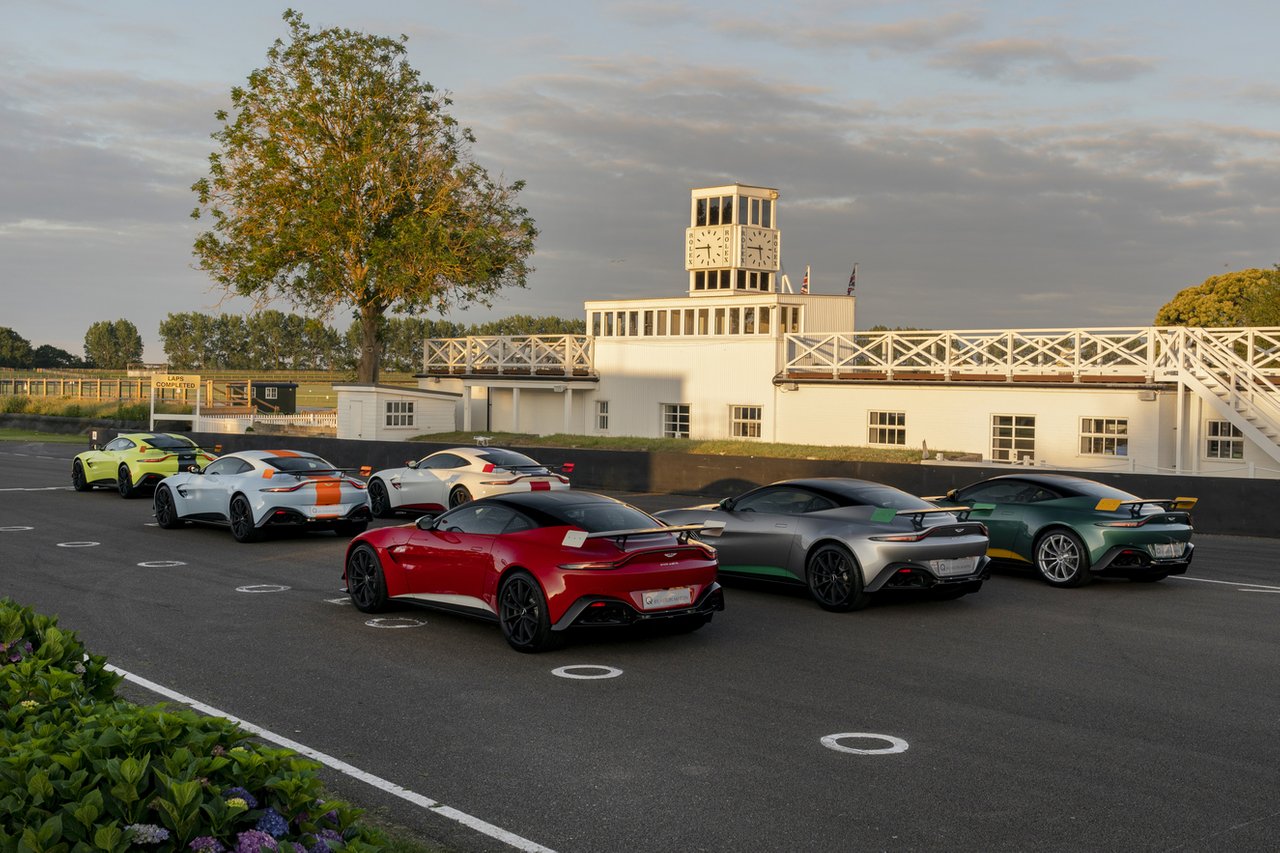 Credits to: Aston Martin
Nevertheless, that extended front-lip, and the carbon-fibre rear-wing might not look half as interesting had there been no flair to it. This variant here is sprayed-on with the aforementioned Almond Green, a historic colour which I suppose, looks like a fresh almond. It's a much lighter shade of green, but not too lurid, with a slight hint of teal or turquoise to make it more vibrant. To best complement this side of deep, rich almonds, we have some yellow accents including a dash of bright lipstick.
The yellow highlights are a tribute to the DB3S race-car, which had a so-so career in endurance-racing during the early-, to mid-50s. An improvement over the cumbersome DB3, its learnings would later help to engineer the DBR1, an Aston-borne racer that would win their first Le Mans 24-hours race, in 1959. You can see here, how they used the sharp contrast of yellow to show off the car's silhouette even more, with a much heavier helping of lipstick on the front.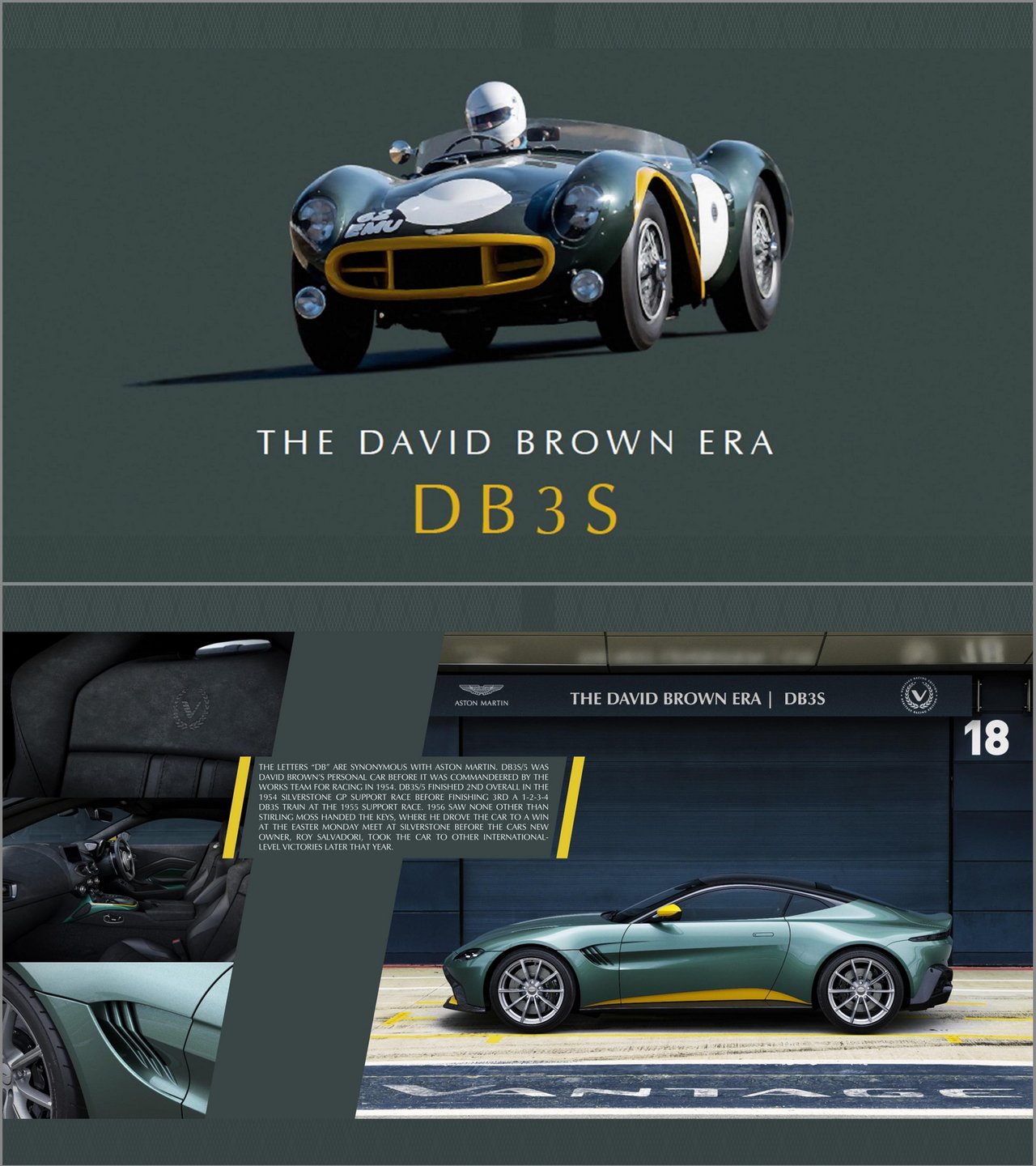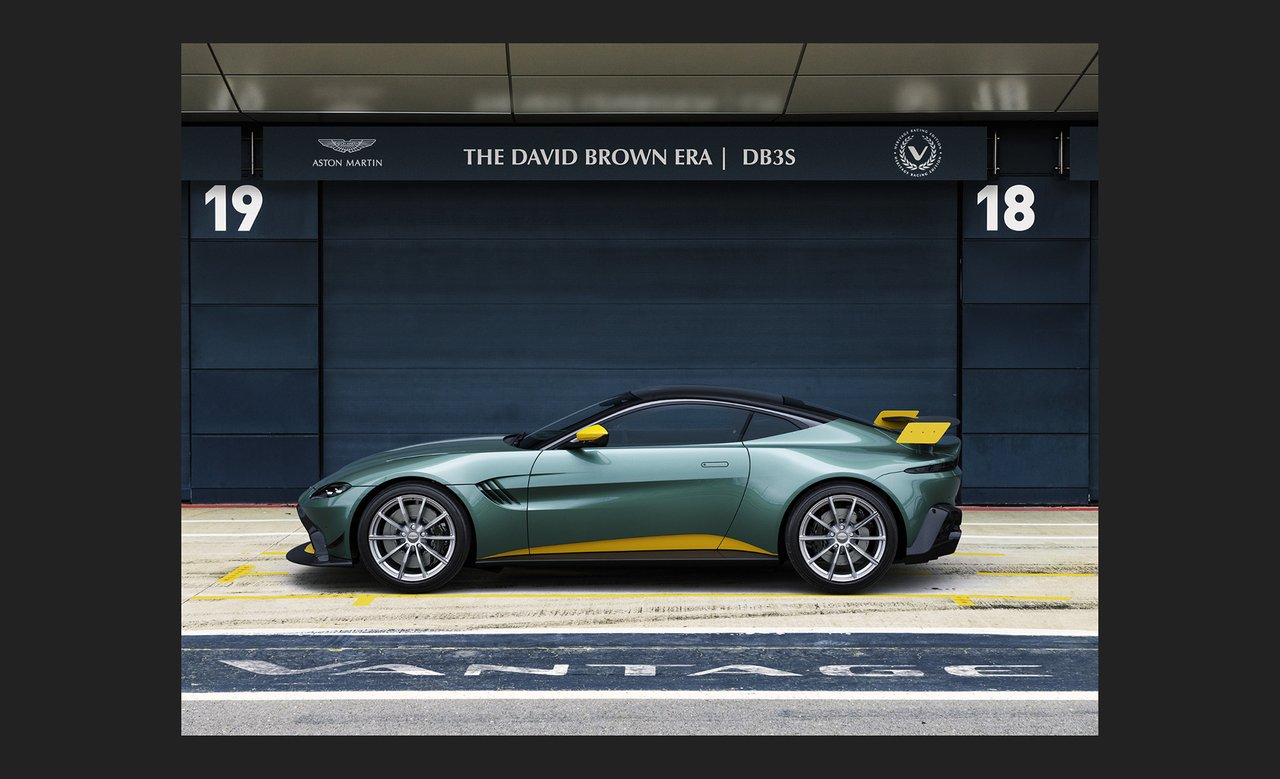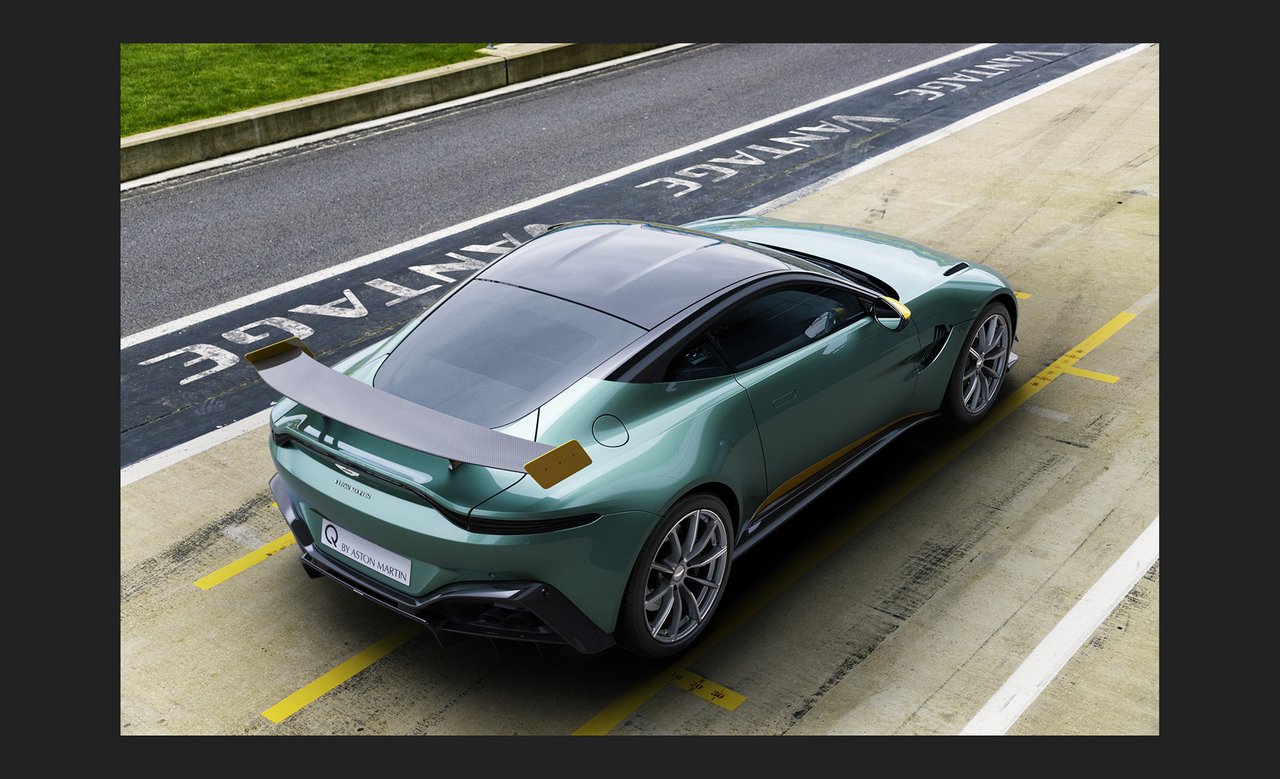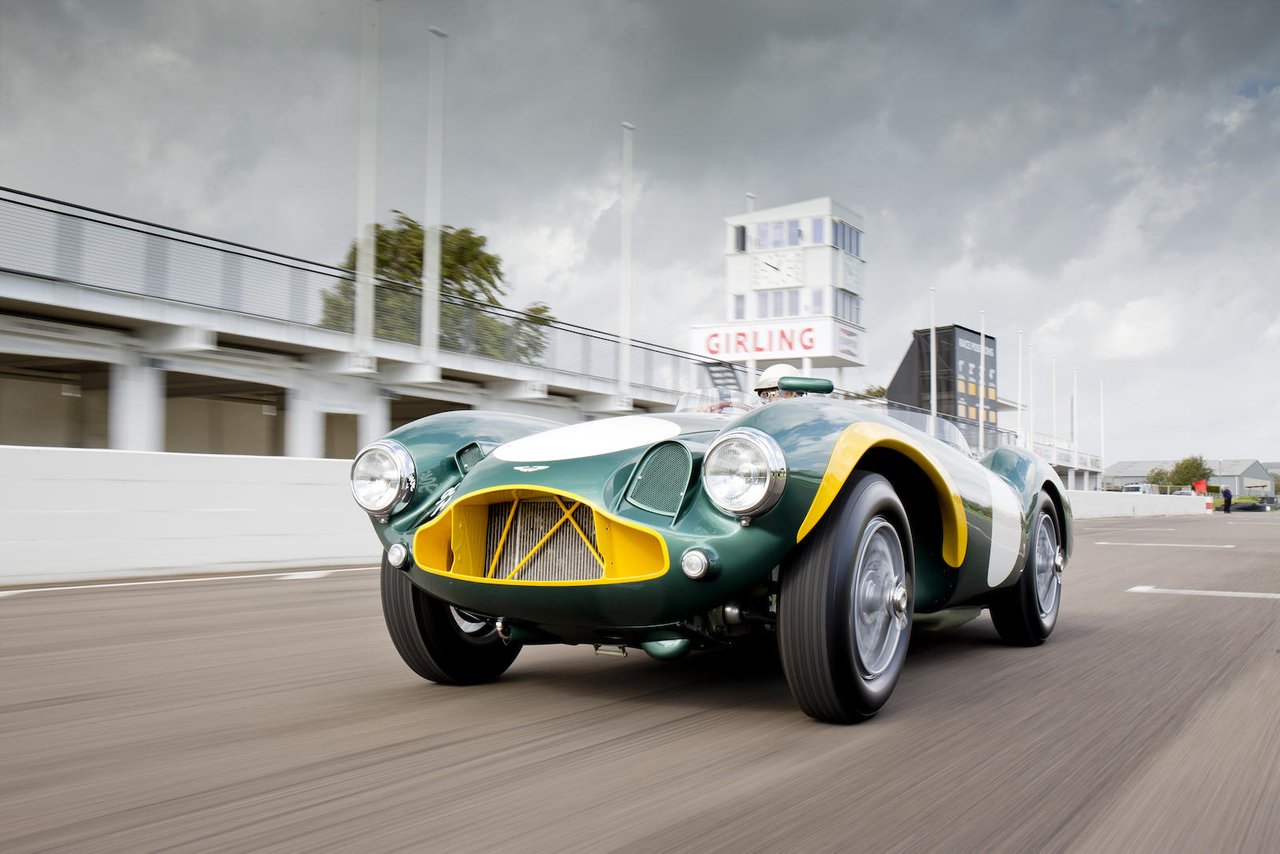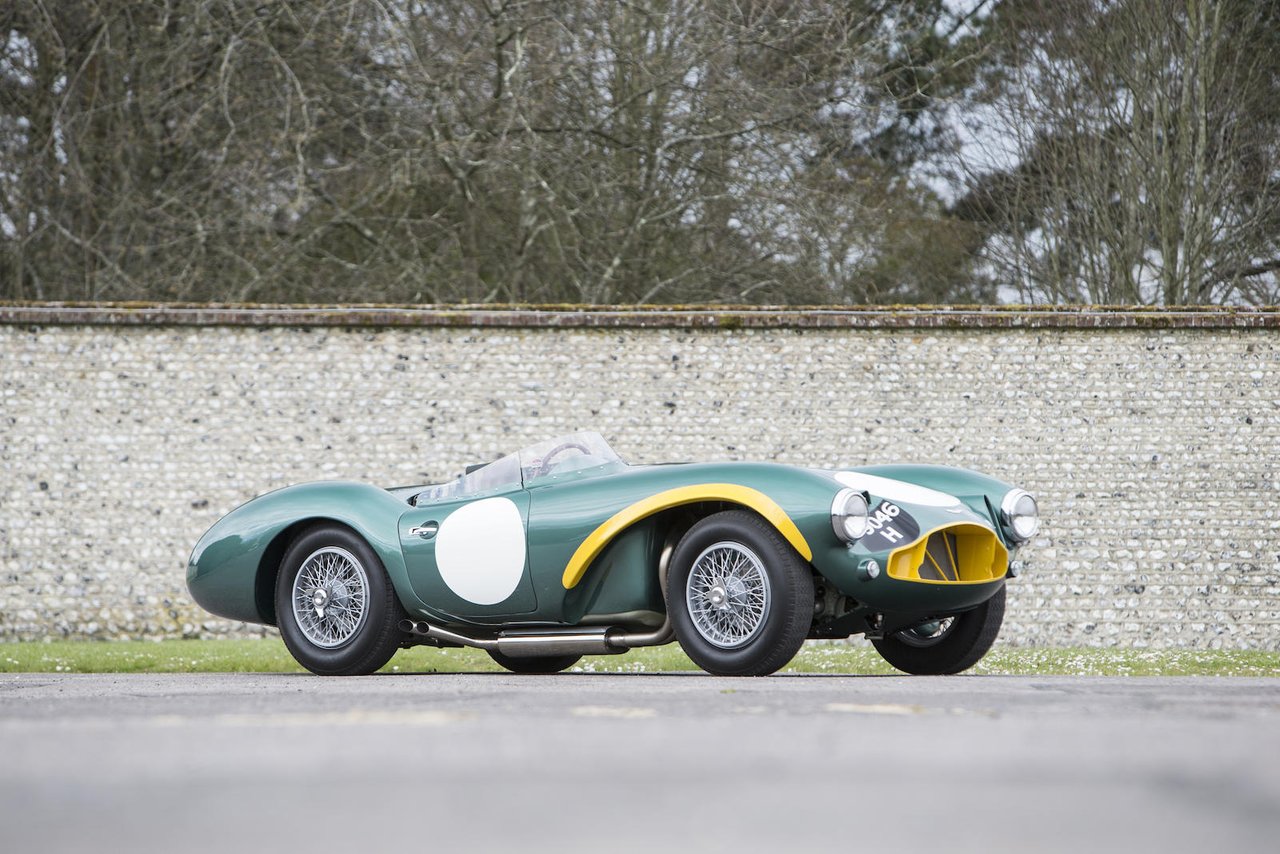 Credits to: QD1024, Stuart Boote | Behance, and AutoEvolution
---
---
But Wait, There's More!
Ah, but don't think I'm just stopping at one colour. Besides, Aston Martin's romance with the world of motor-racing goes beyond just one or two cars, and more so than steel. They've made six different liveries, each from a unique chapter in their storied legacy, and 'The David Brown Era' of the DB3S is just one of them. Personally this Almond Green is all I ever need now in my life, and I'm content with that reality. For your however, the grass it appears, it not as green on the other side.
---
The Record Breaker | Razor Blade.
Starting off with the oldest one, this bright silver paintwork, shared with splashes of green took its colours from 1923. Called the 'Razor Blade', it was built to break new speed records at the Brooklands high-speed aerodrome. As automobiles was still a fairly new concept back then, the idea of experimenting and crossing thresholds into the unknown was a hobby for some, and an obsession for others. Besides, it wasn't long ago that we thought the human body couldn't cope, and thus might die if we'd travel faster than 100mph.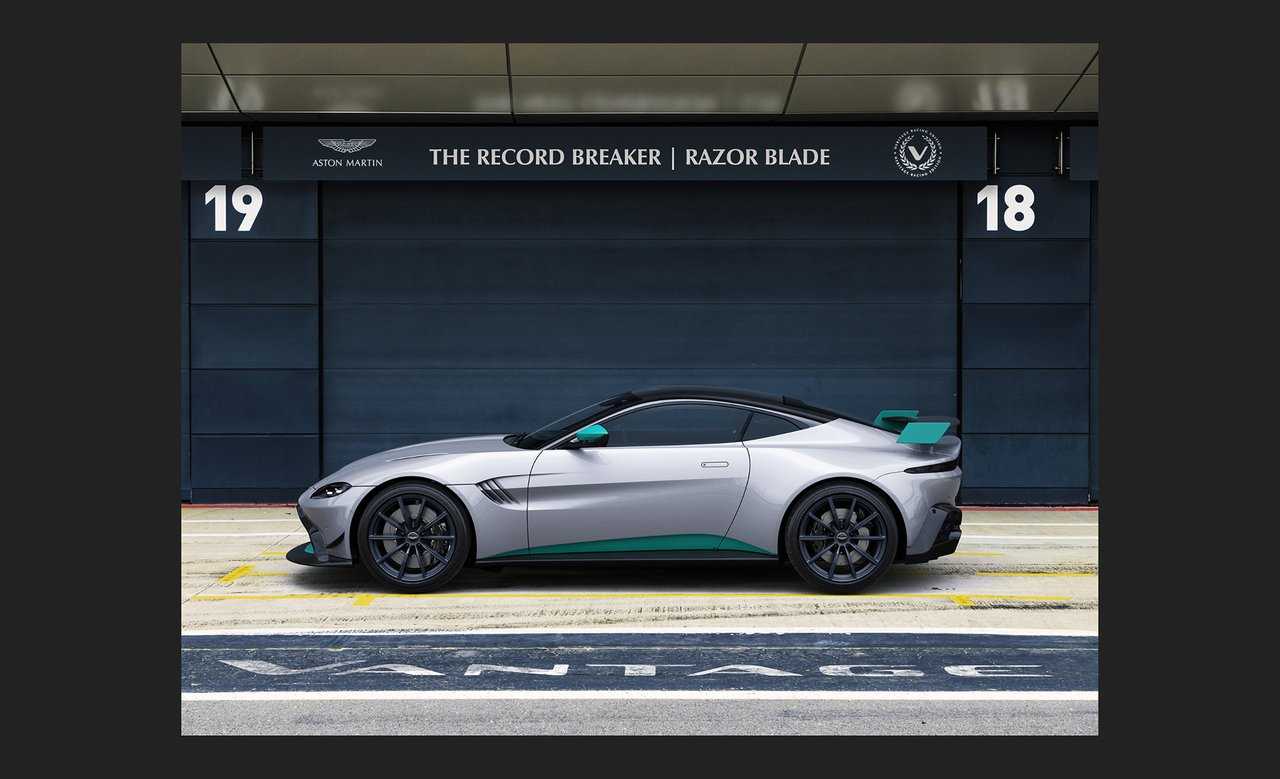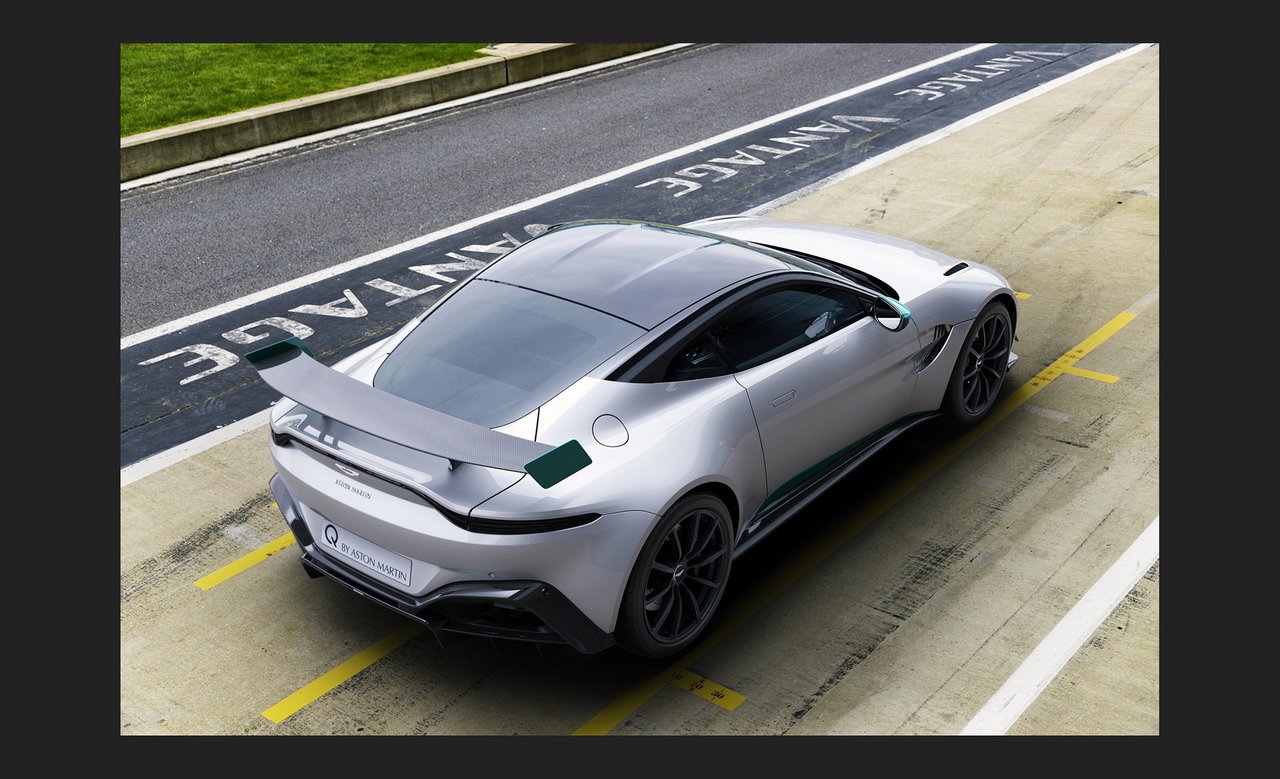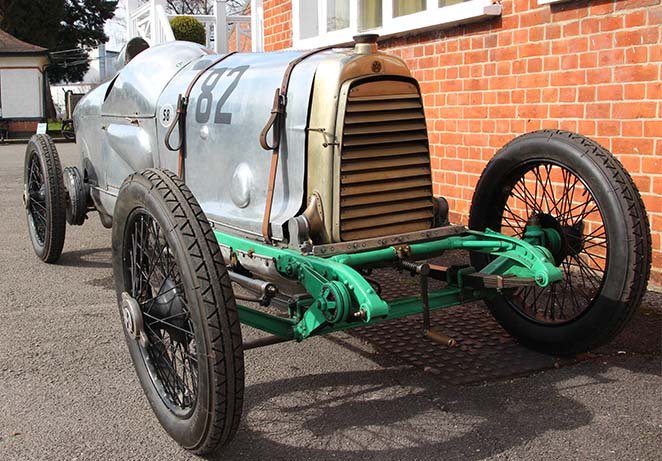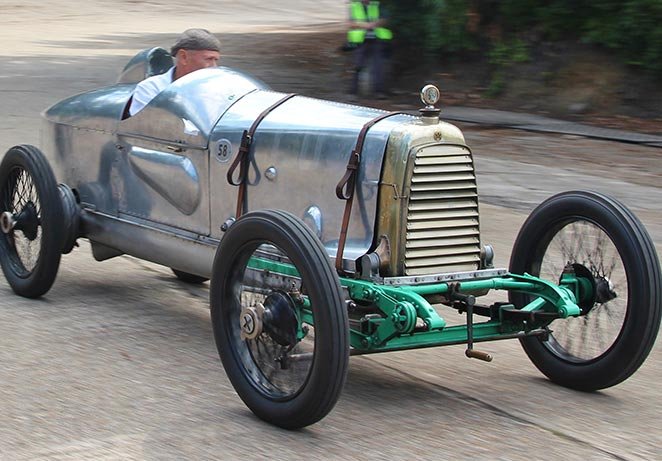 Credits to: QD1024, Stuart Boote | Behance, and Brooklands Museum
Undeterred by this terrible fate that might lie ahead, Lionel Martin went ahead anyways, and built a machine using standard parts cobbled together from their Grand-Prix cars. Hoping to cut through the creamy thickness of the air at high-speeds, all those parts are fitted onto a slim frame, apparently the most narrow at the time. However, it would later prove to be hard in looking for a driver who could fit. To finish off, the bodywork was crafted by the de Havilland Aircraft Company, with the aluminium left unpainted.
The hour-long average speed record was held by AC Cars, sitting at 101.39mph. As the Razor Blade's 1.5-litre four-cylinder cranked-out 55hp to push the car upwards of 104mph, one of the tyres came off. It was later changed, but the car couldn't sustain itself for long enough, until the attempts were later abandoned. Still, all was not lost, as it managed to set two new records in the 1,500cc light-car class at Brooklands. Today, it's shining glow clothes the new Vantage, a car capable of cruising to just shy of 200mph with ease, and poise.
---
The Italian Progettista | Ulster.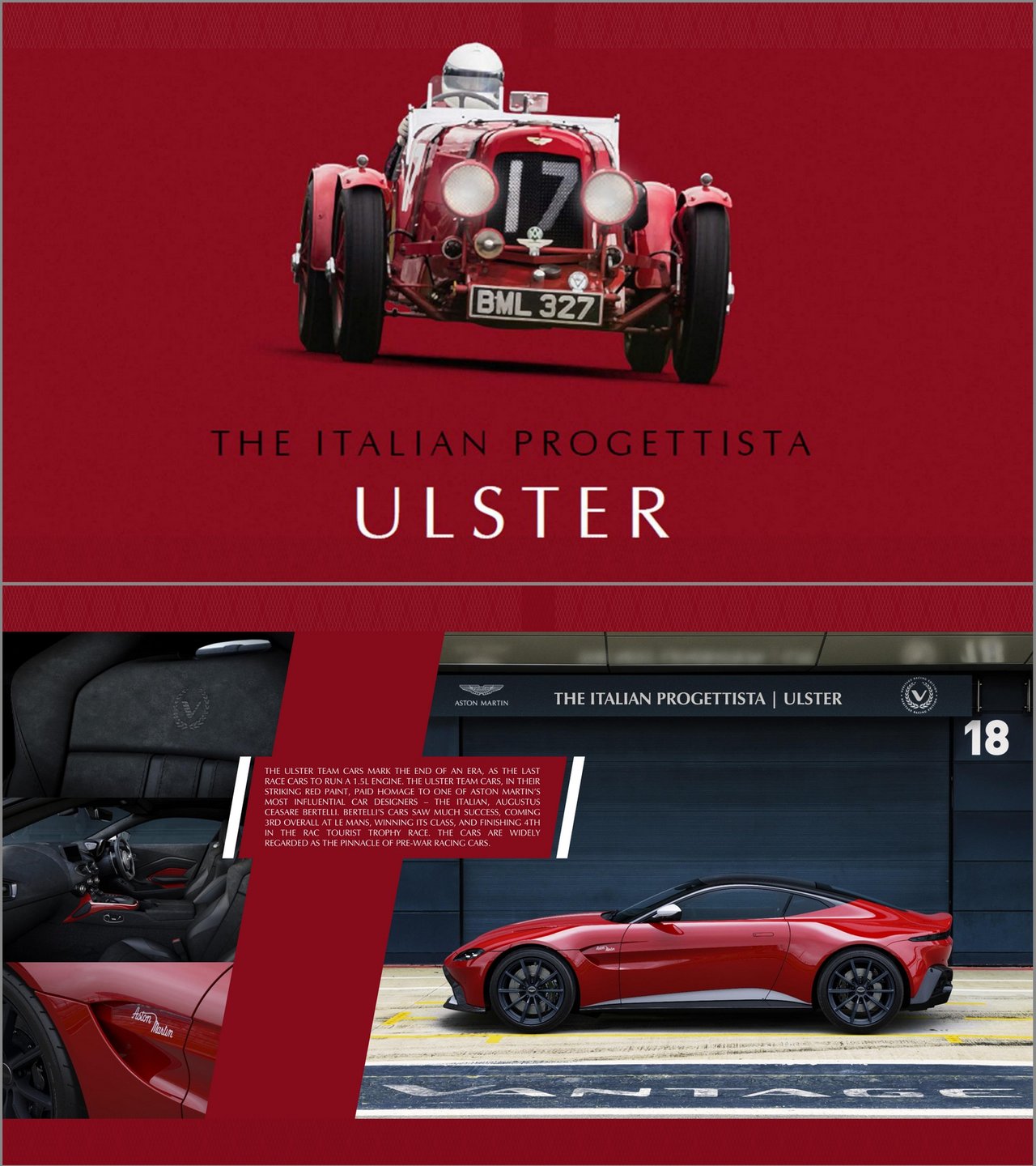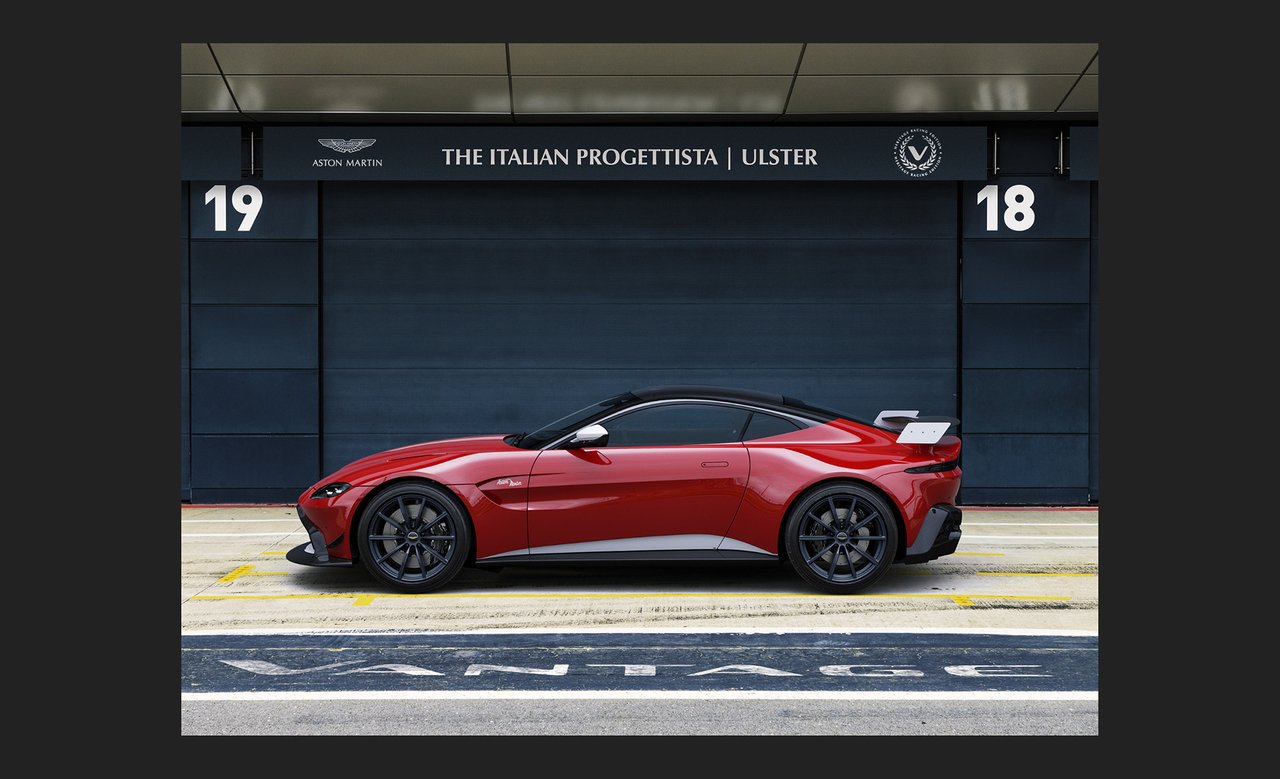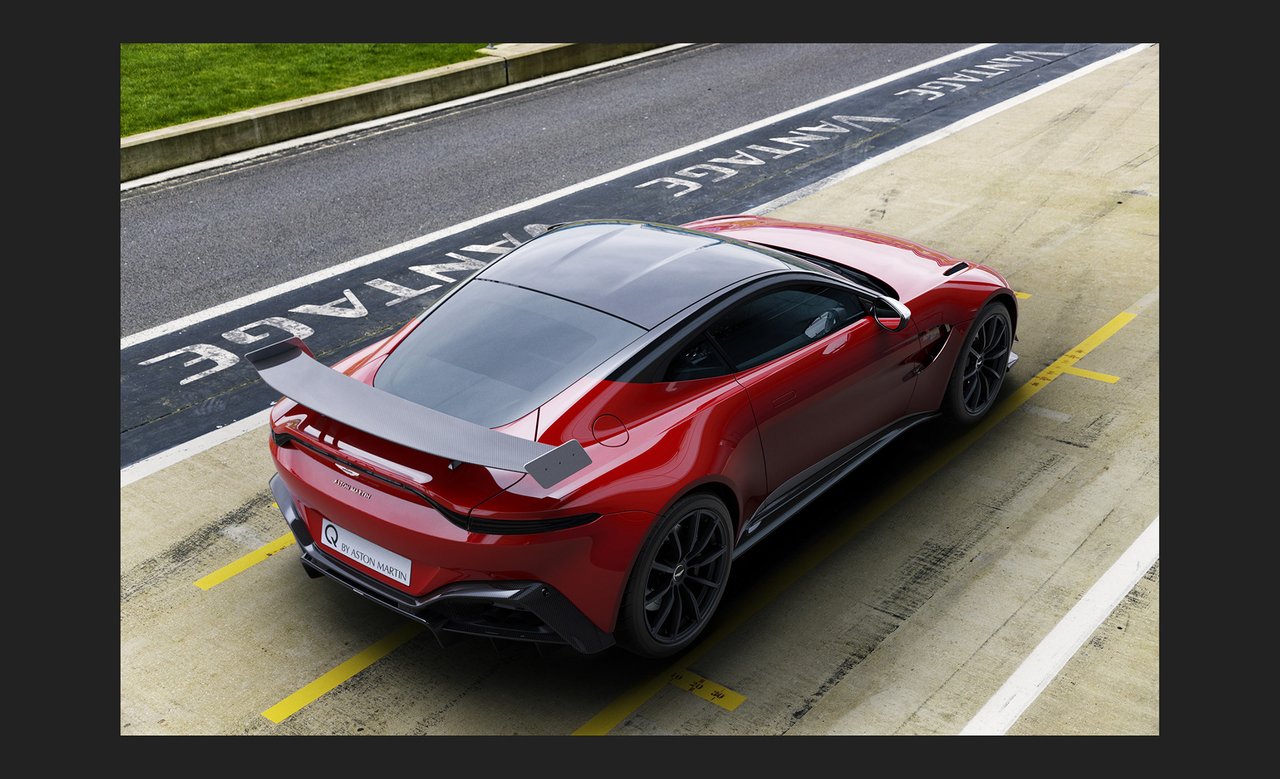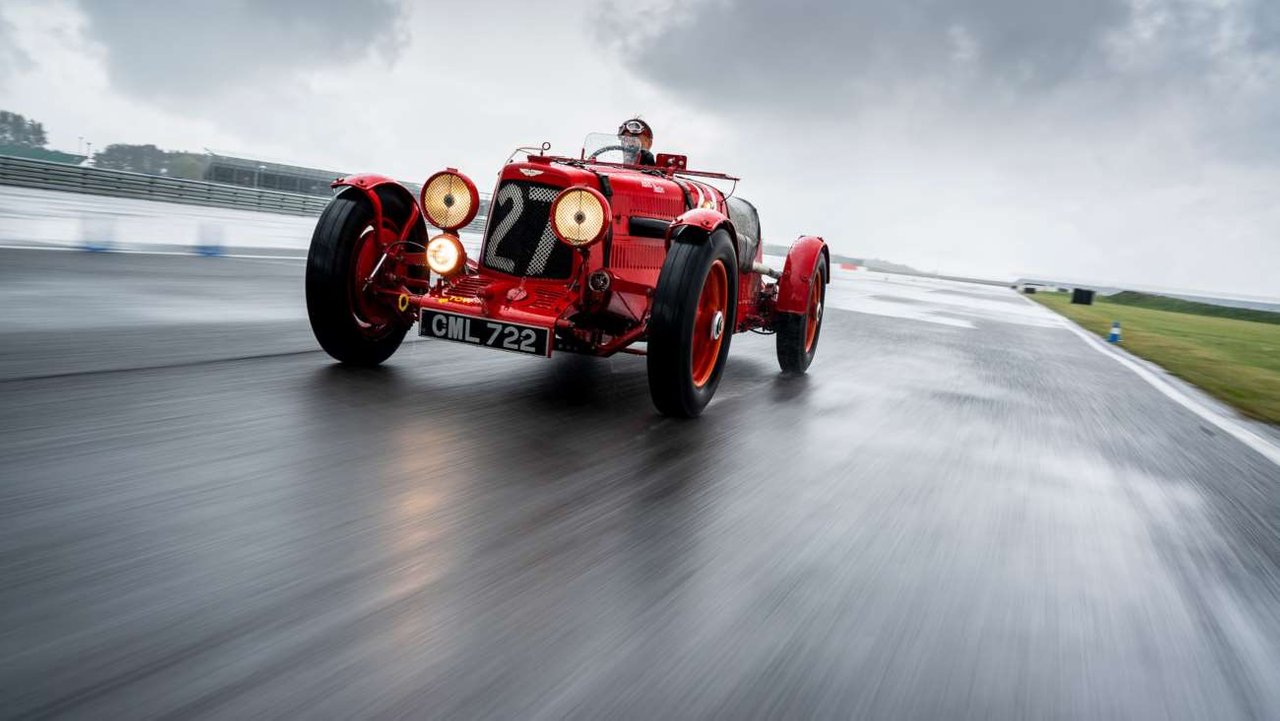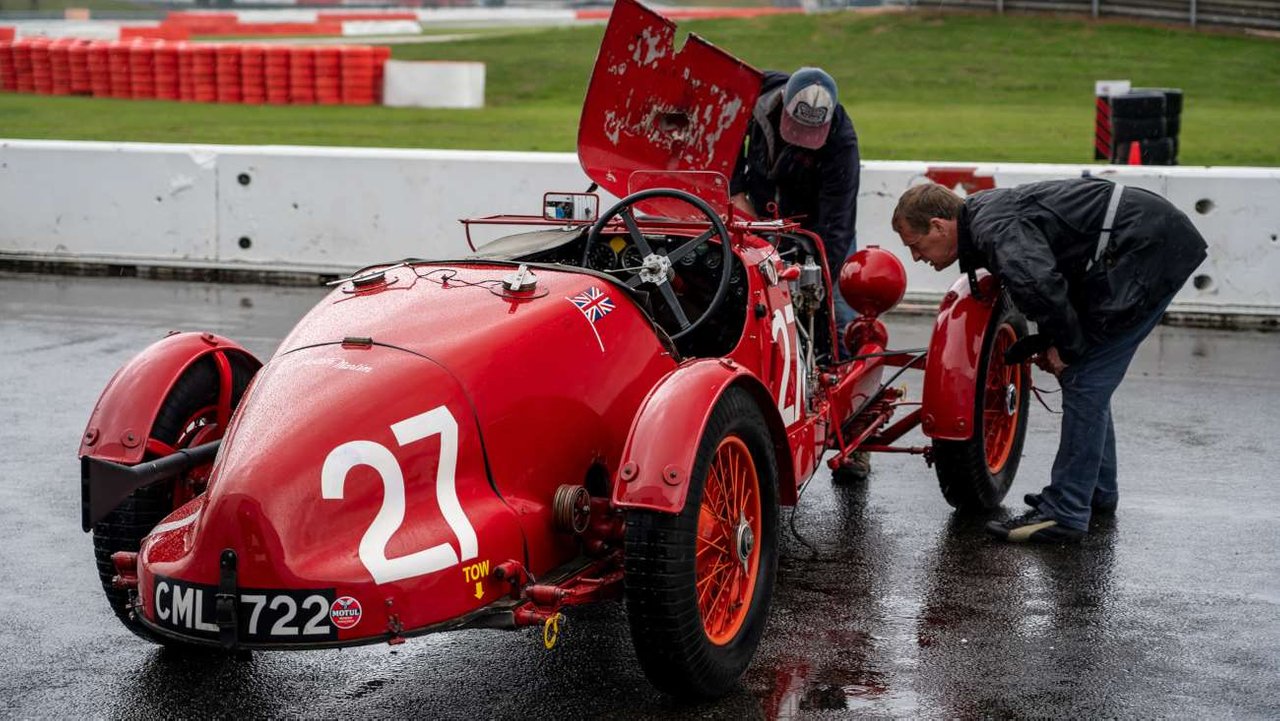 Credits to: QD1024, Stuart Boote | Behance, and Goodwood
Moving ahead by a decade, this here is the car that properly cemented Aston's foundations into motorsports. Forming the pinnacle of pre-war racers is the Ulster, made in the early-30s and no less brash here than it was in its heyday. Enthusiasts of today are going mad over super-charged Bentley Blowers, but to me, the Ulster is how I dream classic race-cars to be like. Unsurprising given my likeness for Italians, this old Aston was designed and engineered by 'the Italian', Augustus Ceasare Bertelli.
Never mind the fact that he shares a name with the first Roman Emperor, his creations had an equally heavy historical significance. It was among the last cars to use 1.5-litre engines, but it was enough to help it win third-place overall at the 1935 24-hours of Le Mans, and championing its class. Lively as its Italian father, the original Ulsters had a bright Rosso exterior - as was the official team colour then - with white lettering. Reflected on the new Vantage is a hand-painted script of 'Aston Martin' on the side-vents, as it was on the bonnet of the old Ulster.
---
The Group C Monster | AMR1.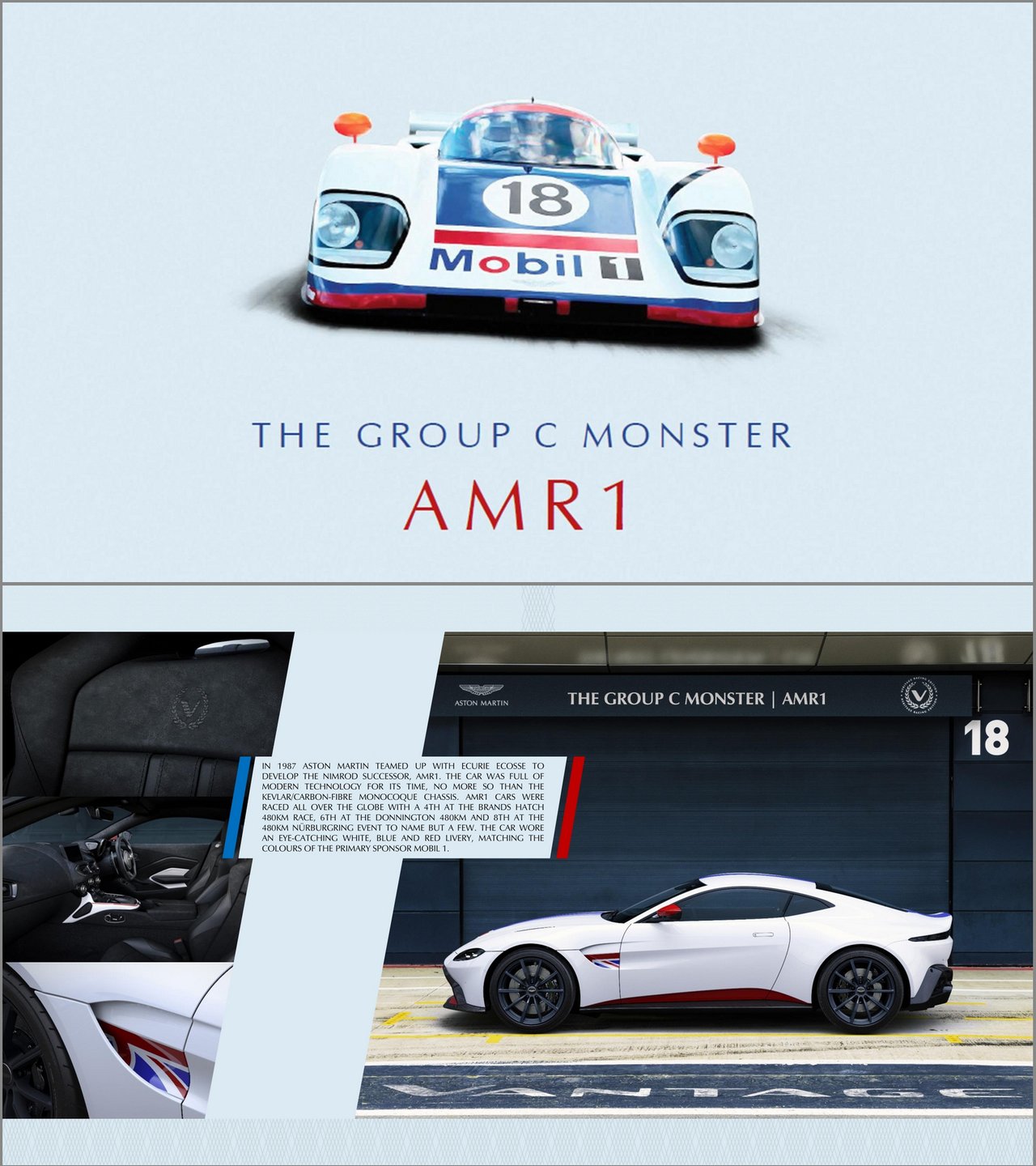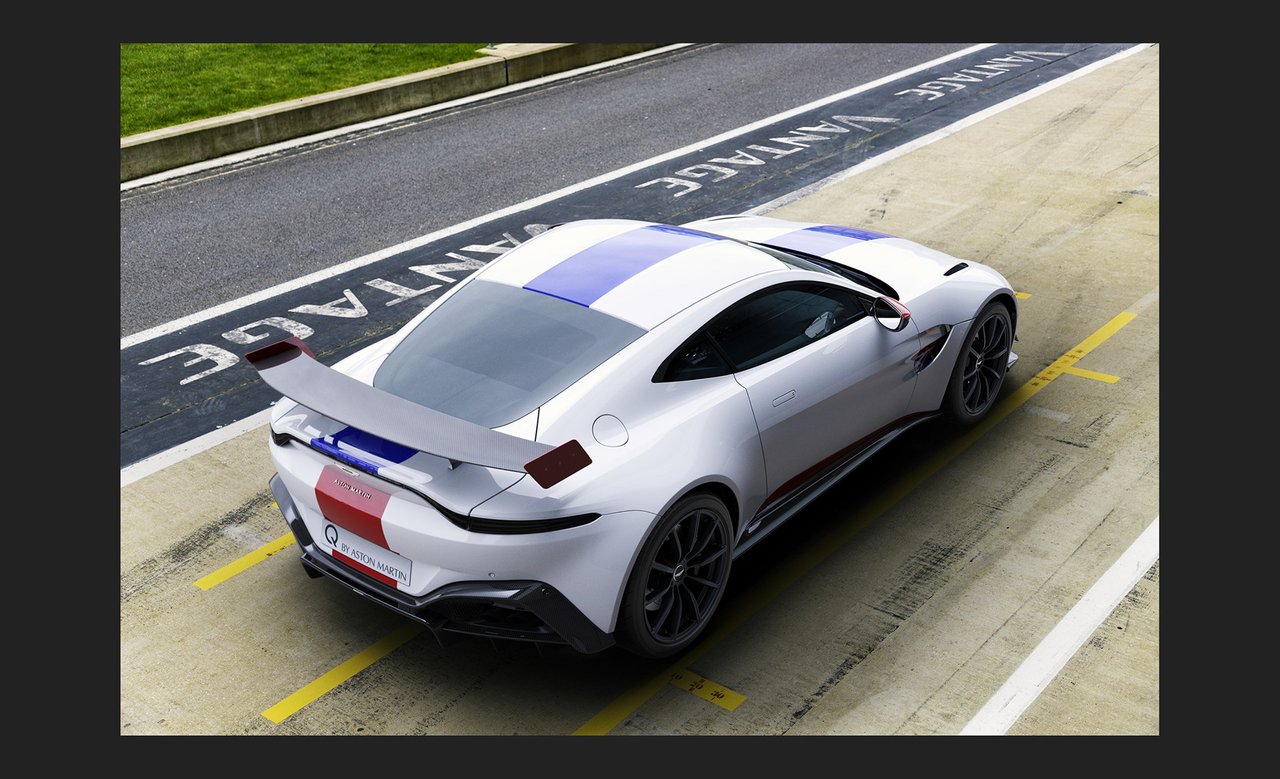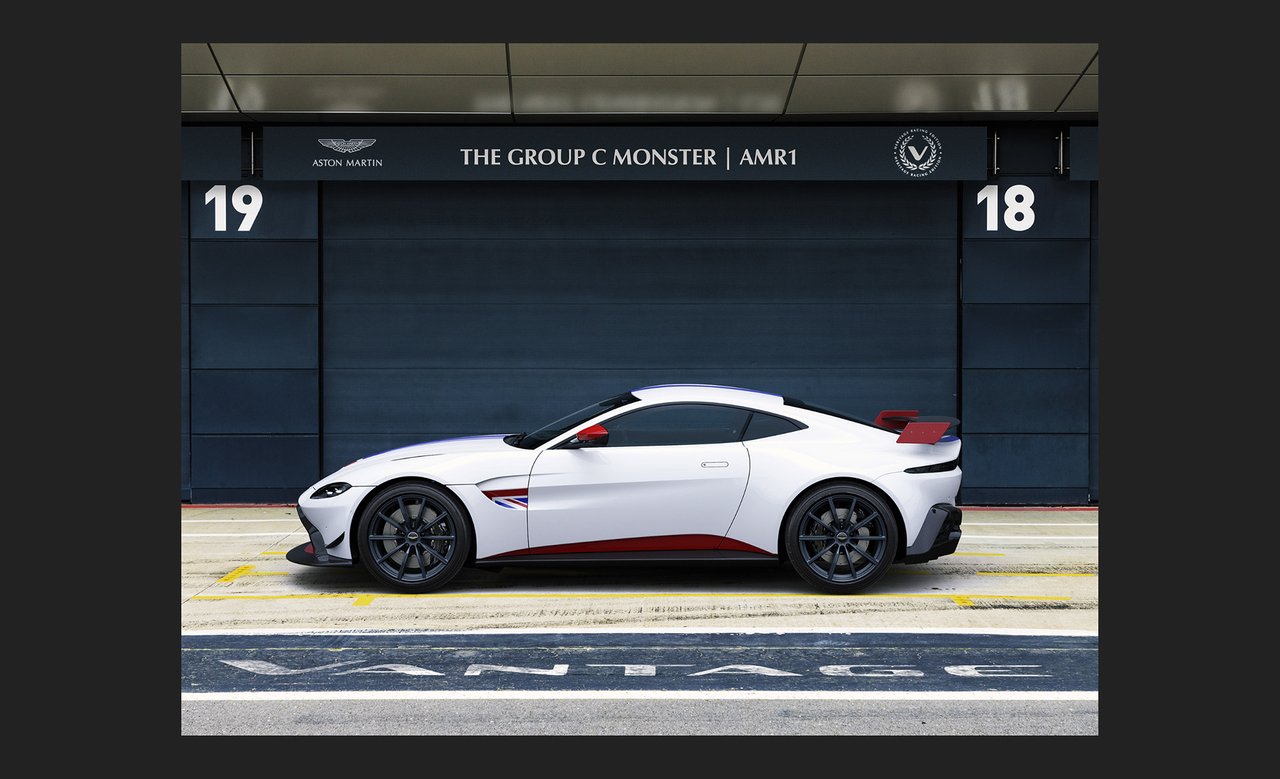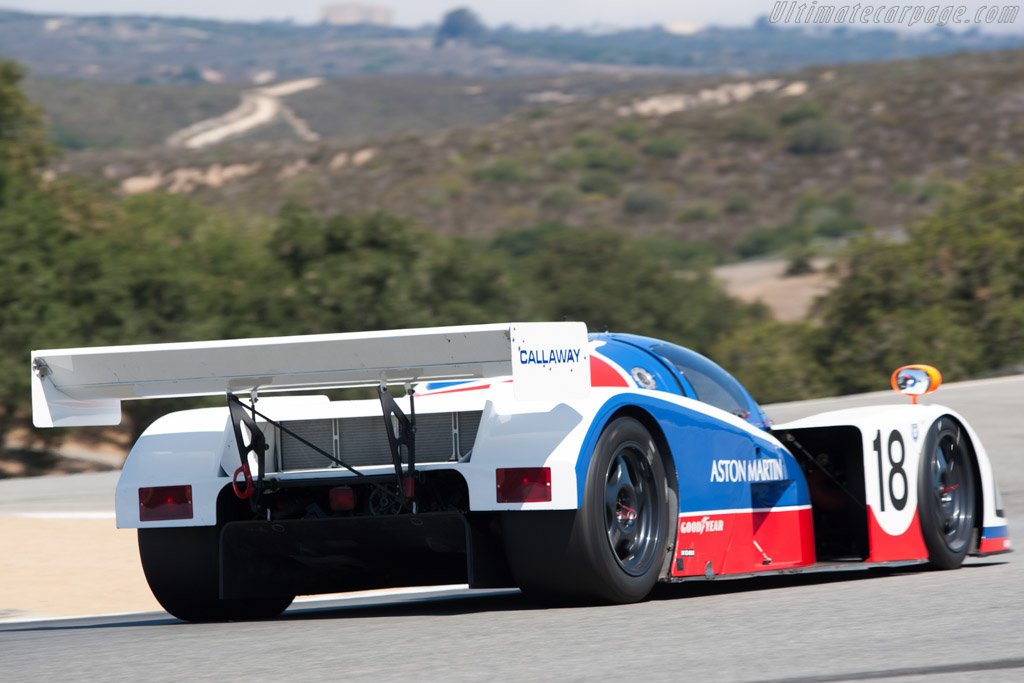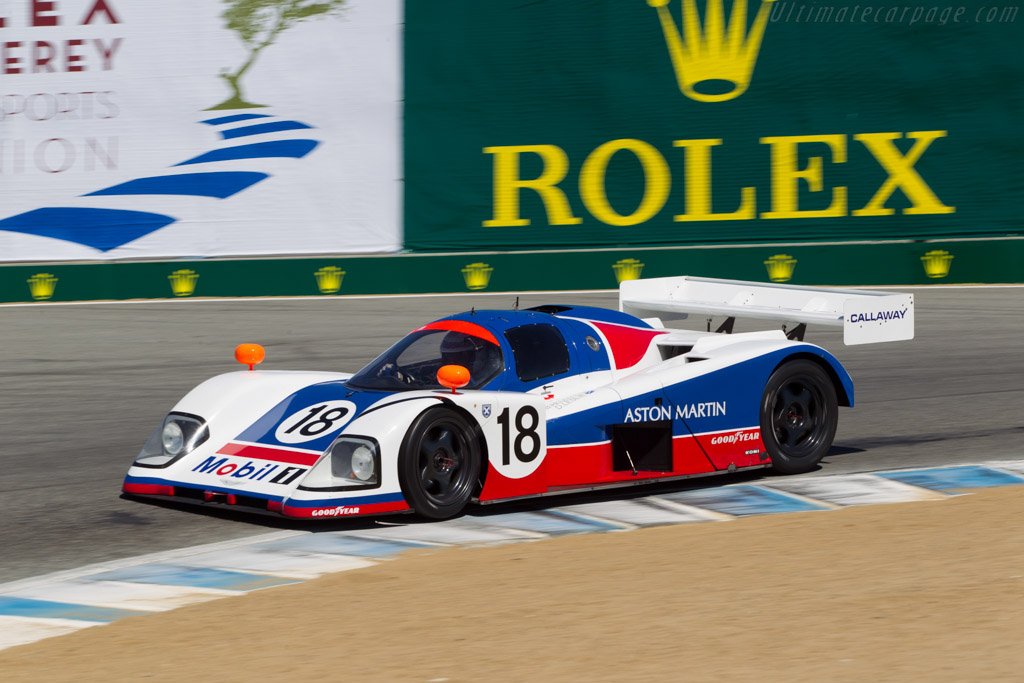 Credits to: QD1024, Stuart Boote | Behance, and UltimateCarPage
Skipping past the DB3S in the timeline, along with 30 more years, we end up in the wild world of Group C racing, where endurance cars and prototypes clash for trophies. The livery on this Vantage here is inspired by the AMR1 race-car developed in 1987 as a successor to the Nimrod, with help from famed Scottish tuner - Ecurie Ecosse - who also engineered champion-beating Jaguars. It follows the colours of the Union Jack, with red, white, and blue prominently displayed.
The new Vantage carries these colours as well, with a neat touch of pride being the Union Jack decal on the side-vents. However, it appears that the patriotism was only coincidental, as the livery was supposed to reflect the colours of their sponsor, Mobil 1. The AMR1 presented some truly ground-breaking technology for 1989, primarily its Kevlar/carbon-fibre monocoque chassis. It never won a podium, but a fourth-place in the Brands Hatch 480km race ensured that its legacy is carried on.
---
The Le Mans Winner | DBR9.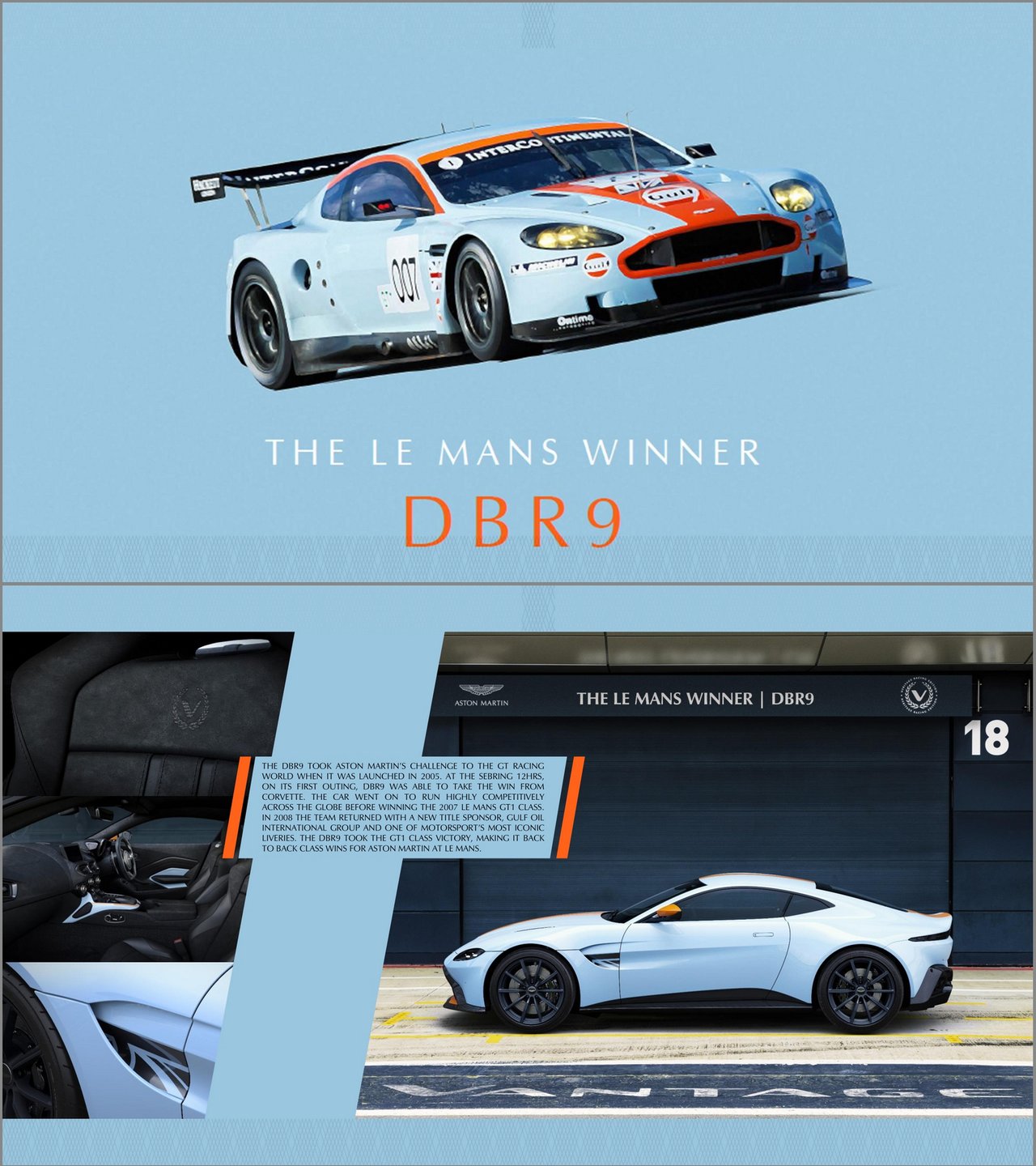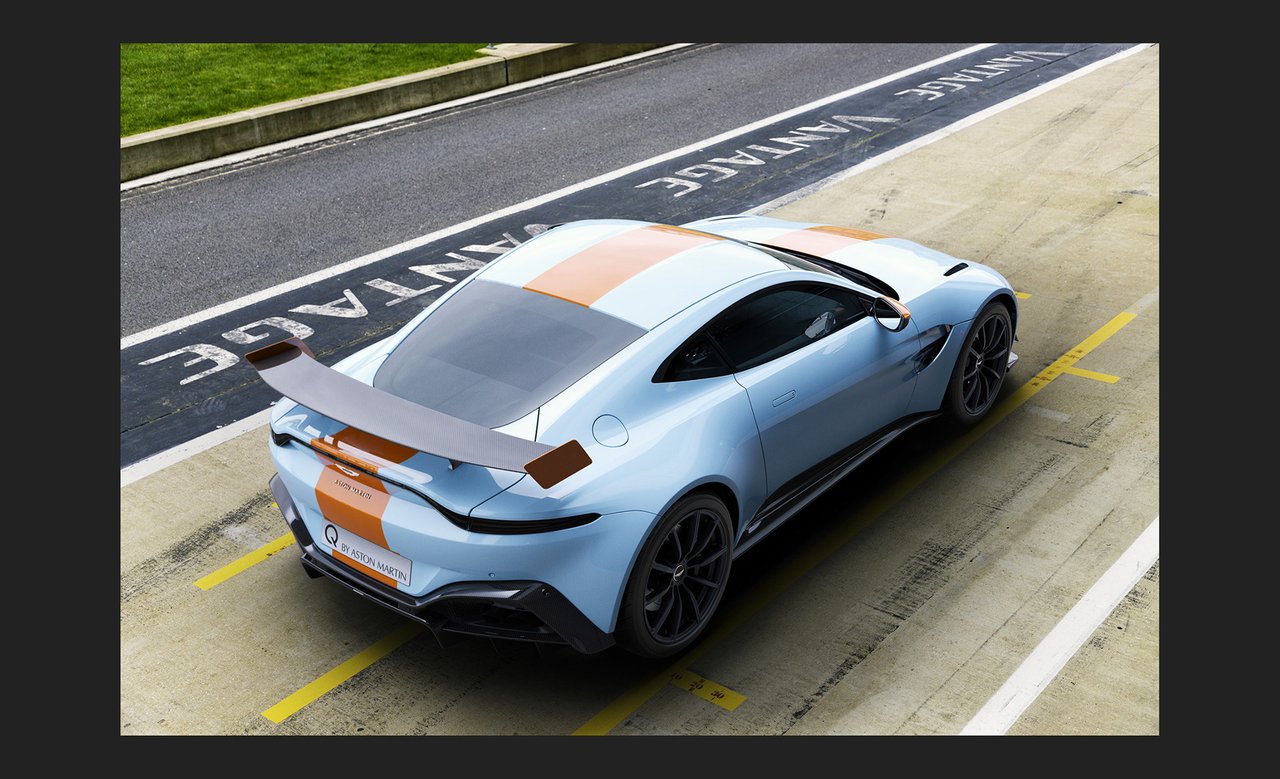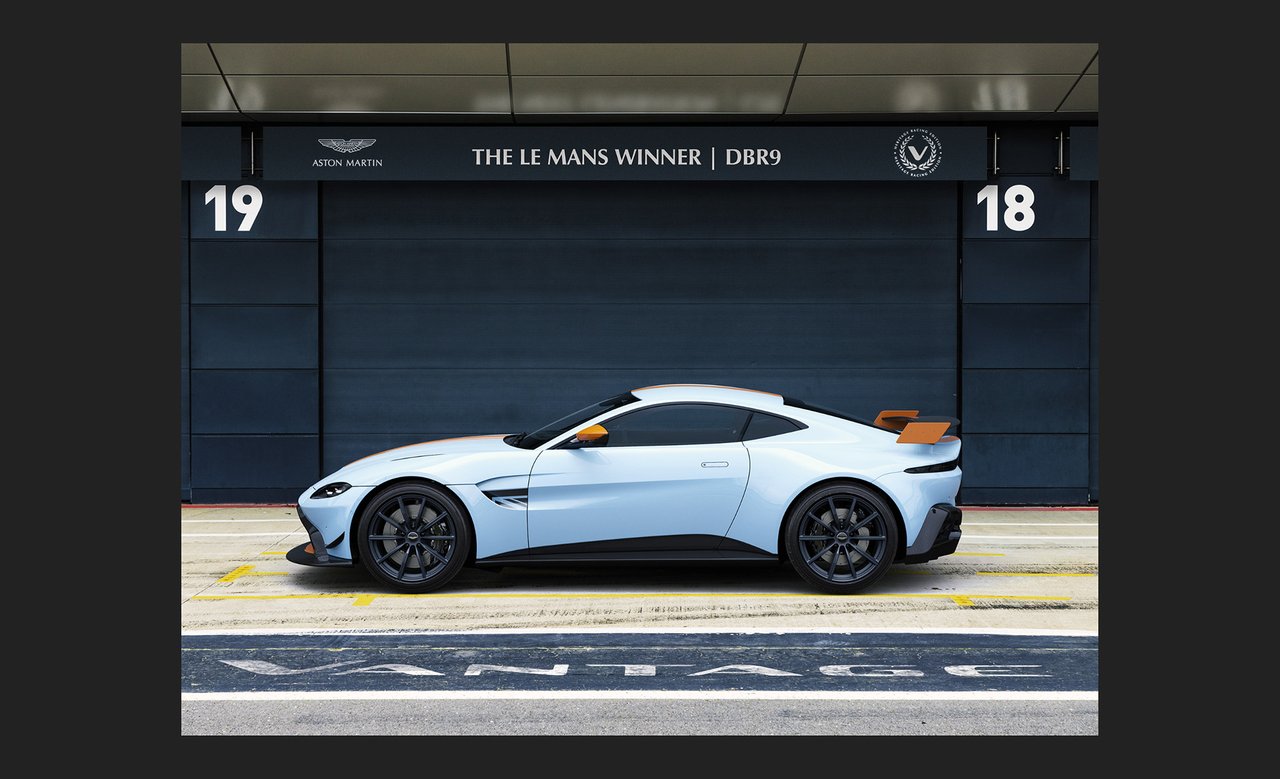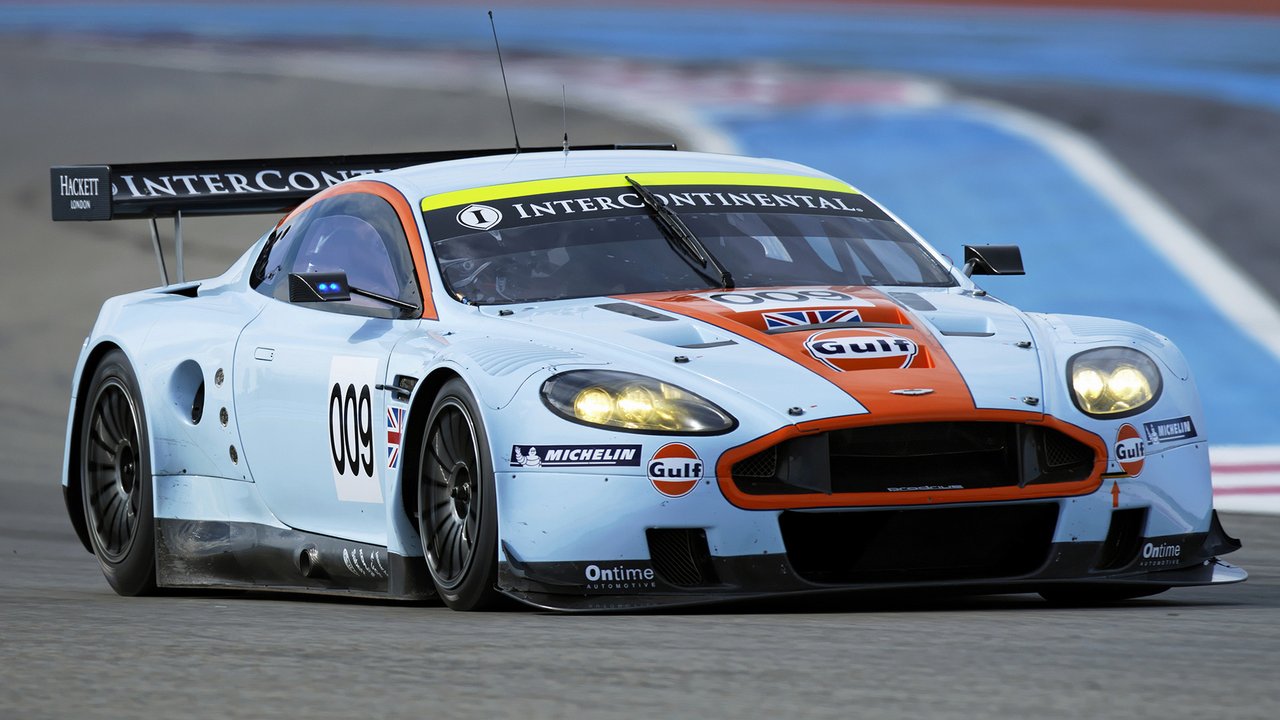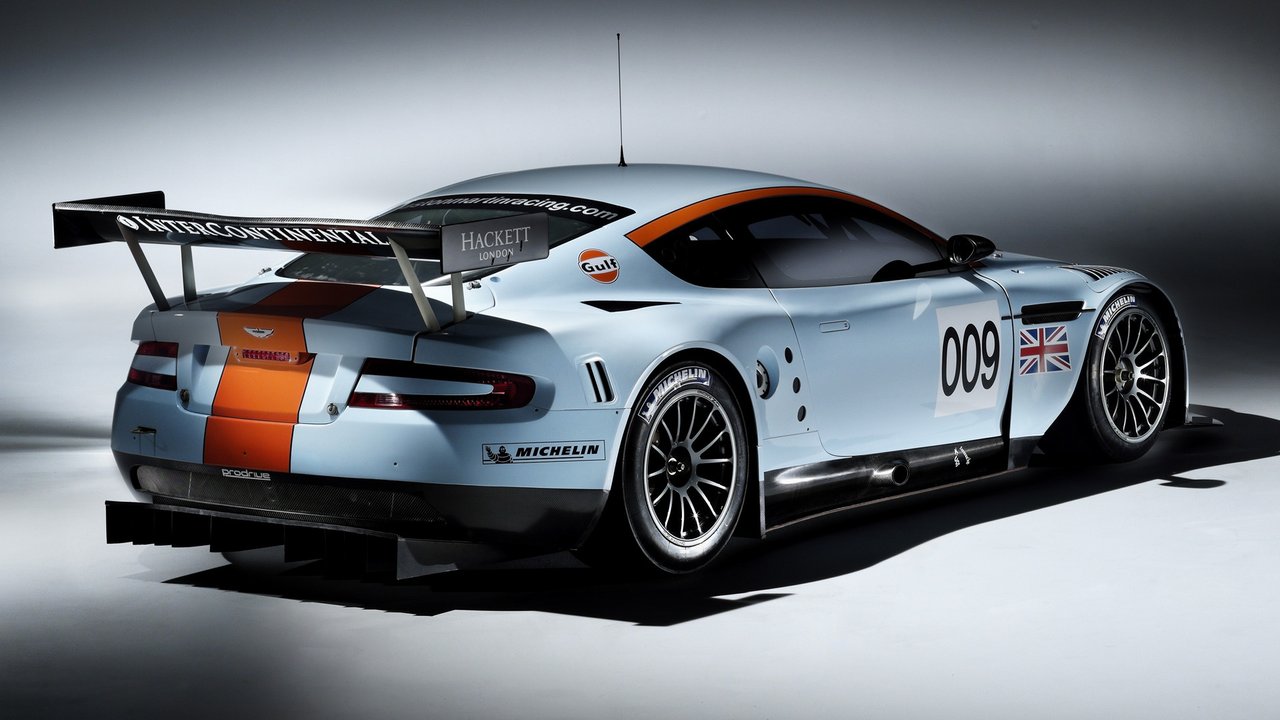 Credits to: QD1024, Stuart Boote | Behance, and CarPixel
Finally moving into the 21st-century, we have the most successful of the racers here, at least so far. This livery is inspired by the DBR9 endurance car, with its world-famous Gulf Oil racing colours. You might be familiar with this pattern, as it was painted on Steve McQueen's Porsche 917 in the 1971 film, Le Mans. More recently, the iconic Ford GT40 in Ford v. Ferrari was also sponsored with those colours, with its iconic sky-blue base, and orange stripes.
Based on the stunning DB9, its racing version was christened to pay homage to the DBR1, and from its first outing it was worthy of that name, and for wearing the Gulf livery. In the 2005 Sebring 12-hours, the DBR9 handily won against the dominant Corvettes, on its debut. After a couple of years of problems, it came back again with its head held high to win the 24-hours of Le Mans in 2007, and again in 2008, both times topping the GT1 class. Sensual to look at, and equally orgasmic to hear that naturally-aspirated V12 sing.
---
The Next Generation | GTE.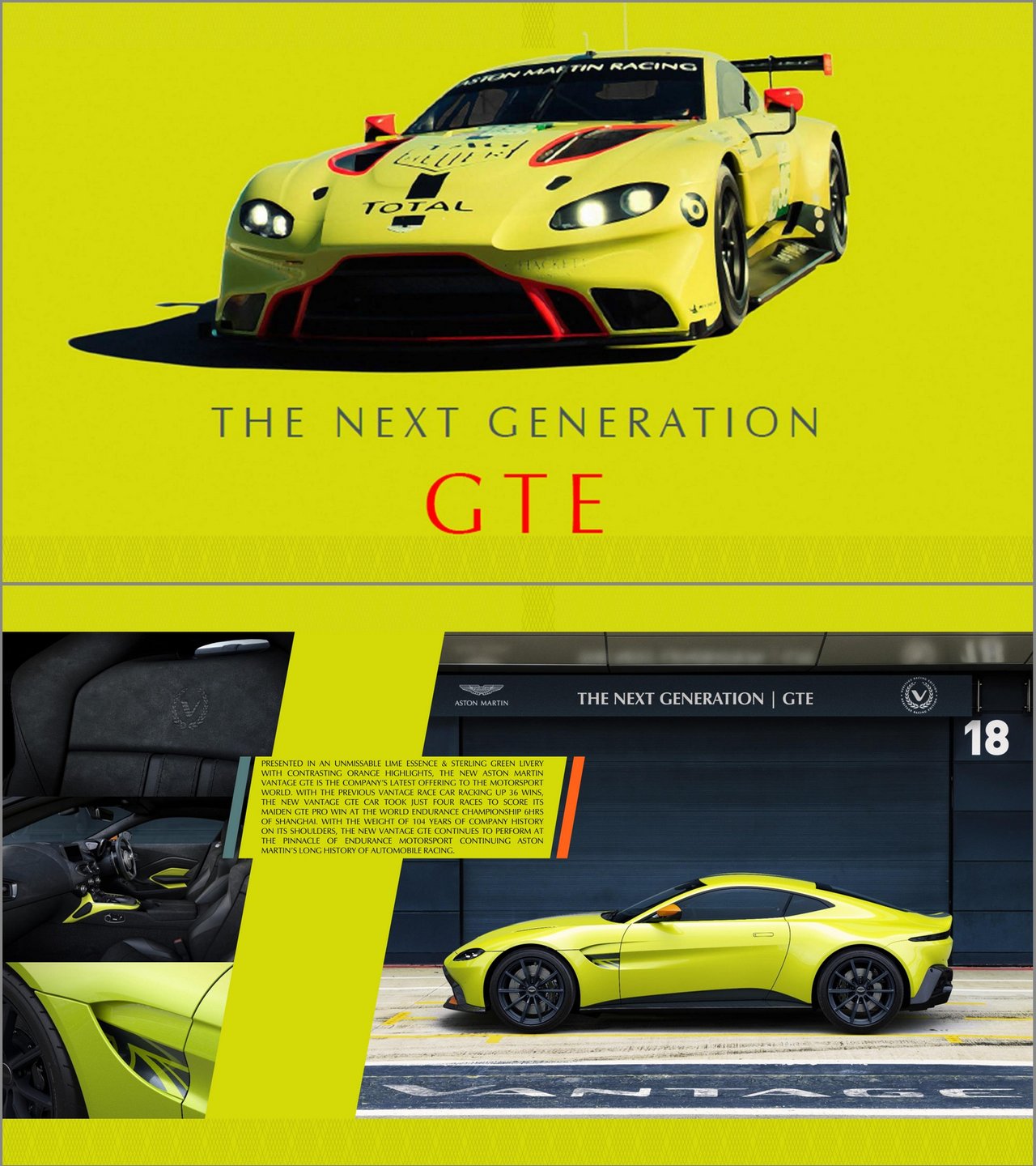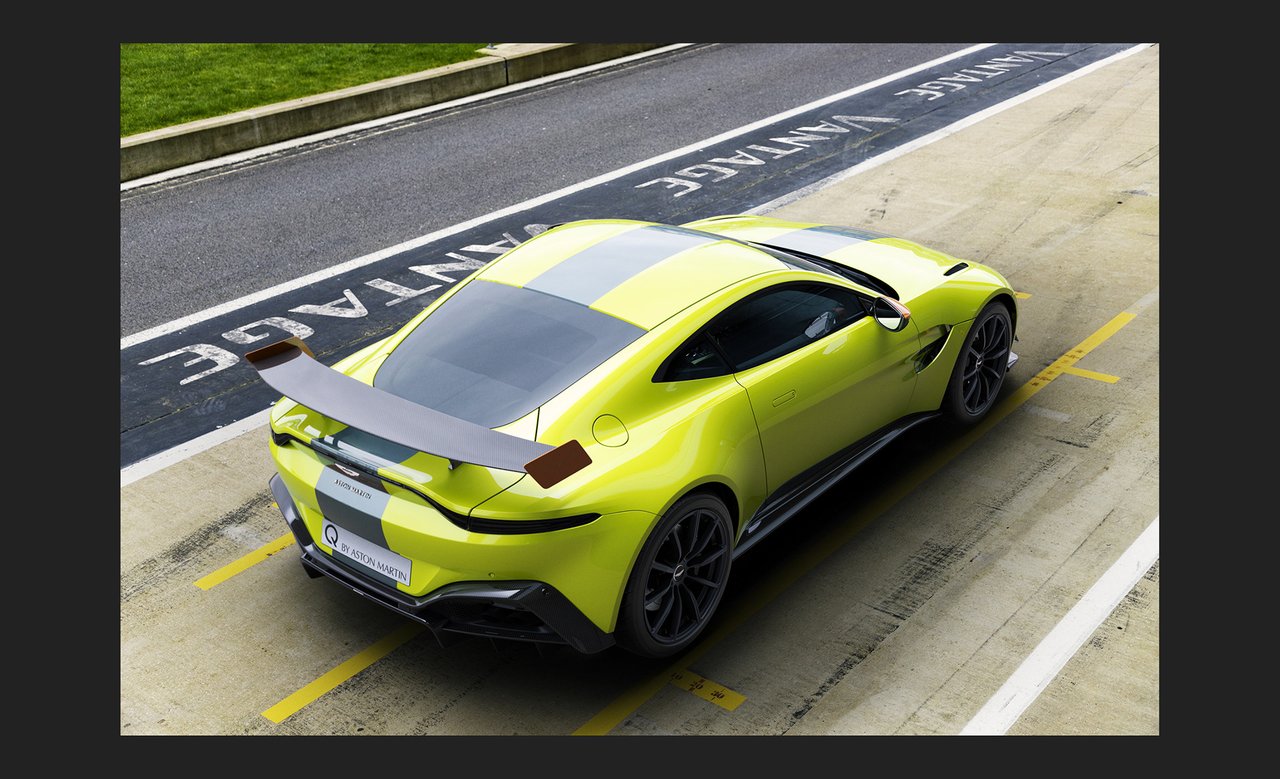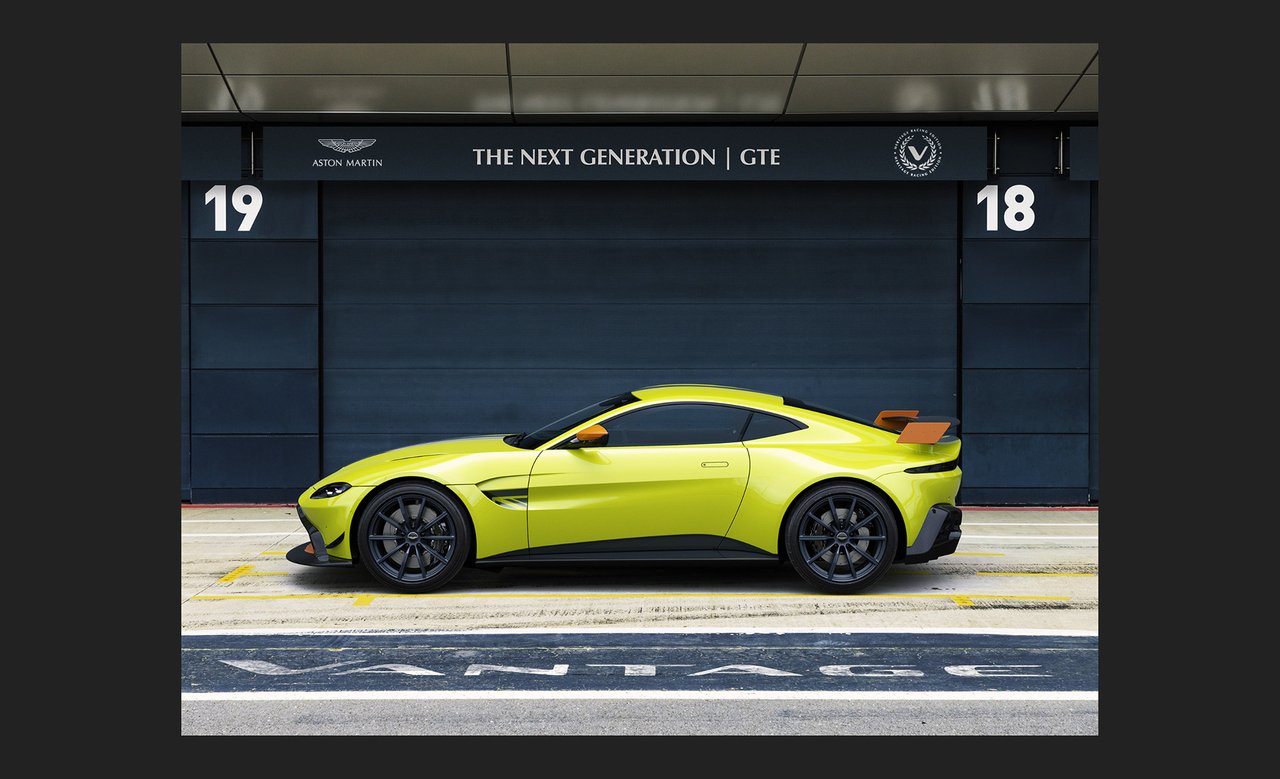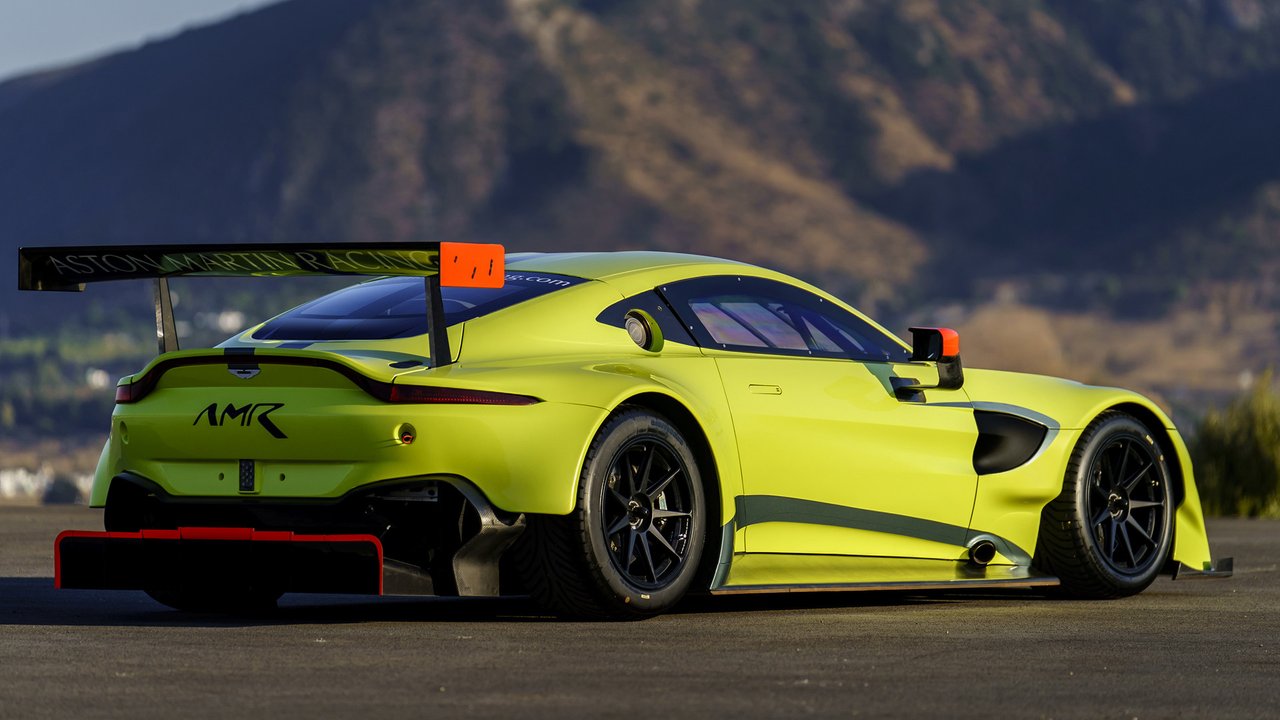 Credits to: QD1024, Stuart Boote | Behance, and CarPixel
Finally at an end, we have a Vantage who's livery is inspired only by itself, paving the way to the next generation of race-cars. Following Aston Martin Racing's new colours, this Vantage is painted in a very vibrant Lime Essence, or what I call, Highlighter Yellow. Not my favourite, but it certainly helps this car to stand out from the rest, highlighted with Sterling Green stripes, and orange accents.
The GTE was developed, and launched alongside the road-going Vantage, and it's currently the standard-bearer for a continued participation in endurance racing since 1928 - a passion that created many of the legends here. With a high-bar set by the previous Vantage, it's already proving to be a strong competitor in its infancy, with a fourth-place overall win in the 2018-2019 World Endurance Championship. Hopes are high, and even when constrained to the digital boundaries of racing simulators, the GTE is worthy to carry that bloodline.
---
---
The Grass Can Be Any Colour.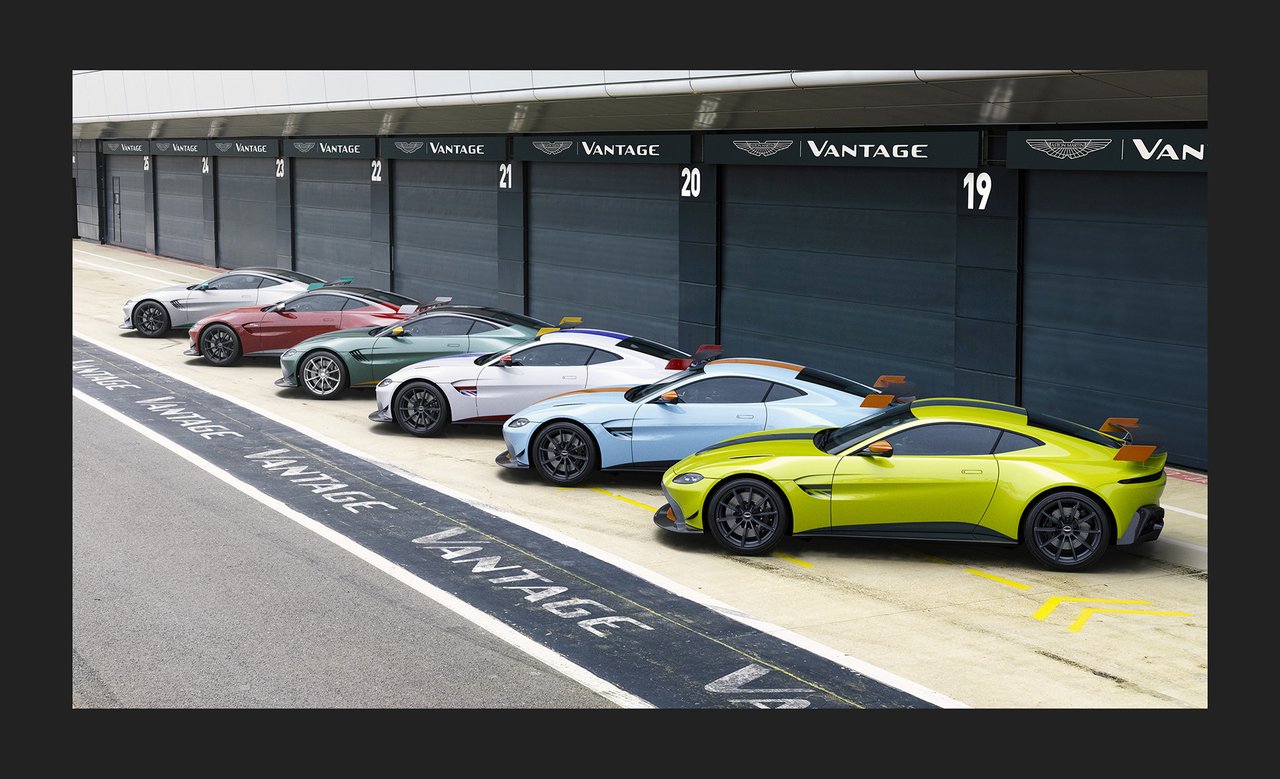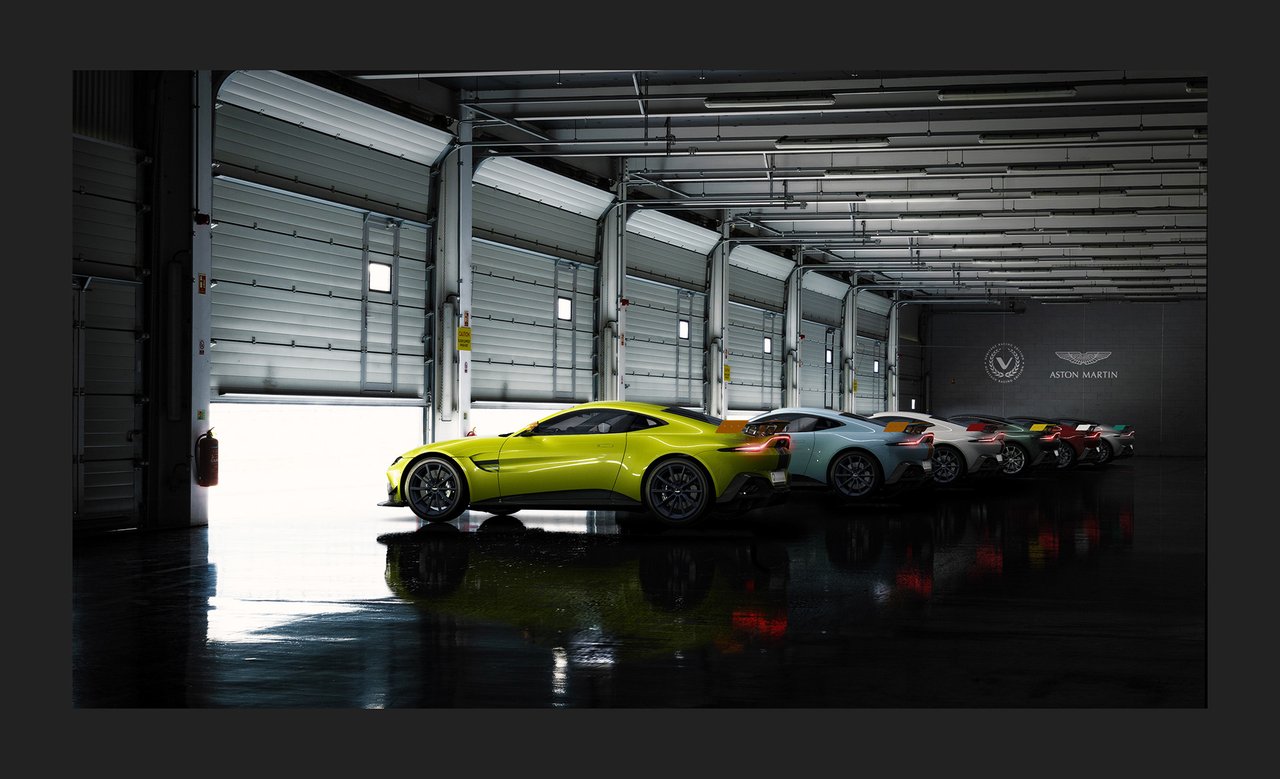 Credits to: Stuart Boote | Behance
That then, is the entirety of the electromagnetic spectrum covered, with cars in a variety of colours and combinations. Did you know that 80% of cars in the world are in greyscale? That's black, grey, silver, and white. There's nothing wrong with personal preference, and admittedly, monochromatic colours do match well with every car, and for all occasions. But it strikes me as a bit sad, seeing an ocean of the same four hues. Wouldn't it be great to have some variety every now and then?
Even in the most humble hatchback, it can bring a liveliness that's missing, imagining it in a shade of bright red, sunny yellow, sky blue, or any other of the millions of colours that passes for a visible wavelength. I'm currently standing firm in the Almond Green camp, though I'd like to hear which one of these liveries are your favourites, or to know more about your favourite colours in general? Perhaps, I might be tempted to go back to yellow, once again.
---
---
Thanks for reading! For more updates on my blogs, or the more minute things in life, feel free to follow me on Twitter, LinkedIn, and Medium, and maybe give a shout there as well!
While you're at it, follow along ZackNorman97 for more, coming soon :-)