For those of you who might have missed it. Flux has been in the news lastly. Among other reasons for them joining forces with Terra. If you missed this, you can read more about that here.
Now to the main part of this article. The Flux parallel airdrop. What is this you might ask? Well let me tell you. On May 5th, Flux will take a snapshot of their blockchain. They then will make an airdrop based off of how much Flux you have at the time of the snapshot. This is because Flux is creating two, yes you rad that correctly. Two parallel assets; Flux-Luna and Flux-Avax. There are however some steps you have to take in order for you to be eligible for this airdrop.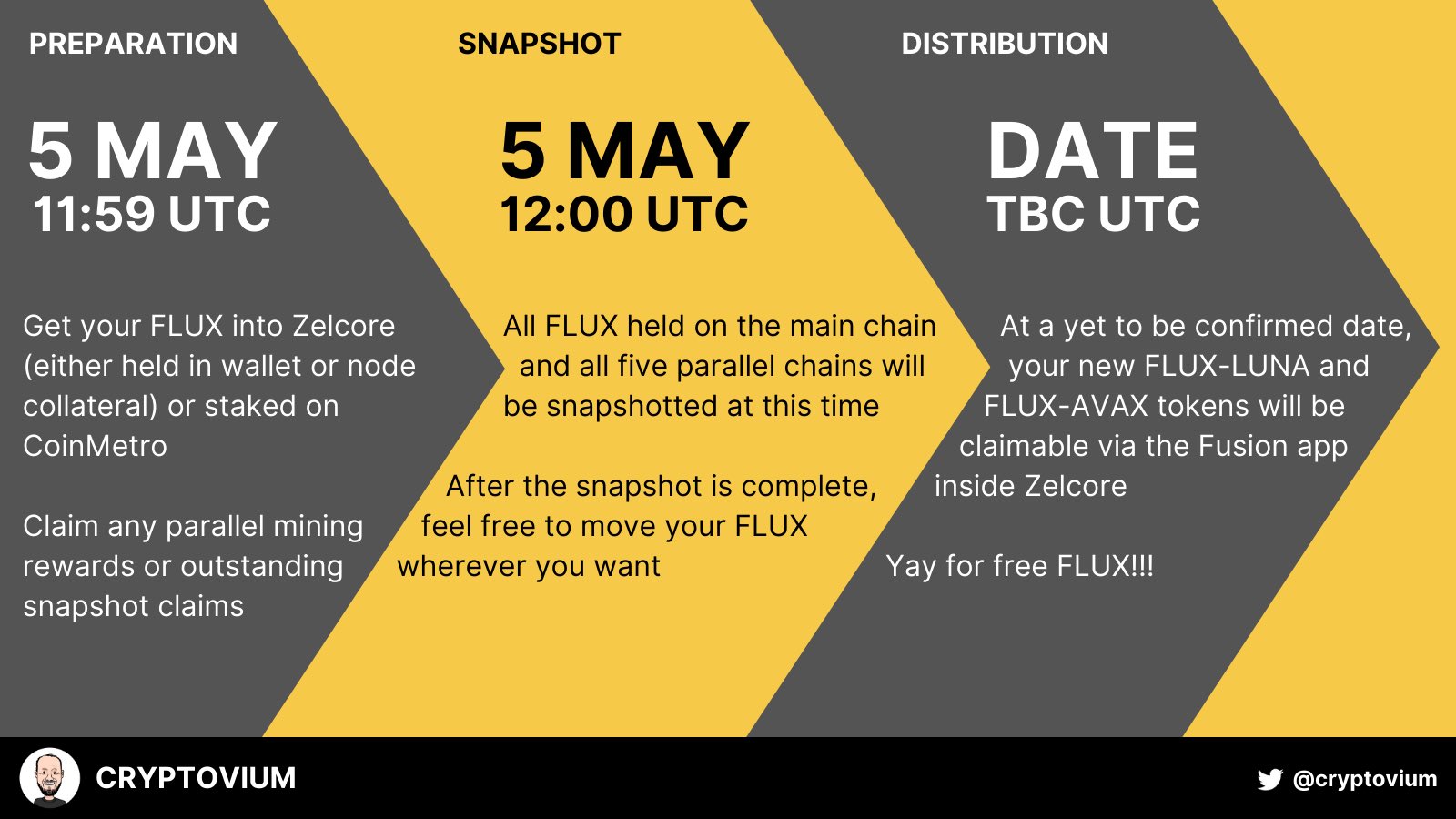 So you need to have your Flux either in a Zelcore wallet or staked in a CoinMetro wallet. And remember you need to have your Flux there by May 5th, 12:00 UTC. So that leaves you around 3 days to get your affairs' in order.
And the airdrop, is it really worth it, what is it you get? From the amount of Flux tokens you have in your Zelcore- or staked in your CoinMetro wallet. You will get ~10% of your Flux token, split between the two new Flux variants. So about 5% of each. And it is all free. The new coins will be on par with the normal flux. So you are able to swap them 1 to 1 as you like.
One thing to note however is that if you do not already have an account with CoinMetro. In order for you to open one you have to take part of their KYC process. Meaning you have to provide them with a from of identification. So this means the process can drag out a little. So You might not have time to open an account, transfer your Flux and stake them before the deadline.
If you are looking to get a Zelcore wallet, you can do so at their site here: https://zelcore.io/
If CoinMetro is more appealing to you you can use this link to get an account: https://coinmetro.com/?ref=patch (my referral link)
I almost forgot. If you are running your own Flux node. Then you are of course also eligible for the Airdrop as well. So no need to worry if you are using your Flux to run a node.
If you have found this post useful. Pleas consider checking out my other articles. You can find them in my blog here and here.
See you on the interwebs!
The source of the picture can be found here: https://twitter.com/cryptovium/status/1520133823526277120