Cover Image Source - modified
I came to know about Atomic Wallet in 2018 when they completed their ICO successfully. The company was founded in early 2017 by Konstantin Gladych, former CEO of Changelly. Atomic Wallet is a non-custodial multi-coin wallet. It also offers immutable, cross-blockchain cryptocurrency trading. It created ripples in the market due to their cross-chain atomic swap technology. The desktop wallet works with Windows, MacOS and Linux. The mobile wallet is available in Google Play Store and Apple App Store. Like all non-custodial wallets, it needs unique paraphrase to generate your private keys. Atomic Wallet currently supports 500+ coins and tokens. It is an open-source wallet.
Being a jackass, I keep on experimenting with new blockchain products, so I've used quite a few multi-coin wallets. I hardly use a desktop in my leisure time and mobile wallets are more convenient to me for daily usage. Coinomi was my first multi-coin wallet. I really liked it. When it changed itself from open source to closed source in 2018, I started looking for other options. I've used Trust Wallet rigorously as I wanted a secured, multi-coin mobile wallet and its ability to 'automagically' show any ERC20 token owned by the user inside the wallet was a game-changer. Atomic Wallet previously had only desktop wallet. They launched their mobile wallet at the beginning of 2019 on Android and I've been playing with it since then. Trust Wallet Android currently has 1 million+ downloads. Its popularity rose after the acquisition by Binance. As an avid user of Trust Wallet, I was provoked to compare Trust Wallet with Atomic Wallet. Yes, I'll compare only mobile versions (Trust Wallet doesn't have a desktop version) and I'll try to rate them on a scale of 5.
User Interface
I really like the user interface of Trust wallet. It is light and very user friendly. Trust wallet has two colour themes. Atomic Wallet interface is cool but it can be better. It has only one colour theme. The winner is Trust Wallet with slight margin!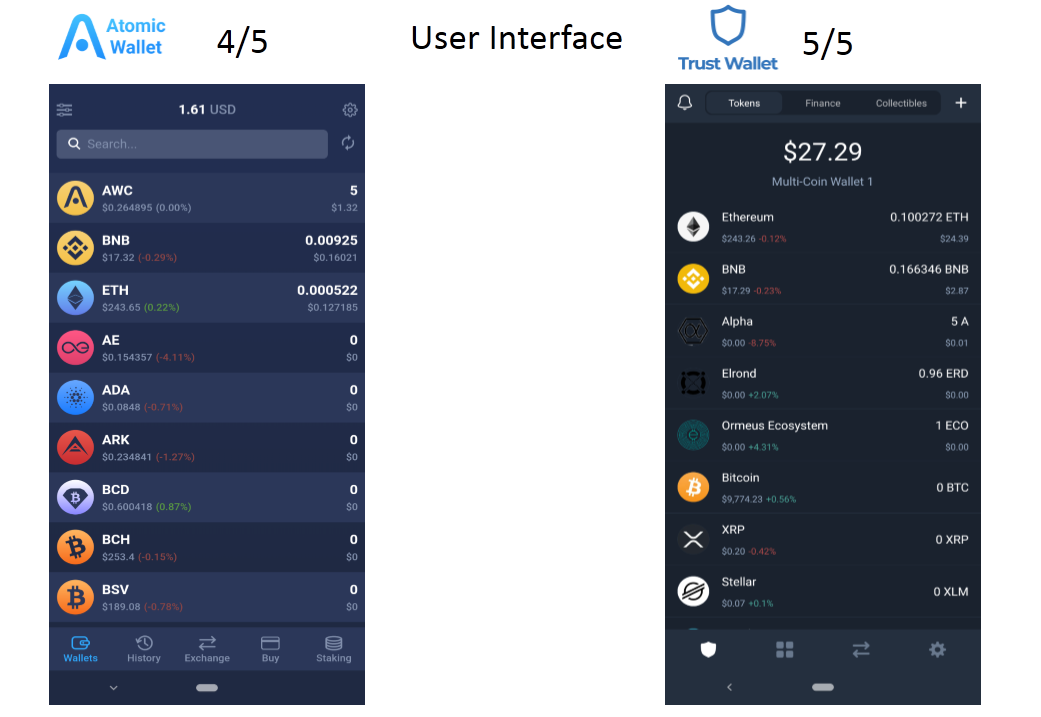 Primary Security
Trust Wallet uses passcode & fingerprint. Atomic Wallet uses fingerprint/face ID. Not much difference here. Call it a draw!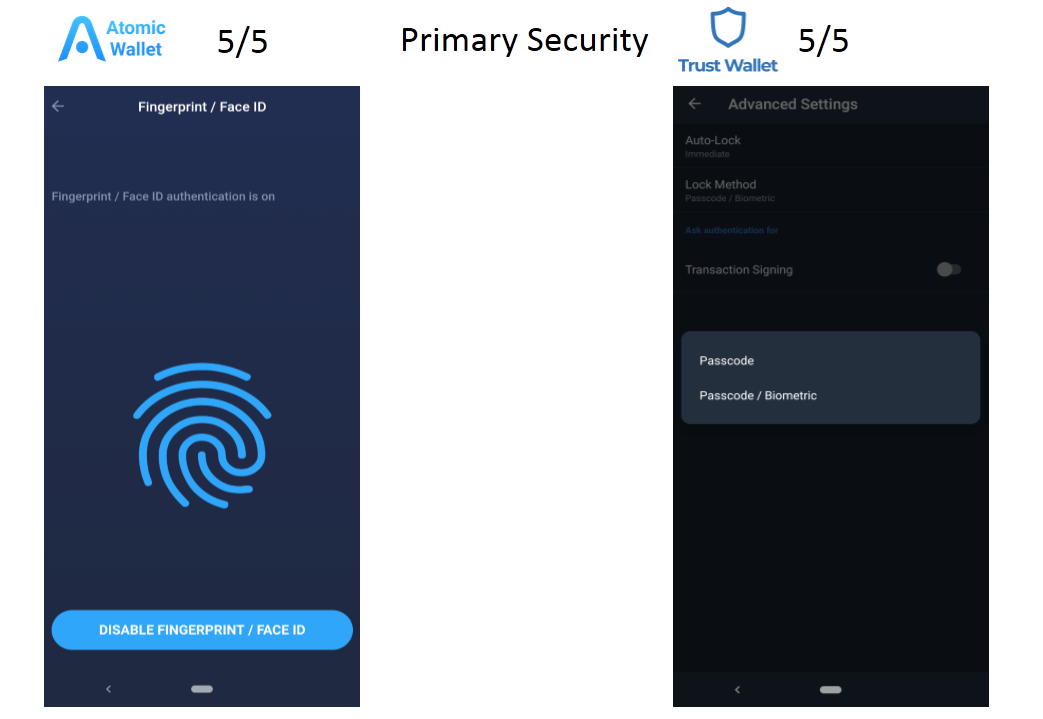 Tokens/Coins supported
Trust Wallet does not support many coins. For example, EOS mainnet coin isn't supported in Trust Wallet. Atomic wallet is a clear winner.


Automagic ERC20
This is the best feature of Trust Wallet. All ERC20 tokens appear automatically and you have no need to add any token manually. Atomic Wallet supports a lot of ERC20 token automatically but not all. The winner is Trust Wallet.


Transaction history
Both wallets show the transaction history properly. But Atomic Wallet has a separate history tab where you can view all coin/token history at a go. The winner is Atomic Wallet.

Swap
You can't swap ETH to BTC in Trust Wallet. You can swap to WBTC. But who wants Ethereum wrapped BTC? The clear winner is Atomic Wallet.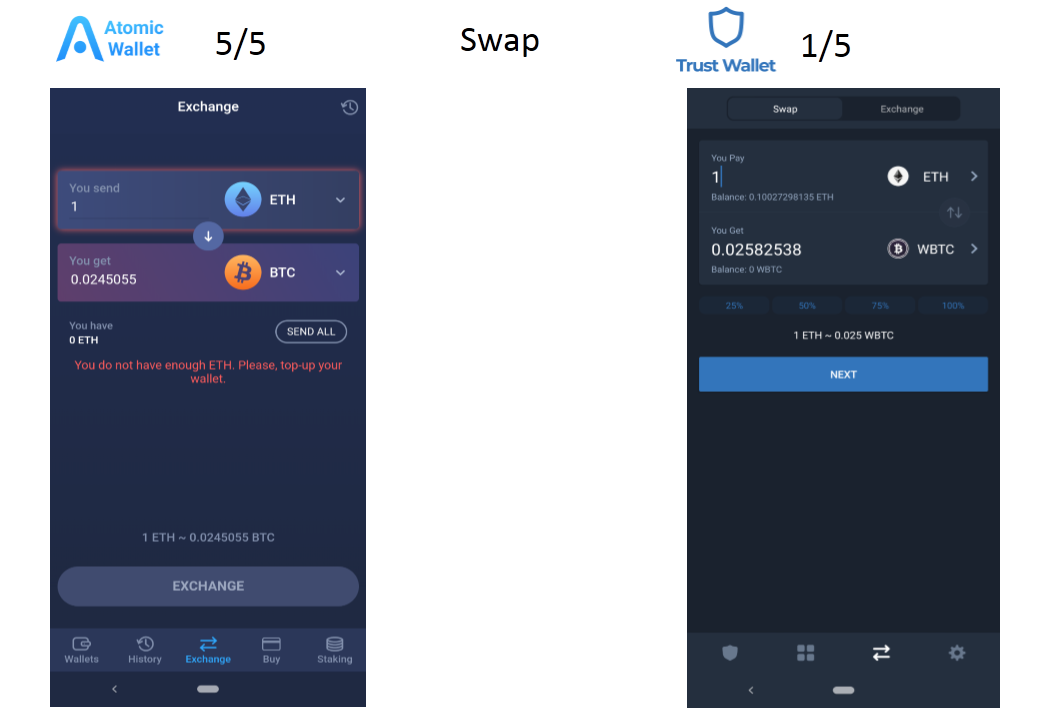 Web3 browser
Trust Wallet has in-built web3 browser. You can search and access any dapp. Atomic Wallet has no such feature. The winner is Trust Wallet by heavy margin.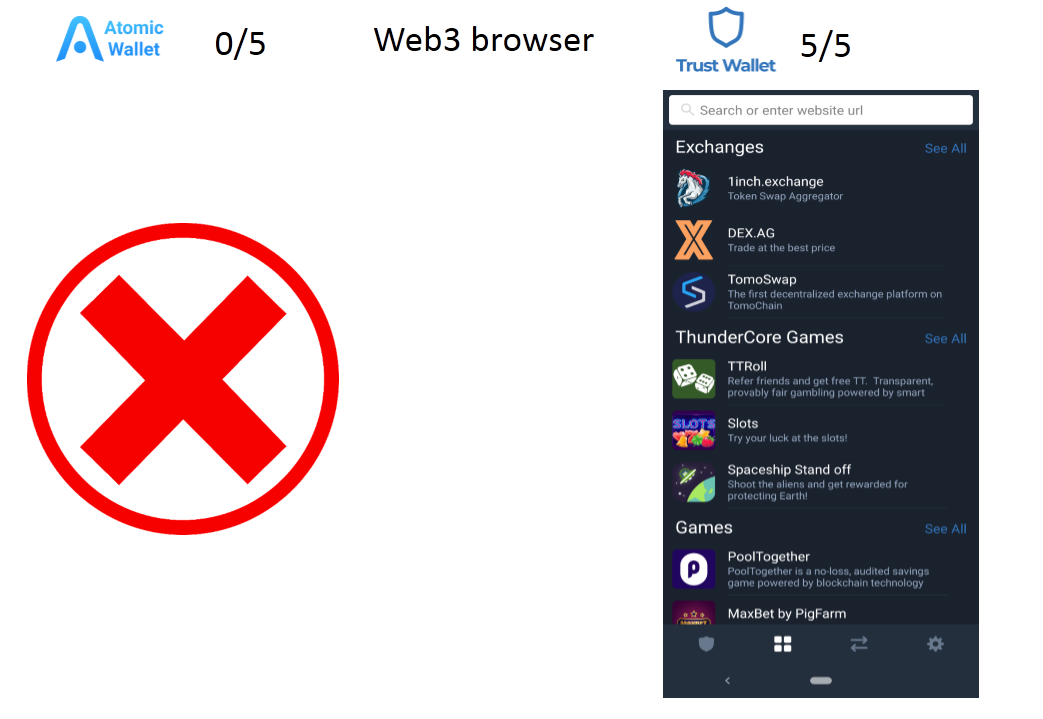 Exchange
Trust Wallet has an in-built exchange option with limited trading pairs and you can see the order book. It is not a very important feature when you can access several DEXs through web3 browser. Atomic Wallet has no such feature. The clear winner is Trust Wallet.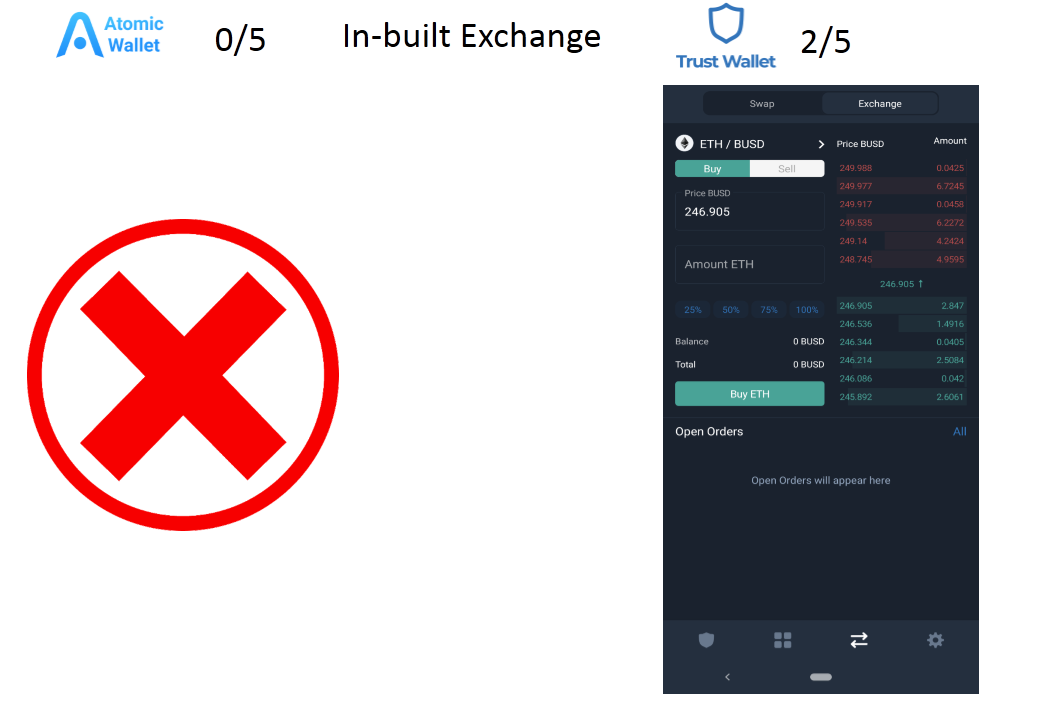 Buy Crypto by USD
Trust Wallet offers the service via MoonPay. Atomic Wallet offers the service via simplex. Both are offering a buying option through credit and debit cards. No significant difference of broker fee is there. Call it a draw.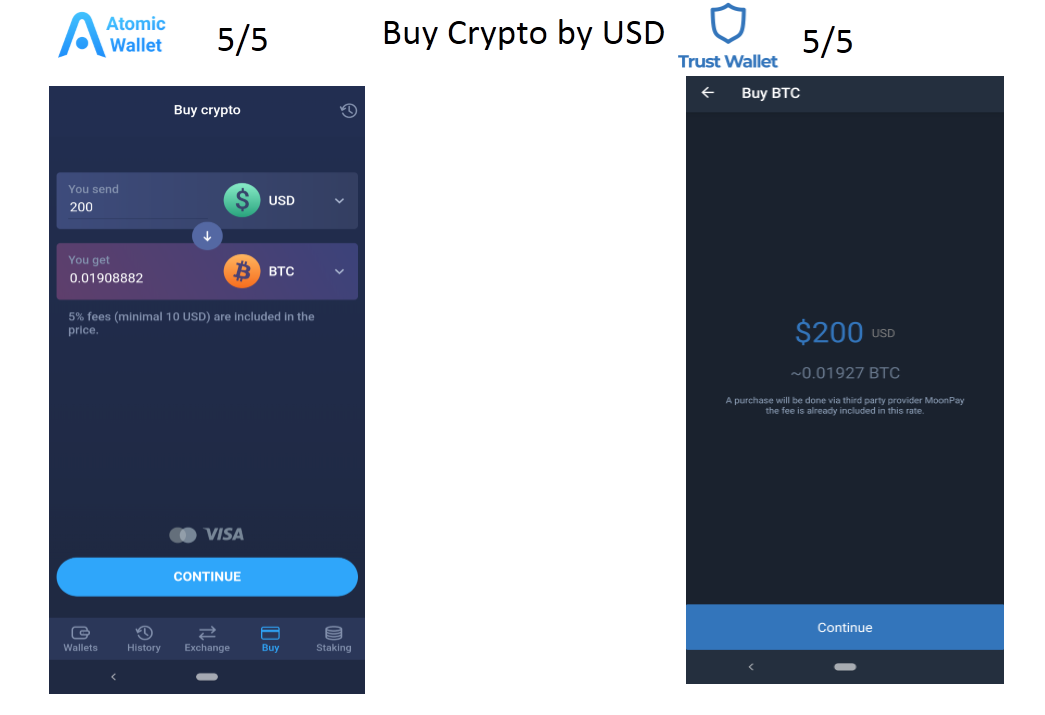 Staking
Both wallets are offering staking service for several coins. Trust Wallet offers 5 staking options whereas Atomic Wallet offers 9 staking options. Staking APY is higher in Atomic Wallet than Trust Wallet. For example – You get 5% APY for staking TRX in Atomic Wallet when Trust Wallet offers you only 0.74% APY. For ATOM, Atomic Wallet offers 10% APY whereas Trust Wallet offers 7.21% APY. The clear winner is Atomic Wallet.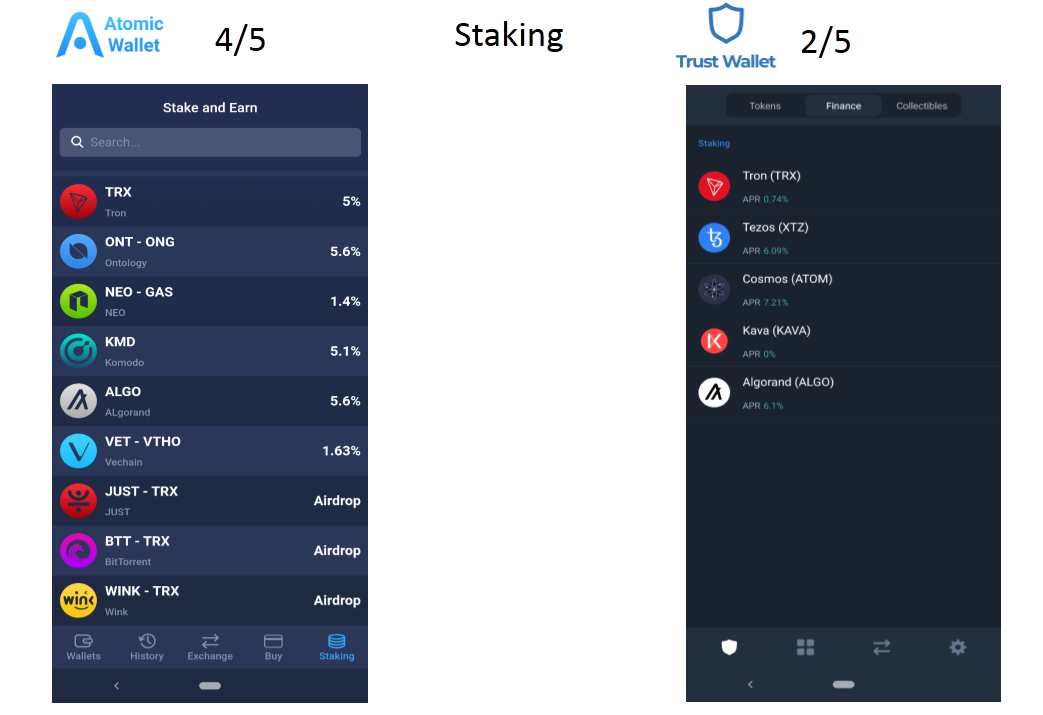 Wallet connect
Both the wallets have wallet connect feature to log into desktop dapps by scanning a QR code. Call it a draw again.

Collectibles
I store some crypto collectibles in Trust Wallet. It supports many. Atomic Wallet doesn't support crypto collectibles. Here the winner is Trust Wallet.

Private keys
Trust Wallet doesn't give you the private keys of all coins. It gives you only one private key for the multi-coin system. It is a problematic feature of Trust Wallet. Many forks and airdrops need you to import your private key into their system to claim your coin. For example, if you own BTC in Trust Wallet, you can't claim HEX which is being given free to the BTC holders as per the snapshot. HEX is a probable scam but that isn't the issue. Not your keys, not your coins. Sorry, Trust Wallet. Thumbs down for you this time. Atomic Wallet wins as it provides you with the private keys of all coins. This is a great feature of Atomic wallet.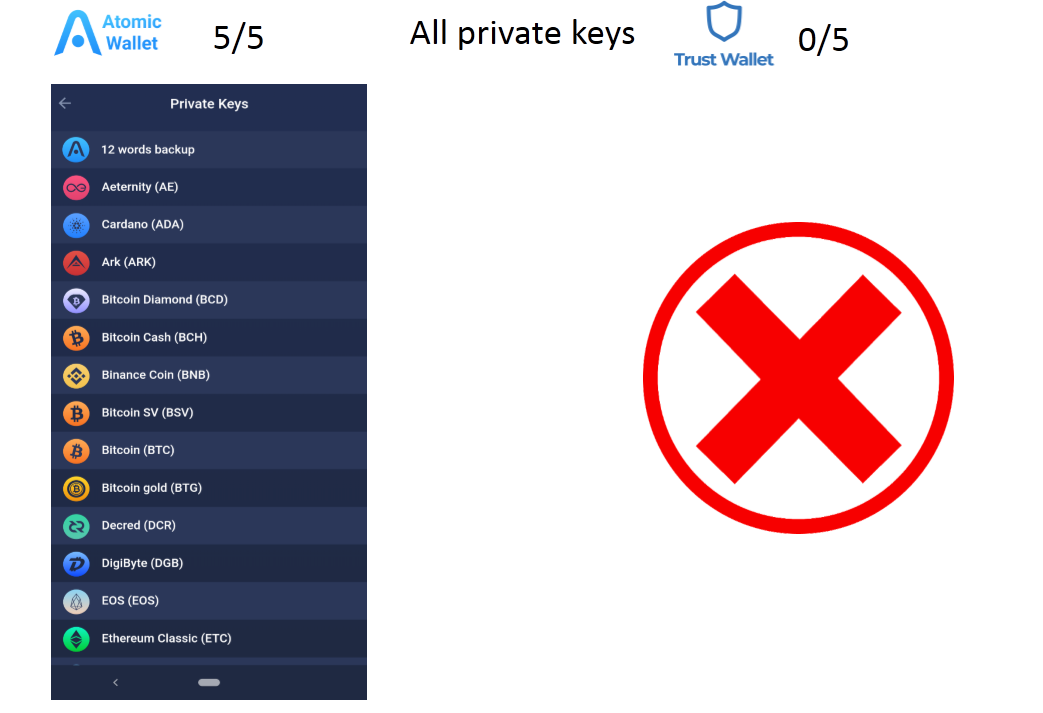 Native wallet token
AWC is the native wallet token of Atomic Wallet. It serves as an internal currency for Atomic Wallet users. 50% AWC is available on Ethereum blockchain and 50% AWC is available on BNB mainnet. Atomic Wallet has a membership program which offers cashback for every exchange you make for holding AWC in the wallet. The more AWC you hold, the more rewards you get. You can stake AWC at 20% APY staking return within the mobile app without any membership also. AWC is listed in Binance DEX & Idex. Trust Wallet has started to distribute their TWT (ERC20) token recently through various promotions but TWT has no known use case now. The clear winner is Atomic Wallet.


Trust Wallet and Atomic Wallet both can be trusted. Both are extremely user-friendly but I found that Atomic Wallet had a slight edge over the other. A blockchain agnostic multi-coin wallet has tremendous use nowadays. Atomic Wallet can be a killer product if it includes a few features like a web3 browser and support to crypto collectibles. If you like the post, feel free to share your feedback in the comments section.

Download links
Cheers!
[paragism]
Note: The images (if not cited) are generated by the author from screenshots. You can follow the author on twitter.