Social media was meant to be a platform where its users meet new friends and still interact with old ones. Things changed up a bit as the years went by. Website owners have now taken advantage of social media platforms as a tool where they gain traffic to their websites. As if that isn't all, online Marketers turned Social media into a platform where they now sell both their digital and physical goods. In fact, a lot of Social media users are now aiming at not making friends on social media but to make money from it. This led to a new definition of Social media; where users can earn with content s, or for their activities. The change in Social media network proves how Science and Technology have developed. This shouldn't be a new line to your hearing because we've seen how project owners are creating platforms that will definitely beat or had already surpassed the old type of social platforms.
Why are the latest types of Social media platforms the best?
This is simply because, its users are able to earn an income with their contents, or activities. Unlike the old type of Social media where the Influencers are the only users earning for advertising for brand owners.
Since after the new age of Social media platforms got into existence, we've seen lots of users switching from the old type of Social media to the Social media platforms on the Blockchain technology (where they earn even with their little Influencing power). Not only the ordinary users are leaving, but also the top influencers with high influencing power are also switching to Social media platforms on the Blockchain.
The big question for this paragraph is, What Now Happens To Their Old Social Media Accounts?
Well, it isn't a waste because there is a platform with its name as Snaxwhich lets both the users on Blockchain and off Blockchain earn with their social activity. With this platform, users can now earn Snax token with their different Social media accounts.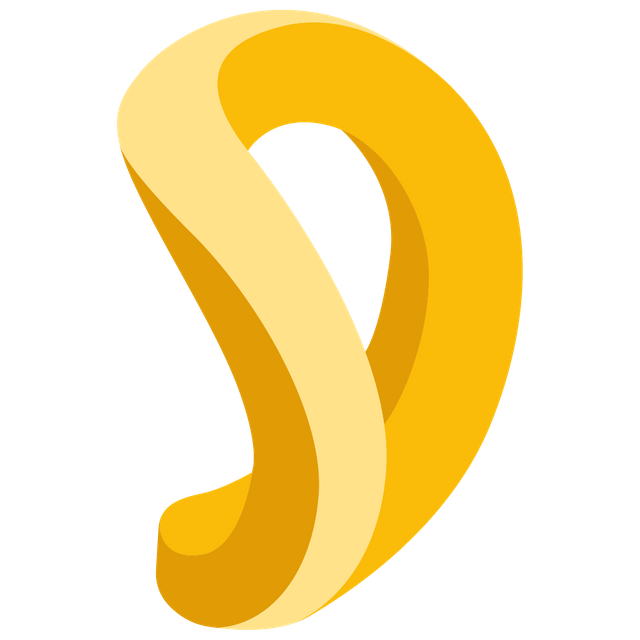 What Is Snax?
The definition I gave it in the previous paragraph wasn't a bad one. However, the project owners had given their project one of the best definition which truly defines how Snax functions.
Snax is a blockchain platform. It was created for people to receive rewards for their social activity (tweets, Instagram posts, and so on) and to make instant free micropayments without leaving their favorite social platform. Developers can use Snax blockchain to create decentralized social applications (social dApps). Source
How Does Snax's Landing Page Look?
After I accessed its URL, I had no choice but to include it to the list of best landing pages I have ever come across on the net. Snax's landing page is one of those pages to visit if you have zero knowledge of how Snax works. Apart from the information provided on its landing page, its background UI design is amazing. The background and contents colors are part of this thing that impresses me. I have always preferred a dark theme color to a white one. But, Snax has a dark blue background color which isn't bad either. The screenshots below are the parts of the interfaces that displayed as its landing page loaded.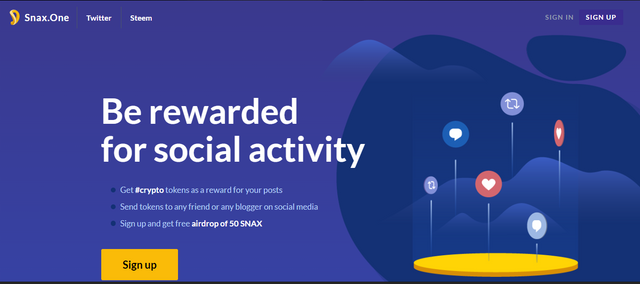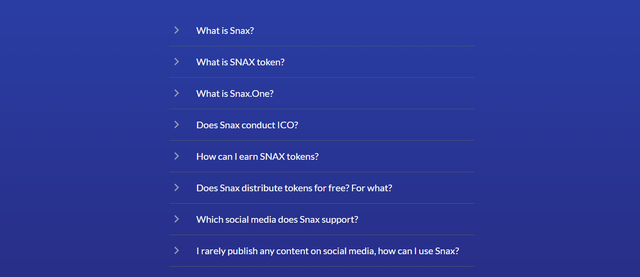 From the homescreen, you will notice that it has the required buttons for new, and old users to create or login to their accounts. The three key points of how the platform works are already stated on the same page. Also, the section to learn more about the platform is located at the bottom of the homescreen.
I also love the fact that the homescreen is mobile friendly. Although, mobile users cannot use any of the platform function because it requires a browser plugin to be installed. The screenshots below are the two interfaces showing how the page loaded on a mobile device, and an interface showing that its functions require a computer.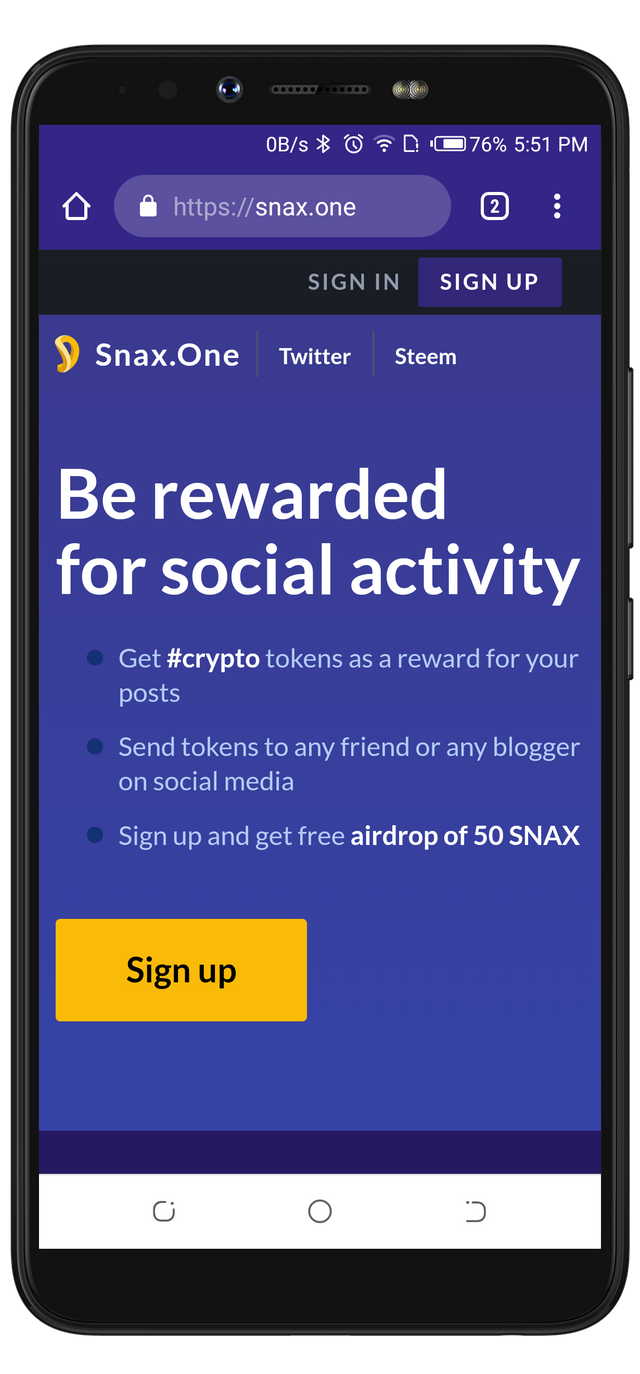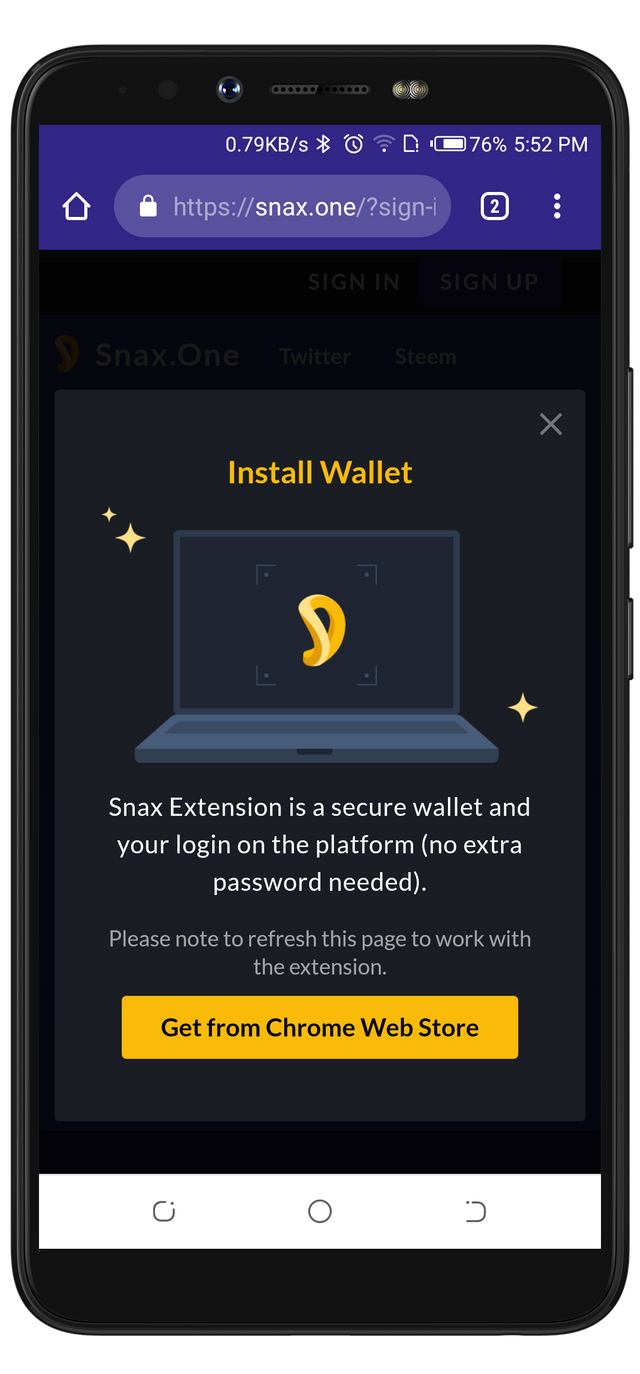 Be Rewarded For Your Activity
By now, you ought to have known that Snax is a platform that will reward you for your social activities on your favorite social media platforms. One of the aims of Snax platform is to reward users on social media platforms like Facebook, Twitter, Instagram and so on. But at the moment, they only support Twitter and Steemit.
If you are a user of these social media platforms already, all you have to do is to create an account with Snax.io, and then link your social media accounts with it. For this to be possible, an extension is required to be installed on your browser. The link to install this plugin was displayed when I clicked on either the link to sign in or sign up.
After I downloaded the plugin, It then asked if I want to create a new account, or I already have one. The two options are easy to use. It requested only a password and instructed me to save the secret phrase to my wallet phrases.
How it behaved while I tried to log in to my wallet
This process wasn't strange or difficult to complete. It requested for the wallet password, and the secret phrase to import my wallet. The screenshot below is an interface of the plugin displaying my wallet address (this means my wallet was imported successfully). Connecting my account was one of the simplest tasks I have ever completed.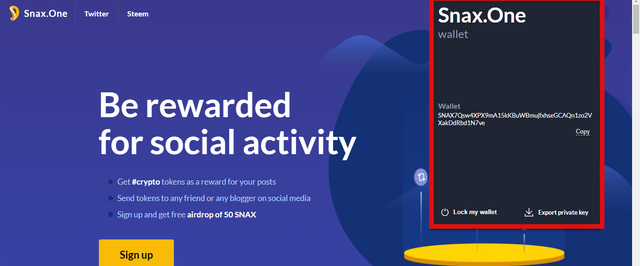 Linking My Twitter & Steemit
The interface I was expecting at this point was a page to simply link my social media accounts. But the interface I got was requesting that I create a username for my Snax account. I'd have loved it if it requested for my username while it requested for my password from the previous paragraph. Apart from that, everything worked out as expected.
To successfully link your social media platforms with Snax, a confirmation post is required. After I did, it detected the tweet, and the steemit post automatically. This is one of its awesome features that I love. The two screenshots below are the interfaces displaying before, and after I linked my Twitter and Steemit accounts.
Before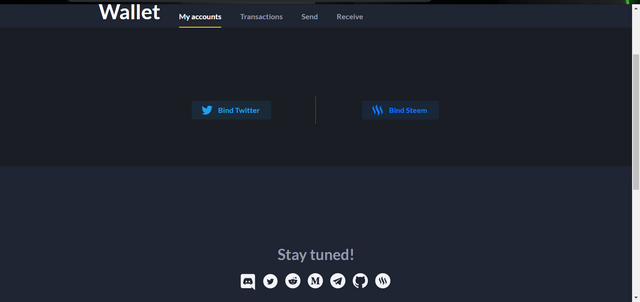 After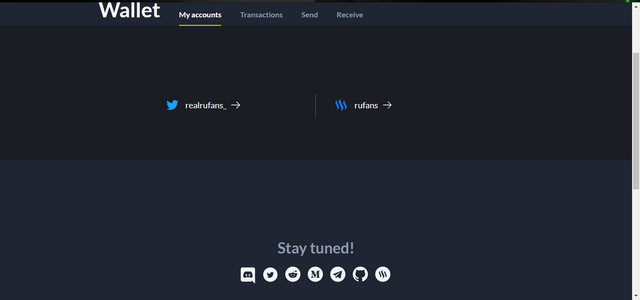 After registering, and binding my accounts, I got 100Snax tokens for the linked accounts (twitter & Steemit). The screenshot below is my transaction history displaying the 100Snax I received for linking my accounts.

---
Wallet
The wallet on Snax's platform functions as other wallets would function. We already know the basic function of a wallet as it's meant to hold the user's tokens. A wallet is also an interface where users can transfer and receive tokens from other users. All of these functions are available on Snax's wallet interface.
One of the main function of a wallet is to be able to complete a transaction (both transferring and receiving of tokens). With Snax's wallet, users can send and receive tokens to other users from the wallet interface.
There are four options on the wallet interface. And they are;
My accounts
Transactions
Send
Receive
The image below is a screenshot displaying an interface while I was transferring Snax token to another user.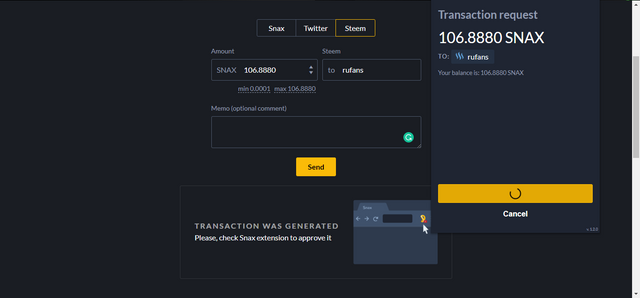 One of the uniqueness of this wallet is the feature that allows its users to transfer tokens to Snax, twitter, or Steemit handles easily.
Conclusion
It's time everyone starts earning with their social activities, as Snax is the right platform that rewards its users for using their favorite Social media platforms.