One week of World Cup Football is gone, and this took my focus from Crypto. I think I checked CoinGecko less then 10 times last week, and slacked on the couch for hours. I am curious if my mobile screen time will get lower then usual. Are you ready for football related sarcasm and just a little pill of crypto news?
The Qatar 2022 World Cup is the last big stage event that Cristiano Ronaldo and Lionel Messi will share, and their last chance to lead their teams towards the ultimate crown. It's the final boarding for the GOAT(s).
I don't have a favorite in the Messi v Ronaldo debate, as both are GOATs. Just to mention that Cristiano is the first ever player to score in 5 different World Cups. He started in 2006 and marked the record with his goal against Ghana. He still has at least 2 games to add more goals to his impressive career. 
Speaking of GOATS ... been to a farm and this dude was posing at people! I had a paper cup with food and the dude stole it from my hand, spilled the food and eat the paper cup.
One of the things that shocked me was the additional time... with some insane numbers added at the end of each half. England v Iran had 10 minutes added on the board but the second half was extended even more with the VAR debate over Iran's penalty. 
Another thing that shocked me was the upper class culture showed by the Japanese fans. They beat Germany and they cleaned up their sector before celebrating. They have a league of their own! RESPECT!
Expensive pints in Qatar, but free ones in a pub in London! Everyone can have free drink during all Italy and Scotland games at the World Cup! Are you in for a freebie? It's as genuine as telegram airdrops! 
Is it soccer or football? It's not even a debate as you can't call football a game where you pick an "egg" in your hands and run with it. It's called football because you kick a ball with your foot! Also the world cup will be watched by 1 bullion people while the Super Bowl audience was 114.4 million viewers. 
In case you are reading this from Qatar, make sure you use the right toilet! Keep in mind that rainbows are banned and you can get arrested if you are drunk in the community. Just imagine what will happen if you enter the women's toilet by mistake! 
The "One Love" rainbow armbands were a hot topic, as FIFA said a big NO. The teams idea to wear rainbow armbands in support of the LBGTQ community was banned. This came just a day after Qatar banned beer from the stadiums. However, Marmite launched a rainbow Elton John edition ... you either love it or you hate it!
There is a whole team of stars missing the World Cup, including Sadio Mane, Timo Werner, Paul Pogba, Budweiser or Reece James. I seen that the fans can buy a pint outside the stadium, in special zones, and pay 20 dollars for it! 
If the crypto market kept diving to new lows, I managed to pull a 4x on a tenner! Played some corners bets on Mexico v Poland, France v Australia and Germany v Japan to earn few quids.
Argentina and Messi wasn't as lucky as I was, as they lost against Saudi Arabia! This is so shocking as they had 23:1 odds at the start of the game and 67:1 after Messi scored in the 10th minute. Do you remember the Saudi NFT collection? MAX STAKING BROS!
It's a celebration, and football gave me a crypto break! Now tell me that Christmas is coming without telling me Christmas is coming. I just bought a Baileys' Yule Log as a weekend treat!
I got into festive mood while taking the children to McDonalds! Just give me that "Dad of the Year" award for the Elf Boss drawing. Worth saying that the McDonalds staff seen it and asked me if they can pin it on their event board ... and I accepted the free shilling. You want it as an NFT?
It's a Celebration ... Get Your NFT Advent Calendar! 
Crackers done it again ... the 2nd edition of his NFT advent calendar is out! There are 45 artist featuring in the calendar and you can get it until the 30th of November. The drops will start on 1st of December so hurry up! https://neftyblocks.com/collection/25daysofnfts/drops/143402
Crackers Christmas Tree looks like a palm tree... and don't get me wrong ... is nothing wrong with palm trees and the festive period. However, it's a reason why you shouldn't put Christmas lights on them. 
CakeDeFi joined the hype and will share wealth during the World Cup! Everyone is invited to predict the World Cup winner and win 1 Bitcoin! The  CakeDeFi World Cup campaign has two part, the group stage and the play-offs. I wrote and tweet about it and got a like from the CakeDeFi  account! 
Reddit World Cup NFTs for Everyone
Free NFTs for Everyone on Reddit! The Qatar 2022 Football World Cup are still available for both new and old users. Log in/ Create an account then click "Stylish Avatar" from the account tab, then select any of the football national teams or the Earth avatar and claim it.
You will need to create a vault for your Avatar, and set a strong password. Make sure you remember the password, as it can't be recovered or changed. The password acts as a seed-phrase. Once the Vault is created, the NFT will be minted. Will take few minutes until will be available on-chain, with unique number and ready for transfer on the Polygon chain.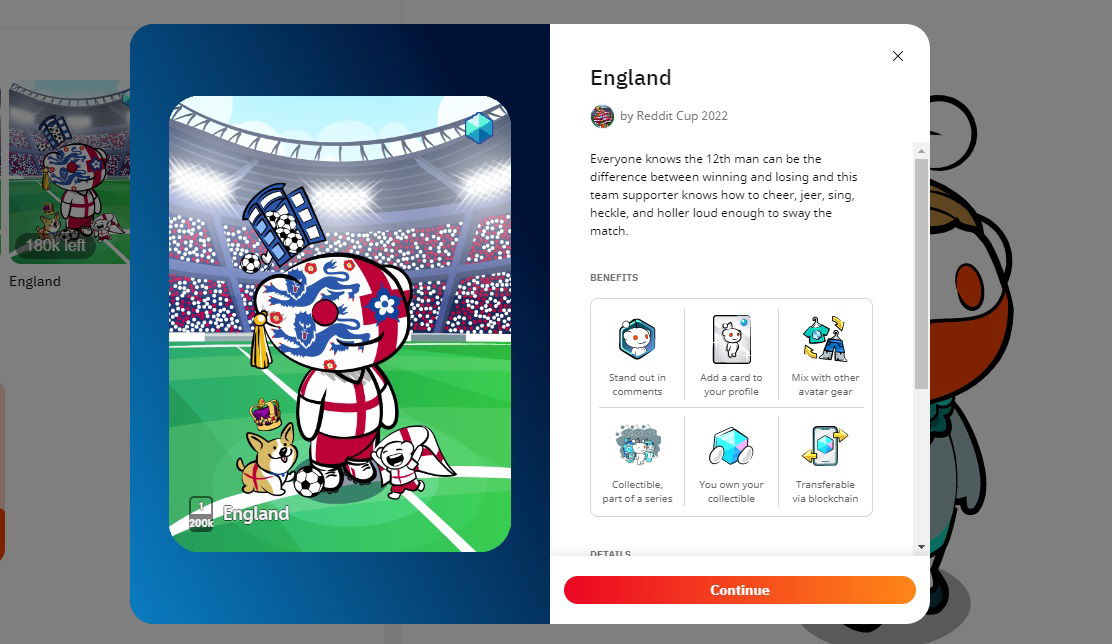 Club1BCH World Cup Fantasy Football - Qatar 2022 will be crypto-amazing
The Club1BCH Global kicked off in style and 11 managers joined the event. This competition had a 0.05 BCH entry fee and this raised the prize pool to 0.55 Bitcoin Cash.  League updates will be posted via noise.app, noise.cash, Publish0x, ReadCash and Twitter.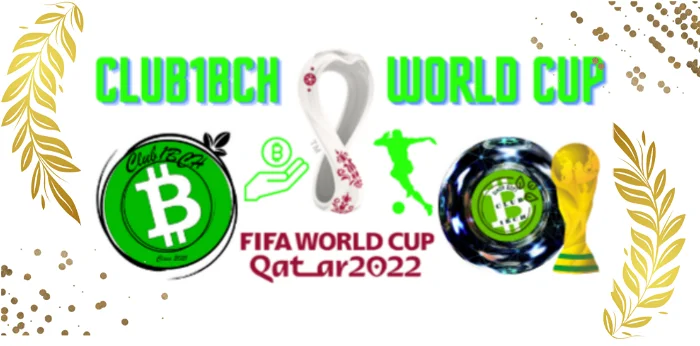 The top 3 managers will share 90% of the prize, while 10% will go to charity through TheGivingBlock. The Konra Kingdom will sponsor the event with SmartBCH tokens and entered a team to enhance the charity donation. If the Konra team will finish in the Top 3, when the prize will go to charity. Japi and HappyBoys took an early advantage in the competition. 
If you wanna play just for fun and virtual glory... PVM Entertainment and Leisure has you sort it! The P0xBros League is free to play so join and show me your skills! However, virtual glory comes with little $AMPL prizes and one Humble Tractors - Hey! NFT (valued at $5). You can join at any time:  https://play.fifa.com/fantasy-classic/join-league/6AHPMTEU
The P0x Fantasy League winner will be credited $5 worth of AMPL, the runner up will win $2 and the third place will get one dollar in Ampleforth ... directly in your Publish0x account. The only criteria is to join the league with an username that will match your P0x user.  
Japi is the leader after the first round of matches, with me chasing him up. Carabageac94 is completing the podium and adereign on forth. Thomas and DiceCrypto earned enough points to challenge the leaders in the next round.
Nomis Protocol - Scoring and Credentials for Better DeFi Products
I said I had a crypto break, but that was only during the football games. The hustle never stops and a man must provide for his family. The Cryptoverse exploration continued and I found Nomis Protocol, an open-source wallet scoring and credentials protocol created to helps on-chain developers to build better Web3 DeFi products. Every transaction and on-chain data is collected and shaped into credit scores. The date can be use the history and reputation for better DeFi lending terms.
Nomis v1.2 can be used to check your wallets score and on-chain reputation based on DAO activity, NFT credentials, age and transaction history. My Ethereum activity is small, and my Nomis score is only 43.

DeTa Secure - Your Trusted Web3 Cyber Security Advisors
Want to enhance your business? DeTaSECURE is a full-stack cyber security firm awarded by Polygon, Solana, and ETHNYC that helps both web2 and web3 companies with all of their cyber security and audit requirements.
They provide a wide range of services, including smart contract audit, web/mobile application security audit, penetration testing, data breach discovery and analysis, threat modeling, and employee security awareness training. Along with the services, DeTaSECURE also offers a SaaS platform called GETSecured for automated audit and data breach discovery in a simplified and affordable manner.
Overline Network keeps innovating... with treats and ōCash as rewards for daily login. If you didn't claim your Free Overline NFT ... you can still do it and if you did... don't ignore the daily gifts as they can land some good companions and structures.  The ōLand represents a form of ownership in the  Overline's wireless network, where the ōLand owners will receive crypto rewards from wireless activity.
Crypto love for you all that reached the end of the article! I minted The Last Supper last week and it's available for you all! Collect it for free on Showtime! You never know when your last meal will be so enjoy the festive dinners and leftovers with the same passion. Live a life to remember! 
Let's forget about FTX and FUD, about bear market and crypto panic ... let's enjoy the Qatar 2022 World Cup! The Biggest Sport Event Of The Year Has Started in Qatar and may bring a crypto break and chill time to many of us! Check the other articles from the Sarcasm Saturday series and enjoy the weekend!
Sarcasm Saturday #1 - How bad was the dip of the dip?  
Sarcasm Saturday #2 - From "To the Moon!" to cockroach mode!  
Sarcasm Saturday #3 - WTF is wrong with 2022?  
Sarcasm Saturday #4 - The Positivity Monster and the Bear Market
Sarcasm Saturday #5 - The night is long and full of terrors!
Sarcasm Saturday #6 - Rude Crypto for Blockchain OGs
Sarcasm Saturday #7 - DOGE, Doctors and Dementia
Sarcasm Saturday #8 - The Peculiar Mindset of Crypto Bros
Sarcasm Saturday #9 - The Perpetual Market Downfall
Sarcasm Saturday #10 - What if it's no tomorrow?
Saturday Sarcasm #11 - Crypto Cooking is back with fresh flavors!
Sarcasm Saturday #12 - Adulthood dreams and disappointments
Sarcasm Saturday #13 - SWAG, NFTs and Vanity Items
Sarcasm Saturday #14 - Snap! The Bird is Freed
Sarcasm Saturday #15 - Crypto Love and Greatness 
Sarcasm Saturday #16 - FFS FTX
Sarcasm Saturday #17 - It's Football not Soccer!
Residual Income:
Hive Blogging - LeoFinance, Peakd, etc
CakeDeFi $30 DFI for new users
The fountains: PipeFlare ZCash,  GlobalHive ZCash & Get.ZEN
Publishing bundle: Publish0x,   readcash,  noisecash, LBRY & Presearch