So we recently had them on the Niftybc show on YouTube where they chatted about there project Il leave the link at the bottom if you want to check it out but lets say this project getting the best out of all markets here is how they describe there project .
The Crypto Squad is an animation series powered by NFTs. Each episode we're gonna shill to you 2 sets of our precious #NFTcollectibles on Opensea and Atomichub
Hey
How you ?
Thanks I'm fine.
How did you get discover NFTs?
The first time I read about NFTs in the Ethereum whitepaper in 2017. I remember back then it really wasn't a big thing. But I noticed they existed and it was just a question of time until somebody would find a way to do something great them.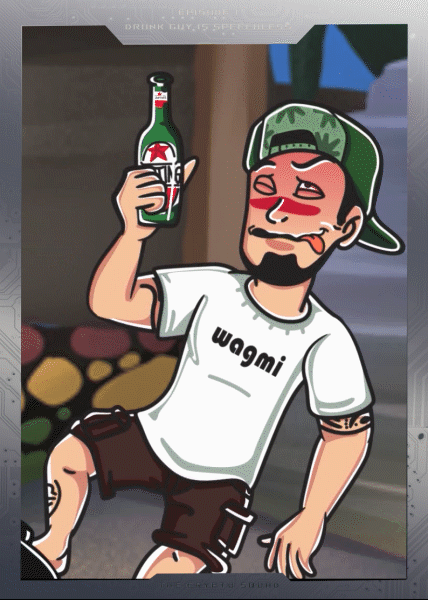 Why did you choose WAX for your project?
The reason we decided to put our silver collection on WAX was 1. the great flexibility Atomichub is offering for minting NFTs. Also the facts that the transaction fees are 0 and that it was already one of the largest marketplaces were great arguments.
What is the idea behind your project?
The aim of the Crypto Squad animation series is to bring great entertainment to crypto. Media in cryptoist very much centered around information. There are almost no stories being told. This is what we are about to change.
When did the Crypto Squad launch?
I started the project already in late 2020. The pilot episode was published on YouTube in May 2021. Now we are relaunching with weekly new episodes.
How many NFTs have you dropped so far?
Taken from the silver first episodes we have dropped five silver NFTs (rarity 100 each) and 5 gold edition NFTs on Opensea, as well as the full video NFT (rarity 1 each).
What was the first one you dropped?
It was the gold collection of the first episode.
How did the community react ?
Back then the first NFT drop was more a proof of concept. Still we got some great feedback on Twitter.
What is the process of making your NFTs?
Our NFTs are basically scenes taken from every animations episode. The production of every episode is very complex. It starts with script writing and the creation of the characters. Next comes vectorizing, as well as the complex layering, followed by the motion graphics design and acting. This whole procedure takes about three weeks per drop/episode to finish and has around 7 people involved.
What programs you use for creation ?
We mainly use the Adobe Creative Suite: After Effects,, Illustrator, Photoshop, Character Animator and also Ableton Live and other audio software for the sound effects, voice overs and music.
How long this each NFT take to create ?
The creation of an NFT in our collection takes about three weeks.
What is your favorite NFT you have made ?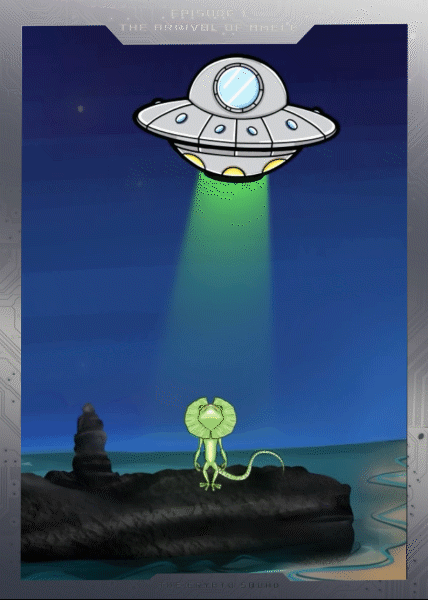 So far it is definitely "Amele descending", from episode 1 gold collection.
Why ?
I think it's kind of funny how Amele is being sent down from the UFO to Earth.
Have you done any collabs ?
We haven't done any collabs yet, but we're thinking about it and have some ideas. One thing we are doing is we are integrating characters which are well known in the crypto industry to play a role in our animation series. This is spicing up things a bit…
Who would be your dream collab ?
I don't really have a dream collab, but of course it would be great to work with people like Garyvee Cobie, or also with some of the big NFT collections in the space.
Are you a collector of NFTs ?
I do own some on Wax and Terra, but I am really more focused on our own series.
Who is your favorite NFT artist ?
I like generative art such as dith dsgn abd Leo Vann are doing.
What has been the best part of doing your project ?
I enjoy the scripting of the episodes but also the audio recordings with the actors - we are laughing a lot.
What has been the hardest part ?
The hardest part is to make the characters move realistic.
What does your family think of your project ?
My family doesn't really know anything about NFTs. they know I am into crypto, but that's more or less it.
Have you introduced anyone to WAX ?
Not really, but this might change soon. Our concept is very much centered around social networks - so dragging people in should be the consequence of our work.
Do you land on uplift ? If so where is it ?
At the moment we are focusing on our weekly animation series on YouTube. But we're looking into uplift and what we could be doing there with our NFTs in the future.
What you like to do to unwind ?
I go surfing, make music or read a great book.
Tell us something random about you ?
I'm a passionate songwriter and music producer. The title track of the Crypto Squad for example is one of my productions - check my artist name "Natum".
Where is the best place to keep up with the project ?
https://www.youtube.com/channel/UCk-GNjxxtxJHFQxkwXEAFxA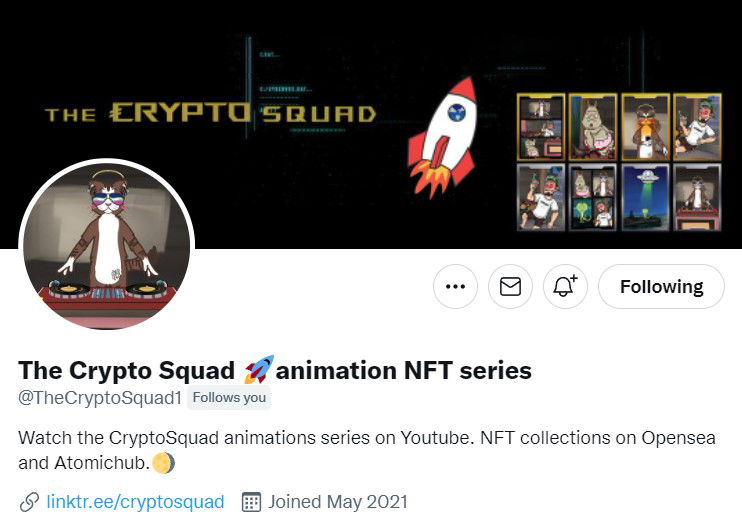 https://twitter.com/TheCryptoSquad1
Check our twitter for news and the YouTube channel for the most recent episodes.
Where can we buy your NFTs ?
We have the gold collection with the rarity of one per NFT which is available on OpenSea/Ethereum. On Atomichub/WAX you can find our silver collection with five NFTs per episode with a rarity of 100.
When is the next drop ?
Our next drop comes with the release of episode 2 we have scheduled for 29th of April.
Any chance of a drop or competition for the readers ?
Sure! How about a silver NFT for the best Crypto Squad Meme? Use any screenshot of our series.
Is there anything you would like to add or say before we finish ?
WAGMI .
So we are running to competitions one on here for the best meme the best Crypto Squad Meme and I am running a competition on Twitter check the link below .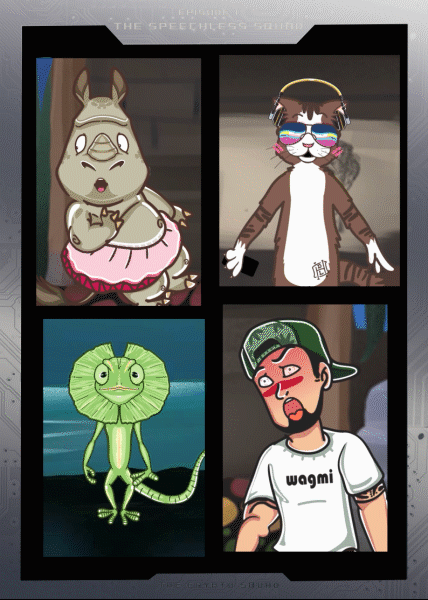 https://twitter.com/Crackers832/status/1513280561820885003?s=20&t=cyosKZfX02Z3xCpUcLBYdw
I have to say that its a brilliant idea for a project mixing all forms of media and I do think it will take over . Here is the link for the show