Globalists are digging into their pre-made crises kit and trotting out, systematically created fire danger and electricity shortages to further "crises punish" so called red areas of the west coast states under their control. They are so called red/Republican areas because in reality the Republican Party is nowhere to be seen as a party.  None will call the governors actions of the last 3 months what it is which is all out secession and likely treason. Republicans, like Democrats do not seek to empower their constituents.
Liar Liar States On Fire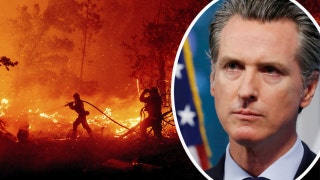 Calif. Gov. Newsom offers dire warning about raging wildfires U.S.
California wildfires turn San Francisco Bay Area skies orange as thick smoke blocks sun
Wildfire emergency in Oregon as it faces 'once-in-a-generation event,' Medford under evacuation orders
Washington fires ravage 330,000 acres in 24 hours
About the only positive thing you can say for the poor forest fire management in Washington, California and Oregon is that corporations now are profiting from firewood sales. However locals are frozen out of development and fire prevention. When local property owners are fined for clearing brush because it is officially designated unnatural, then of course, nature will think you are to lazy to do the job of clearing the brush. Therefore fire danger has increased. 
It is not only clearing brush it is developing anything on your property to clear, to build  to manage water. 
Ecologists have been warning the states about other policies as well that have contributed, but of course, the states are not prepared. Not only that, there is apparently no all out effort underway or extra resources being committed to these historic fires.
Instead, they are now routinely staffed with thin  fire fighter forces being injured and trapped, at times, without proper resources, sometimes backup as well.
The stolen tax dollars for forest management, now go to fund the issuance of dire warnings, by criminal officials engaged in constructive fraud. They will be forced to face billions in liabilities, as the Constitution is restored.

In the picture at the top it looks like San Francisco is Burning. It's not.
Constitutional Voters, Local Economies, Small Business Most Affected
These fires are somewhat away from the rich areas, however we expect some damage there too. But the people in those areas are connected to the global system. Those not connected will not fare well and many family, ranches, businesses, forests, and communities will be devastated.