Hello HODLers!
For those who don't know him yet, Sam Bankman-Fried is a US entrepreneur, founder and CEO of FTX. He started working for Jane Street Capital, a proprietary trading company, where he was involved in ETFs. In October 2017 he founded Alameda Research and in April 2019 FTX. In January 2018 he began arbitrage trading, taking advantage of the difference in bitcoin prices between Japan and the United States, moving up to 25 million dollars per day.
In 2021, the American magazine's ranking of billionaires under thirty is included in the Forbes 30 Under 30 Finance list.
But let's talk about it today because in recent days Sam Bankman-Fried has acquired several companies operating in the crypto market, taking advantage of the current market prices.
In the first two weeks of June, FTX CEO Sam Benkman-Fried made a record number of deals in the history of the cryptocurrency industry. He acquired two companies, supported #BlockFi, made a loan to Celsius and invested in Voyager Digital.
In total, Sam gave $ 1 billion, which is about one-tenth of his fortune. To clarify, here's an infographic of what Sam Benkman-Fried's crypto-empire looks like now.
Conclusions
In my opinion it was a great time for Sam to invest and expand his empire given the market prices. Only time will be able to confirm whether the legendary Sam moved well or not, but one thing is undeniable: unlike other players, he had the patience to wait to draw on his liquidity in the moment of market downturn, while other players did. positioned and invested at all-time highs.
Big investors do just that, they buy at the lows and sell at the highs. No panic sell, no FOMO.
My Favorite Earning Opportunities:
1. Torum – The #SocialFi ecosystem for crypto enthusiasts where you can earn everyday!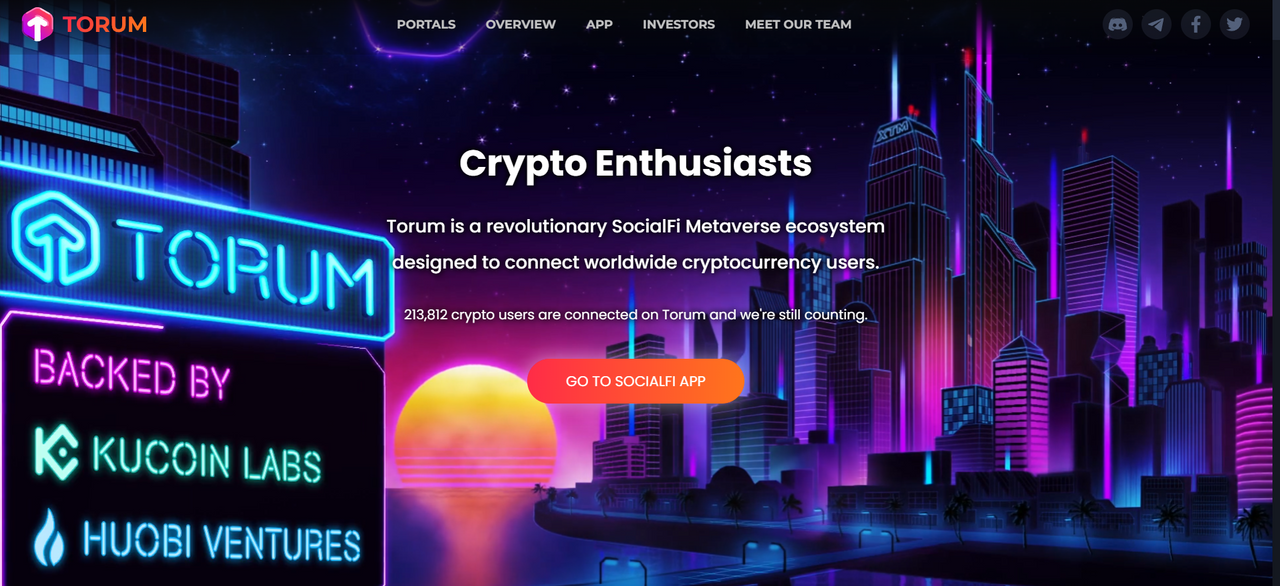 Torum is the world's largest SocialFi ecosystem (Social Network + NFT + DeFi + Metaverse) that is specially designed to connect cryptocurrency users.
The Web3.0 ecosystem is built on a social media platform, integrated with a yield farming platform for DeFi investors (Torum Finance), an NFT marketplace for crypto artists and Avatar NFT for Metaverse enthusiasts.
You can earn XTM daily on Torum Social Network completing missions like "write a post", "like 5 posts", "daily login", "interact with the platform for 7 days straight", "accumulate 50 followers" and many others!
XTM is the multichain utility token (Ethereum + Binance Smart Chain + HECO Chain + Polygon) of Torum ecosystem and it's now listed on Kucoin, Huobi, Uniswap and Pancakeswap.
✅#SocialFi Metaverse Pioneer;
✅Backed by Huobi Ventures & Kucoin Labs;
✅Big community of more than 200,000 users;
✅Earn XTM everyday claiming Missions in the Social Network;
✅Sign up with my referral link and complete the verification to earn 7,5 XTM airdrop: https://www.torum.com/?referral_code=makeitreal
2. Earn crypto by walking and not only... Young Platform Step is going to be huge!
What if I told you that you can earn crypto by walking (#Move2Earn), answering to crypto quizzes (#Learn2Earn) and playing #Play2Earn)?
Thanks to Young Platform Step you can accumulate crypto without investing money!
The Italian exchange Young Platform is growing fast and is going to be one of the next giant in the crypto space. That's why I'm accumulating free YNG on Young Platform Step by walking, learning and playing.
You will thank me during the next bull run because these are free tokens and the young platform project has great potential in my personal opinion!
Link Download Young Platform Step App: https://youngplatform.page.link/1kzW1WT6QEKe1CR8A