Hello HODLers!
We are talking today about big brands and blockchains, because in the time of 48 hours some important news came out regarding the integration of blockchain technology in the business models of 3 giants such as Gucci, Blackrock and Facebook.
And so Gucci becomes the first fashion brand to accept payments in ApeCoin, BlackRock enters into a partnership with Coinbase and Meta has announced that it will launch a new service, in over 10 countries around the world, to integrate NFTs on Instagram using the Flow blockchain!
Let's now move on to the important news announced in the last few hours:
1. Gucci: first brand in the world to accept Apecoin
Yep, Gucci, the Italian fashion giant, has become the first major brand to accept payments in the form of ApeCoin (APE), affiliated with the Bored Ape Yacht Club.
Despite the bear market, the fashion brand threw itself headlong into the crypto sector this year:
In February, Gucci launched the NFT "SUPERGUCCI" collection
In March, Gucci launched the "Gucci Grail" NFT collection, aimed at owners of high-end NFT projects such as the BAYC.
In May, the company announced plans to accept 12 cryptocurrencies as a payment method in 111 stores across North America. The list included Bitcoin (BTC), Bitcoin Cash (BCH), Ether (ETH), Wrapped Bitcoin (WBTC), Litecoin (LTC), Shiba Inu (SHIB), Dogecoin (DOGE) and five stablecoins linked to the US dollar.
gucci.jpg
2. Blackrock - Coinbase collaboration
Yesterday a very important collaboration was announced for Coinbase, namely the integration of Blakcrock's offer of cryptocurrencies to institutional investors through Blackrock. So BlackRock, the largest investment group with over $ 8 trillion in Assets under Management, has partnered with Coinbase to facilitate its institutional investors in the management and trading of cryptocurrencies.
3. Meta & Flow: NFTs will be visible in users' profiles!
It will be possible for Facebook and Instagram users to enter all the NFTs held in their account. Needless to tell you that the value of the coin Flow has grown by over 50% in correspondence with the announcement of Meta.
To announce it are Meta and Flow in the original Twitter profiles:

Conclusions:
What I wanted to express in this article is that often what is criticized in the world of cryptocurrencies is the lack of relevance and use with the real world, especially of the various blockchains that for many do not have forms of use.
In truth, most people cannot see behind the scenes of this ecosystem and do not know that many "real world" companies study and have contacts to use these services. In my opinion it is undeniable that the integrations between real world and blockchain are more and more day by day, precisely because the blockchain is a tool that allows to improve many services existing on the market today.
My Favorite Earning Opportunities:
1. Torum – The #SocialFi ecosystem for crypto enthusiasts where you can earn everyday!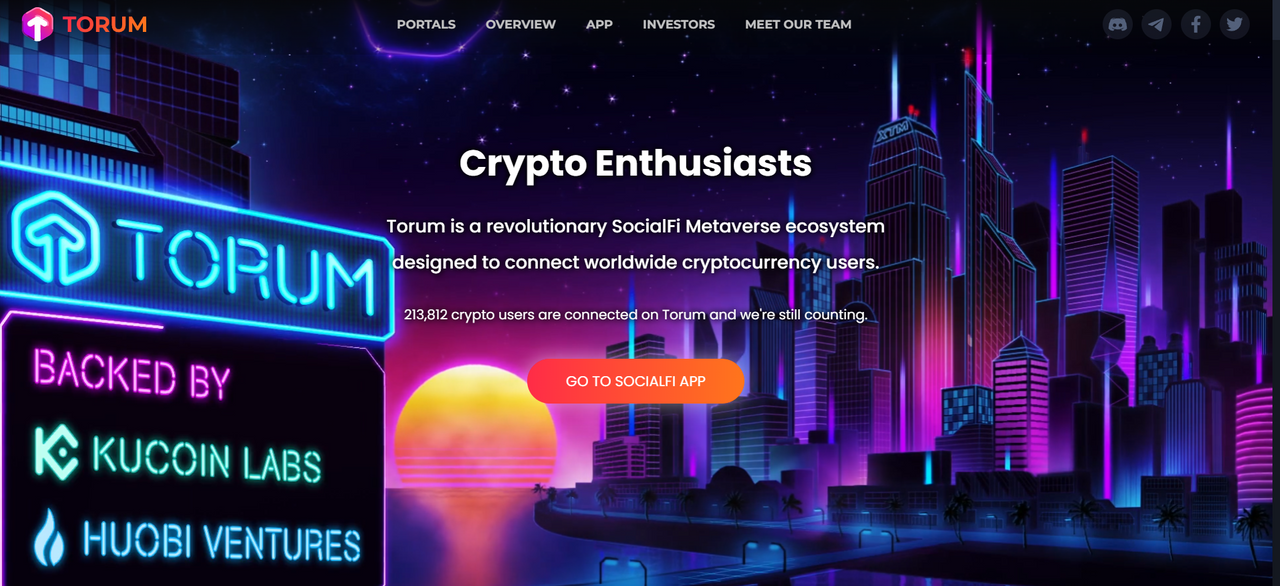 Torum is the world's largest SocialFi ecosystem (Social Network + NFT + DeFi + Metaverse) that is specially designed to connect cryptocurrency users.
The Web3.0 ecosystem is built on a social media platform, integrated with a yield farming platform for DeFi investors (Torum Finance), an NFT marketplace for crypto artists and Avatar NFT for Metaverse enthusiasts.
You can earn XTM daily on Torum Social Network completing missions like "write a post", "like 5 posts", "daily login", "interact with the platform for 7 days straight", "accumulate 50 followers" and many others!
XTM is the multichain utility token (Ethereum + Binance Smart Chain + HECO Chain + Polygon) of Torum ecosystem and it's now listed on Kucoin, Huobi, Uniswap and Pancakeswap.
✅#SocialFi Metaverse Pioneer;
✅Backed by Huobi Ventures & Kucoin Labs;
✅Big community of more than 200,000 users;
✅Earn XTM everyday claiming Missions in the Social Network;
✅Sign up with my referral link and complete the verification to earn 7,5 XTM airdrop: https://www.torum.com/?referral_code=makeitreal
2. Earn crypto by walking and not only... Young Platform Step is going to be huge!
What if I told you that you can earn crypto by walking (#Move2Earn), answering to crypto quizzes (#Learn2Earn) and playing #Play2Earn)?
Thanks to Young Platform Step you can accumulate crypto without investing money!
The Italian exchange Young Platform is growing fast and is going to be one of the next giant in the crypto space. That's why I'm accumulating free YNG on Young Platform Step by walking, learning and playing.
You will thank me during the next bull run because these are free tokens and the young platform project has great potential in my personal opinion!
Link Download Young Platform Step App: https://youngplatform.page.link/1kzW1WT6QEKe1CR8A