Hello HODLers!
Today I would like to talk to you about the market situation and the correlation between Bitcoin, global liquidity and the ARK Innovation ETF.
We are in a historical market moment, with Bitcoin closing 7 red weeks in a row and other historical declines in many markets.  Dow Jones has just recorded 8 straight weeks in a negative and this hasn't happened since 1923.
One of the main causes is to be found in the excessive liquidity with which the markets have been flooded in recent years, starting with the outbreak of the global pandemic. The expansionary monetary policies of the central banks have caused all the lists to swell, which have however reversed the trend for a few weeks, especially since the FED announced the next hikes in interest rates.
Very interesting analysis topic is the correlation between Bitcoin and equities, in particular technological stocks, and in this regard I would like to share with you the post by Paolo Cardenà, private banker, blogger and writer.
"What is Bitcoin?
I don't think I know very well, but we can tell what it is not.
It is not a store of value.
It is not a hedge against inflation.
It is not even a hedge against the downturn in the markets.
To see the graph it appears to be something very similar to ARK Innovation ETF. Indeed it appears to be a leveraged ARKK ETF.
And just as ARK ETF appears to be following the fate of global liquidity. "
For those unfamiliar with ARK, it is the financial giant founded by Cathie Wood and which offers various types of funds. The flagship product is undoubtedly ARK Innovation, a fund that focuses on innovative and disruptive stocks, within which, for example, Tesla is one of the bets that have been enormously successful.
Why are these stocks so sensitive to liquidity dynamics?
With low interest rates it becomes financially indifferent to earn today or earn tomorrow.
With high rates, the difference between earning today and earning tomorrow becomes more significant.
Taking Tesla as an example, the capitalization value does not come from current earnings (still not comparable to those of Volkswagen, Toyota etc) but from future earnings (it is expected that he will become king of the auto market and beyond).
With low rates, the "discount" to be made to future earnings is low. With high rates, the discount to be made to future earnings becomes higher.
For this reason, as long as rates were low and liquidity was high, it was not a problem for investors to "wait" for Tesla's earnings while with the rate hike and monetary policy shift central banks are making. expectation becomes more sacrificed and the present value drops.
In this scenario, we are seeing a high correlation between Bitcoin, technology stocks and the amount of global liquidity, as we can also see from the graph below. Bitcoin has for the moment held better than expected in the current market conditions, with the support of 30k holding for the moment.
How to Earn Free Crypto:
1. The best MoveToEarn Earning Opportunity: Earning while walking with your smartphone and without investing is possible with Sweatcoin!


Sweatcoin is a MoveToEarn app for Android and IOS that rewards users for walking! Swaetcoin already has its own active marketplace, millions of active users and from summer 2022 will become a crypto! This means that all the tokens that we accumulate now, will become crypto this summer, and in particular they will become SWEAT, the token of the Sweatcoin ecosystem.
✅ Link to download the app: https://sweatco.in/i/angelo95
Torum – The #SocialFi ecosystem for crypto enthusiasts that rewards you!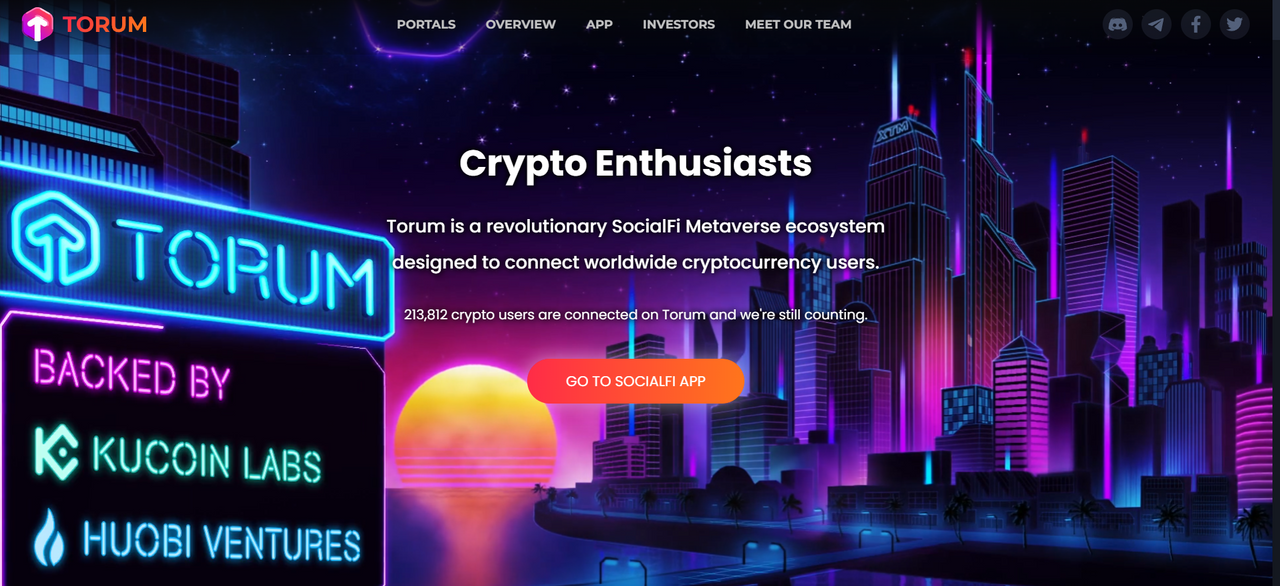 Torum is the world's largest SocialFi ecosystem (Social Network + NFT + DeFi + Metaverse) that is specially designed to connect cryptocurrency users.
The Web3.0 ecosystem is built on a social media platform, integrated with a yield farming platform for DeFi investors (Torum Finance), an NFT marketplace for crypto artists and Avatar NFT for Metaverse enthusiasts.
XTM is the multichain utility token (Ethereum + Binance Smart Chain + HECO Chain + Polygon) of Torum ecosystem and it's now listed on Kucoin, Huobi, Uniswap and Pancakeswap.
Here you can find the Whitepaper: https://whitepaper.s3.us-east-2.amazonaws.com/torum-whitepaper-V4.0-EN.pdf
✅#SocialFi Metaverse Pioneer;
✅Backed by Huobi Ventures & Kucoin Labs;
✅Big community of more than 200,000 users;
✅Earn XTM everyday claiming Missions in the Social Network;
✅Sign up with my referral link and complete the verification to earn 7,5 XTM airdrop: https://www.torum.com/?referral_code=makeitreal
: #OpinionToEarn on LunarCrush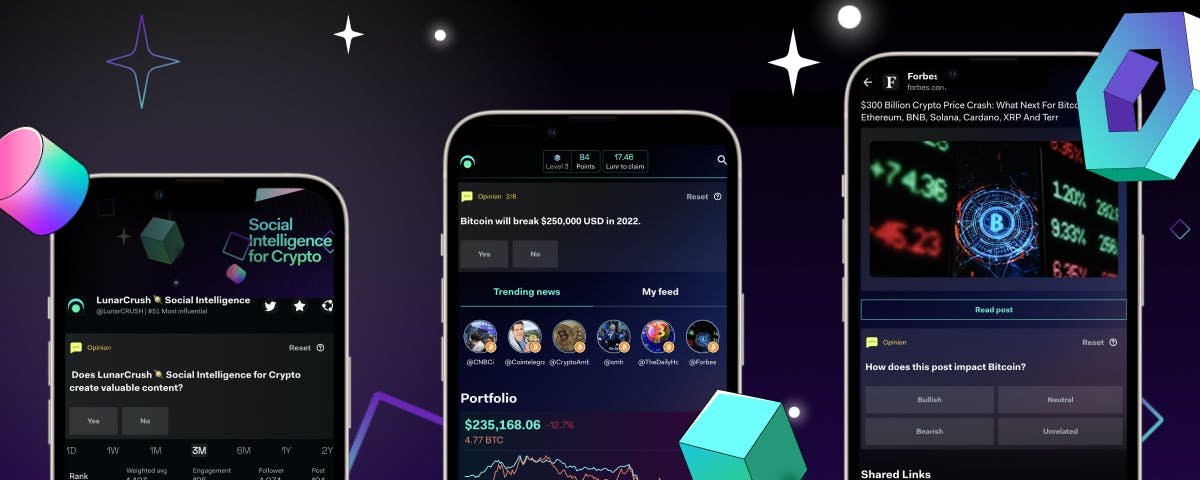 Lunar Crush is a social intelligence platform for crypto investors that allows users to earn LUNR (the native token of the ecosystem) sharing your opinion about crypto social posts.
Users earn LUNR daily based upon the number of points earned each day. Points can be earned providing opinions, holding Lunr, inviting friends and in many other ways. Points are calculated at the end of each day and distributed as Lunr, which can be claimed into your wallet.
As a user completes their profile on LunarCrush, they achieve a higher Profile Strength. There are five tiers of strength, each with their own limits in terms of how many Lunr a user can receive each day. Based on Profile Strength and user's activity on Lunar Crush, users can earn different amount on Lunr each day.
Additionally, 50,000 Lunr will be distributed every 7 days in a weekly rewards drop to all users who remain in Level 2 or Level 3 all week as well as those with the highest points in those levels.
I share with you my referral link so you can start earning on Lunar Crush now! If this article was useful, please use my link to sign up on Lunar Crush: https://lnr.app/s/MpPvPp